Over the last decade, quinoa has taken the world by storm. In order to explore the recent dynamics of this fragile industry, The Sapiens Podcast recently produced an episode about quinoa farming in the highlands of Peru. Here are key insights.
A professor of emeritus of sociocultural anthropology explores the quinoa industry and how it has impacted the well-being of Peru's farmers.
In this podcast, you'll hear perspectives from Linda Seligmann, who has been living in Peru for several decades. It was during the 1990s when she started getting interested in agricultural reform, and how it relates to farmers of Peru. Her work eventually brought her to explore how the recent quinoa boom has affected farmers in Peru. She started asking the question: is this helping the right people?
Innovation in the Peruvian highlands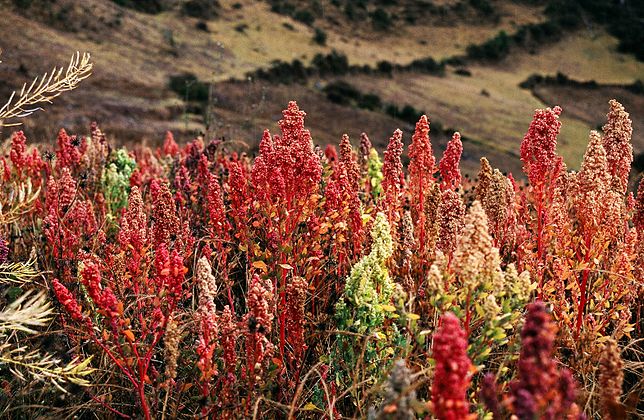 You'll also meet a Peruvian farmer named Demetrio, who is known by those of his community as being an innovator. He talks about the work he was currently doing of hunting out quinoa varieties from other parts of Peru that produce greater yields. He's also working with new machine working that will cut down on labor, and thus help his farming village to be more successful.
La Parada, a market in Lima which has grown into a hub for the quinoa trade.
During the years that quinoa became a fad, it has changed much in Lima. While quinoa used to be a food representing poor indigenous people, now it is popular in high-class restaurants across the world. At the market, we hear about how Quinoa became a symbol for a cultural revolution and shift, from division and into unity. While Peru started celebrating its diverse cultural heritage, quinoa started getting popular as well.
Gaston Acurio, Peru's most famous chef
It is important cultural figures such as Acurio who started to embrace the diversity of Peru within the culinary realm. Though he was Peruvian-born, he moved to Europe as a youth, where he learned about Gastronomy. When he returned to his native country in the mid-1990s, he realized that there were ingredients within Peru that couldn't be found anywhere else on the planet, including quinoa. It was this realization that inspired him to start embracing Peru's native foods.
Quinoa's big turning point
In 2013, The United Nations declared that it was to be the year of quinoa, and started heavily promoting the grain. This brought a spike in global demand, and in 2014 prices reached an all-time high. But just one year later, prices plummeted to rock-bottom, due to overproduction. Ollanta Humala, who was president at the time, had no backup plan in place to support Andean farmers who had put everything they had into the industry. Many farmers sadly lost everything they had.
A scandal and the industry is yet to recover
Shortly after the plummet in prices, quinoa again filled global headlines. Several large shipments of the grain were rejected by the United States because of the fact that there were too many pesticides detected. This turned many consumers away from the grain, further stressing the industry.

Cover photo: Wikimedia