Peru is to pisco as Argentina is to wine, except when it comes to consumption. A special wine pairing event introduced us to Argentina's delectable wines and left us with little doubt as to why Argentinians love their wine.
Whereas consumption of pisco by Peruvians remains at less than one liter per person per year—albeit, that number has been consistently growing during the past few years—Argentinians wine consumption levels are up near 22 liters per person per year. Argentina, in fact, remains among the top ten countries worldwide in wine consumption, wine production, and wine exports. They do have more than 400 years of experience, after all.
Not only do they like drinking their wine, but they want others to taste it as well, and that is exactly what we did at the wine-pairing lunch organized by Wines of Argentina (WofA) and Distribuidora Almendariz, a well-known local liqueur and wine store in Peru.
The event was held at the nikkei restaurant Toshi and consisted of a tasting of the most acclaimed wines of Argentina from the South American country's top winemakers.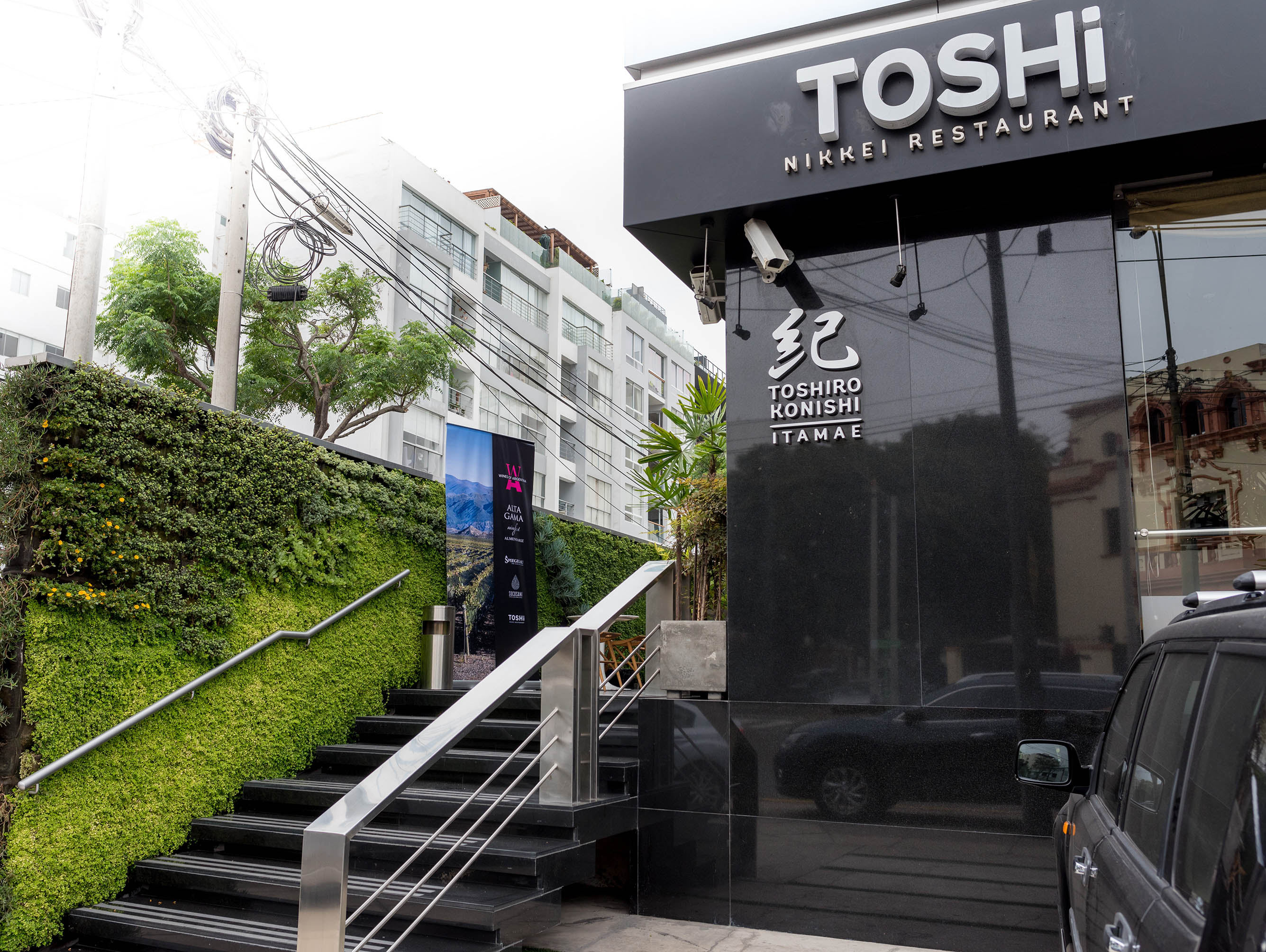 Around 20 winemakers from the most acclaimed wine-producing houses were present at the event. They had come to Peru for the yearly three-day Alta Gama Winefest at the Lima Country Club. This event gathered together more than 110 winemakers and more than 800 premium labels from Argentina, Chile, Uruguay, USA, France, Spain, Portugal, Italy, Australia and South Africa.
I was lucky to sit at the table with David Bonomi from Norton House and Andres Vignoni from Viña Cobos, representatives from two of the most well-known wine labels in Peru and abroad.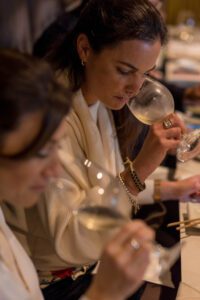 This time around, they were here to present their production of fine white wines. I have to confess that until this experience, I was rather unaware of how good Argentinian white wines could be. My knowledge of Argentinian wines was rather limited to just the reds, which I truly love. White wines, I was told, require a more sophisticated process for their elaboration than reds.
To produce more wine, including white wine and sparkling wine, Argentinian winemakers have been exploring and conquering new lands, new provinces beyond the traditional Mendoza region. Argentinians' consumption of reds remains higher than whites (70 to 30), but as David says, the strategy to pick up on the whites, is simply to make good white wine.
In Peru, Lima is the greatest consumer of wine (80 to 90%), while Arequipa and Cuzco follow far behind.
Chilean and Spanish wines are still the largest competitors for Argentinian wine sold in Peru. The recent tax established by the Peruvian government obviously does not play in favor of the sector, as David points out. Nevertheless, he expects that events, like the Alta Gama Winefest and his regular visits to clients in Peru, have a positive impact. David feels positive about the Peruvian market and feels that Peruvians are more open and eager to try new options.
Just before the food and first glass of wine arrived, David shared the fascinating story of Edmund Palmer Norton, an almost two-meter-tall engineer raised in England. He  arrived to Buenos Aires in 1860 to work on the Trans Andino Railway system and while there fell in love with a girl from Mendoza. Soon after, he started cultivating and producing wines in Argentina.
The Tasting Menu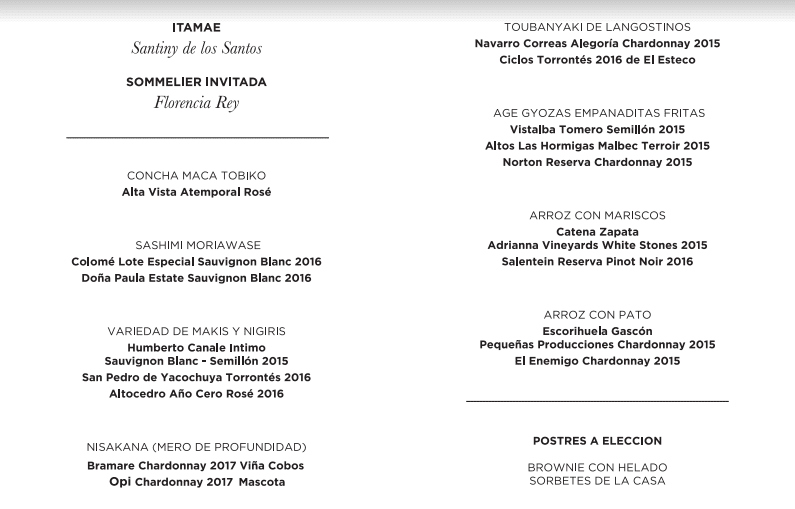 We tried 18 different wines, of which they were all white except for one rosé and one red. They were all wonderful in aroma, texture and flavor, and paired fabulously well with the nikkei food prepared by Itamae Santiny de los Santos from Toshi Restaurant in Miraflores.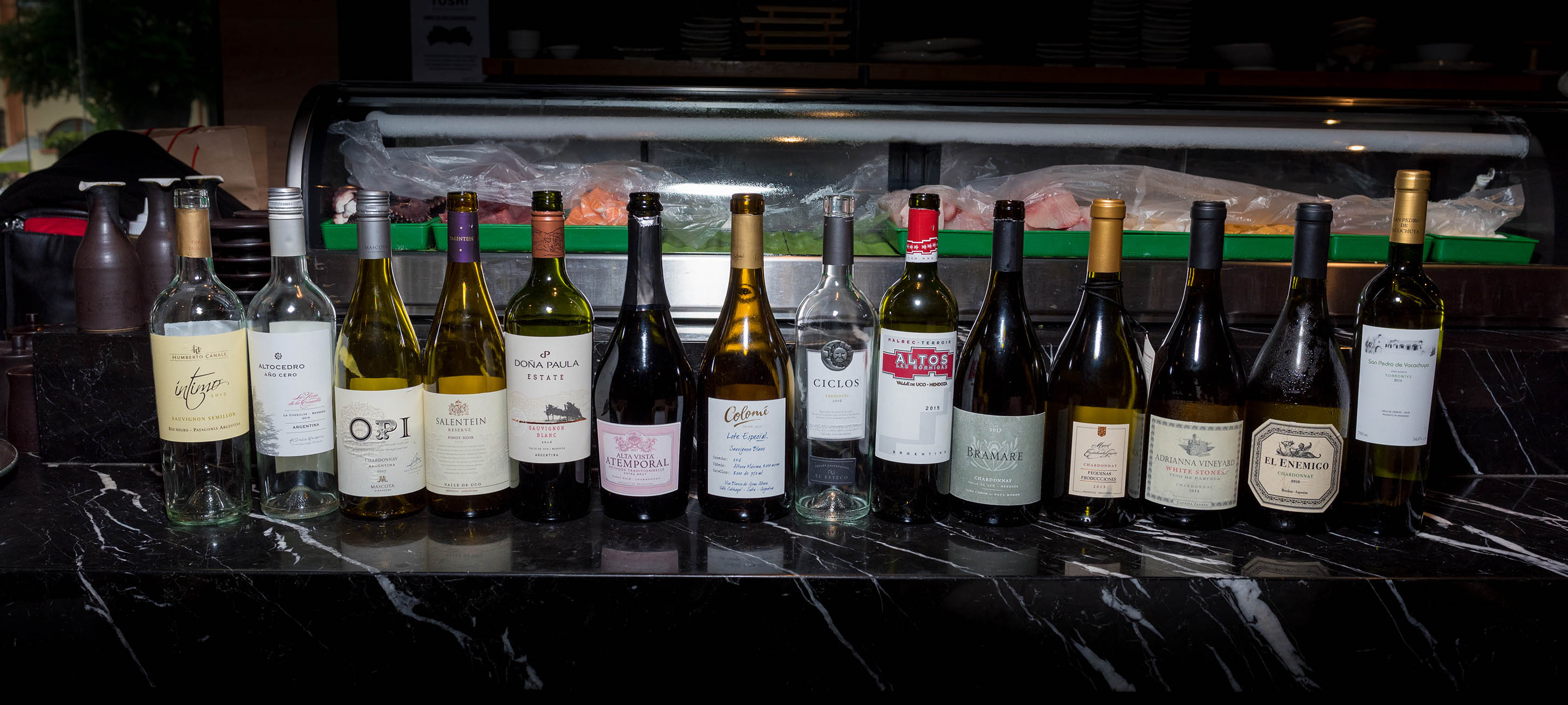 Among my favorite wines of the wine pairing were two Torrontés from Salta (San Pedro de Yacochuya 2016, Ciclos Torrontés 2016 El Esteco), four Chardonnays (Norton 2015, Viña Cobos 2017, El Enemigo 2015, Pequeñas Producciones 2015), and one Sauvignon Blanc (Colomé Lote Especial 2016).
As for the food, if you have read my review of Toshi, you will surely know how good this restaurant is. It remains to be one of my favorites. Their Arroz con Pato surely deserves a special mention, as it was superb.

Overall, the wine pairing was a very pleasant and enriching experience, and surely a discovery of Argentinian white wines that will now be added to my special list.
For more on Toshi, read my restaurant review here.
Now that you're here:
We're asking you, our reader, to make a contribution in support of our digital guide in order to keep informing, updating and inspiring people to visit Peru. Why now? In our near 20-year journey as the leading English-language source on travel in Peru, we've had our fair share of ups and downs-but nothing quite like the challenges brought forth in the first quarter of 2020.
By adapting to the changing face of the tourism and travel industry (on both local and international levels), we have no doubt we will come out stronger-especially with the support of our community. Because you will travel again, and we will be ready to show you the best of Peru.
Your financial support means we can keep sharing the best of Peru through high-quality stories, videos and insights provided by our dedicated team of contributors and editors based in Peru. And of course, We are here to answer your questions and help whenever you need us.
As well, it makes possible our commitment to support local and small businesses that make your visit an unforgettable one. Your support will help the people working in these industries get back on their feet once the world allows us to make our dream of enjoying everything Peru has to offer a reality again-from its mouthwatering gastronomy, thriving Amazon and archaeological wonders such as Machu Picchu.
Together, we will find a way through this. As a member of our community, your contribution, however big or small, is valuable.
Support Traveling & Living in Peru from as little as $1 - and it only takes a minute. Thank you!