Achille Pirillo, Italian chef and founder of Achille Ristorante, came to Peru after being seduced by the world of cooking. It was the influence of his Italian grandmother's cooking that inspired him to open this top-notch restaurant in Lima.
Learning about culinary traditions since childhood

It is amazing to meet people like Achille Pirillo who enjoy their profession to its fullest and who embrace their deepest passions. Pirillo comes from a family with roots in the culinary and hotel worlds, and it was his grandmother "la nonna" who motivated his culinary passion.
When Pirillo was six years old, his grandmother started telling him stories about traditional post World War II restaurants of Augusta, Italy, the place of his birth. When he was 13, his family moved to Tuscany, a city of rich and flavorful foods. This gave him the chance to explore new culinary traditions and to enhance his great talent. When he got older he trained in great schools of London, Frankfurt, and Stockholm. At the age of 20, he officially became a chef and started working in two family restaurants in Florence.

With a keen awareness of Peru's unique culinary traditions, he made his first visit at the age of 30. He based himself in Lima and started making fresh pasta on demand and catering for events. Motivated by his strong entrepreneurial character drive, he eventually decided to take the risk and start a restaurant.
He opened the doors of Achille Ristorante on December 26th of 2018. The restaurant offers traditional and handmade recipes, as well as Italian-Peruvian fusion dishes. The menu always includes a "the recipe of la nonna."

The recipes of la Nonna
We enjoyed a refreshing homemade lemonade while waiting for our appetizers. The first to arrive was the Parmesan with avocado pesto and golden prawns fusion ( S/ 22). The crispy parmesan combined well with the creamy avocado with prawns. This very rich mixture which was topped with diced tomatoes.
Of the three main courses we sampled, we started with Green Fettuccine a la Sorrentina with tomato sauce, mozzarella and basil (S/ 30). The pasta was fresh, and you could taste the basil that was soaked in a traditional Italian tomato sauce, which very juicy and tasty.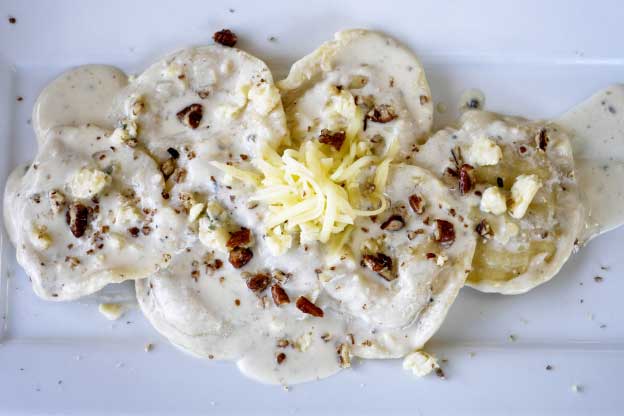 The next dish we tried was the Ravioli stuffed with blue cheese and walnuts with a 4-cheese sauce (S/ 30). This was one of my favorite dishes: the crispy walnuts in combination with the 4 cheese sauce made it very rich and special, and the pasta helped to balance the otherwise strong flavors

To finish this trio of delights we were surprised with one of the tops, Salmon fillet with tomato sauce, capers and basil (S/ 45), a generous-portioned tomato sauce bathed the sealed salmon fillets. Each fillet was soaked in the delicious sauce. The Salmon was so smooth that it melted in my mouth, and the acid capers were a great compliment.

Dessert
We could not leave without the traditional Italian dessert "Tiramisu" S/ 12, which is made with la Nonna's recipe. The presentation was very nice. It came inside of a jar containing a rich cream made with egg, sugar, and mascarpone cheese. This cheese was hidden underneath the cake and sprinkled with cocoa. This was by far the best tiramisu I've ever tried!

Overall impressions
It was a super inspiring experience to dine at this restaurant. Achille Pirillo made his dream come true by opening this traditional family restaurant. For Achille Pirillo, the restaurant is a way to stay connected with his Italian roots in spite of the distance. Hopefully, Pirillo's inspiring story and message can motivate others as well: "Do not give up until you get what you want."

Achille Ristorante
Avenida Ejercito 608 , Miraflores
Telephone: 966467155
Hours:
Monday – Saturday: 12:00 pm – 4:00 pm | 7:00 pm – 10:30 pm
Sunday: Closed
Now that you're here:
We're asking you, our reader, to make a contribution in support of our digital guide in order to keep informing, updating and inspiring people to visit Peru. Why now? In our near 20-year journey as the leading English-language source on travel in Peru, we've had our fair share of ups and downs-but nothing quite like the challenges brought forth in the first quarter of 2020.
By adapting to the changing face of the tourism and travel industry (on both local and international levels), we have no doubt we will come out stronger-especially with the support of our community. Because you will travel again, and we will be ready to show you the best of Peru.
Your financial support means we can keep sharing the best of Peru through high-quality stories, videos and insights provided by our dedicated team of contributors and editors based in Peru. And of course, We are here to answer your questions and help whenever you need us.
As well, it makes possible our commitment to support local and small businesses that make your visit an unforgettable one. Your support will help the people working in these industries get back on their feet once the world allows us to make our dream of enjoying everything Peru has to offer a reality again-from its mouthwatering gastronomy, thriving Amazon and archaeological wonders such as Machu Picchu.
Together, we will find a way through this. As a member of our community, your contribution, however big or small, is valuable.
Support Traveling & Living in Peru from as little as $1 - and it only takes a minute. Thank you!