Barra Verde is the eco-friendly restaurant and bar destination which opened up in 2016 in Miraflores on the ever-expanding Av. La Mar.
This slideshow requires JavaScript.
The renowned Berckemeyer family are the owners of this ambitious venture and building.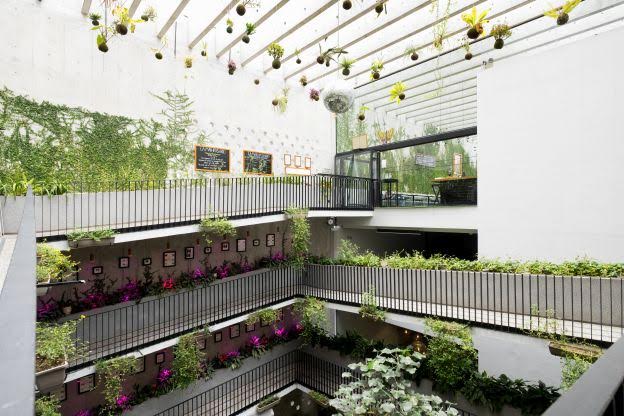 What You'll Find Inside
The first three floors house the high-end concept store, Morphology. The fourth floor is a space dedicated to a variety of art exhibits and private parties. One of the popular attractions as well is the butterfly garden exhibit/mariposario. Butterflies are evident almost everywhere you look, not only in the garden, but also decorative butterflies in the store and decorative butterfly touches in the restaurant located on the spacious 5th-floor rooftop terrace.
This was my sixth time dining at the nutritional powerhouse, Barra Verde since they opened up in September of 2016. Barra Verde is very popular among the female persuasion, myself included…. and the men seem to like it too. Shopping is fun here because you have a unique selection to choose from. After shopping many people are attracted to the beautiful ambiance of this rooftop restaurant. You are immediately transported as you walk off the elevators into this spacious garden paradise. There is greenery everywhere you look…..between the plants, orchids and the wall entirely covered by creeping greenery to the motif of the green furniture with plant patterns. Green is everywhere as can be expected by the name of the restaurant.
The Menu
The menu at Barra Verde strongly focuses on healthier options and lighter fare. Barra Verde cultivates and grows a large variety of organic-certified designated produce (approximately 54 products) from their personal gardens in the Pachacamac region. The meats, poultry, and fish they serve are also first class quality. For those health-conscious diners, under each individual menu item, there is a nutritional table that reveals information such as the calorie count, amounts of carbohydrates, proteins, fat, cholesterol, and sodium.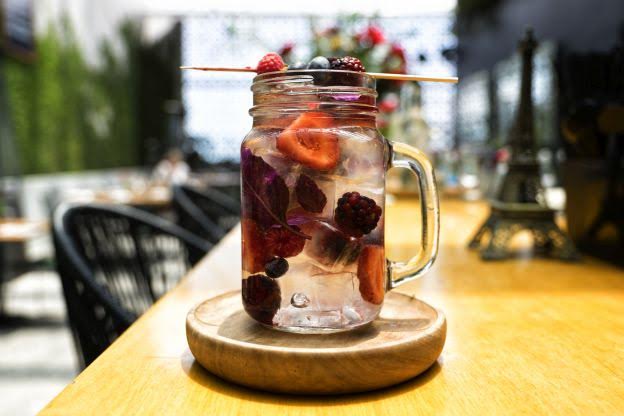 The Refreshments
We sampled two of the flavored waters of the four offered at Barra Verde. La Fashion combines slices of kiwi mixed with watermelon, strawberries and organic spearmint leaves. We also shared La Colorada, a mixture of blueberries, raspberries, blackberries, and strawberries combined with organic basil leaves. You have several water choices such as filtered, domestic, imported, and sparkling. These are refreshing and healthy beverage options which all cost 9 soles. Barra Verde also offers a wide variety of smoothies and extracts.
Besides the flavored fruit waters, Barra Verde is now providing complimentary bottles of Aguaymanto Kangen water on every table. This water has a large number of antioxidants, alkaline and an abundance of health benefits.
The Food
We began our dining experience with the tostones de jamón (S/. 36). This was a satisfying dish. Two hearty slices of integral toasted bread topped off with a kale pesto, diced tomatoes, a generous amount of arugula and a drizzle of olive oil with the final touch of thin slices of Serrano ham. The generous amount of arugula elevated this for me. The chips that accompanied were a bit lackluster (missing the crunch and salt).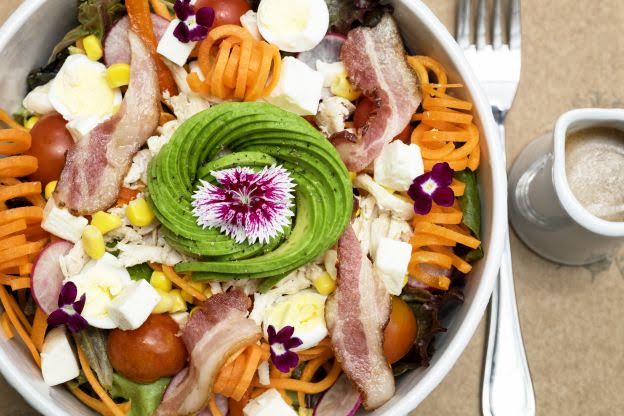 The salads are very popular at Barra Verde. We shared La Monarca (S/. 28). The presentation was stunning, vibrant and colorful, and generous in size. The majority of the ingredients in this salad come from Barra Verde's organic garden. The salad was substantial as well as being healthy and delicious. The salad was comprised of a steamed chicken breast, assorted garden lettuces, smoked bacon, fresh cheese, hard-boiled quail eggs, lightly roasted bell pepper, sweet yellow corn, cherry tomatoes, carrot spirals, avocado and radish slices. For an additional cost (between 26-38 soles) you can add another ingredient to any of the salads such as sirloin steak, chicken breast, sea bass, salmon or shrimp.
The tartare de salmon del chef (S/. 49) was excellent. The salmon was of very good quality and fresh. Barra Verde's version of this tartar combined salmon, wasabi, diced Japanese cucumbers, a hint of sweetness provided by diced green grapes, a special volcanic pepper (Pimienta del Timut), a sprinkling of furikake (a Japanese dry seasoning spice), and decorated with a crispy salmon skin triangle. The tartar was accompanied by a small salad comprised of arugula, hearts of palm and cherry tomatoes. This luscious little number was carefully balanced and hit the mark for me. The quality of all the components of this dish was first class. Salmon is a highlight at Barra Verde and I also recommend their Salmon en Salsa de Ponzu Cítrico as well as the Tataki de Salmon Fresco which I have enjoyed several times.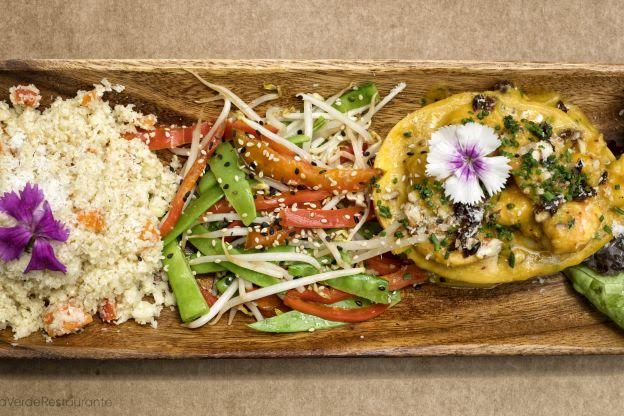 Our last dish, Langostinos al coco y mango picante (S/. 39) was the table favorite. The flavors were in perfect harmony. A generous amount of shrimp was served inside of a scooped-out mango. The curry, coconut and mango sauce were intense and intoxicating. A wonderful flavorful "rice" prepared with cauliflower instead of the typical white rice accompanied this dish, which was a nice change of pace. A mixture of lightly sauteed snow peas, bean sprouts, and red bell pepper slices balanced out this dish. This is one of the most popular main dishes served at Barra Verde, with good reason.
The Cocktails
We sampled a couple of the house cocktails offered at Barra Verde during our visit. The first one was the Mariposa di Durazno (S/. 30), a concoction of aguaymanto-macerated pisco, peach liqueur, pulp of both the pitahaya fruit and aguaymanto served in a festive tiki glass. Both refreshing and delicious.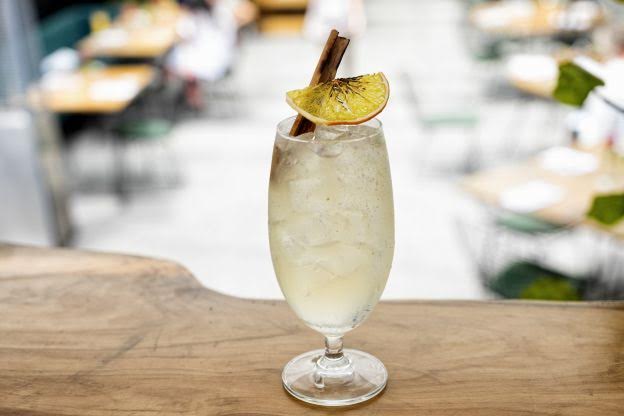 One of the new cocktails at Barra Verde is the MorphoTonic. We really enjoyed the unique and refreshing nuance of this beverage. The combination of Citadelle (French gin), Black Label, Benedict, sour mix and elderflower liqueur did not disappoint. The light sprinkle of cinnamon on top added another dimension.  
What We Thought Overall
Over the past year, I have observed some positive changes at Barra Verde. During their first six months, the service was painfully slow during my first two visits and there were some quality control/food preparation issues. My last three visits to Barra Verde have been positive and the service is better, more attentive and the quality of the food has improved. The food is generally solid and has the potential to be even better.
The food and drink are on the pricier side, but this can be expected when you are consuming organic and high-quality food. I am willing to pay more for quality. Barra Verde is a wonderful destination to relax, eat healthily and spoil yourself.
Av. Mariscal La Mar 1332, Miraflores
Reservations:  399-6892
Phone:  999 128 317
Hours:  Tuesday-Friday:  12:30 p.m.-3:30 p.m.
                                        7:30 p.m.-10:30 p.m.
           Saturday:  9:30 a.m.-4:30 p.m.
                            7:30 p.m.-10:30 p.m.
           Sunday:  9:30 a.m.-4:30 p.m.
Closed Monday
Seating capacity:  approx. 50
reservas@barraverde@gmail.com
Parking garage below
Valet parking & street parking
Breakfast:  S/. 8-28
Starters/Appetizers: S/. 25-65
Sandwiches:  S/. 24-35
Tostones/Toasts:  S/. 28-36
Salads:  S/. 26-28
Tostones de jamón (Cover photo: Marco Simola: Traveling & Living in Peru)
Comments
comments