Big Burger (Photo: Marco Simola/Living in Peru)
La Chakra vegan restaurant is the perfect place to go for a healthy and delicious meal or sweet. What's the best part? You can enjoy the food you are eating knowing that you are not only nourishing your belly but your soul too.
Recently the team of Living in Peru visited La Chakra Alimentacion Consciente in Miraflores. This quaint and recently renovated restaurant has been open since 2015. La Chakra is quite popular among the vegan community in Lima, as well as health-conscious diners alike. One of my non-practicing vegetarian friends had recently mentioned how much she enjoys the food at La Chakra and goes there when she is in a "veggie" mood.
Liz Bau, the chef and owner of La Chakra practices what she preaches. She and her family embrace, live and promote the vegan lifestyle and its benefits. Most of her helpful staff are also practicing vegans.
The word "chakra" in Spanish means a small farm or a source of local produce. At La Chakra, you will find vegan, raw and organic food and local Peruvian ingredients. You will NOT find soy, dairy, eggs, refined sugars, wheats, msg, preservatives or artificial flavors of any kind. La Chakra also offers and sells gluten-free breads and pastas, fresh vegan milks and a variety of other organic products. La Chakra uses purified water, extra-virgin cold-pressed oils, natural sweeteners, sea or mountain salt, natural and wild vegetables, and activated and germinated seeds. Nothing is fried here at La Chakra and the oven is used for limited items.
La Chakra is not easy to find. Their small restaurant is located on the bustling Jose Pardo, below street level and can only be accessed by a set of stairs that lead to the basement area.
In my opinion, I found the food to be a bit on the pricey side at La Chakra although delicious and filling. Typically organic produce and products are always more expensive. It seems there is always a higher price to pay if you desire unprocessed, raw, vegan and organic healthy food.
The first starter we sampled were the empañadas (10 soles for 3). These empañadas were prepared with yuca flour for the dough and were filled with a mixture of mushrooms and onions. The texture reminded me slightly of a pierogi and these vegan empanadas were surprisingly good. They were accompanied by a homemade ocopa sauce prepared with sunflower seeds, huacatay, peanuts and olive oil.
Our second starter, champiñones y papitas nativas (S/. 16) was simple and filling. Sliced mushrooms served on top of roasted potatoes with herbs and served with their wonderful ocopa sauce.
We sampled one dish from the "chef's recommendation" section of the menu. The Grandioso Lomo (S/. 28) was a vegan take of lomo saltado….sautéed mushrooms, onions, tomatoes and potatoes and accompanied by brown rice. The flavors were very good, but we thought a bit pricey.
One of our favorite dishes we sampled was from their "bowls" section of the menu. We shared the Mágico Peruano Bowl (S/. 23). This bowl was chock full of healthy, satisfying and delicious ingredients. Native potatoes, quinoa, spinach, sliced avocado and an oven-roasted Bellaco banana. The bowls are a very popular option at La Chakra. Besides the Mágico bowl, the Mistico and Órale Mex are very popular options as well. You also have the option of creating your own bowl.
We moved onto the "burger" section. We shared the Big Burger (S/. 23). The "burger" was made with lentils and was piled high with an abundance of vegetables (lettuce, tomato, bell pepper, and sprouts) and served on an integral bun. This lentil burger was accompanied by roasted potatoes and served with the addictive ocopa sauce. The name "big" may be a bit misleading. The "burger" is decent in size, but not so big, more on the average size. Perhaps it looks big because of all the fresh veggies piled high on top of the burger.
Before we began sampling the desserts, we were served cafe con leche de pecanas (S/. 8). The coffee used was organic Villa Rica coffee with pecan milk and a touch of cinnamon. It was much better than I anticipated.
Along with our coffee, we shared three desserts. All the desserts at La Chakra are gluten-free and vegan (contain no dairy or eggs, free of wheat, refined sugar and oils). The favorite dessert of our table of the three desserts we sampled was their Crocante de Manzana (S/. 12). This apple crumble was prepared using coconut oil, panela (unrefined whole cane sugar), integral oats, cinnamon, organic apples, extra-virgin olive oil and a touch of apple cider vinegar. It was moist, full of flavor and all the ingredients made this an excellent version of the classic.
We sampled the vegan version of the classic Peruvian cookie, alfajor. La Chakra's version was prepared with oatmeal and coconut flours, peanut butter, cinnamon, clavo de oro (cloves),  peanut oil, algarrobina sauce and fudge made with cacao. The consistency for me was a bit dry. I missed the crispness of a regular alfajor. I guess I am a purist when it comes to these wonderful classic Peruvian cookies.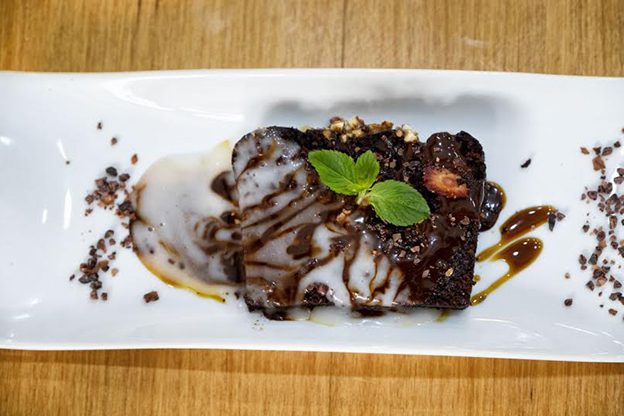 Our third dessert was the XXX de Chocolate (S/. 11) which was prepared with organic cacao, coconut flour, peanut flour, oatmeal, and panela. This was a decent and moist chocolate dessert.
La Chakra has a decent variety of dishes to choose from or to create yourself. They also offer a daily menu available for 18 soles and includes a starter, main dish and dessert (entrada/plato de fondo/postre).  There are also daily specials and weekly and monthly promotions.
Av. José Pardo 620
Basement/Sótano
#20, Int. 20
Miraflores
lachakrabioconsciente@gmail.com
Phone: 243-8720 / 955 083 107
Hours:  Monday thru Saturday: 12:00 p.m.-8:00 p.m.
           Closed Sunday
Delivery available only in Miraflores
Starters:  S/. 8-16
Soups:  S/. 10-13
Bowls: S/. 16-23
Sandwiches:  S/. 12-16
"Burgers":  S/. 13.5-27
Pastas/Rice/ Quinua:  S/. 23-28
Chef Recommendations:  S/. 28-30
Desserts:  S/. 5-15
Premium Smoothies:  S/. 10-15
Hot Beverages:  S/. 4-8
Fermented Probiotics:  S/. 8
Daily Special:  S/. 18
Comments
comments