Open for just a little over three months now is the ambitious restaurant La Niña. This unique restaurant combines local gastronomic products, Peruvian art, cocktails and wine in the heart of Miraflores.
I was curious to visit this culinary newcomer. Here's why.
Andres Orellana, at the tender age of 28, besides being the owner and chef at La Niña, is also a talented wine sommelier. He was a graduate of the Lima Cordon Bleu and also gained culinary experience during internships at various restaurants in Europe. In 2011, he opened up the popular criolla cuisine restaurant, Tr3s, in the Gamarra area, which enjoyed success for several years.
Aldo Yaranga is Andres' good friend, right-hand man and sous chef at La Niña. I watched him as he maneuvered around the small kitchen area with an abundance of energy and enthusiasm.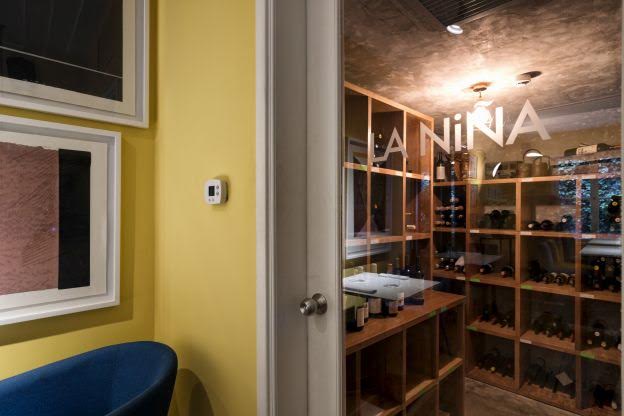 Wine is an integral part of La Niña due to Andres' background and experience as a wine sommelier. If you are a wine connoisseur, you will undoubtedly enjoy the complex wine list, which offers wines from South America, Europe and, of course, Peru. The wine cava is filled with a diverse selection of sparkling wines, champagne, sherry, white wines, red wines, port, as well as a selection of organic, natural, orange and biodynamic wine.
The Restaurant
I took a tour of the premises and I liked what I saw. It was full of color everywhere you looked with a bounty of Peruvian art (murals, paintings, sculpture, textiles, etc.). It was obvious that much thought and planning had gone into the decor of La Niña. The furniture was comfortable, as well as chic and eclectic. The vibe was intimate and cozy.
The first floor has the main dining salon, the open kitchen and the back private salon, along with the wine cellar. The second floor is the domain of the chief of the bar, Luis Alza. His repertoire is vast and you can enjoy his old-school classic cocktails with new twists, as well as his own original and unique cocktail creations using premium liquor, local herbs, spices and fruit.
You can sit at the small bar upstairs or at the various small tables and stools.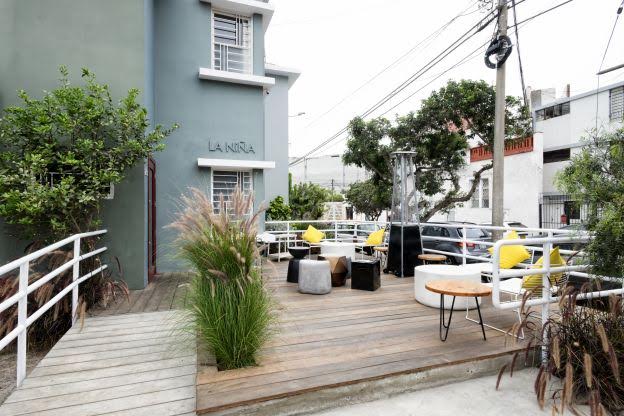 There is also a cozy outdoor patio off of the second floor as well. A larger outdoor patio is located on the ground level of the restaurant with comfortable seating to relax and enjoy a cocktail or two.
The Tasting Menu
The day of Traveling and Living in Peru's culinary visit in June, Andres decided to serve us their 8-course tasting menu. The tasting menu offers a pairing without alcohol (S/. 170) or with alcohol (S/. 295), which has a wine-based pairing proposal, beer and spirits mainly from South America.
La Niña serves menus based on seasonal products from different areas of Peru in collaboration with artisanal producers, harvesters and fishermen. They all share the same philosophy—respect for and value of the products.
First off, the presentation of all the dishes was creative, artistic and thoughtful. The tasting menu changes often so don't expect to return two months later, or even a couple weeks later, and eat the same dishes. They like to change the tasting menu and regular menu on a monthly basis.
Several of the dishes on the tasting menu were intriguing. I would say we enjoyed about half of the items and the other half left us a bit underwhelmed and were lacking the "wow" factor that we were expecting. Several were a bit bland in flavor combination or the textures did not seem to complement each other.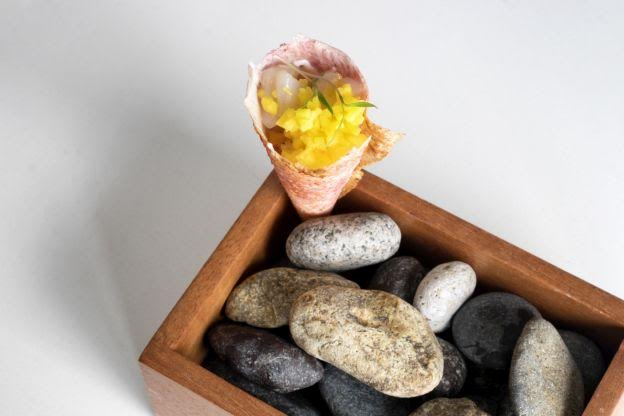 My favorite course from the tasting menu was the Yucas, Kefir, Navajas, Toronja, which was a crunchy cone prepared with yuca flour and filled with a mixture of fresh razor clams, green mango, and kefir. This dish was fresh, acidic and left me wanting more.
The Atun, Mote, Palta, Cidra, Limo is La Niña's version of tiradito. This day, they used extremely fresh Fortuna fish, along with grilled corn, avocado, citron and limo pepper. This was one of my favorite dishes. This particular plate was their version of "sea meets mountains".
I personally enjoy innards and sweetbreads, and I enjoyed the Molleja, Apionabo, Tomate, Panela dish. Others at the table felt that the veal sweetbreads were a bit too chewy, but I thought they had a velvety texture and were good. I rarely pass mollejas up because, when they are cooked, they taste a bit like bacon to me. The combination of the sautéed veal, the root vegetable, celeriac, cherry tomatoes and arugula was both a bit rustic and delicate at the same time and a bit unexpected.
The Dessert
One of the dessert items on the tasting menu, which was a totally different flavor combination, was the Masato, Manjar Blanco, Cecina. You could say this dessert was "tiramisu from the jungle". The cold dessert was layered with fermented yuca, a butterscotch with cecina (bacon with a beef jerky texture from the jungle) and a dusting or powder prepared with the cecina as well. When you take the first bite, it's a strange unknown flavor, but with every bite this dessert became better and grew on us.
The Drinks
Besides the tasting menu, we also sampled two cocktails and one of their non-alcoholic beverages. I chose the Betarraga (S/. 13), an interesting concoction of pineapple, beet, raspberry and lima fruit juices. I found it refreshing and unique.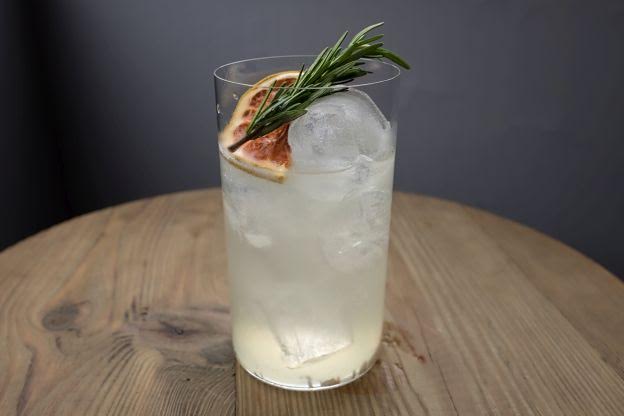 We sampled two of the La Niña house cocktails, the Collins (S/. 36), a refreshingly crisp mixture of Amazonian Gin, grapefruit, lime juice and tonic water. This cocktail suited me just fine. The guys enjoyed the Negroni X (S/. 45), which was a robust combination of Plantation 5-year rum, Laphroaig PX malt whiskey, Cocchi vermouth, and PX Navazos sherry.
The Regular Menu
I returned to La Niña with a friend a week later since I was intrigued to taste the food from their regular menu. Their regular menu offers a variety of aged meats, fish and seafood, duck and sausages. The portions are not large, but sufficient.
We began with two cocktails while we purveyed the menu to make our decisions. Roxana selected the Wila (S/. 30). She enjoyed the combination of Barsol Torontel Pisco, the blackcurrant liqueur Cassis, pomegranate juice, all of which is accented with fresh raspberries. I opted for something totally different, the No Milk Pls (S/. 32), a creamy concoction of Botran 12-year rum, Licor 43 (an iconic liqueur from Spain which has 43 ingredients, including citrus, fruits, herbs and vanilla), banana and coconut milk.
We began with two items from the Snacks section of the menu. Our first choice, the Min Pao de Papada de Cerdo y Kimchee (S/. 12), was a bit of a disappointment for us. Two plump min pao steamed buns were infused with beet and filled with pork jowl and presented in a wooden steamer basket. We found the buns were much too rubbery in texture for us and the overall dish was lacking some flavor, a bit too bland, even with the accompanying kimchee sauce.
The Tortilla de Papa a la Brasa (S/. 15) on the other hand was fantastic. Moist on the inside with an abundance of sliced white potato slices along with sliced white onions. The outer "crust" of the tortilla was crispy. The tortilla was served in a small black cast iron serving pan. This can be shared between two people.
We both ordered a main dish. Roxana opted for the Espesado Chiclayano Punta de Pecho y Loche (S/. 42). This dish consisted of a pepian of corn (a thick purée of corn and other ingredients, especially popular on the north coast), cilantro, very tender beef that has been slow-cooked for 36 hours, toasted cubes of loche (squash) and salsa criolla. When this dish arrived we noticed the loche and salsa criolla were missing. The staff immediately resolved the situation and brought the toasted loche and salsa criolla. This dish was delicious and ideal for this chilly Lima weather. Definitely a comfort food dish.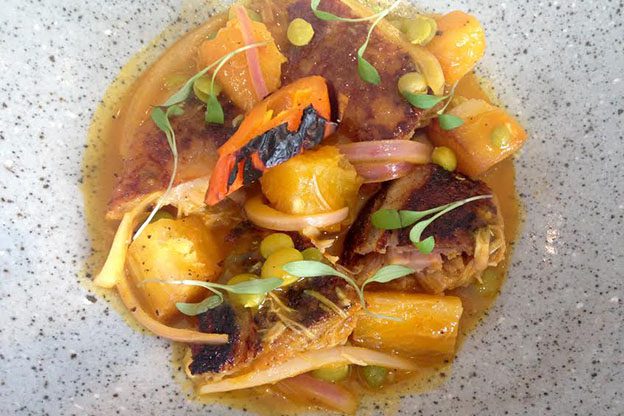 My Cebiche de Pato Confitado, Yucas y Aji Morroneado (S/. 48), was a wonderful delight. The duck was perfect in every way. The duck confit was moist and tender and the skin was crisped to perfection. Yuca, charred aji amarillo and sauce accompanied the pieces of duck. All of the ingredients complimented each other. This dish was delicate and full of personality. If you enjoy duck, I highly recommend this dish.
What Else?
La Niña is holding pop-up initiatives on a regular basis in the evenings, sometimes several times per month. The is called Paralelo (talent is parallel; the kitchen, universal) and it unites young chefs, bartenders and sommeliers who are invited to develop new culinary proposals along with the La Niña team.
I have an open mind when it comes to food and, even though we felt there were some hits and misses, I also feel like La Niña holds lots of promise. It has only been open for a little over three months which means they only have room to get better and improve as time passes.
La Niña = a youthful team of risk takers full of passion, ambition, talent and fresh and intriguing ideas.
Many thanks to Andres, Aldo, Luis, Cristian and the rest of the energetic and friendly team at La Niña.
Calle Francisco de Paula Camino 299, Miraflores
Phone: 363-7194
Seating capacity: approx. 50 people
Reservations accepted
[email protected]
lanina.pe
Hours:
Monday-Saturday: 12:30 p.m.-4:00 p.m. (Lunch)
Monday-Wednesday: 7:30 p.m.-12:00 a.m. (Evening)
Thursday-Saturday: 7:30 p.m.-12:30 a.m. (Evening)
CLOSED SUNDAY
Prices:
Snacks: S/. 6-20
Starters/Appetizers: S/. 38-45
Main dishes: S/. 40-60
Desserts: S/. 20-28
Non-alcoholic house beverages: S/. 10-18
Coffee: S/. 8-24 (espresso and coffee prepared with Chemex and V60)
Infusions: S/. 8
Bottled water: S/. 8-9
Artisanal Peruvian Beer: S/. 18-20
Classic Cocktails: S/. 26-42
La Niña House Cocktails: S/. 30-45
Extensive wine list
Now that you're here:
We're asking you, our reader, to make a contribution in support of our digital guide in order to keep informing, updating and inspiring people to visit Peru. Why now? In our near 20-year journey as the leading English-language source on travel in Peru, we've had our fair share of ups and downs-but nothing quite like the challenges brought forth in the first quarter of 2020.
By adapting to the changing face of the tourism and travel industry (on both local and international levels), we have no doubt we will come out stronger-especially with the support of our community. Because you will travel again, and we will be ready to show you the best of Peru.
Your financial support means we can keep sharing the best of Peru through high-quality stories, videos and insights provided by our dedicated team of contributors and editors based in Peru. And of course, We are here to answer your questions and help whenever you need us.
As well, it makes possible our commitment to support local and small businesses that make your visit an unforgettable one. Your support will help the people working in these industries get back on their feet once the world allows us to make our dream of enjoying everything Peru has to offer a reality again-from its mouthwatering gastronomy, thriving Amazon and archaeological wonders such as Machu Picchu.
Together, we will find a way through this. As a member of our community, your contribution, however big or small, is valuable.
Support Traveling & Living in Peru from as little as $1 - and it only takes a minute. Thank you!