Japanese restaurant Makoto has done well for itself in Lima. Let's see what to and what not to order…
With three outposts across the capital, it offers a wide-ranging menu – alongside various sushi options, it specializes in traditional Japanese plates as well as attempts at fusion with Peruvian food. I recently visited its flagship, a steady force on Dos de Mayo in Miraflores, to see what all the fuss is about.
You would do well to come here for the sushi and cold plates, but probably better off steering clear of the hot dishes.
The decor in this box-like structure was neat and tidy, marked by a brightly lit sushi bar that contrasted with darker nooks for the main dining room. The setting conveys an air of professionalism for an establishment accustomed to dealing with a large daily turnover.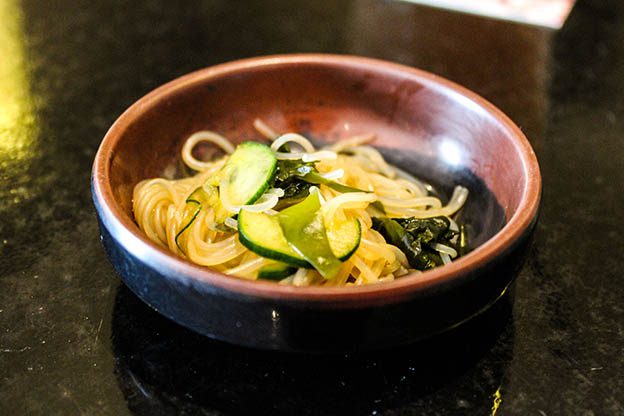 As for the food, things started off very promisingly.
An amuse bouche of cold glass noodles with pickled vegetables and seaweed was briny and deliciously sour. This was followed by a glistening tiradito served with a classic Nikkei style sauce. Accented by peppers and plenty of citruses, it was the ideal appetizer– well balanced, showcasing a bit of heat and freshness before venturing onto the rest of the meal.
Things continued to go well with the temaki, the cone-shaped hand roles. They were delectable and demonstrated what Makoto does best – cold plates with minimal seasoning. The nori, shimmery and sturdy, enveloped the fresh filling. Chunks of tuna were paired with avocado and moistened with a drizzle of spicy kimuchi, Japanese style kimchi, in the version called Lima. The California – with salmon, shrimp, and avocado was good but needed a hefty dose of soy sauce to keep it a contender against the tuna version.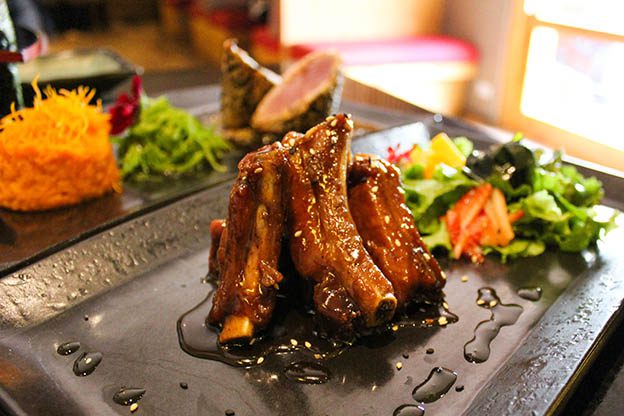 Many of the hot plates, despite several good elements, suffered from misfires.
Barbecued baby pork ribs, Costillas del Emperador, were pleasurable – covered with a sticky coating, they were very sweet but somehow this worked for the fatty and salty meat. Although the meat was a tad dry, it's still a worthy appetizer for anyone craving a few bites of rich pork.
Seared tuna coated with sesame seeds, Tuna Expreso de Oriente, reminded me of what an adventurous meal would have been back in 1998. Even years past its heyday, an ahi tuna can still be loved for being so devoted to showcasing the mighty fish. Served with a colorful, structured mound of pureed camote (sweet potato) and finely shredded green beans, there was a lot to like about this plate, even beyond its looks. However, the accompanying ginger sauce was lost on me. Someone had loose hands on the sugar and a nearly inedible sticky concoction served as the bed for the delicately flavored tuna.
Shogayaki steak – cuts of sirloin served with sautéed white onions and spring onions – should have been a whimsical Japanese take on lomo saltado, showcasing the layers of onion, sesame, and brothy flavors of the beef, but I was astounded how more sugar found its way into this dish, basically turning something that should have been enticingly soy-based into an altogether cloying disappointment.
Sugar, not wanting to be upstaged, also played a role in their drinks.
We were given a sample of their non-alcoholic cocktails – Hana, a blue-tinged faux martini, and Piruchi, a frozen lemonade with pineapple, which resembled a very virginal Piña Colada. They were bright and colorful, presented in a way that would please those on honeymoon in Hawaii in the early 90s. Cocktails are supposed to be fun, sure, but without alcohol, they better at least resemble a refreshing juice. Oversweetened beyond comprehension, they instead brought back memories of a slushie, but one that had been allowed to melt down. You're better off with a pure sake or beer, which they have plenty of but didn't seem intent on recommending to us that day.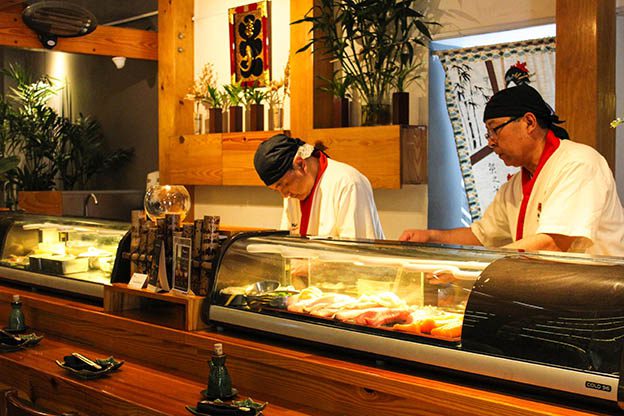 There's so much that Makoto could be getting right, but as the meal started to weaken dish by dish, after such a promising start, I realized I should have just stopped at the sushi part of the meal, so I might have actually had a chance of enjoying every bite.
Makoto
Av Dos de Mayo 413, Miraflores
Mon-Thu: 12pm-11pm
Fri-Sat: 12:30pm-12am
Sun: 12:30pm-11pm
Starters S/ 12-50
Sushi & Sashimi S/ 16-29
Rolls (6-12 pieces) S/ 19-47
Main Dishes S/ 26-65
Desserts S/ 16-22
Non-alcoholic beverages S/ 7-19
Cocktails/Beers/Wine S/ 11-65
Temaki (Main photo: Monique Loayza/Living in Peru)
Comments
comments