For over 13 years Malabar is still presenting exotic Peruvian flavors, tamed and coiffed for your pleasure…
Neutral colors fill the dining room- creams, browns, white linens and chevron-patterned wood floors. An eclectic mix of paintings hang. The wine room remains exposed. The sumptuous bar that greets you as you enter the premises. A desirable address is hidden from the outside chaos of the surrounding city.
The perception that this is a serious dining institution permeates.
And after 13 years, Pedro Miguel Schiaffino's Malabar is still highly regarded in Lima, making the latest list of Latin America's top 50 restaurants, in the same company as Maido, Astrid y Gaston, and Central.
The polished dining room is what you would expect out of a staple – that restaurant occupying the Upper East Side of Manhattan, or Marylebone in London, or here in San Isidro, Lima. The one still looking to remain relevant. Schiaffino and his team attempt to accomplish this by way of their diverse menu. They mostly succeed.
The menu focuses on the rich palate of Peruvian ingredients, including many lesser- known ones from the Amazon region, executed in ways that bend more Italian or Spanish or French. Those who know Schiaffino's food will not be surprised by this mélange, as he deftly handles the cuisine from the selva at his other restaurant Amaz.
The contrast in the food styles is apparent even in something as basic as the breadbasket. Two types are served, one more 'campesino' that is very much like a pain de campagne, and another sweeter version – yuca con queso. Both are served with an aesthetically pleasing knob of butter delicately dusted with herbs.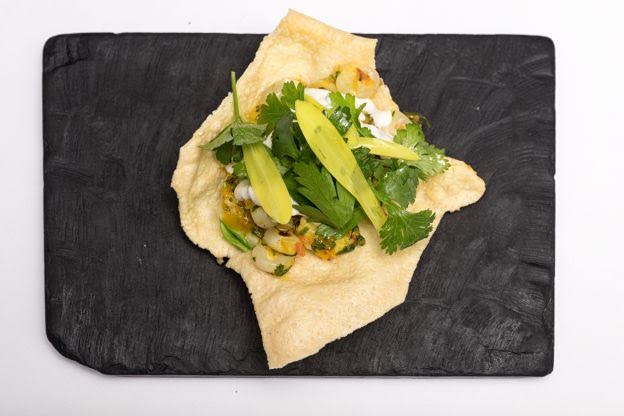 The meal really kicked off with an item from the "Small Portions" section of the menu. Portions at restaurants like this one are typically already very small; it seems redundant to mention. So I was surprised to find that what arrived was actually more than a minuscule amuse bouche.
Tostadas de Choclo features corn in 4 different variations – a corn tostada acted as the bowl for sautéed corn, filled with corn puree, and corn sprouts, all pulled together with a kefir-based sauce. It was light, herbaceous and fresh.
Camarones al Mojo, one of the Starters, were simply delectable. The sweetness of the crustacean was only enhanced by the richness of the mojo, the pleasing bitterness of charred red onions, and the delicate scent of orange. A thick slice of camote, or sweet potato, had a crunchy exterior contrasted with a creamy inside. The sliver of orange itself was not ripe, but that was the only component lacking in an otherwise perfectly composed dish.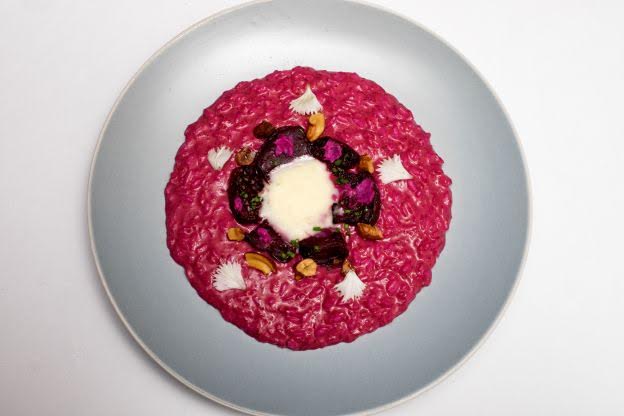 On to the Main Dishes.
The most photogenic dish award has to go to the Arroz Cremoso con Betarragas, a beet risotto richly pink in hue and featuring a contrasting pool of white cream to create the bullseye, and a couple of artfully arranged edible flowers. The white cream sauce featured an Andean cheese, which unfortunately confirms that Peruvian dairy has a long way to go, as it was essentially flavorless. A stronger goat or blue cheese may have been the more obvious choice, but there's a reason why the pair works well. The earthy sweetness of beets demands a richer, more pungent cheese to stand up to it. Despite that, I appreciated the dish as a whole – it was rich and creamy, and the kitchen did a good job at tapering the 'dirt' flavors typical of many beet-based dishes.
Emu Encebollado was a riff on steak with onions. Ok, that's a stretch, and I still appreciated the technique used for the escabeche of onions as well as the tenderness of the emu steak, still perfectly pink in the center. However the combination wasn't very memorable, and I couldn't help asking myself, was this just an effort to feature an exotic meat because I had no compelling reason to love the dish.
Dessert was hit and miss.
Merengon de Fruta de Estación will likely please that crowd who actually take pleasure in eating sweetened egg whites (sorry meringue fans). It was light and fresh, and a better, more creamy take on a meringue than the over-sweetened versions you might find in less capable hands. But it ultimately fell flat due to the accompanying bed of seasonal fruit. This seemed a misnomer, as the fruit was neither ripe nor as perfumed as one would expect from produce in season.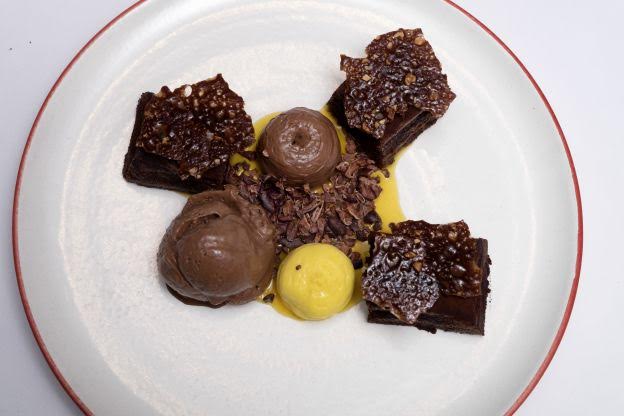 The other dessert we tried was the bona fide hit, and yes, it was also chocolate-based.
Flourless de chocolate, as it was called, featured chocolate gelato, a flourless chocolate cake, and a passion fruit coulis. The chocolate components were well executed, nicely bitter and rich, but the accompanying crumbles of chocolate and coffee nibs, as well as the refreshing tartness of the passion fruit, turned an otherwise average dessert into something more exciting and worth the indulgence.
These few flaws in the execution might deter a discerning diner, especially among all the options that have sprung up in Lima's food scene since Malabar first opened. But go and see for yourself: order wisely and you could very well see why Malabar is still here.
Malabar
Av. Camino Real 101, San Isidro
Website
Small portions S/ 12-22
Starters S/ 32-42
Main Dishes S/ 42-64
Desserts S/ 26-28
Camarones al Mojo (Main photo: Marco Simola/Living in Peru)
Comments
comments