In the heart of historical downtown Arequipa, Omphalos provides a lovely array of traditional Peruvian dishes, but with vegetarian and vegan flare.
Omphalos originally began as a response from friends' frustrations about the difficulty of finding traditional Peruvian and Arequipeño dishes that catered to the vegetarian and vegan community.
We spoke with our friend Heidi about the restaurant's inception and her concerns about animal rights and protecting the environment, all important elements that brought Omphalos to life. She expressed a desire to be a part of the movement in Peru toward healthier living, improving animal welfare, and supporting the local economy, each of which are integral components of a vegetarian and vegan restaurant.
For two years, Omphalos has offered a unique vision for typical Peruvian dishes here in Arequipa and continues to be a part of the increasing popularity of vegetarian and vegan cuisine in Peru.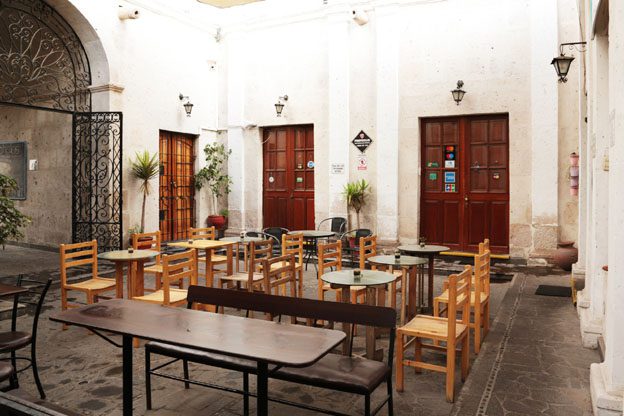 The Atmosphere
Located a few blocks from the Plaza de Armas, located on Calle Bolívar, Omphalos is picturesque in a beautiful, colonial-style building that belongs in La Ciudad Blanca of Arequipa. The entryway to the building opens into a sunny courtyard decorated with cute, tiny succulents, inviting tables with chairs, and an awning that keeps the harsh Arequipa sun away.
The friendly and attentive staff provide an inviting atmosphere, and the interesting, colorful murals in the interior dining area provide a pop of color in The White City. The inside dining area is a fascinating space where guests can watch the preparation of their meal behind an impressive display of homemade vegan cakes (more to come on this!).
The Food
As a vegetarian, it has always been hard for me to find typical dishes while traveling in a new place. I always want to try local, iconic foods, but they are rarely vegetarian-friendly (let alone vegan-friendly).
Omphalos is a stellar example of how to incorporate traditional fare with a vegetarian twist. They have many traditional Peruvian and Arequipeño dishes made vegetarian or vegan so that anyone can sample, taste, and savor the flavors that have made Peru a hit in the international culinary community.
Not only does Omphalos have a regular a la carte menu, but they also provide a typical Peruvian menú during the lunch hour. A menú includes a drink, a starter, a soup, a main dish (with four options to choose from), and a small dessert. Menús are very popular all over Peru, and they are always a good bang for your buck.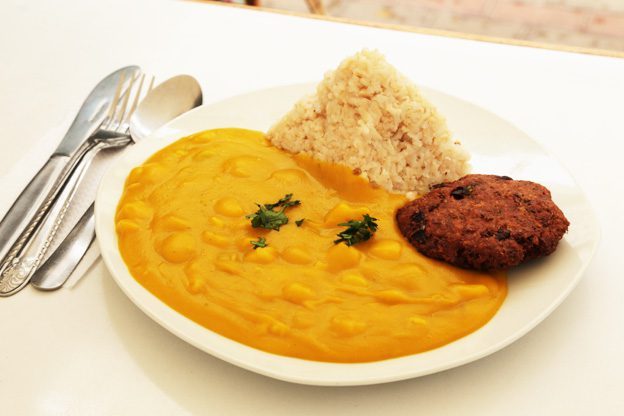 We started our visit with a Menú (S/10). Every menú always comes with some sort of refresco, which is an herbal drink. On this visit, our refresco was a manzanilla (or chamomile) base, but refrescos change daily.
The starter was causa rellena, which is one of the most popular dishes in Peru. Causa, a layered mashed potato cake, typically contains chicken in the middle; however, the Omphalos team replaced the chicken with some local vegetables, peas, and carrots, with a creamy white sauce that was the perfect combination.
Our second course of the menú came with a large bowl of Cazuela de Garbanzos. This hearty soup is made with vegetable broth, cabbage, garbanzo beans, sweet potato, carrots, celery, and of course, a small portion of choclo still on the cob. This warm, filling bowl of soup is generously portioned.
The star of the menú, our main dish, Hiro de Zapallo con Hamburguesa, arrived with a lovely presentation and a wonderful aroma. Served with a healthy portion of white rice and a homemade vegetarian hamburger made of lentils, the creamy, buttery sauce with lima beans was to die for and a filling end to the savory portion of the menú.
To finish off the menú, we were served a small portion of Mazamorra Morada, a satisfying jelly dessert made from maiz morada, a popular purple corn that Peru is known for. This little, sweet dish is the perfect end to a gigantic meal.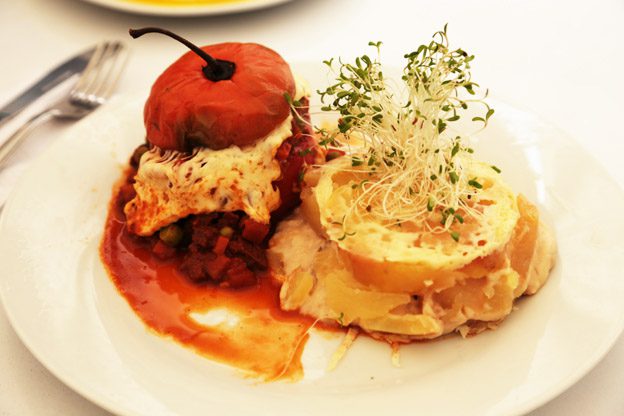 From the regular a la carte menu, our next dish was the vegan version of lomo saltado. Champi Lomo Saltado (S/13) has been remade at Omphalos with sautéed mushrooms, onions, and tomatoes in a savory sauce, garnished with alfalfa sprouts, and served with white rice and homemade french fries.
We've said it before, and we'll say it again: no gastronomic experience in Arequipa would be complete without Arequipa's flagship dish, Rocoto Relleno with Pastelito de Papa (S/18). Omphalos has reimagined this spicy dish to be vegetarian- (and vegan-) friendly with a fiery rocoto pepper stuffed with soy meat, peas, carrots, a peppery sauce, and topped with Andean cheese. The rocoto relleno was accompanied by a lovely version of pastel de papa embellished with alfalfa sprouts.
The Desserts
The Omphalos team has truly stolen our hearts with their ever-changing selection of homemade vegan cakes. Today's feature was a two-layered Chocolate Cake with Chocolate Mousse (S/6), a sweet end to a multi-course celebration of traditional Peruvian cuisine.
Heidi and crew frequently change the cake makeup with lucuma, strawberry, elderberry and even avocado mousse. These are, in our estimation, some of the best cakes to be found in Arequipa.
As always, we thoroughly enjoyed our afternoon at Omphalos. If you're a traveling vegetarian (or vegan) or just want a healthy, wholesome meal and would like to try some of Peru's finest dishes, be sure to stop by, and if you'd like to see more about Omphalos, watch The Fandrich Expedition's "A Taste of Arequipa – Omphalos."
Omphalos
Calle Bolívar 107, Cercado, Arequipa, Perú
Phone: 993 719 720
Hours
Monday to Thursday: 9:30 a.m. – 9:00 p.m.
Friday: 9:30 a.m. – 5:00 p.m.
Prices
Daily Lunch Menu: S/10
Breakfast: S/10 – S/18
Drinks: S/3 – S/10
Appetizers: S/8 – S/10
Main Dishes: S/13 – S/25
Desserts: S/6
Comments
comments