Offering views of Barranco's most famous landmarks, Santos Comedor & Cantina draws locals and tourists alike.
For many of my expat friends, Barranco stands as their favorite neighborhood. Its streets full of artwork and graffiti, the early century houses here and there, its relaxed and bohemian character, are all attractive elements for many Peruvians and tourists alike. Add a considerable number of bars, restaurants and happening places, and you will get the full picture now. Famous landmarks are, without any doubt, El Puente de los Suspiros (Bridge of Sighs) and the Bajada de Baños (the walkway down to the ocean). If you want to have a nice view of these sites and more, then you should pay a visit to Santos Comedor & Cantina.
Photo: Marco Simola

Photo: Marco Simola

Photo: Marco Simola

Photo: Marco Simola
Decor
Santos is located inside an old house just across the Puente de los Suspiros from the rustic church, Iglesia La Hermita. Inside it is full of bright colors, wooden floors, original tiles, and the high ceilings typical of old Barranquino houses. A lovely and narrow wooden balcony allows you to have a privileged view of the bridge and the charms of Barranco. The decor is quite simple with the wooden bar at the end standing out.
Food
Perhaps due to its prime location and the fact that it used to be a traditional peña some ten years ago, one could easily think that it is all about drinks in Santos. Starting this year, Santos expanded its offer of drinks and snacks to serving brunch, lunch and dinner to its hungry customers. At our visit to this locale we found that the traditional Peruvian food is offered at reasonable prices.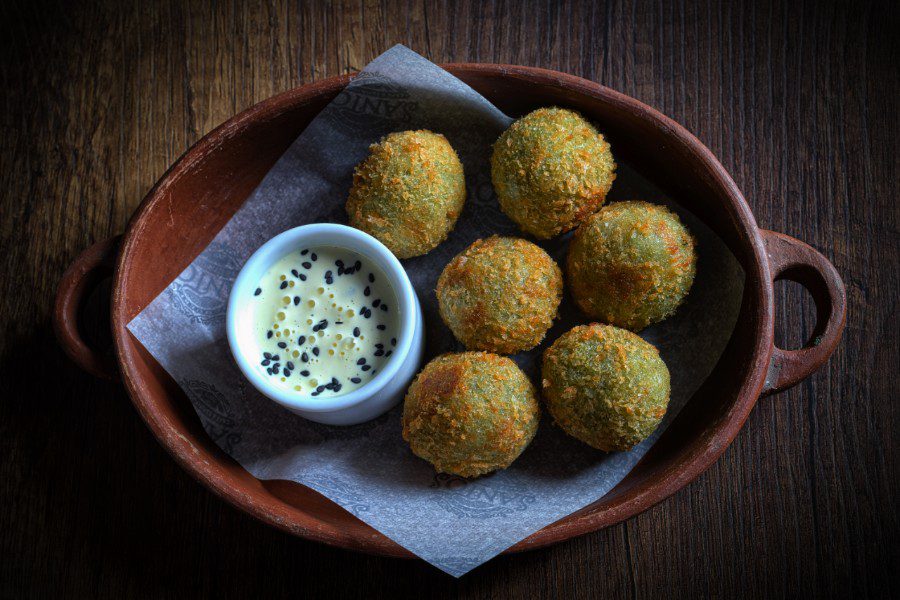 As you can expect, there are a few appetizers on their menu. We tried the Butter bean croquettes with Andean herbs and mozzarella cheese (S/ 20) consisting of several tender croquettes and some mayonnaise sauce on the side. The croquettes were soft and tasty, while the sauce was okay. We asked for another sauce option, and they brought us a few others that we liked better, in particular one with finely chopped chilies. We then tried Mozzarella cheese sticks (S/ 25), a basket with several deep fried cheese sticks and an avocado aioli. The cheese sticks were extremely soft and my colleague seemed to enjoy them. I definitely preferred the Fried empanadas with creamy chicken (S/ 25) that were crispy on the outside and creamy on the inside.
We then passed on to try some starters. We had a Classic ceviche (S/ 23), apparently a popular dish amongst Santos customers. The ceviche was made with perico fish marinated in lime juice, red onions, peppers and cilantro. In the classic way it was served with boiled corn and sweet potatoes. We all agreed that something did not go the right way that day. Next came the Causa limeña (S/ 17), the classic mashed yellow potatoes dish, seasoned with lime juice and filled with chicken, avocado and tomato. The causa was fine and quite generously served. Consisting of several slices of trout seasoned with olive oil and lime juice, the Smoked trout carpaccio (S/ 19) was the last starter we had that day. Somehow, this starter did not fully convince me.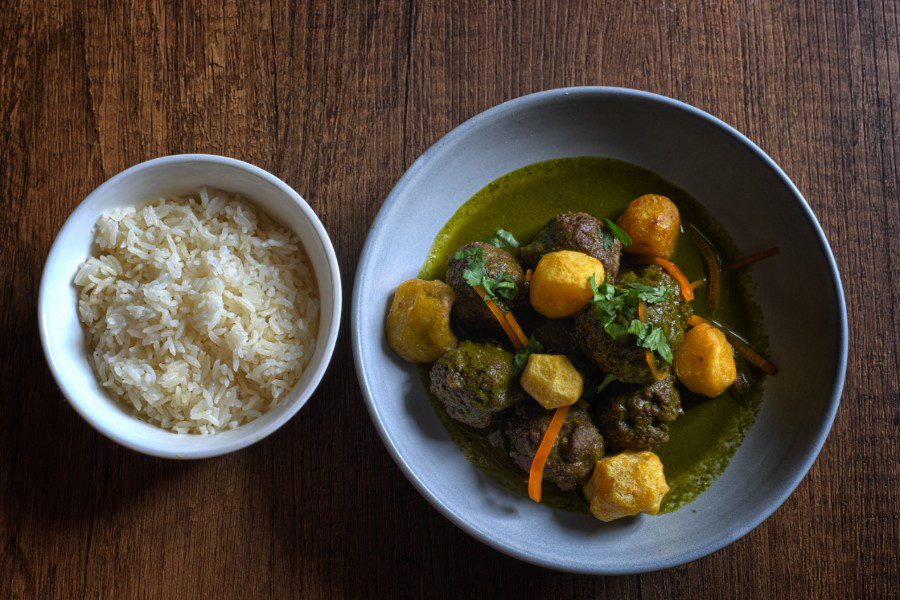 Things got much better when we moved on to the main dishes. We started with the Lamb meatballs in a cilantro and herb sauce (S/ 25), a dish that I haven't seen elsewhere. The meatballs are mixed with Andean baby potatoes and covered with a wonderful cilantro and herb sauce, and is served with a bowl of white rice. I love lamb and found the meatballs to be tender and full of flavor. The Andean potatoes and the cilantro and herb sauce were the ideal accompaniment for this well-accomplished dish. I could easily come back for this dish alone.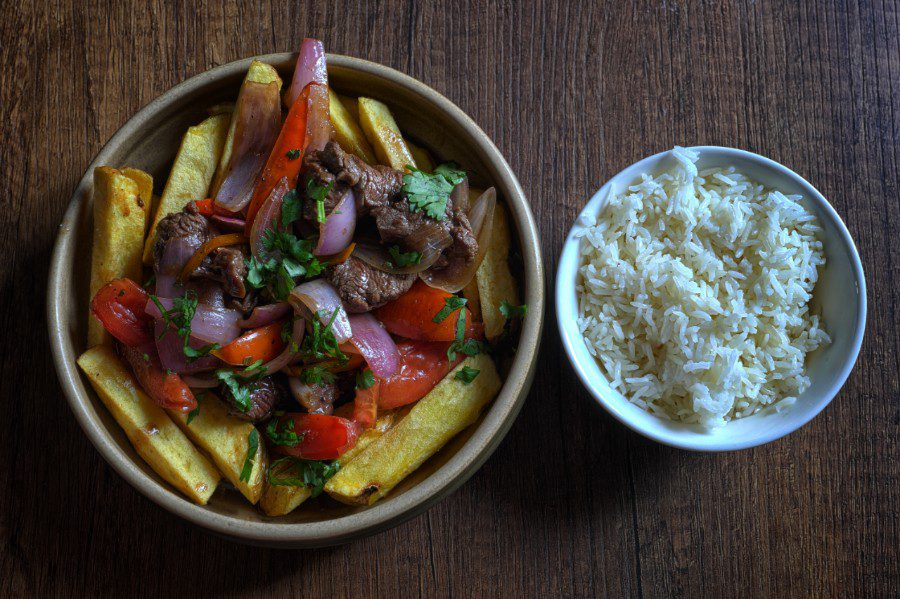 We then tried the Lomo Saltado (S/ 37), the classic sautée beef tenderloin, onions and tomatoes mixed with fries and white rice on the side. It is one of the most popular dishes at Santos, we were told. The portion we got was generous and it looked and tasted fantastic. The meat was tender, it was juicy and flavorful, and we all loved it.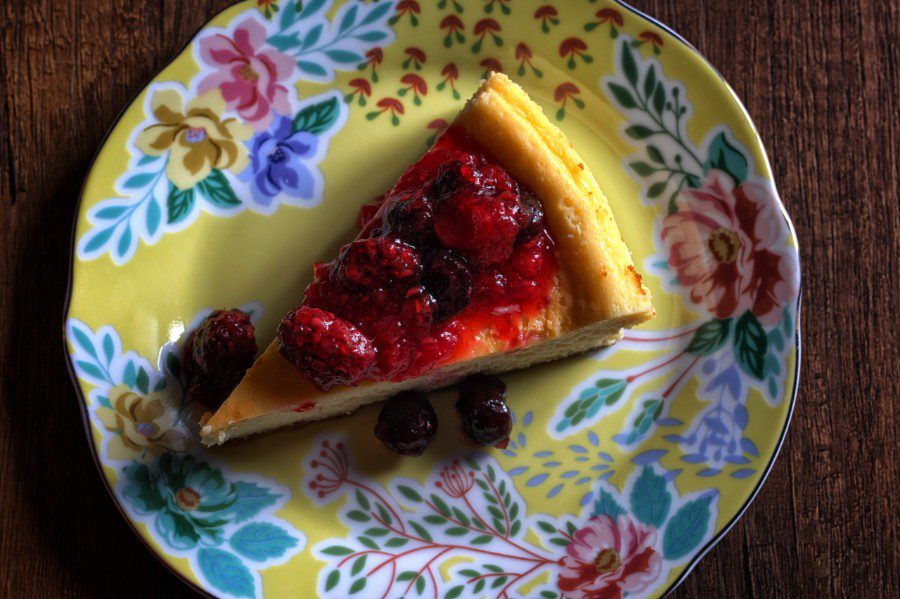 To our surprise, Santos Comedor & Cantina, also offers a selection of very appealing Peruvian desserts. Starting with the classic guargueros (pastries filled with dulce de leche), the picarones (S/ 10) available on Sundays, and up to a wide selection of ice cream flavors offered in the ice cream parlor Amore Mio (S/ 8 -12) in the room next door. We opted for the very Peruvian Suspiro Limeño (S/ 7.50), a creamy dessert that is meant for those with a very sweet tooth. I enjoyed the texture of the suspiro, the flavor, and the fact that it was not overly sweet. It comes in a small portion but enough to keep you satisfied. We also tried their Red Fruit Cheesecake (S/ 10) that was soft, tender and slightly sweet. Do not miss this dessert on your next visit to Santos.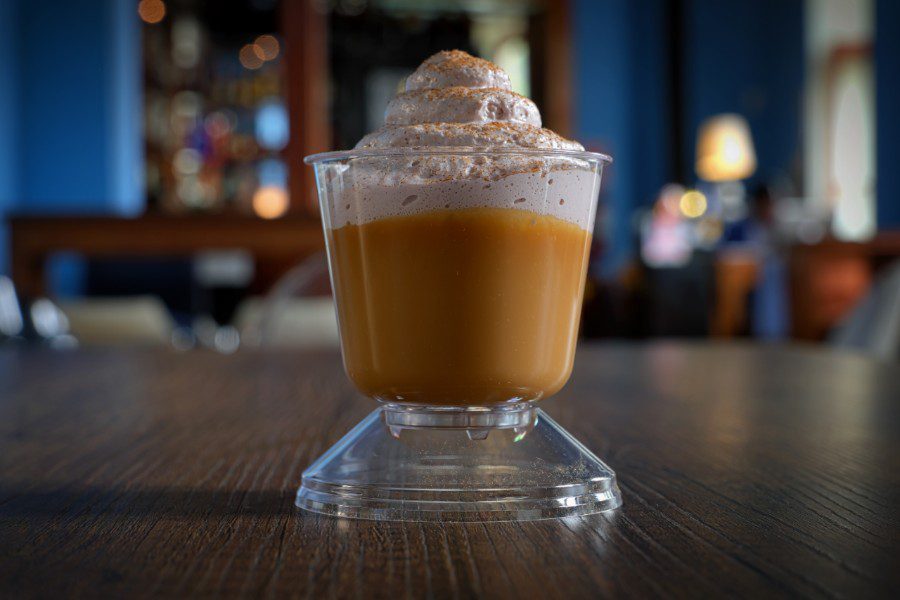 Drinks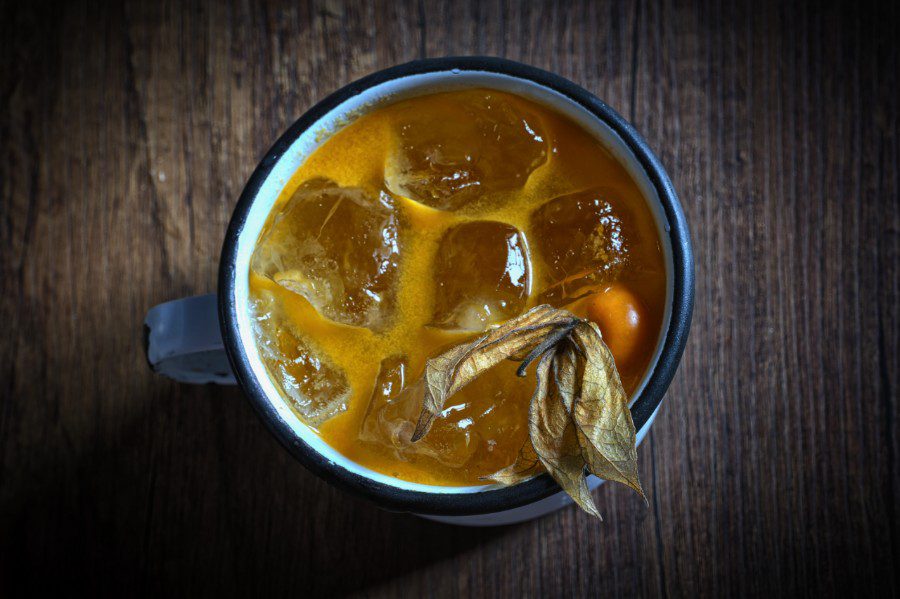 Santos offers national and imported beers as well as classic and house cocktails. The names of the house cocktails caught our attention. We had the pleasing Gringo Sour (S/ 23), a mix of pisco, lime and syrup. Then came the Mula Peruana (S/ 24). This mix of pisco, (lots of) ginger beer, golden berry and lime is similar to a Moscow Mule but with pisco and served in the traditional white tin jar that is found in markets across Peru. Lastly, the Lima Rum Berita (S/ 22), with rum, passion fruit and basil, was a tasty and memorable cocktail .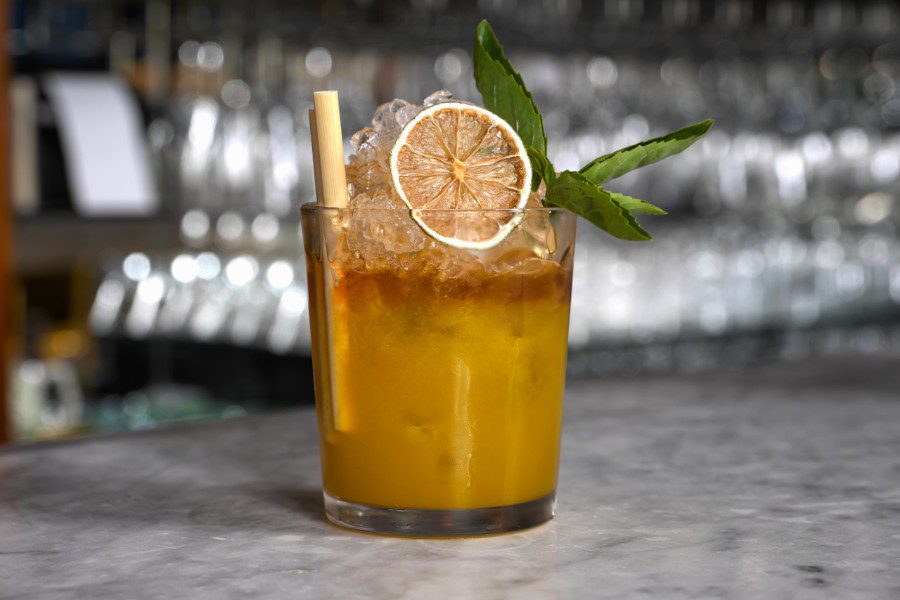 Final remarks
Santos is a great place to have a beer or a full lunch, and enjoy the view of the most emblematic and romantic landscapes of Barranco. The relaxed ambiance is one enjoyed by Peruvians and tourists alike, and even some lovely birds that frequent the property and know what is good.
Photo: Marco Simola

Photo: Marco Simola

Photo: Marco Simola

Photo: Marco Simola
Jr. Zepita 203 Barranco
Tel. 234 6155
Opening hours – Monday to Thursday 12pm – 12am, Friday 12pm -2am, Saturday 10am – 2am, Sunday 10am –10pm
Brunch S/ 20 – 38
Appetizers – S/ 20 – 25
Starters – S/ 14 -23
Main dishes – S/ 30 – 37
Sandwiches – S/ 23 – 25
Desserts – S/ 2- 10
Beverages – S/ 8- 18
Cocktails – S/ 20 -25
Beers – S/ 10 -18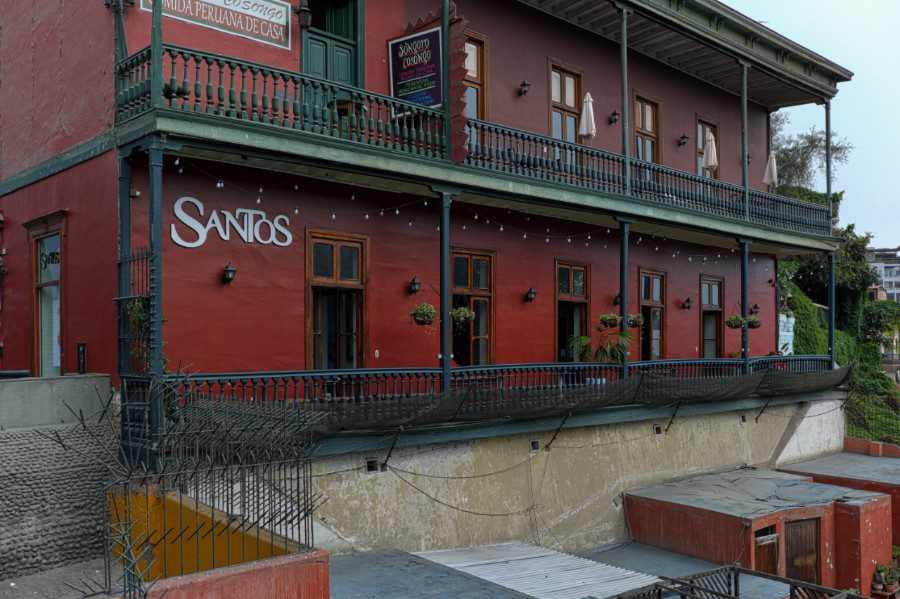 Cover photos: Marco Simola/Traveling & Living in Peru