Often referred to as the Galapagos Islands of Peru, the Islas Ballestas rank as one of the country's top wildlife watching spots.
The Islas Ballestas are a tiny conglomeration of craggy isles in the Pacific which is located about 24 Km from the little beachside town of Paracas in the south of Peru. In Paracas, you will come across loads of travel agencies offering guided tours to the Ballestas. Although there is no arrangement for accommodation in the islands,
the laid-back beach town of Paracas which is much favored by backpackers is a superb spot to spend a few days.
[caption id="attachment_137723" align="alignnone" width="624"]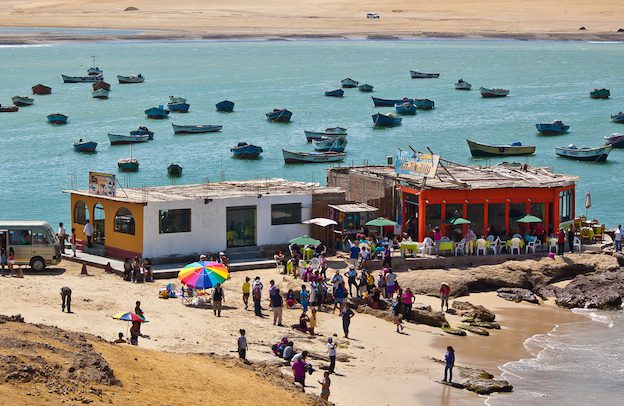 Laid-back beach town of Paracas (Photo: Flickr)[/caption]
Paracas is a tiny resort town which is just a 4 hours' drive from the capital, Lima.
While most travelers know Paracas as a springboard for a journey to the Ballestas, this quiet town with its fishing boats, resorts, seafood restaurants and cheap hostels is going to make your stay worthwhile. The boat journey from Paracas to the islands take around half an hour during which you will be cruising around the coastline of the isles with its marvelous inlets and caves. Once you start approaching the Ballestas you are sure to notice minute movements on the surface of the rocks.
Only when you get close, you will realize that the entire rock surface is teeming with marine life.
En route to the islands, you will see the much
famed three-pronged candelabra geoglyph
(150 meters high and 50 meters wide) carved on the sands of the peninsula which possibly served as a navigational guide for mariners. [caption id="attachment_137719" align="alignnone" width="624"]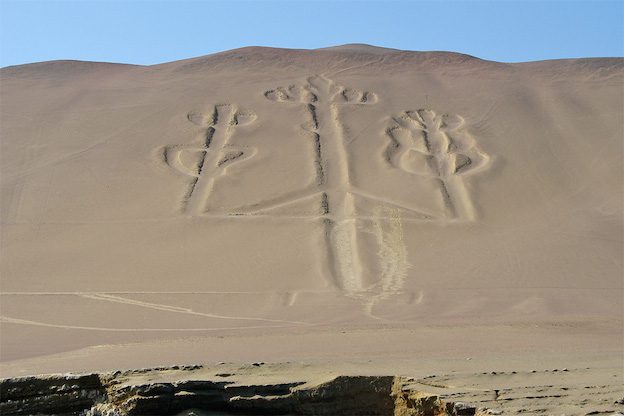 Candelabra (Photo: Wikimedia Commons)[/caption] The origins of this geoglyph are pretty obscure – according to some, it goes back to the Nazca Lines which some consider it draws its inspiration from a cactus with hallucinogenic properties. The boat doesn't disembark on the island but you will be very close to the wildlife for a good look and some amazing shots.
Nobody is allowed to step into these uninhabited islands except for researchers and scientists.
While your boat will be maintaining a respectful distance from the island, you are sure to see loads of wildlife coming up close.
You will be cruising around the caves, rock faces, and arches of the island and watch flocks of noisy sea lions resting on the rocks or swimming along the boat. Within a few minutes of arrival, you'll start spotting pelicans, fur seals, bright sea stars, cormorants, Peruvian booby and even some dolphins and penguins if you are lucky. You are sure to notice the enormous amount of birds dropping (
locally called guano
) which is periodically collected from the island to manufacture high-quality fertilizers. [caption id="attachment_137722" align="alignnone" width="624"]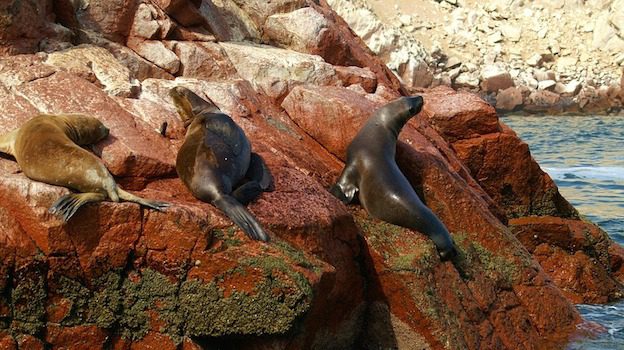 Sea Lions at Islas Ballestas (Photo: Pixabay)[/caption]
If you are traveling from June to August then you will definitely catch a glimpse of the condors and Chilean flamingos.
A few tips before you head to the Islas Ballestas:
Consider carrying some motion sickness medicines in case you feel nauseated during the boat ride.
Make sure to use a sunscreen and wear a hat to protect yourself from the sun (and the bird droppings).
If you are after some really good shots then make sure to get a seat in the back and carry your zoom lens.
Make sure to carry a pair of binoculars to make the wildlife spotting even more enjoyable. [caption id="attachment_137721" align="alignnone" width="624"] The craggy shorelines of Paracas National Nature Reserve (Photo: Free Public Domain)[/caption]
(Main Photo: Pixabay)
Don't Miss:
http://livinginperu.com/trip-paracas-islas-ballestas-huacachina/ http://livinginperu.com/news-new-paracas-welcomes-tourist-111307/ http://livinginperu.com/news-paracas-generates-nearly-us3-million-111554/