Thanks to the help from a new generation of engaged citizens with a willingness to invest into important community projects, Miraflores has a new cultural space which aims to empower artists by helping them to dream big and disrupt the status quo.
Artists and creators play a central role on this, starting conversations, inventing new ways of thinking beyond boxes and redefining the limits of artistic production and access to culture. This is why Tierra Baldía promotes cultural work for systemic change and development.
Challenges that inspire an important project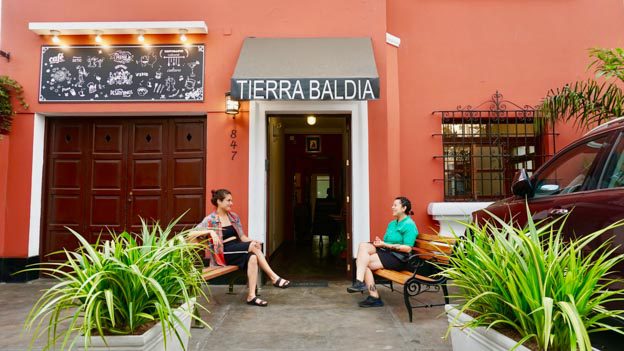 Because of political and economic barriers, it is oftentimes a struggle for worthy projects to get support from the Peruvian government. This is why collectives and individuals such as Tierra Baldía have taken a hands-on approach to address the lack of cultural spaces and platforms for promoting art and literature, which are essential for encouraging cultural innovation and for strengthening community bonds.

After losing her father, the renowned anthropologist and writer Fernando Fuenzalida who died in 2011, Rebeca Fuenzalida decided to honor his legacy by opening a cultural space and public library to hold his entire book collection, as well as naming the space, Tierra Baldía, in his honor, which is the title of his most famous book. She drew up the project's first concepts with help of former colleagues and friends of her father, like Anthropologist and Professor Armando Millán; Anthropologist, Professor and former Minister of Culture Juan Ossio; and Anthropologist and former Director of the National Library of Peru Ramón Mujica.

Since it was not an option to rely on public funds for supporting the project, she quickly realized that the public library would need to be self-sustainable. This is what inspired the concept of opening a cultural restaurant, which they quickly brought to life in less than a year. Since opening its doors, Tierra Baldía has hosted more than sixty Peruvian and international artists and musicians who have displayed their work, performed, and developed their careers. The library became a reality as well, and it safely holds more than 5,000 books between Fernando Fuenzalida's private collection (available upon requests for visits) and the free library in the ground floor.
Single-handedly starting the project that gained support along the way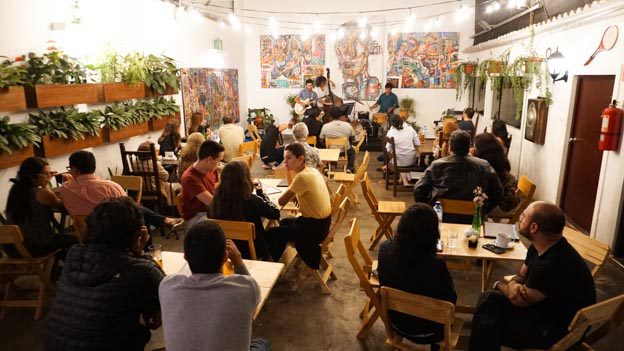 It was not easy for Rebecca to set out on her own in order to bring this project to life. She started by restoring the historic house along Av. Del Ejército in Miraflores, which started to grab people's attention. The idea of opening a family-style restaurant and cultural space within this historic space proved to be very popular. With help and support from family and friends, in 2018 Tierra Baldía opened its doors to artists, writers, and musicians from all corners of the country, making the space a multi-generational hub, accessible to all forms of cultural initiatives.

Collaborations and weekly concerts
This year, Tierra Baldía created an alliance with Lima's Jazz Association by launching Tierra Jazz, a weekly performance by Peruvian and international musicians. The event serves to promote jazz music as a tool for interculturality within the country. Both Tierra Baldía and Lima's Jazz Association are non-profits that seek to generate a dialogue between the community and the musicians, keeping in mind that jazz music has been declared by UNESCO as a symbol of peace and union between cultures. All performances cost the same (S/ 10.00 Nuevos Soles) and the profits go to the musicians. There is no minimum consumption in the bar or restaurant, and attendees can access Happy Hour offers until 21:00 (every day).

A mission to support creativity, community, and connection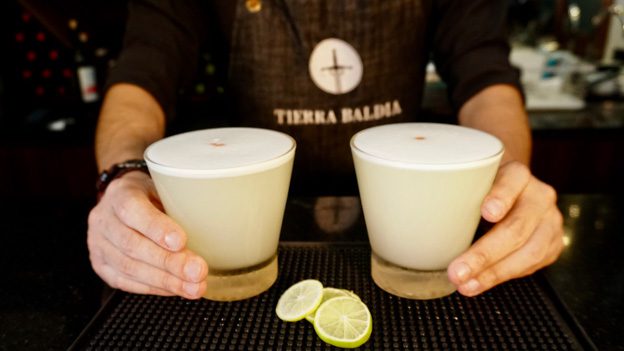 Along with honoring the legacy of a great Peruvian humanist and thinker, Tierra Baldía's mission is to offer new ways for promoting culture, creative innovation, and community. Artists and creators play a central role by helping to start conversations that otherwise wouldn't be happening, encouraging innovation, and redefining the limits of artistic production and access to culture. This year Tierra Baldia has plans to present 192 musical performers in the open terrace and 16 artists in the gallery space. Everyone is welcome.
Find out more about Tierra Baldia, and find out how to visit the space
Tierra Baldía's Facebook page: https://www.facebook.com/TierraBaldiaPeru/
Tierra Jazz Facebook Event: https://www.facebook.com/events/1913777932251116/
Tierra Baldía on Instagram: https://www.instagram.com/tierrabaldia/
Tierra Baldía on Twitter: https://twitter.com/TierraBaldiaPE
Lima's Jazz Association Facebook Page: https://www.facebook.com/asociacionjazzlima/
Breakfast, Lunch and Events menu's: https://www.facebook.com/pg/TierraBaldiaPeru/notes/?ref=page_internal
About Fernando Fuenzalida: https://es.wikipedia.org/wiki/Fernando_Fuenzalida_Vollmar

Address: Av. Del Ejército 847, Miraflores. Inquiries and reservations: +511 2842774
Cover photo: Tierra Baldía © 2019
YOU MIGHT ALSO LIKE
Now that you're here:
We're asking you, our reader, to make a contribution in support of our digital guide in order to keep informing, updating and inspiring people to visit Peru. Why now? In our near 20-year journey as the leading English-language source on travel in Peru, we've had our fair share of ups and downs-but nothing quite like the challenges brought forth in the first quarter of 2020.
By adapting to the changing face of the tourism and travel industry (on both local and international levels), we have no doubt we will come out stronger-especially with the support of our community. Because you will travel again, and we will be ready to show you the best of Peru.
Your financial support means we can keep sharing the best of Peru through high-quality stories, videos and insights provided by our dedicated team of contributors and editors based in Peru. And of course, We are here to answer your questions and help whenever you need us.
As well, it makes possible our commitment to support local and small businesses that make your visit an unforgettable one. Your support will help the people working in these industries get back on their feet once the world allows us to make our dream of enjoying everything Peru has to offer a reality again-from its mouthwatering gastronomy, thriving Amazon and archaeological wonders such as Machu Picchu.
Together, we will find a way through this. As a member of our community, your contribution, however big or small, is valuable.
Support Traveling & Living in Peru from as little as $1 - and it only takes a minute. Thank you!