Looking for a safe, fun and dynamic way to visit the South of Lima's main attractions? Buckle in and get on the Lynn train as she describes in detail how to do Ica in only one weekend.
This was originally published on the blog John has a new contract.
We Peru Hop(ped) this past weekend. The premise of Peru Hop is to ride on the bus from city to city (there is a loop – essentially the Gringo trail) around Southern Peru. You can get off and on; just like a hop on and off bus in the city. Very much a backpacker thing (or so I thought, we actually didn't bring the age of the bus down like I thought for sure we would! The tour does cater to all ages.) Very fun, and I hope to do another trip with them (NOTE: for us the best trips are just the overnight ones; all the other cities are hours -overnight on the bus- away.)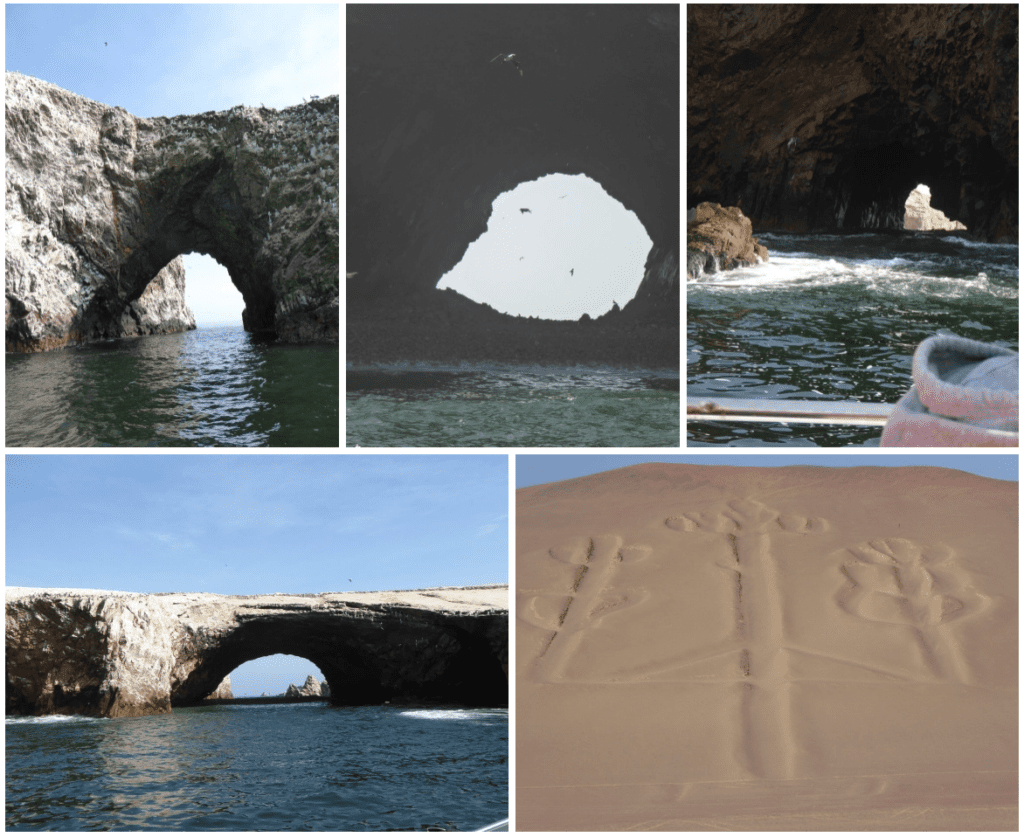 We were given an itinerary for our weekend; which included essentially 3 rules for the bus. Rule 1 – Wear your seat belt (the guide told us Peruvians are bad drivers and they've embraced that fact.) Rule 2 – Toilet is for number 1 use only "…hopsters stinking out the bus with number 2's will be named and shamed!!!" Rule 3 – No drugs. I have to say, I don't disagree with the rules. But huge laughter on named and shamed! Needless to say, our bus was stink free on the trip.
Paracas is about 3 hours south of Lima, and it's the jumping off point for Islas Ballestas (the "poor man's Galapagos") and the Reserva Nacional de Paracas.
We stayed in Paracas; super cute hotel, balcony that overlooked the sea, comfy chairs that encouraged us to sit outside and read our books. Though the hotel didn't become quite so cute when we were woken up about midnight and had the pleasure to listen to a local disco out on the pier until 2:00 am. Close the windows, bummer the only thing on the fan that worked was the timer. Window back open, once the music stopped it was all good. Until the seagulls woke up at dawn. Okay I will say the sleeping part of the trip was a bit hard. But we had great food (ceviche and Pisco Sours!)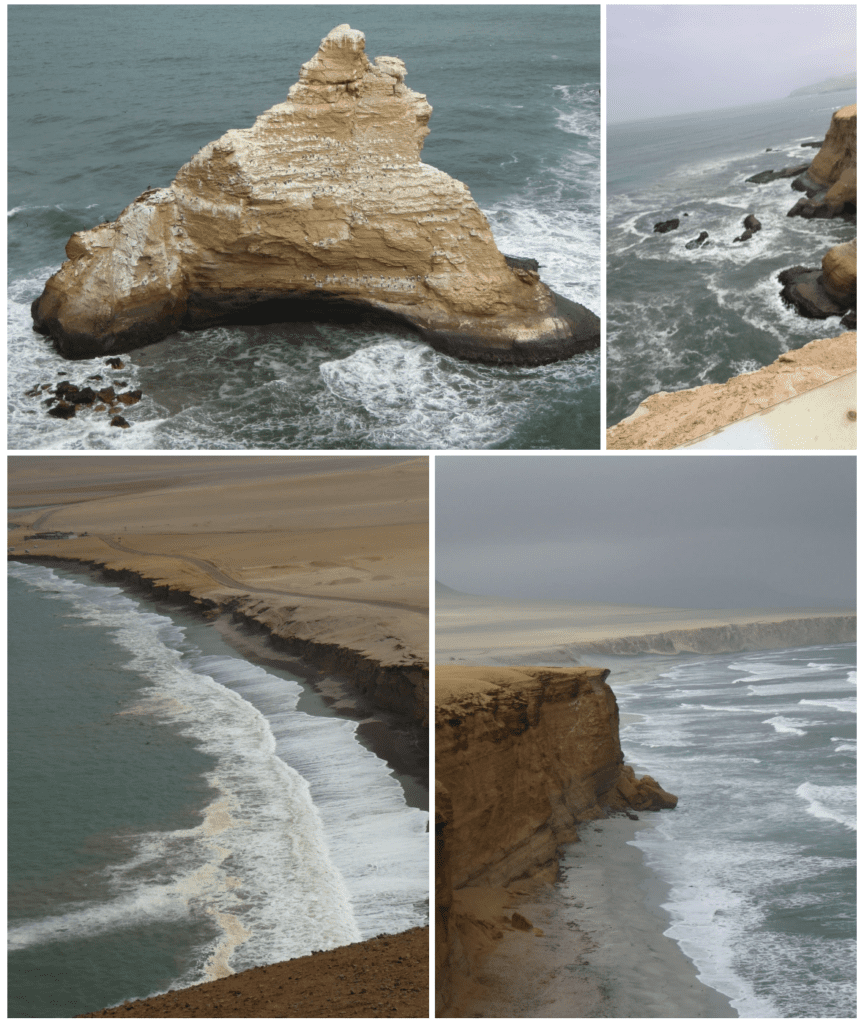 The first stop was Reserva Nacional de Paracas; a huge desert (again I continue to be surprised that Peru has so much desert – I would just think it would be more lush and tropical so close to the equator!) Lots of bird life (the reserve occupies most of the Peninsula de Paracas), and the protection of the actual land (historical cultural heritage of the area). We did a small loop around the area (but not to the visitor center – I wonder why? Wouldn't you think that might be slightly important to see?) Plus supposedly Chilean Flamingos to be seen! The reserve is so stark, but breathtaking scenery along the coast. Red beaches. Very interesting.
The next day we head to Islas Ballestas; wow on the amount of birdlife we saw. If this is "poor man's Galapagos" I can hardly wait to check out the real Galapagos! Lots of pelicans, cormorants, Humboldt penguins (so very cute!) turkey buzzards (so very ugly!) and a little bird with orange beak and legs with a dark body. Of course sea lions (they spoke with a Spanish accent!) The islands are accessible only by boat (tours at 8, 10, and noon – and there were many boats and many tourists doing these tours!) One interesting tidbit about the islands – lots of guano is located here.
Enough that there was actually a war (well maybe a skirmish) in 1864-1865 between Spain and Peru! Evidently a botanist sent samples of the guano back home to Europe where the British farmers found it to be much for effective than the fertilizer they were using. Now all of a sudden the guano is being exported by the ton back to Europe, and it's now a huge part of the Peru's national GDP. Spain didn't like that fact, tried to occupy said island. Peru went to war and took the islands back. All over bird poo! The Peruvian government still extracts the guano, but it's done once every eight years.
Our first stop is Candelabra Geoglyph; it's a giant three-pronged figure etched into the hills (as in 492 feet high, and 164 feet wide). No one knows exactly why the figure is there on the hill or when it was made. But many thoughts; navigational aids for the sailors, connection to the Nazca Lines (they are found a few more hours south of this area) or even thought to be local cactus species with hallucinogenic properties. We then continue on to the rocky islands; arches, caves and the birds. Really quite something.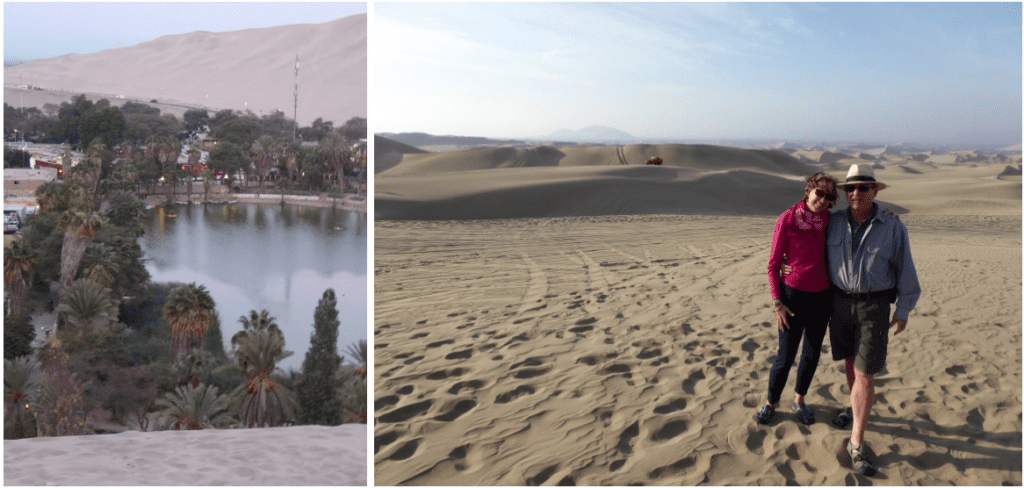 While we're waiting for the last part of our hop; a parade comes by us. I'm all about a parade. Not sure what's up, or even why. But there's two marching bands, dancing by two different groups, a "Miss"??? and several people dressed in Inca dress. They march/dance/walk along the boardwalk and then head onto the tour boats out to the islands. Even the locals go out to the islands.
The last part of our Peru Hop is to Huacachina; a small desert oasis (permanent population 100 people! Now this is small town). But so many tourists/backpackers all coming to go into the sand dunes and sand board down the dunes. There's 9 of us in the dune buggy (firmly strapped in – good thing as this is actually some of the fastest driving we've had in the country!) I'm sitting in the back with John and 2 guys get into the back with us. Big. As in chico grande big! I decide it's just too crowded for me and I go into the extra seat in front (3 small ladies).
One more person still needs to get into the dune buggy (into the seat I left) – another guy, not grande but still big. I feel bad for John in the back with 3 big guys but he tells me he's fine. The good news (so to speak); he's not going anywhere – they are wedged in there! We race up and down the dunes (my eyes are closed quite a bit; it's like a roller coaster I was told. I hate roller coasters!) Then we get out and now are going to go sand boarding. The board is waxed, we're given our instructions (lay on your stomach, hold onto the bindings, steer/brake with your feet, keep your mouth shut!)
First hill is good (the bunny slope) – I go just fast enough for it to be fun. Two practice runs. Now we've graduated to the big slope. What; are you kidding me?! We go down the big slope, walk up the other side and slide down the second dune. Surprisingly fun. Last stop on the ride is to watch the sun go down over the dunes. Very fun weekend trip.
Hasta Pronto,
Lynn
Now that you're here:
We're asking you, our reader, to make a contribution in support of our digital guide in order to keep informing, updating and inspiring people to visit Peru. Why now? In our near 20-year journey as the leading English-language source on travel in Peru, we've had our fair share of ups and downs-but nothing quite like the challenges brought forth in the first quarter of 2020.
By adapting to the changing face of the tourism and travel industry (on both local and international levels), we have no doubt we will come out stronger-especially with the support of our community. Because you will travel again, and we will be ready to show you the best of Peru.
Your financial support means we can keep sharing the best of Peru through high-quality stories, videos and insights provided by our dedicated team of contributors and editors based in Peru. And of course, We are here to answer your questions and help whenever you need us.
As well, it makes possible our commitment to support local and small businesses that make your visit an unforgettable one. Your support will help the people working in these industries get back on their feet once the world allows us to make our dream of enjoying everything Peru has to offer a reality again-from its mouthwatering gastronomy, thriving Amazon and archaeological wonders such as Machu Picchu.
Together, we will find a way through this. As a member of our community, your contribution, however big or small, is valuable.
Support Traveling & Living in Peru from as little as $1 - and it only takes a minute. Thank you!