Peruvian anticuchos have Afro-Peruvian and Inca roots. Learn more about the staple street food dish that's made with a lot of heart.
This dish is one of the most unique and celebrated culinary options in South America and a must try while you're in Peru. As the afternoon begins to settle, you'll see men and women vendors set up their anticucho carts in the street corners and parks of Lima and cities across Peru. Stools are arranged for customers as the grill gets fired up. The sight and smell of smoke as the marinated anticuchos are being cooked is unmistakable and hard to resist.
Peruvian anticuchos are made with sliced beef heart meat arranged in skewers. The meat is marinated with ají (chili peppers), black pepper, garlic and cumin.
Anticucho: A Quechua word
There are two hypotheses as to the origin of the word anticucho. Anti in Quechua means to walk, the east, the Andes or Andean land; while cuchu means to cut. Another reading indicates that the word derives from anti and uchu, which means ají.
Either way, the dish, made with llama and other cuts of meat, was consumed in pre-Columbian Peru, Bolivia, Chile and Argentina. The version of anticuchos that we know today, however, originated with the arrival of the Spanish and African slaves.
From food scraps to culinary staple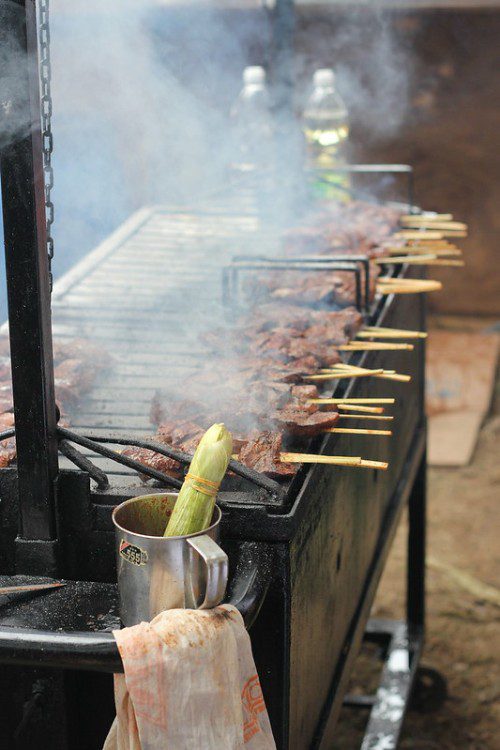 In the 1500s the Spanish brought with them new ingredients, including cattle and spices like garlic. Spanish conquistadors also brought African slaves to Peru. Slaves ate mostly the viscera and entrails of butchered animals, known as offal. Grilling seasoned heart meat became a popular dish, one that the Afro-Peruvian community maintained and later became widespread during the colonial era.
In his book about Peruvian traditions, Tradiciones Peruanas (1883), the cultural writer Ricardo Palma makes mention to the afternoon sale of anticuchos in the streets of Lima.
Grimanesa: The Queen of Anticuchos
You will find anticuchos in street carts and restaurants across Peru. The skewers of heart meat are served with boiled potatoes, choclo (giant corn) and lots of ají sauce. The street carts selling anticucho usually also sell other offal, like rachi, which is the tripe, and choncholí, which is the beef small intestine.
If you want to know about anticuchos, you need to learn about Grimanesa Vargas. She is hailed as the best anticuchera in Lima (even in all of Peru), though the path to fame was not easy. She's been cooking anticuchos for more than 44 years, most of them in a street cart in a corner of Miraflores. Her popularity skyrocketed when Gaston Acurio paid her a visit, exposing the once best kept secret anticucho spot to the masses. She now has her own restaurant.
Learn more about anticuchos with the video below.
Cover photo: Kirk K/Flickr
Now that you're here:
We're asking you, our reader, to make a contribution in support of our digital guide in order to keep informing, updating and inspiring people to visit Peru. Why now? In our near 20-year journey as the leading English-language source on travel in Peru, we've had our fair share of ups and downs-but nothing quite like the challenges brought forth in the first quarter of 2020.
By adapting to the changing face of the tourism and travel industry (on both local and international levels), we have no doubt we will come out stronger-especially with the support of our community. Because you will travel again, and we will be ready to show you the best of Peru.
Your financial support means we can keep sharing the best of Peru through high-quality stories, videos and insights provided by our dedicated team of contributors and editors based in Peru. And of course, We are here to answer your questions and help whenever you need us.
As well, it makes possible our commitment to support local and small businesses that make your visit an unforgettable one. Your support will help the people working in these industries get back on their feet once the world allows us to make our dream of enjoying everything Peru has to offer a reality again-from its mouthwatering gastronomy, thriving Amazon and archaeological wonders such as Machu Picchu.
Together, we will find a way through this. As a member of our community, your contribution, however big or small, is valuable.
Support Traveling & Living in Peru from as little as $1 - and it only takes a minute. Thank you!