Too many tourists miss out on the Lambayeque Valley, an area rich with nature, history and culture. The best place to start? Chiclayo.
Located nearly 500 miles north of Lima, the city of Chiclayo is an overall pleasant destination to add to your Peru vacation itinerary. As the fourth largest city in Peru, this capital of the Lambayeque region has plenty for visitors to experience: impressive archaeology, amazing nature, and beautiful weather. Here are some of the best things to do in Chiclayo and the surrounding area.
1. Royal Tombs of Sipán Museum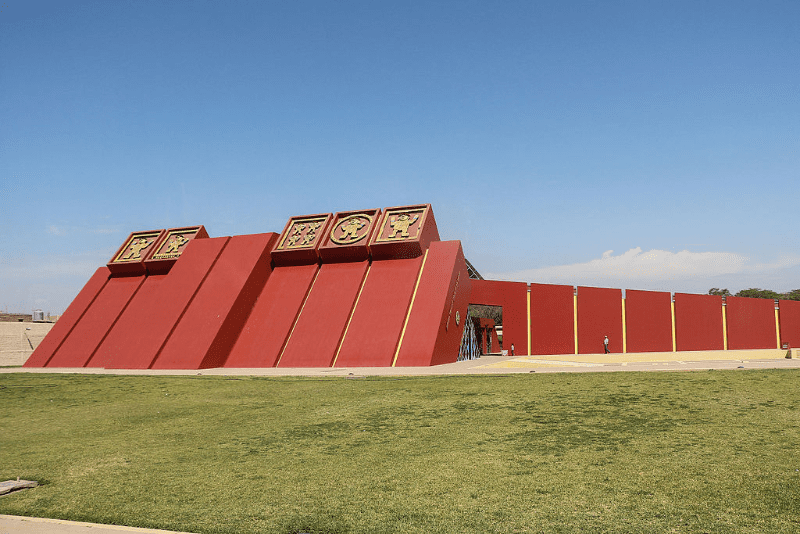 We hear you: this isn't technically in Chiclayo, but it is awfully close. Located just 6 miles north of Chiclayo city limits, the Royal Tombs of Sipán Museum (Museo Tumbas Reales De Sipán) has drawn nearly 3 million visitors since its opening in 2002. Its attraction lies in guests' ability to witness the first intact tomb discovered of a high-ranking ruler: that of Lord of Sipán. Artifacts found in his tomb (such as jewelry) from the 1987 excavation and remains of other monarchs of the pre-Inca culture, Moche, are also housed in the museum.
Av. Juan Pablo Vizcardo y Guzman, Lambayeque
2. The Sicán National Museum
If you're still hungry for more history, visit the national museum near Chiclayo (about 13 miles north) in Ferreñafe. Treasures from various tombs are displayed in the museum as well as more detailed replicas. There are daily presentations to help you learn about the vast history of the treasures in this building. Ferreñafe itself is an interesting place to visit, as is has been nicknamed "the city of double faith" for the residents devotion to Catholicism as well as Shamanism. As well, the route from Chiclayo to Ferreñafe passes by the Bosque de Pómac Historical Sanctuary.
Av. Batán Grande Block 9, Ferreñafe
3. The Valley of the Pyramids
The nearby site of Túcume is a sight to behold. One of the features of the complex is the Valley of the Pyramids, which is host to a cornucopia of rich history. There are 26 pyramids; although, because they're about 1000 years old, many are degraded and won't resemble the perfectly formed pyramids often portrayed in pictures. The size of the structures and the beauty of the surrounding nature make for an excellent destination for an ambitious tourist.
Located 18 miles away from Chiclayo, hire a taxi to arrive to the pyramids.
4. Catch Some Rays at Pimental
If you're looking for more of a relaxing trip, consider visiting Pimental, a beach resort near Chiclayo. It can get a little chilly, but the sight of the ocean is a spectacle to appreciate. The beach is always full of families having picnics or playing games. Local fisherman continue the tradition of the northern coast by using the "caballitos de totora" (little horses of totora reeds)—a vessel that many believe led to the creation of the surfboard. If you're more adventurous, you can pick up a surfboard to ride the waves yourself. Peru is known for its world-class surfing locations. Finally, head to the nearby market and pick up some fresh seafood.
Located 7 miles west of Chiclayo, this resort can be reach by car in 15 minutes.
5. Mercado Modelo
If there's one market in Chiclayo that you need to visit during your trip, it's Mercado Modelo. Stretching various blocks, this market is one of the most well-known in all of Peru because of all the odd and unique things that are sold. There are many souvenirs if you'd like to pick some up before you leave, but the witches' market area is even more interesting. There are witch doctors, faith healers, and herbalists who all work in this area. You can find and buy all kinds of spices, plants, herbs, and even animal parts (we can't promise it won't be unsettling to some). Open every day of the week.
Calle Arica (between Av. Jose Balta and Av. Juan Cugilevan), Chiclayo
6. Zaña: A Ghostly Town?
What was once a great city is now referred to as a ghost town, though it's actually a misconception. Zaña was founded back in 1563 and quickly grew in size and power. At one point it seemed as if it would become Peru's capital. However, in the 17th century, pirate attacks scared away residents to nearby cities (some to Chiclayo) and forced those who stayed to become slaves. A massive flood in the early 18th century cleansed the town of its enslavers however it also left shells of what were once cloisters and convents. Not many tourists make it to Zaña, though it tells of a unique Afro-Peruvian past, upheld by the hundreds of residents who still call it home.
This town is located about an hour (by car) southeast of Chiclayo.
7. Dabble in Culinary Delicacies
Along Peru's northern coast, seafood dishes with salty appetizers beg to be washed down with ice cold beer. While in Chiclayo you'll also taste duck, goat and other meats prepared in various ways. Some of the regional dishes to try while in Chiclayo are: Arroz con pato (rice with duck), Seco de cabrito (goat stew), Chirimpico (stew made with goat liver), Espesado (thick meat stew with corn and loche), and Chinguirito (salted and dried fish served with onion and fried yucca). Sweeten up your day with the regional dessert, king kong, where manjar blanco is layered with dried fruits and crumbly pastry.
How to get there
National flights from Lima (Jorge Chavez International Airport) to Chiclayo (Capitan FAP José Abelardo Quiñones González Airport) clock in at about 1.5 hours.
This article has been updated since its original publication on May 20, 2014.
Cover photo: Lima Tours
Now that you're here:
We're asking you, our reader, to make a contribution in support of our digital guide in order to keep informing, updating and inspiring people to visit Peru. Why now? In our near 20-year journey as the leading English-language source on travel in Peru, we've had our fair share of ups and downs-but nothing quite like the challenges brought forth in the first quarter of 2020.
By adapting to the changing face of the tourism and travel industry (on both local and international levels), we have no doubt we will come out stronger-especially with the support of our community. Because you will travel again, and we will be ready to show you the best of Peru.
Your financial support means we can keep sharing the best of Peru through high-quality stories, videos and insights provided by our dedicated team of contributors and editors based in Peru. And of course, We are here to answer your questions and help whenever you need us.
As well, it makes possible our commitment to support local and small businesses that make your visit an unforgettable one. Your support will help the people working in these industries get back on their feet once the world allows us to make our dream of enjoying everything Peru has to offer a reality again-from its mouthwatering gastronomy, thriving Amazon and archaeological wonders such as Machu Picchu.
Together, we will find a way through this. As a member of our community, your contribution, however big or small, is valuable.
Support Traveling & Living in Peru from as little as $1 - and it only takes a minute. Thank you!