After celebrating the first anniversary of my restaurant Enkai Cocina Nikkei, it seems to be a good moment to return to an interview that I did six years ago with the great Anthony Bourdain.
Editor's Note: During our recent visit to the highly regarded Enkai Cocina Nikkei (read here our review) the head chef Masaki Uyema shared this interview with Bourdain with us, which we translated from Spanish to English.
"Eat, cook, learn, and travel as far and as widely as possible but then come back home and use all that knowledge to find what's special and unique in your own culinary culture."

-Anthony Bourdain
The insights Bourdain shared during this powerful conversation I had with him inspired me to change my life. I hope that they will serve as inspiration for you as well.
The curtain opens at the Orpheum Theater in San Francisco, where the great Anthony Bourdain enters the scene to a shower of applause. He will be talking on stage with Eric Ripert. I'm in my designated seat, still unable to believe that only a few minutes ago I had been backstage interviewing both of them (who went on a recent trip to Peru).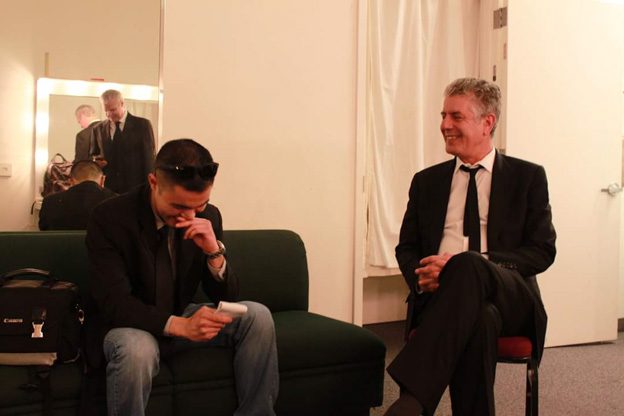 Masaki Uyema: Chef Bourdain, Chef Ripart, it's a pleasure to meet you both. And before we start this interview, allow me to give you a small present: chocolates for the good, and Pisco for the evil.
With this offering, I offer a thank you on behalf of all of Peru and its delicacies. This ice-breaking strategy never fails
---
In the theater the lights dim.
The ovations of the public burst the atmosphere while a lamp is lit, a sad focus that hangs over the middle of the stage and illuminates a small red chair, in the manner of the classic black film police interrogation.
Eric greets the audience and offers thanks to them, and then he takes a seat and asks Tony if it took him a lot of work "to find the smallest and most uncomfortable theater chair for him."
---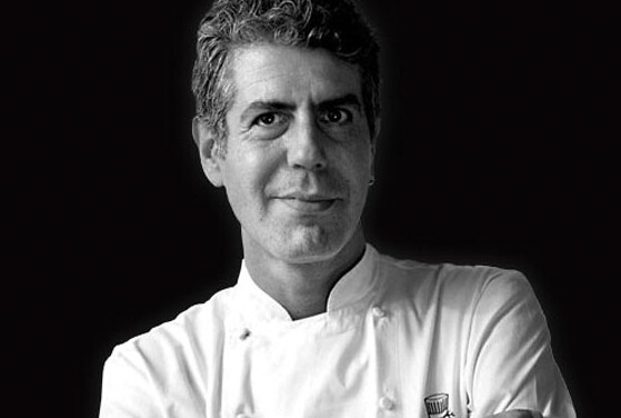 Masaki: Everyone knows the Anthony Bourdain of No Reservations, the globetrotter, the chef, the writer. With all of these roles that you play, who is the one who ends up making your decisions?
Anthony Bourdain: The truth is that I just like to see myself as a person who loves cooking, who is lucky to travel, and to have the perspective of being chef who has spent more than twenty years behind the stove.
---
Tony, on stage, advances to the audience and then turns to see his friend sitting alongside hime, asking him: "And what's your name?"
Ripert: Yes, my name is Eric Ripert.
Bourdain: And it's a French name, is that so, Mosoir Ripert?
Ripert: Certainly Mr. Bourdain.
Bourdain: And your restaurant, what did you say the name of your restaurant is?
Ripert: Le Bernardin.
Bourdain: Also a French name, right? Why did you decide to call it Le Bernardin?
Ripert: Well, during the middle ages the monks of Paris were called the Bernandin monks. And they were quite epicurean in a way. They loved food, wine and women.
Bourdain: Could you describe for us Le Bernardin? What kind of restaurant is this?
Ripert: Le Bernardin is a seafood restaurant…
Bourdain: Wait! You know what?! This is my point. This is America. Why did not you just put an American name on it?! Why do not you use English? Is there anything wrong with English? Why did not you call it Eric's place for fish, or something like that?
Ripert: I think that in New York they would laugh at that name too.
Bourdain: Do you love America Monsieur Ripert?!
Ripert: Yes, of course.
Bourdain: What is your immigration status? Are you living legally in this country?!
Ripert: Of course, I'm Franco-American.
Bourdain: Well, if you say you love America and are an American citizen, could you please tell the audience what is your problem with that great American hero, talented Chef, television icon, Gordon Ramsey?!
Ripert: Well, first of all, Mr. Bourdain, Mr. Ramsey is British.
---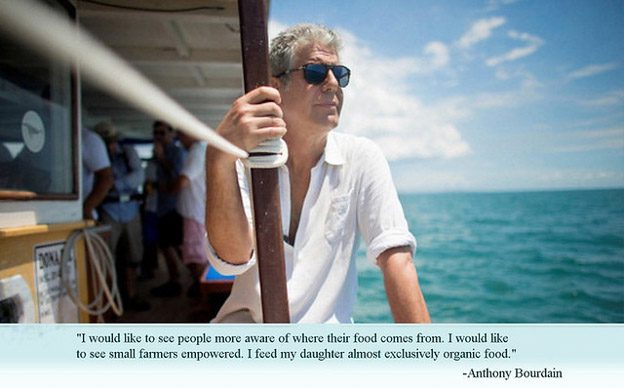 Masakí: Eric, you have a very contrary opinion to this image of the choleric chef that is shown on television as a "normal" way to be in the kitchen.
Eric Ripert: Somebody who is scared or intimidated of being a real chef will never work like a chef who is happy with what he does; who trusts in what he does; and knows that if something happens, the chef should be there to help out and not to scream and throw a pan as they do in some television shows. I think that's a very bad influence for young chefs and future restaurant workers.
Masaki: So, where is the fun side of being a chef?
---
After a series of rapid-fire questions and plenty of laughter from the audience, the tables turn. Eric Ripert now starts questioning Anthony Bourdain, parodying all aspects of his multiple personalities and mocking his reality show, The Taste, regarding a particular moment in which a participant opens the refrigerator and finds 150 bottles of Hellman's mayonnaise.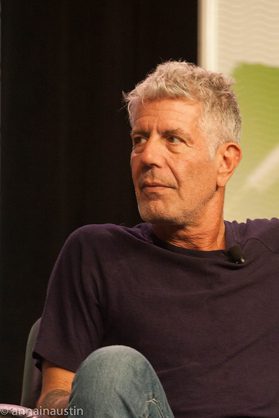 Ripert: Mr. Bourdain, you are now releasing episodes from your new program, Parts Unknown, which seems to be basically the same as No Reservations, only you now find yourself on CNN. Isn't CNN a serious channel? Why did they want such an iconoclastic and rebellious chef?
Bourdain: I do not know. I really could not believe when they called me. In fact the other day they gave me my official CNN ID. Which means that I can go to the channel, pass the card through the scanner and the doors open automatically. I take the elevator to the floor I want, I can go through the News Panel, and every time I leave security I check to see that I do not take anything.
Yes, it's strange but wonderful. Ah!, but the show is NOT the same as No Reservations. Precisely, by being on CNN we can now go to the most remote places. There is: mysterious Myanmar, Morocco, Libya, the Congo, Colombia, the Korean neighborhood of Los Angeles, and even Peru, where we have a very interesting chapter in the jungle, visiting the cocoa producers.
---
Masaki: What was the dish you enjoyed most during this last trip to Peru?
Ripert: Peru was a more meaningful experience than one or two remarkable dishes. We tried the traditional meals in the countryside, prepared with supplies that came directly from the heights of the Andes, and cooked on wood stoves where the smoke got into the same food. Then in Lima, we had a more sophisticated kitchen, with a strong Asian and European influence. It was all very exciting.
Bourdain (talking to Ripert): Talk about Coque's mother (Ossio).
Ripert: Oh yes, Coque's mom was great: Marissa (Giulfo), who is a legend in Peru because she is one of the pioneers of catering.
Bourdain: Having a homemade lunch was an extraordinary experience.
Ripert: Marissa really made us try traditional Peruvian cuisine, like causa, the cebiche and more.… now, Mr. Bourdain, I want to quote your first book, Kitchen Confidential. In it, you said: "Vegetarians are the enemies of anything good and decent in the human spirit." Now I ask: Have you changed your vision about vegetarians now that you are a married, clean and reformed person who has known more than half of the world and its customs?
Bourdain: About that, in fact, my wife decided to become a vegetarian for a week. Therefore, I found myself in the uncomfortable task of going to dinner at vegetarian restaurants. Places in which I feel a deep shame to be seen. Do not get me wrong, I think any New York City chef loves to use all seasonal vegetables and find those baby carrots or those farm tomatoes full of flavor and color that make anyone in front of a carnivorous restaurant will be thrilled to just think of the incredible things you can achieve with these vegetables. But these vegetarian restaurants always have the same sad trilogy of overcooked broccoli, zucchini cut in dinosaur size, and each of the dishes comes with that whole rice without salt, none of them is seasonal.
Then there are those soy meat steaks in the shape of shoe soles, and worse, those burgers of ground soybeans. I say: If you want a damn hamburger go and eat one! In those places, nothing, but nothing, has flavor. And they always give you the same answer: "Oh yes, we put garlic, ginger and a lot of cumin in our broccoli." But, they should go beyond that! It is simply inconceivable to me that a privileged Westerner with the freedom to travel to places Like Thailand or Vietnam would say no to the human experience of accepting everything that is offered to you.
---
Masaki: And what about the creation of the chocolate brand Good vs. Evil?
Ripert: Ah yes, it's very true. The chocolate comes from the Peruvian jungle. We went to Jaén ourselves to make sure that very special cocoa was used.
Bourdain: We wanted to see who the farmers were who harvested the cocoa. How they live, what they need, what we can do to help them. We really wanted to get involved with Peruvian cocoa. Everyone loves chocolate, but almost nobody knows where it comes from or how it is made, and that is precisely what we were looking for. This is truly a very special grain. It is selected in a very special way and processed in a very special way too.
The parodies, the ridicule, the laughable appraisals, the embarrassing anecdotes, and the compromising phrases continued between the two chefs. Then, as if giving the audience time to recover from the cramps from an hour of laughter, things changed on stage …
---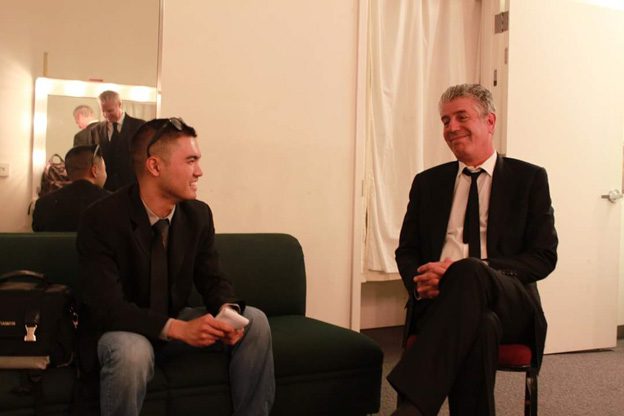 Masaki: So after having tried almost everything, in the globetrotting Bourdain there is still room for amazement before good and noble cocoa?

Ripert: Let me intervene, because since you mentioned that in his previous show the Tony ate cow intestines, throbbing cobra heart, pig rectum ….
Bourdain: And if I had the opportunity, I would do it again! When I ate the pig rectum, I was in a situation in which the chief of a tribe looked at me for a gesture of approval, you know, that kind of situation in which the tribe hunted a pig with prehistoric weapons, dragged its prey across the arid desert, then held its respective ceremony to cut it, opened it, extracted its intestines, cleaned everything until it reached the rectum, and then, in an act of admirable generosity, delivered it to me as an offering, saying that: "the best part is for our guest of honor." What did you expect me to do in such a situation other than swallowing that pig's ass?! Come on I could not disappoint those hospitable people.
Ripert: Tony, what foods do you think are the most overrated?
Bourdain: Well, I do not know if it's overrated, but something I always see in all the restaurant menus is the Tartare of tuna. I find it a boring dish, with the mere fact of reading Tartare of Tuna I already feel sad. Any kind or type of Tuna Tartare makes me feel sad, very sad. And Chef Ripert, what do you think of the people who keep their wines for years to take them to a special dinner at Le Bernandin?"
Ripert: I am against the quota that is paid for uncorking and even more against bringing wines to the restaurant. At the end of the week, there are accounts and employees to pay. My restaurant is not the Red Cross or a charity. And I think it's not a good idea to take your wine to my restaurant unless, well, invite me to your table and offer me a drink.

Masaki: "Tony, if you're having a barbecue in the garden of your house, what music do you listen to?"
Bourdain: Techno music (Bourdain looks at Ripert and says: we have very different tastes, Eric).
Masaki: Chef Tony, what do I have to cook to win you over?

Bourdain: Make me a meatloaf and I am yours. Serve it with gravy and you are transporting me to a very, very happy place. Now, if you serve me Tuna Tartar, you wash the dishes.
Masaki: Anthony, what's your favorite restaurant in NYC?
Bourdain: Mission Chinese.
Masaki: Mr Ripert, what is the best thing to take home with you after a visit to California?
Ripert: The wines of Sonoma.
Masaki: Tony, where would you drink your last beer
Bourdain: In Dublin, and it would be a Guinness.
Masaki: "Mr. Bourdain, what is the most important ingredient in your pantry?"
Bourdain: Salt, it's like nuclear energy.
Masaki: Tony, any advice to deal with the drug addicts, egomaniacs and ex-convicts in many kitchens? "

Bourdain: Welcome to the world of cooking!
Editor's note: This interview previously appeared in De Fondo, and was translated from Spanish by Scott Montgomery
Cover photo: Masaki Uyema Nakankari
YOU MIGHT ALSO LIKE
Now that you're here:
We're asking you, our reader, to make a contribution in support of our digital guide in order to keep informing, updating and inspiring people to visit Peru. Why now? In our near 20-year journey as the leading English-language source on travel in Peru, we've had our fair share of ups and downs-but nothing quite like the challenges brought forth in the first quarter of 2020.
By adapting to the changing face of the tourism and travel industry (on both local and international levels), we have no doubt we will come out stronger-especially with the support of our community. Because you will travel again, and we will be ready to show you the best of Peru.
Your financial support means we can keep sharing the best of Peru through high-quality stories, videos and insights provided by our dedicated team of contributors and editors based in Peru. And of course, We are here to answer your questions and help whenever you need us.
As well, it makes possible our commitment to support local and small businesses that make your visit an unforgettable one. Your support will help the people working in these industries get back on their feet once the world allows us to make our dream of enjoying everything Peru has to offer a reality again-from its mouthwatering gastronomy, thriving Amazon and archaeological wonders such as Machu Picchu.
Together, we will find a way through this. As a member of our community, your contribution, however big or small, is valuable.
Support Traveling & Living in Peru from as little as $1 - and it only takes a minute. Thank you!