This wonderful chocolate shop in Barranco, El Cacaotal, will open up your senses to the world of Peruvian cacao.
AJ (Amanda Jo) Wildey is the proprietor and owner of this fabulous store named El Cacaotal (in English, it translates to "cacao field"). Most people have discovered this gem through word of mouth and it is quickly becoming very well known. El Cacaotal has become a regular stop for me since I am in Barranco on a regular basis.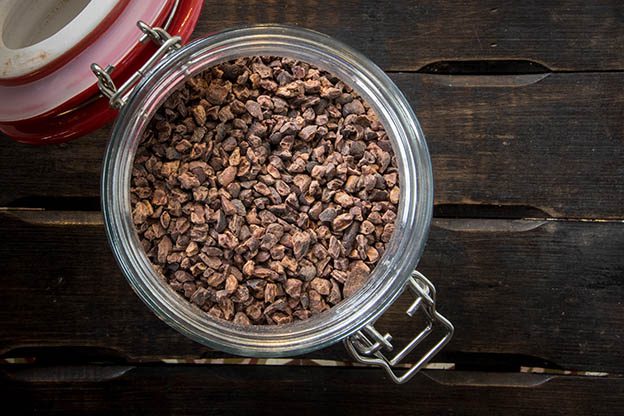 When I asked AJ what sets El Cacaotal apart from other chocolate initiatives and shops, she replied that its focus is on diversity and personal relationships with the farmers and chocolate makers.
AJ stated, "we want people to walk in and come face to face with a library of chocolate: they can find diverse brands from all over the country, and when they start sampling the different bars (a central part of every visit!), they can taste the diverse kinds of cacaos. Peru is unmatched in the biodiversity of its cacao! Then, because we work personally with all of the chocolate makers, we tell the visitors the story behind each chocolate bar. Where does the cacao come from? Who makes it? How did they start getting into cacao and chocolate-making? Outside of the shop, we collaborate with small producers who don't have a strong market presence here in Lima. We offer workshops to help them commercialize their product, from feedback on marketing and packaging design to tips on how to better their quality. We want to make sure to support these producers as they work to grow."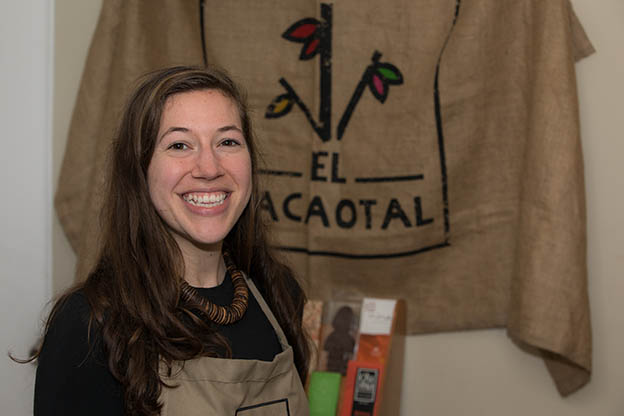 At the tender age of 27, AJ is a walking encyclopedia of cacao and chocolate. AJ attended Dickinson College back in the United States and graduated in 2013. She traveled to Pucallpa after graduating from Dickinson and worked on a cacao farm from September-November 2013. AJ moved here to Lima for the Master's program in Anthropology from 2014-2016 at La Católica (PUCP). She returned three times to Pucallpa for field excursions during the Master's program.
The Andean agriculture change was the topic of AJ's undergrad research. She officially began her thesis in 2014 but ended up using her experiences from working on the farm in 2013 as the foundation for her research. She built the thesis gradually while taking classes for the Master's program and then worked on it full-time for three months before defending in July 2016. Congratulations to AJ…..she received highest honors.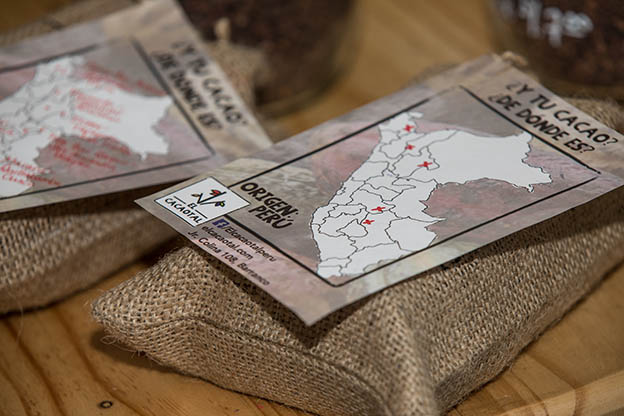 Here are a few facts I learned during my last visit to El Cacaotal. Peru is one of the top producers of organic cacao. Peru has a variety of cacao which originates from the three regions of Peru (the jungle, the mountains, and the coast), but the majority of cacao in Peru comes from the north in Piura. Regions of Peru where cacao is produced are Amazonas, Apurimac, Ayacucho, Cajamarca, Cusco, Huánuco, Junín, Loreto, Madre De Dios, Pasco, Piura, Puno, San Martín, Tumbes, and Ucayali.
The product life of cacao, in general, is between 1 to 3 years (on the safe side). On the national level, Peruvians are low consumers of chocolate. Bean-to-bar (transforming the cacao beans to cacao for chocolate) are incentives for sellers and farmers. In the past, they would only sell the dried cacao beans.
There is an art and science to transforming cacao into the chocolate:
Separate the beans

Toast beans

Correct/adjust the toasting profile

Winnowing (removing the husks)

Grinding to nib size

After grinding into nibs, making the paste down into a liquid

Conserving and refining

Tempering and molding
The majority of the bars sold at El Cacaotal are 20 soles, with a few exceptions (some less than 20 soles and some more than 20 soles). Chocolate is sold in many forms at El Cacaotal…..not just in bars, but also cacao nibs, cocoa powder, marinade for meat, marmalades, soaps, eye creams, etc.
El Cacaotal carries well known and little-known, upcoming brands of chocolate. There are approximately 40 different brands and over 250 bars of craft and artisanal chocolates available at the store. AJ can personally assist each customer to find their favorite flavor profiles. She knows the mission statements of all the companies that sell their chocolate in her store. AJ is the platform for all the brands.
I personally gravitate towards dark or bitter chocolate starting at 70% cacao. There is also a variety of excellent milk chocolate and white chocolate available as well. Some of my preferred brands range from popular international and national award-winning as well as up and coming brands.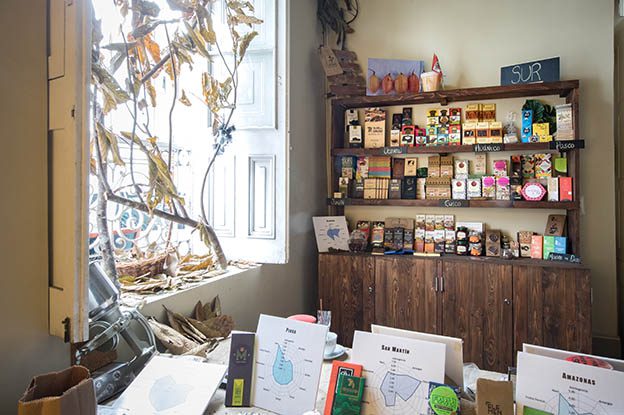 The 2017 International Chocolate Awards were held in London this year. A few of the Peruvian chocolate producers won on the international level:
Alkimia: bronze and silver-award winners, chocolate from the 3 regions
Nina: won bronze and silver awards; their 85% cacao is one of my absolute favorites
Shattell: Won award for Best Chocolate in the world and has a major presence in exporting Kuyay: Gold-award winner; don't miss their 70% cacao with blueberries
Marana: consistent international award winner in past years
Cacaosuya: probably one of the most famous and best-selling chocolates in Peru; has won numerous international awards
Other Peruvian chocolates that I recommend and purchase: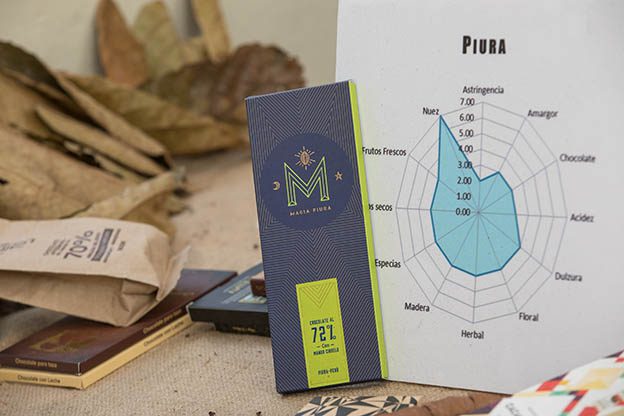 Magic Piura: one of my favorites which sells chocolate only from the Piura region (sold in 49%, 72%, and 85% cacao); incredible chocolate and the leaf presentation is gorgeous and unique; hopefully will win on the international level in the near future; has won awards on the national level.
Xocolatl: excellent truffles and unique ingredient bars
T'Inkiy: try their muña, lovely!
Cocoma: 70% bitter with Sal de Maras
El Porongo: love the one with sesame seeds and its slight fudge texture
Elizza: they sell a variety such as cinnamon, lemongrass, and other fruits
Fruto: a vegan line of 46% cacao prepared without milk
Dreams of Eva: currently only prepares high-quality bonbons, but soon will do bars
Nativa: produced by wives of associates in VRAEM, the women do the harvesting
Scrap and Chocolates: I first met the owner at Mistura at her stand a few years ago. The owner uses cacao from her uncle's plot. She prepares artisanal chocolates with unique designs. They have one of the best milk chocolates in Peru.
There is not one question that AJ can't answer about chocolate. She "makes" the store what it is. Her genuine friendliness and charisma make you want to come back. This is why I have become a "regular" customer. And I learn something new about chocolate every time I step foot into El Cacaotal.
Another thing that sets El Cacaotal apart from other chocolate shops is that the whole experience is customized. They specialize in cacao tasting and help visitors get to know their own palates to find out which origins and which kinds of chocolate are best suited for them. El Cacaotal also holds workshops so people can hone their tasting skills further. AJ has been sponsoring workshops on a regular basis. You can check out the Facebook page for upcoming workshops and events.
El Cacaotal is an excellent option to purchase chocolate as gifts this holiday season. I personally purchased over 15 bars as gifts for family and friends this year. It's a great gift that shows off one of Peru's wonderful contributions to the world and it does not take up a lot of space in suitcases. Chocolate is also wonderful purchase to host chocolate tasting parties.
El Cacaotal
Website
Jirón Colina 108, Barranco
Hours: Monday-Thursday: 11:00 a.m.-8:00 p.m.
Friday: 3:00 p.m.-6:00 p.m.
Saturday: 11:00 a.m.-8:00 p.m.
Sunday: 11:00 a.m.-6:00 p.m.
Phone: +51 937 595 812
[email protected]
Cover photo: El Cacaotal Facebook Page
Now that you're here:
We're asking you, our reader, to make a contribution in support of our digital guide in order to keep informing, updating and inspiring people to visit Peru. Why now? In our near 20-year journey as the leading English-language source on travel in Peru, we've had our fair share of ups and downs-but nothing quite like the challenges brought forth in the first quarter of 2020.
By adapting to the changing face of the tourism and travel industry (on both local and international levels), we have no doubt we will come out stronger-especially with the support of our community. Because you will travel again, and we will be ready to show you the best of Peru.
Your financial support means we can keep sharing the best of Peru through high-quality stories, videos and insights provided by our dedicated team of contributors and editors based in Peru. And of course, We are here to answer your questions and help whenever you need us.
As well, it makes possible our commitment to support local and small businesses that make your visit an unforgettable one. Your support will help the people working in these industries get back on their feet once the world allows us to make our dream of enjoying everything Peru has to offer a reality again-from its mouthwatering gastronomy, thriving Amazon and archaeological wonders such as Machu Picchu.
Together, we will find a way through this. As a member of our community, your contribution, however big or small, is valuable.
Support Traveling & Living in Peru from as little as $1 - and it only takes a minute. Thank you!