Without any doubt, walking is the best way to get to know a city. It gives you the chance to wander around its small streets, to discover new places, meet new people, tastes, smells, and flavors. Most simply, walking gives you the chance to simply feel a place's vibe. Walking a city can be even better when you have a guide, just like the team of TLIP recently did when we joined Exquisito Peru, a tour company specializing in gastronomy, for a half day walking tour around Barranco, one of Lima's most special neighborhoods.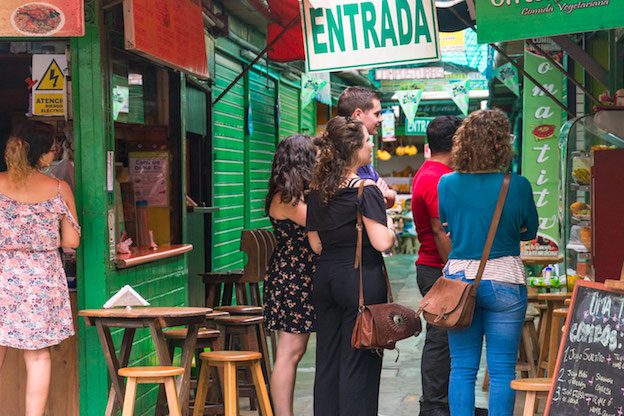 Our tour started in the lovely Plazuela San Francisco where we met Pía, our tour guide for the day. While we waited for the other tourists to arrive, we had the chance to appreciate the beautiful late 19th-century old villas that adorn this hidden and peaceful square in the middle of Barranco. From there, we walked along the charming Cajamarca Street where we had a chance to appreciate mural paintings and lovely old houses along the way. Our first stop was at one of the traditional markets in Barranco where we had coffee, a fresh lucuma (eggfruit) juice, and a nice white quinoa burger with avocado. We also visited a fruit stand where we sampled several Peruvian typical fruits such as chirimoya and aguaymanto.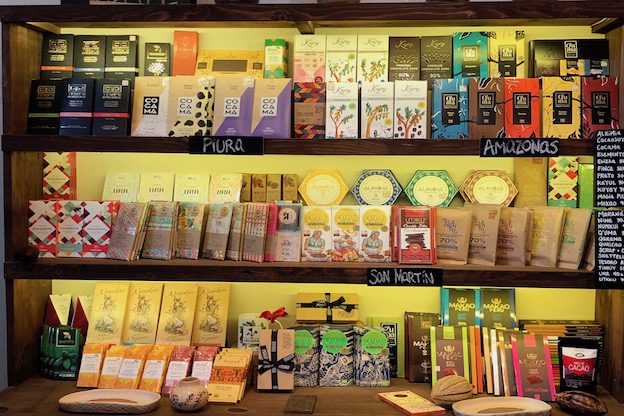 We continued our walk by making a brief stop in one of the several convenient shops that you find along the streets in Barranco. These shops have such an abundance of products that it is difficult not to find whatever you want that day. We then crossed the street, and ventured into the second floor of a lovely old house, and stepped into El Cacaotal, a specialized chocolate shop. There we were greeted by Amanda Jo, an American anthropologist that has devoted her life to promoting Peruvian chocolate and helping out small agricultural cocoa farmers. Here you can find chocolates from fourteen different regions in Peru, each with its special characteristics and very distinctive flavors. After listening to Amanda's interesting exposé on the growth of the chocolate industry in Peru, and the different factors that influence chocolate, we proceeded to have a chocolate tasting session. We tasted chocolates from three different regions and were challenged to identify the flavors and origins, and actually, we did alright.
Next on the tour was Canta Rana, a famous restaurant-bar that has been around for almost thirty years. The relaxed and in the friendly environment of this establishment. Its walls are covered with old photos and posters of re-known artists, football players, and others is a classic in the Barranco scene that cannot be missed. Although I knew this place for its fish-based dishes, this was the first time we were going to have a Lomo Saltado, a typical beef sauté dish from Peru. The lomo saltado was generously served and it had an excellent taste. We enjoyed it.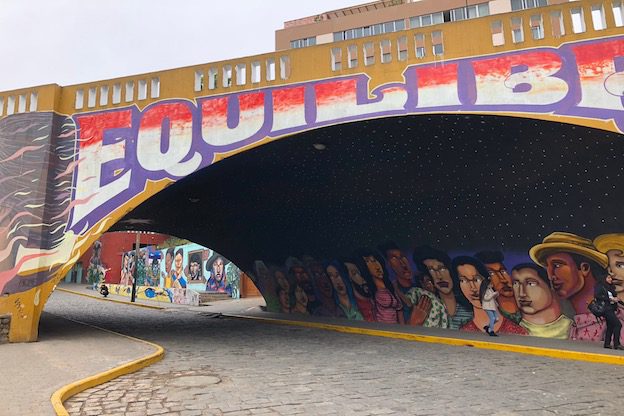 We then continued our walk towards the Puente de los Suspiros, a 19th-century old wooden bridge with plenty of romantic stories behind, and continued with our discovery of fantastic art murals all along the way. In a set of stairways, we were able to recognize artwork from famous Peruvian artist Elliot Tupac. We also enjoyed reading several written extracts from famous poets and writers that are stamped on the walls. We also paid a visit to the art gallery of Peruvian muralist and painter, Jade Rivera.
It was time for pisco sours, and what a better place to have them at Piselli, a lovely classic bar in Barranco that has been receiving customers since 1915. On the spot, we had a class on how to prepare pisco sours. The pisco sours were good, but one has to go easy with them.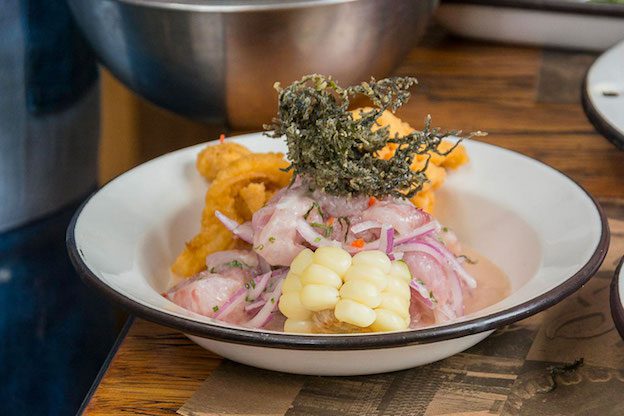 After walking one block further, we stopped at Barra Mar where we also attended a class on how to prepare ceviche, a classic of Peruvian cuisine with marinated raw fish. With few ingredients, the ceviche was prepared at our table. As easy as it may seems to prepare this classic Peruvian dish, believe me, it takes experienced hands to prepare a good one. The ceviche we had on this occasion was excellent and we enjoyed every bit of it. We also had a Causa with shrimps and avocado, that was also quite nice, and a chicha morada, the typical purple- corn-based Peruvian beverage.
Our final stop was at Crem de la Crem, a well-known ice cream parlor with a fantastic array of ice-cream flavors, each one simply better than the other.
With a sweet flavor in our mouths, our tour came to an end after having spent four hours of walking the streets of Barranco, discovering new and old places, learning new things, appreciating art and Peruvian cuisine, and having a nice talk with our guide and the rest of the tour members. Time flew and it is simply because we had such a good time.
For more information on their tours check out their website Exquisito Peru.
Comments
comments