A bizarre patch of earth is this Iquitos, that dazzling reminder of rubber mania and excess. Here's my perspective on this fascinating city.
In Iquitos, you first have to look at the map to see that humanity has allowed itself the incredible folly of establishing this metropolis at such an unlikely spot. It lies 3,646 km from the Atlantic Ocean and 1,859 km from Lima. The city is captured and imprisoned in the midst of the Amazon undergrowth. Since there are no roadways, the city is only accessible by air or by water.
Flying into the city
After traveling across hundreds of kilometers of uniform green vegetation, the city suddenly appears: a wild tangle of houses, disheveled streets, and plazas. When you get out of the plane it might feel like you've run against a wall. The heat and humidity of the rainforest, this primordial force of nature, this mastery over every physical element, is nature's first warning to you that you've arrived in the jungle.
A city that's alive at all hours
The rhythm of the city doesn't usually slow down until after midnight when customers finally rumble out of the many restaurants and Juguerías located along the malacon, the boardwalk. The city doesn't actually settle down until after two or three in the morning, just when the first signs of the Amazonian fauna are beginning their day's work.
My first trip to Iquitos
When I came to Iquitos for the first time in the 1970s, there were no televisions, and for good reason, since masts for reception couldn't reach from Lima. The radio program was produced in a tiny studio on Calle Arica across from the cinema. The only local daily, the Oriente, consisted of four confused, cheaply produced pages, from which the thickly printed ink always stuck to the reader's fingers. It was certainly this backwardness and abandonment that made this town so charming.
The energy of the city totally transformed in the mid 1980s when satellite television made its first appearance. Latin American Telenovelas began booming their way through bars and lobbies that used to be more silent.
A history of colonialism and wealth
Between 1890 and 1910, the city experienced a fairytale-like economic boom, making it one of the richest on the continent. Economic titans of the time such as Charles Goodyear had rubber from the Amazon jungle (and the lives of countless indigenous people) to thank for their wealth. The Amazon natives called this white juice Cahuchu. Under enslavement, they tapped it from obliquely scratched trees. It was then refined into rubber.
A dark history of greed, enslavement, and torture
Hell broke out on the rubber plantations near Iquitos: lucky knights, desperados and dubious figures were spellbound by the rubber swap. Indians were enslaved and blacks were shipped from Barbados to mine the precious raw material that exists only in the Amazon Basin. Rubber barons such as Julio C. Araña, the Del Aguilar family, the Cahn, the Cauchero Cohen, the Morey family, and the Barcía family lived in the lap of luxury. They slipped into the finest Italian silk, drank exquisite French cognac, bought Viennese pianos and Venetian violins for the Teatro Alhambra .
Filming Fitzcarraldo in Iquitos
Werner Herzog, the Munich film director, made his film Fitzcarraldo in Iquitos. He said that this city had something "extremely erotic" for him. The Peruvian writer Mario Vargas Llosa has expressed similar sentiments towards this landscape. In fact, intimate connoisseurs of the scene know that here are the most ardent Señoritas in Peru.
Final words on Iquitos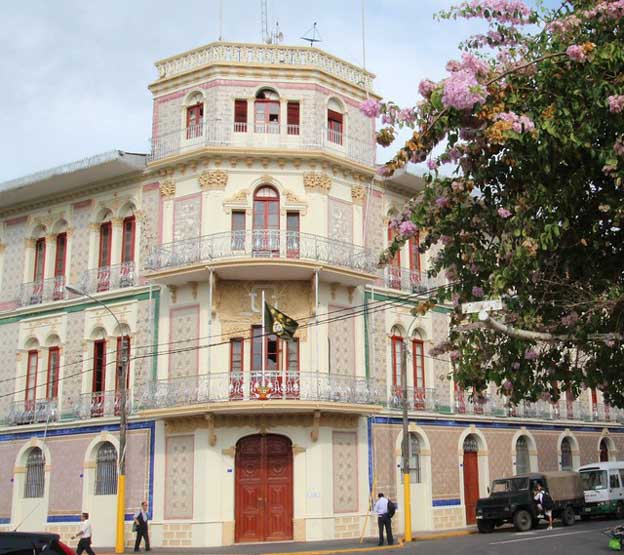 A bizarre patch of earth is this Iquitos, that dazzling reminder of rubber mania and excess. You might have to spend a long time in search of the right adjectives in order to describe this city's absurdity. This city seems to be whispering, yet undefiled, but fervently but slightly withered, immoderate though limited, but always pitiable in the mind. In essence, it symbolizes man's tale of suffering, carved in stone: quiet at first, then lively, well neat, later insane, first poor, then immeasurably rich, and finally, in the end, without anything.
Do you want to explore more about the world's strangest and most fascinating destinations? Do you want to read more about my decades of experiences while traveling the world? Then maybe your interested in checking out my blog Notes and Notes from the Road.
Editor's note: A version of this article appeared on Notes and Notes from the World.
Editor's note: translated from German
Cover Photo: Amaraphotos.com
Now that you're here:
We're asking you, our reader, to make a contribution in support of our digital guide in order to keep informing, updating and inspiring people to visit Peru. Why now? In our near 20-year journey as the leading English-language source on travel in Peru, we've had our fair share of ups and downs-but nothing quite like the challenges brought forth in the first quarter of 2020.
By adapting to the changing face of the tourism and travel industry (on both local and international levels), we have no doubt we will come out stronger-especially with the support of our community. Because you will travel again, and we will be ready to show you the best of Peru.
Your financial support means we can keep sharing the best of Peru through high-quality stories, videos and insights provided by our dedicated team of contributors and editors based in Peru. And of course, We are here to answer your questions and help whenever you need us.
As well, it makes possible our commitment to support local and small businesses that make your visit an unforgettable one. Your support will help the people working in these industries get back on their feet once the world allows us to make our dream of enjoying everything Peru has to offer a reality again-from its mouthwatering gastronomy, thriving Amazon and archaeological wonders such as Machu Picchu.
Together, we will find a way through this. As a member of our community, your contribution, however big or small, is valuable.
Support Traveling & Living in Peru from as little as $1 - and it only takes a minute. Thank you!