Two Inca citadels, one magical journey. Find out what it's like to make the trek to Choquequirao and then continue on to Machu Picchu by foot.
The trail leading to Choquequirao
We began by heading north from the lower part of the village. We rounded a hill along a trail that climbed almost imperceptibly. And suddenly those incredible mountains with their green breasts and white crests hove into view, those mountains that still hold more than one secret. And a warm breath rose from the deep throat of the canyon, where we could barely make out the Apurimac River. And all was silence, with each of us wrapped in our own sensations as we continued our walk.
The trail is surrounded by typical highland vegetation until the first pass at Kapuliyoq, some 2955 meters above sea level and an excellent viewing point from which, if one looks hard, the ruins of Choquequirao can just be made out.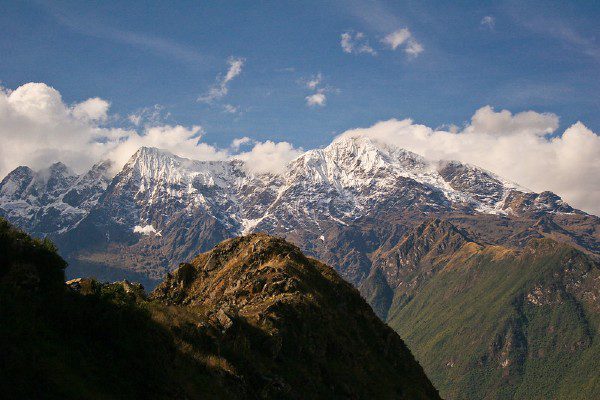 It is here that the trail descends, almost spiraling among the trees crammed with lichen, moss and beautiful bromeliads, as a condor cut through the increasingly warm air. Our energy was draining as the descent seemed interminable, until we saw the sunflowers and shady grove of Chiquisqa, the base camp. Here and there, papaya and chirimoya (custard apple) trees stood. My companion arrived s ore-footed, to put it mildly.
Walter Hupiu, of Chinese descent, mustache and long hair, addicted to cigarettes and the click of his shutter, walked slowly with his gaze wandering all around him, as if in search of something far away. He would raise his camera, change the lens and shoot, his eye against the camera and a cigarette jutting from his mouth.
The magic of Choquequirao
At night, the distant stars and the sound of the wind made us feel like we had crossed a virtual frontier. The next day we rose early while the mosquitoes left red dots on our skin.
Juana Covarrubia, a Chiquisqa resident, told us that the songs we heard as we awoke were those of doves, toucans and a local bird known to her as the tulla. We were excited by the knowledge that today we would reach Choquequirao.
Photo: Danielle Pereira/Flickr

Photo: Danielle Pereira/Flickr
We continued our descent to playa Rosalinas, a campsite at the edge of the river located 1600 meters above sea level. We knew we had a long day's walking ahead of us, since Choquequirao stands at an altitude of 3050 meters. At Rosalinas we crossed the suspension bridge over the Apurimac River: the river of Argüedas, the great "speaking river," as its name implies in Quechua; the great Apurimac that breaks in curling green waves on its way to the Atlantic.
The ascent seemed interminable, an endless winding path. We passed Santa Rosa, another hamlet ideal for camping, where travelers can sample a little home-brewed alcohol. My knees were wondering when we would arrive, and my entire body was hoping that each curve would be the last, until at last we reached our campsite at Marampata. After four hours of climbing, we deserved a long rest before continuing to Choquequirao.
Choquequirao's terraces
From the Ushnu, or ceremonial platform, you have the best panorama of the river and the valley, and where one senses that there is magic in these mountains. The snow peaks of Ampay and Pumasillo absorbed the last light of the day and Choquequirao was enveloped in shadow. Choquequirao is, of course, much more than an archaeological site nestled in the rugged high forest. To begin with, it is definitely a magical place. We walked along captivated by the magnificent agricultural terraces built to harmonize with the topography, many of them lost in the forest still (much of Choquequirao is still covered with vegetation). We climbed up to the main plaza with its walls that snake along following the contours of the hill.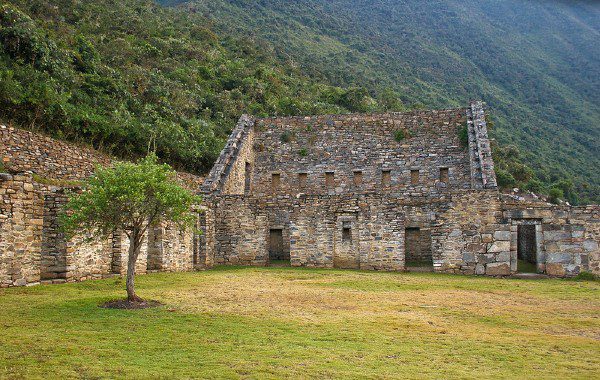 Choquequirao must have been conceived in response to the need to colonize the Amazonian lowlands and maintain control of the sacred coca leaf cultivated in the lower valleys. The following morning, together with the archaeologist Eduardo Pacheco, we explored one of the complex's most important areas: Sector VIII, difficult to reach and covered in thick vegetation. Here you can find some 134 agricultural terraces, and on one of the last rows you can see a group of beautifully carved designs, of sun flames, on the wall of a terrace.
We left Choquequirao, but we could not help turning around several times to glance back at that infinitely beautiful place. There exists a perfect communion between the city designed by man and the extraordinary scenery at sunset, when the condors fly and clouds hang suspended in the sky. In the serenity of that imposing silence a non-aggression pact seemed to exist, one of mutual respect between mankind and nature. Our journey continued with its interminable ups and downs.
In contrast with the forests that surround Choquequirao, the landscape became more arid, scattered with Andean plants such as tarwi and chillka. At the bottom of the canyon we could make out the Yuraqmayu (White River). On reaching the river we bathed under a sun that burned pitilessly.
Explorers who visited Choquequirao
In 1710, Juan Arias Díaz brought the first news of the citadel. He was followed by the foremost cosmographer of the Kingdom of Peru, Cosme Bueno, who in 1768 produced a description of the provinces of the diocese of Cusco which included Choquequirao. Since then, the ruins have had many distinguished visitors, including Eugene de Sartiges, Charles Wiener and Hiram Bingham. Little of the site was visible then: a few walls without the beautiful ornamentation that can now be seen amid the luxuriant vegetation that once almost entirely covered the site.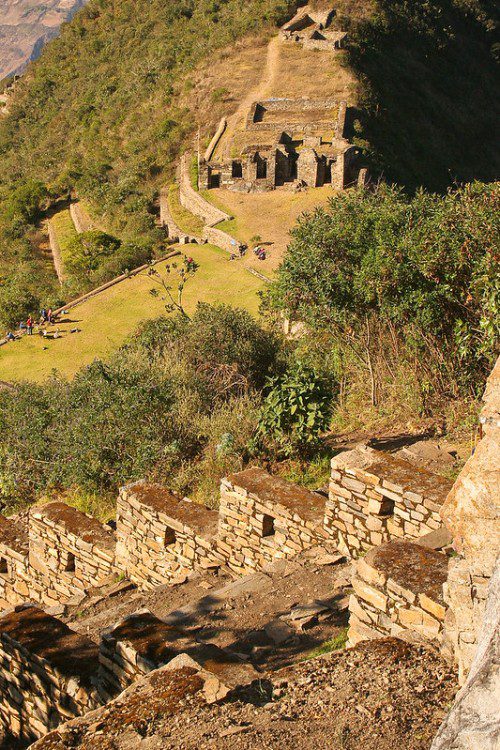 In 1834, the Comte de Sartiges, a French adventurer, who was in search of a mythical lost treasure of the Incas, after several days trekking, did what perhaps all of Choquequirao's earliest visitors did: he broke down walls and dug holes in search of gold. After all, Choquequirao actually means "cradle of gold."
Among condors and peaks
On our return, on the other side of the White River, we climbed a hill with all the characteristics of a cloud forest, with colorful cocks-of-the-rock and toucans flying around. We rested at Maizal, where the moon regaled us with its somnolent light. A thick and damp mist forced us to close the tent and wait until the following day, submerged in a deep sleep. Once again, we crossed another high pass at San Juan, 4100 meters above sea level.
There were no mosquitoes to bother us there, and we came across many abandoned mines, some of which we explored, and we were able to confirm that they had been used for the extraction of copper, silver and other minerals that were now scattered around as shiny fragments. According to local inhabitants, these mines had been the property of the Romainville family, who had exploited the region until the 1980s.
At five in the afternoon we arrived at the village of Yanama with its stone houses, a public school, a kiosk, a football pitch and a miraculous telephone. Hebert, our cook, enjoyed his work, always surprising us with the most hardy dishes: He would produce ice cream for dessert, a delicious spaghetti carbonara or a filling Peruvian dish like lomo saltado. We camped, dined and chatted. Our conversation lasted well into the night under the incandescent light of the gas lamp.
Early, we left the village behind as we crossed a gently rising esplanade covered in fields and eucalyptus groves and, hours later, we found ourselves surrounded by grasslands of ichu and yareta (characteristic highland vegetation). To our left stood the magnificent Pumasillo chain of mountains, a range over 5000 meters high.
Here, the most important rivers in the area emerge: the Yanama, where we wet our boots, and the Totora on the other side of the mountain. We had lunch at the foot of the final pass, the Yanama Pass, at 4690 meters above sea level and the highest point on our route: another spot from which to observe the placid flight of condors.
This is a trek of extraordinary beauty. Salkantay, the highest peak in the Cusco department (6271 meters), stood before us and guided us on our way. Turning our heads slightly we were able to see the dozens of shades of green that were the highland forests that awaited us.
Photo: Danielle Pereira/Flickr

Photo: Danielle Pereira/Flickr
The road to beloved Machu Picchu
At this stage we had forgotten our tiredness and painful feet and we descended at a run to submerge ourselves in the luxuriant vegetation. The hamlet of Totora appeared, but we did not stop, continuing instead another three hours.In some sections we walked in Indian file along a very narrow path between deep abysses. A bad smell led us to a dead mule lying below. We eventually reached Collpapampa, a small and very beautiful place.
Escorted by the bamboo of the forest, with passion fruits beginning to appear, as well as orchids, we enjoyed the shade of the trees. This is the prelude to the great forests of the Amazon. The mosquitoes returned to attack us. We stopped at an unexpected little shop to calm our thirst with a beer, many children approached to give us fruit, asking for nothing in return.
Without realizing it we had reached playa Sahuayaco, the land of coffee, where most groups that make this route climb aboard buses for the forty minute drive to Santa Teresa, not far from Machu Picchu. But we wanted to reach that emblematic citadel as the Incas had before us: along narrow paths through the mountains.
From Sahuayaco, just before dawn, we climbed a hill caressed by the friendly sound of the wind and the songs of birds. Suddenly, the forest cleared and we were able to see the Inca constructions that had drawn the attention of the distinguished Inca researcher Tom Zuidema. Ahead, bathed in blue light, were the unmistakable forms of Machu Picchu.
It is true that in architectural terms old and beloved Machu Picchu is more imposing than Choquequirao, but in terms of magnificent scenery, Choquequirao wins the day. But none of that mattered as, step by step, we crossed an Inca bridge. The Urubamba River was a vague winding brown ribbon beneath the skeleton of this great city. We had made it.
How to get to Choquequirao
From Cusco, it is a 150 kilometer (93 miles) drive along a good asphalted road, passing the villages of Anta, Limatambo, Curahuasi, Saywite, before reaching the turn-off for Cachora. This will be your starting point for the trek to Choquequirao. Some 15 kilometers of the total distance are made along a dirt road.
What to take:
Trekking boots are recommended, a sleeping bag, rainproof jacket, warm clothes for the cold nights, thick socks, a flashlight with extra batteries, plenty of water and money in small bills and coins. Also remember sun block, insect repellent, camera with extra film, sunglasses and hat, swimwear and a walking stick.
If you have questions about traveling to Peru and booking tours in advance, you can contact the Traveling & Living in Peru team at [email protected]
Cover photo: Danielle Pereira/Flickr
This article has been updated from its original publication on November 1, 2006.
Now that you're here:
We're asking you, our reader, to make a contribution in support of our digital guide in order to keep informing, updating and inspiring people to visit Peru. Why now? In our near 20-year journey as the leading English-language source on travel in Peru, we've had our fair share of ups and downs-but nothing quite like the challenges brought forth in the first quarter of 2020.
By adapting to the changing face of the tourism and travel industry (on both local and international levels), we have no doubt we will come out stronger-especially with the support of our community. Because you will travel again, and we will be ready to show you the best of Peru.
Your financial support means we can keep sharing the best of Peru through high-quality stories, videos and insights provided by our dedicated team of contributors and editors based in Peru. And of course, We are here to answer your questions and help whenever you need us.
As well, it makes possible our commitment to support local and small businesses that make your visit an unforgettable one. Your support will help the people working in these industries get back on their feet once the world allows us to make our dream of enjoying everything Peru has to offer a reality again-from its mouthwatering gastronomy, thriving Amazon and archaeological wonders such as Machu Picchu.
Together, we will find a way through this. As a member of our community, your contribution, however big or small, is valuable.
Support Traveling & Living in Peru from as little as $1 - and it only takes a minute. Thank you!