Budget-friendly and versatile, tarwi is a nutritional powerhouse that has grown in popularity far beyond its origins in the Andes of Peru.
Part of traveling to another country is experiencing the culture through its food and discovering new ingredients and flavors. Peru is a terrific "foodie" destination with plenty of gastronomic experiences to be had by travelers coming from outside as well as within South America. One of the many time-tested foods of Peru is tarwi (Lupinus mutabilis), a firm bean grown in the Andes. Due to their high nutritional value and versatility in cooking, these cream colored seeds have gained popularity in the health food scene.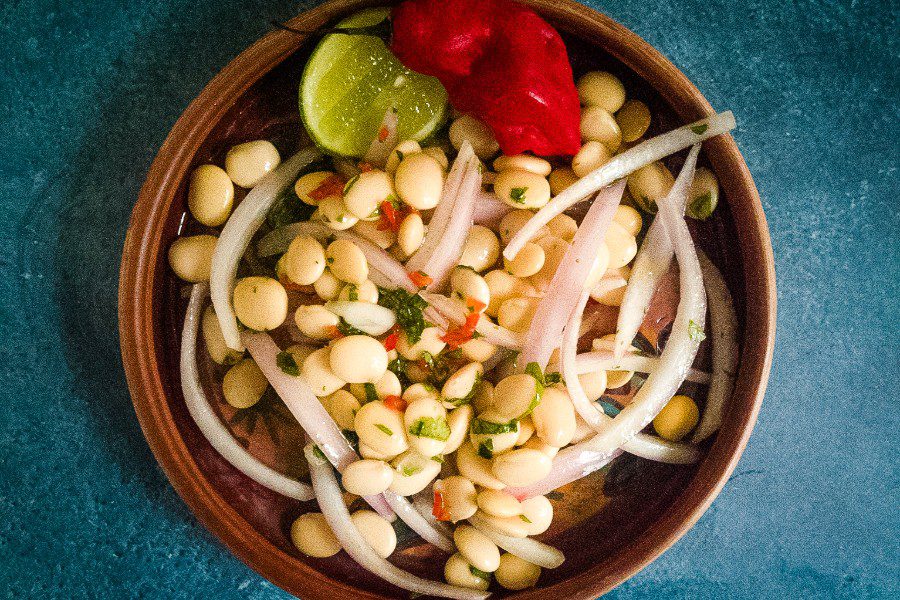 Tarwi, also known as chocho or Andean Lupin, is an edible bean produced in Peru. It is grown in areas such as Cajamarca, Ancash, Huánuco, Junín, Cusco and Puno. Best suited for cool environments, these little beans are usually found in valleys with high altitudes (800-3000 masl). The lupin plant itself is also quite striking, showing off blue-purple flowers when in bloom.
But first, a rinse
While tarwi is considered a staple of the Andean diet, only recently has it found a demand outside of this region due to its bitter flavor. The bitter flavor comes from alkaloids in the tarwi. Not only do these alkaloids cause an unpleasant flavor, they may also cause unpleasant side effects, including nausea, weakness and issues with vision. The good news is that the alkaloids are easily removed by soaking the beans for several days and repeatedly rinsing them. Recent developments in machinery that can perform this process has led to an increased availability of tarwi in Lima and other areas outside of the Andes.
Purchasing tarwi
When buying packaged tarwi in a store, the alkaloids have most likely been removed. However, if you stumble on tarwi in a market and it hasn't been treated, you may need to perform the soaking and rinsing process yourself. Most commonly ready-to-eat tarwi beans found in stores are packed in a brine or dehydrated. The beans are also sold in the form of a flour and can be used as an alternative to common white flour in baked goods. Other products made from the beans include milk and a cooking oil, similar to peanut oil.
I have found this edible bean at health food stores in Lima, such as Madre Natura (located in Surco and Miraflores), as well as the Sunday farmers market in Barranco.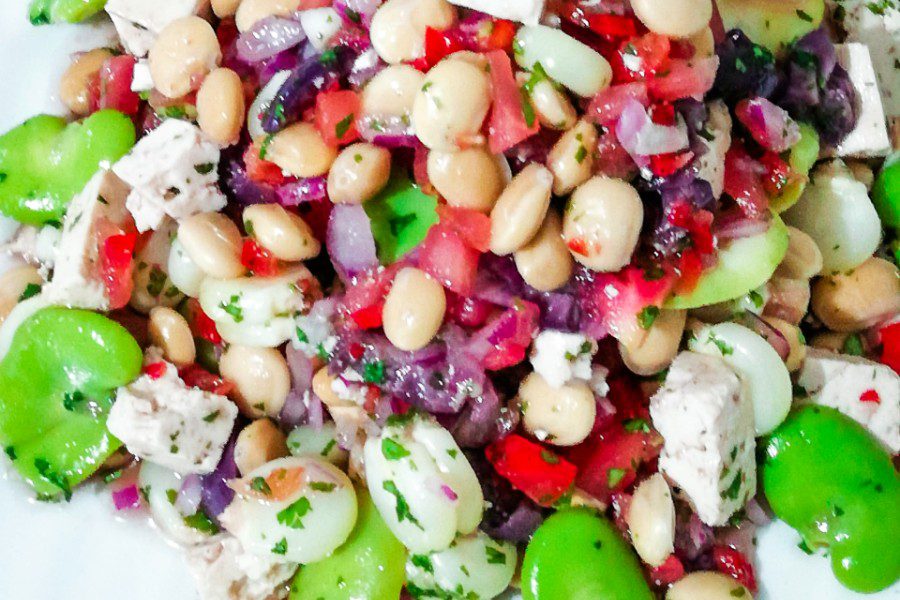 How to eat it
The texture of tarwi is firm and smooth, similar to a cooked soybean with a slightly nutty flavor.
The beans can be used to make a wide variety of dishes similar to other legumes. Most commonly in Peru they are used in soups, vegan ceviche, salads (such as solterito) and purees. In my experience they also make for a great veggie burger. You can simply substitute them in place of another type of bean in your favorite veggie burger recipe.
The dry, dehydrated tarwi is a bit more challenging to cook since it first requires rehydration. I found that even after rehydration the beans stayed a bit chewy and uncooked in texture. I prefer the jars of tarwi, soaked in saltwater solution. However, when using the soaked tarwi, soak and rinse the tarwi well to remove the flavor of the brine.
Tarwi veggie burger

Flan made from tarwi milk

Ceviche de choclo y tarwi
Why you should be eating more tarwi
Packed full of nutrition
Tarwi has more nutrition than any other bean. It is high in protein (providing 26 grams per cup) and acts as a good source of healthy fats, fiber and other vitamins and minerals.
Great source of antioxidants
The plant-chemicals or phytochemicals in the beans help remove free radicals from the body, providing some protection from and prevention of chronic disease. Free radicals result from the natural processes in our bodies and, if left alone, may cause damage to the body. Eating a diet with lots of fruits, vegetables and of course tarwi, removes free radicals from the body before they inflict damage.
Benefits to the digestive system
The fiber content serves to keep the digestive system working regularly and functions as a probiotic in the body. Probiotics are healthy bacteria that improve your health, especially the health of the gut.
Low carbohydrate content and low glycemic index
The beans are naturally low in carbohydrates. What's more, the type of carbohydrates they contain are digested at a slower rate. This means the body doesn't experience as much of a sudden spike in the blood sugar level after eating them. This property makes tarwi apt for diabetics to consume.
Immunity booster
The high levels of protein in tarwi support the repair of damaged tissue in the body. Tarwi also contains zinc, an essential mineral our body needs to keep our immunity intact.
All photos by Lyn Croyle
Now that you're here:
We're asking you, our reader, to make a contribution in support of our digital guide in order to keep informing, updating and inspiring people to visit Peru. Why now? In our near 20-year journey as the leading English-language source on travel in Peru, we've had our fair share of ups and downs-but nothing quite like the challenges brought forth in the first quarter of 2020.
By adapting to the changing face of the tourism and travel industry (on both local and international levels), we have no doubt we will come out stronger-especially with the support of our community. Because you will travel again, and we will be ready to show you the best of Peru.
Your financial support means we can keep sharing the best of Peru through high-quality stories, videos and insights provided by our dedicated team of contributors and editors based in Peru. And of course, We are here to answer your questions and help whenever you need us.
As well, it makes possible our commitment to support local and small businesses that make your visit an unforgettable one. Your support will help the people working in these industries get back on their feet once the world allows us to make our dream of enjoying everything Peru has to offer a reality again-from its mouthwatering gastronomy, thriving Amazon and archaeological wonders such as Machu Picchu.
Together, we will find a way through this. As a member of our community, your contribution, however big or small, is valuable.
Support Traveling & Living in Peru from as little as $1 - and it only takes a minute. Thank you!