A report by The Guardian illustrates how indigenous communities in Peru's Amazon are learning to use and read maps to track deforestation and use of land for agriculture.
For many indigenous communities living in the Amazon, what they know about the rainforest is what they can see in front of them. To visualize the magnitude of the destruction to their land with maps is something fairly, if not completely, new for many of them. A new report by Clare Longrigg for The Guardian looks at the challenges and opportunities that the Asháninka indigenous people face in order to save the forest they inhabit.
It is not unknown that the Asháninka, like many other indigenous communities in the Amazon, are bombarded with threats and briberies to give up or sell the trees within their protected land in the Cutivireni area. Illegal loggers not only offer money in exchange but also promises to build schools or houses. These offers, however, come at a cost, which often includes violence and death when loggers don't get enough or their way.
Not only are the Asháninka under devastating financial stress that they hand over trees for very little money or under false promises, but they are also clearing out trees in an unregulated manner for subsistence farming. With the support of the environmental charity Cool Earth, the Asháninka are learning how to better track, manage and protect their land. Part of the support that the charity provides is financial, which allows the community to decide how the money is used. The other condition for funding is to plan how much and how often trees are cut down.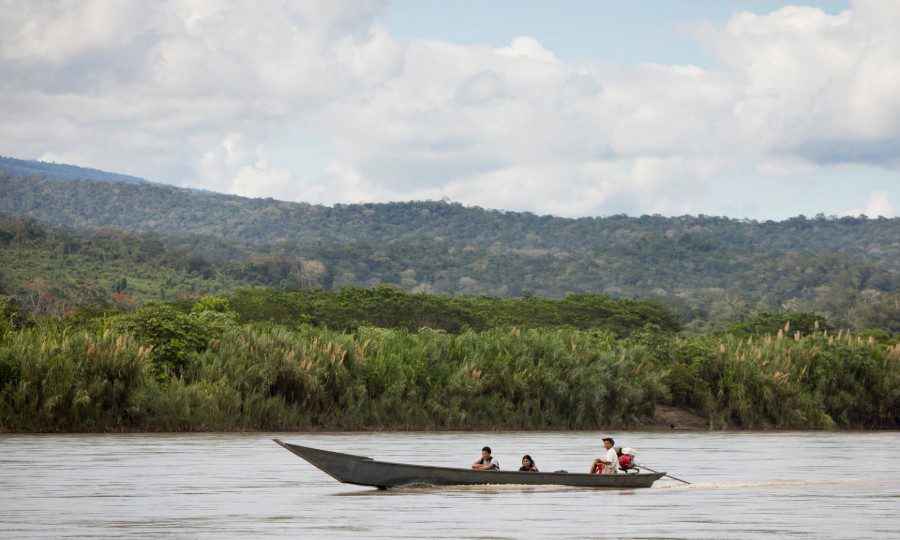 The main crops that the Asháninka farm are yucca, sweet potatoes and bananas. To do so, "a family of three will clear a hectare of forest to plant this crop. But the soil only has a useful life of two years. After that, they will move on and clear another patch," states Aurora Lume, who is of the region and part of Cool Earth's team on the ground.
The organization also supports the community through education on best farming practices. This includes what other crops, like coffee, they can harvest which not only can be more financially prosperous but also allow for the forest canopy to stay undisturbed.
The use of maps to understand how to better use and protect their land is also part of the education provided by Cool Earth. In one such educational meeting, recounts Longrigg, the group observed a satellite map that showed the different ways in which the land has been used and abused. The moment became an eye-opening experience for many villagers who had not realized the extent of forest lost. Environmentalists and supports believe this awakening will empower indigenous communities to strategically plan the safeguarding of the forest. In fact, it is a tested model that ambassador of Cool Earth Tony Juniper says is "the most effective strategy to conserve the rainforest, in any part of the world."
Source: The Guardian
Cover photo: Amaraphotos.com
Now that you're here:
We're asking you, our reader, to make a contribution in support of our digital guide in order to keep informing, updating and inspiring people to visit Peru. Why now? In our near 20-year journey as the leading English-language source on travel in Peru, we've had our fair share of ups and downs-but nothing quite like the challenges brought forth in the first quarter of 2020.
By adapting to the changing face of the tourism and travel industry (on both local and international levels), we have no doubt we will come out stronger-especially with the support of our community. Because you will travel again, and we will be ready to show you the best of Peru.
Your financial support means we can keep sharing the best of Peru through high-quality stories, videos and insights provided by our dedicated team of contributors and editors based in Peru. And of course, We are here to answer your questions and help whenever you need us.
As well, it makes possible our commitment to support local and small businesses that make your visit an unforgettable one. Your support will help the people working in these industries get back on their feet once the world allows us to make our dream of enjoying everything Peru has to offer a reality again-from its mouthwatering gastronomy, thriving Amazon and archaeological wonders such as Machu Picchu.
Together, we will find a way through this. As a member of our community, your contribution, however big or small, is valuable.
Support Traveling & Living in Peru from as little as $1 - and it only takes a minute. Thank you!