At Mercado 28, choose from any of the 17 food stands—or a bit of each—for one unforgettable foodie experience in Lima.
Mercado 28 ain't your typical district market in Lima. Then again, that's not what it's trying to be.
Much like the great international markets from which it pulls inspiration—New York City's Chelsea Market and Madrid's Mercado San Miguel, to name a few—Mercado 28 is a food hall, not a grocery spot. In other words, leave your reusable shopping bag at home for the next time you visit the Surquillo market or a bioferia: You're about to enter a colorful and friendly dining atmosphere that makes trying different Peruvian dishes as much fun for locals as it does for tourists.
"Peru has some of the best gastronomy in the world, but [before Mercado 28] there wasn't a place where you could go to try flavors from all regions of the country—and to find a place that would please a group of friends with different cravings was impossible," comments Paola Lombardi, Marketing of Mercado 28. And with just over a year in operation, Mercado 28, in all of its 8600 sq ft of glory, has managed to fill such a big hole.
The set up
Located on the second floor of the Balboa Strip Mall in Miraflores, Mercado 28 is home to 17 vendors; while 16 of the stands have a one-year contract, there is always one pop-up stand that holds the space for a two to three-month period. Dhaasu, a popular Indian food restaurant with a hole-in-the-wall location in Barranco, can be currently found in the pop-up station.
Long wooden tables and benches provide ample seating for large groups. This kind of cafeteria-style seating charmingly gives way to an occurrence of yore: mingling with strangers (oh my). In the center of it all is the bar, complete with a draft system spewing craft beer and a playful cocktail menu that highlights Peruvian pisco.
Tourists, office workers on lunch break, college-aged crowds, and local foodies all flock here, making the clientele as diverse as the edible offerings at Mercado 28. In that sense, it's like a district market—and it isn't. The fact that Mercado 28 is trendy and pricey makes it exclusive to a certain class (or a certain few, at least), so it's not exactly a melting pot of social and cultural groups that are, say, the Magdalena del Mar or Lince markets.
But you've come here to eat and have a good time, right? And rest assure you will. Gather friends and family for a unique dining experience where everyone can find something to suit their appetite. Better yet, do as we did and order a few plates from various stands to try a bit of everything—with caution. (Ceviche, shawarma, cecina and gelato isn't the best mix.) The food hall received bonus points when we found out that all the plates, bowls and cutlery are eco-friendly and compostable.
The experience
Of course, if you eat with your hands then there's no worry of creating unnecessary waste. We got our hands dirty at Al-Karam where they serve up shawarma, falafel plates and stuffed grape leaves (hoja de parra). Having lived in Peru for many years, Mahmoud Ali Shehab, a native of Palestine, decided it was time to show eaters in Peru what authentic Middle Eastern food should taste like.
"The spices are so important," says Mahmoud. "I smell the condiments that we put on the chicken and it reminds me of home. I see the hojas de parra and remember sitting around the table and filling grape leaves with my mother. This food brings me happiness."
One taste of the falafel plate, served with hummus and pita bread, and you may have issues returning to the wraps offered at various local bioferias.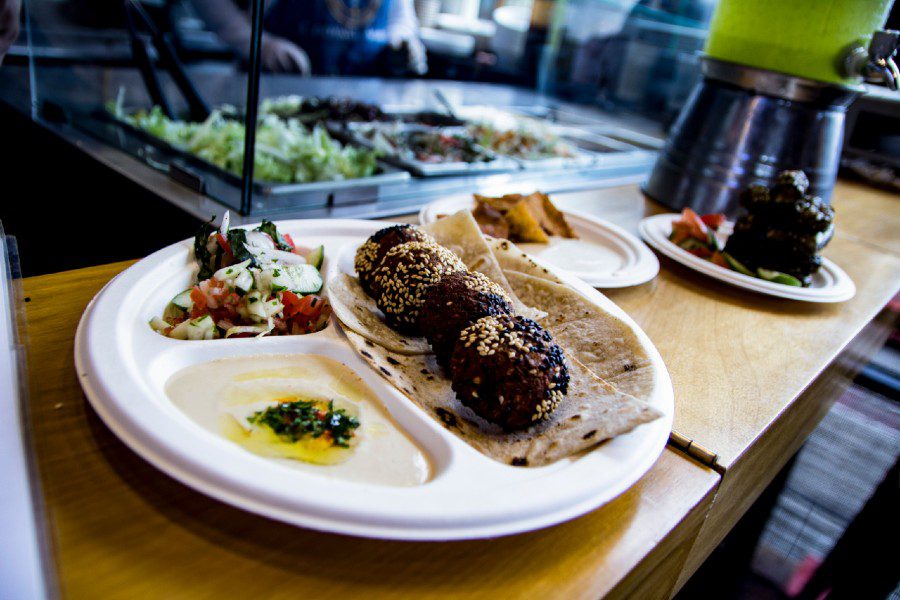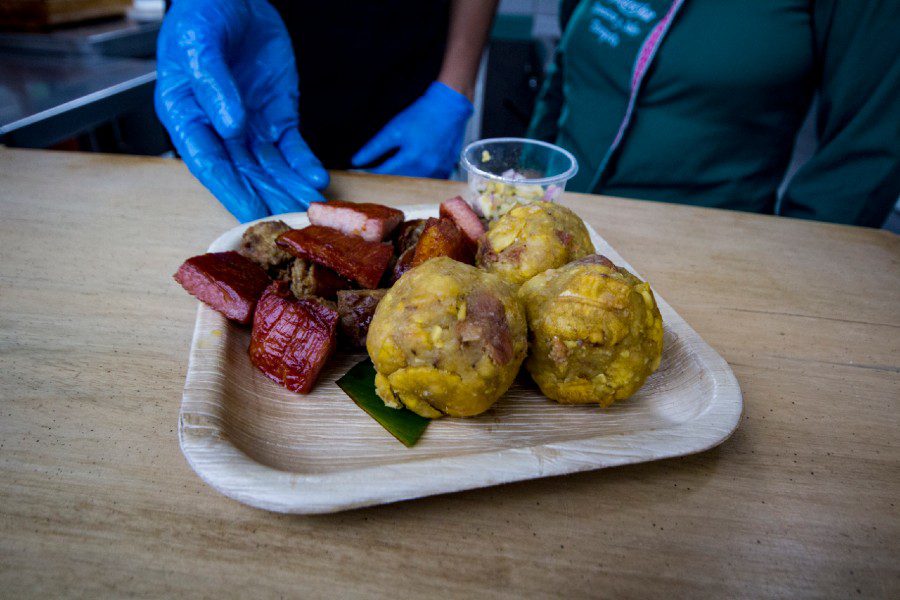 This is the only stand that perhaps goes without a strong connection to Peru. On the other end of the spectrum is Las Reyes. Owned by José del Castillo, you can think of this stand as a miniature Isolina. In fact, whereas the famed Barranco restaurant takes the first name of the chef's mother, Las Reyes borrows her last name. Daily specials of traditional Peruvian plates can be combined, so that in one meal you can get a bite of aji de gallina (creamy shredded chicken) and seco de carne (beef stew). If you're stopping by for a quick morning snack, don't miss the asado (roast beef) sandwich.
Unlike Isolina, the ceviche we tried at Las Reyes was less than spectacular. We learned our lesson that the best bet for ceviche at Mercado 28 would be at Agallas.
Needing to add some flavor to our palates and fast, we headed next door to La Patarashkita. Specializing in jungle cuisine, this family-owned spot is the little sister of a classic in Tarapoto, La Patarashka. The plate of cecina (smoked pork) and tacacho (mashed and fried green plantains) is deliciously salty, and would pair perfectly with a craft beer, poured from draft at Mercado's bar, La Barra.
Family and friends
Low seating, a moderate noise level by day, and roomy bathrooms for diaper changes and tantrums make for a family-friendly atmosphere, though just a few of the stands offer menu items for kids. Every so often activities for young children take place on Sundays at Mercado 28, yet its rarity means you'll have to check their website for updates.
Swing by on Wednesday evenings (with or without the kids) for weekly live music sessions, the perfect way to break up the work week or spend your final evening in town. Without plans for New Year's Eve? Countdown to 2020 with Mercado 28 on Tuesday, December 31. The party starts at 6 p.m.
Hours: Sunday – Wednesday, 8am-12am; Thursday-Saturday, 8am-1am
Address: Vasco Nuñez de Balboa 755, Miraflores (at the intersection of 28 de Julio)
Now that you're here:
We're asking you, our reader, to make a contribution in support of our digital guide in order to keep informing, updating and inspiring people to visit Peru. Why now? In our near 20-year journey as the leading English-language source on travel in Peru, we've had our fair share of ups and downs-but nothing quite like the challenges brought forth in the first quarter of 2020.
By adapting to the changing face of the tourism and travel industry (on both local and international levels), we have no doubt we will come out stronger-especially with the support of our community. Because you will travel again, and we will be ready to show you the best of Peru.
Your financial support means we can keep sharing the best of Peru through high-quality stories, videos and insights provided by our dedicated team of contributors and editors based in Peru. And of course, We are here to answer your questions and help whenever you need us.
As well, it makes possible our commitment to support local and small businesses that make your visit an unforgettable one. Your support will help the people working in these industries get back on their feet once the world allows us to make our dream of enjoying everything Peru has to offer a reality again-from its mouthwatering gastronomy, thriving Amazon and archaeological wonders such as Machu Picchu.
Together, we will find a way through this. As a member of our community, your contribution, however big or small, is valuable.
Support Traveling & Living in Peru from as little as $1 - and it only takes a minute. Thank you!