If you're not a fan of these furry friends, continue with caution. The chinchilla rat, native to Cusco and believed to be extinct, was found in the Machu Picchu sanctuary.
The small creature joins the list of species that have been found roaming freely in Machu Picchu during Peru's state of emergency. The Cuscomys oblativus, or Machu Picchu arboreal chinchilla rat, is a native species to the area. It was spotted for the first time after many years by the Peruvian Service for Natural Protected Areas (SERNANP).
The images of the creature were captured thanks to cameras installed in 2018 and 2019 as part of a biodiversity study in the area. The cameras are found in the forests of three sectors of the sanctuary, at an elevation of 2,650 and 3,430 m: Winaywayna, Intipata and Kantupata.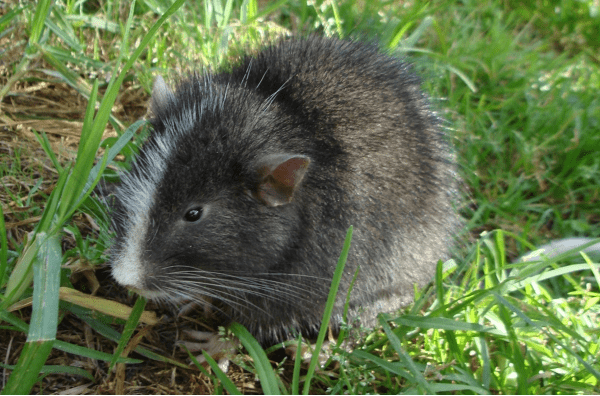 The Cuscomys oblativus was first identified in 1916 based on remains found inside Inca vessels excavated in the Machu Picchu citadel. It was believed to be extinct until found in 2009 by park ranger and specialist Roberto Quispe. A scientific study two years later confirmed the finding.
No image of the species was recorded until now. To lear more, read here.
Source: Andina
Cover photo: Andina
Now that you're here:
We're asking you, our reader, to make a contribution in support of our digital guide in order to keep informing, updating and inspiring people to visit Peru. Why now? In our near 20-year journey as the leading English-language source on travel in Peru, we've had our fair share of ups and downs-but nothing quite like the challenges brought forth in the first quarter of 2020.
By adapting to the changing face of the tourism and travel industry (on both local and international levels), we have no doubt we will come out stronger-especially with the support of our community. Because you will travel again, and we will be ready to show you the best of Peru.
Your financial support means we can keep sharing the best of Peru through high-quality stories, videos and insights provided by our dedicated team of contributors and editors based in Peru. And of course, We are here to answer your questions and help whenever you need us.
As well, it makes possible our commitment to support local and small businesses that make your visit an unforgettable one. Your support will help the people working in these industries get back on their feet once the world allows us to make our dream of enjoying everything Peru has to offer a reality again-from its mouthwatering gastronomy, thriving Amazon and archaeological wonders such as Machu Picchu.
Together, we will find a way through this. As a member of our community, your contribution, however big or small, is valuable.
Support Traveling & Living in Peru from as little as $1 - and it only takes a minute. Thank you!