Classic, creamy, slightly spicy and filling: this chicken dish is Peruvian soul food at its best. Here's the recipe for how to make aji de gallina.
One of my all-time favorite Peruvian dishes is Aji de Gallina. Actually, the first time I ever ate it was in Chicago around 1995, prepared by my Peruvian sister-in-law. After that, I was hooked and had to find out how to make aji de gallina myself.
There are many versions of this popular dish. I find you can make it as simple or decadent as you like, depending on the ingredients you decide to use. Of course, chicken and aji pepper are the focal points of this dish. Some people use a combination of the dark meat and light meat of the chicken for this dish because the dark meat is moister, but I typically use chicken breasts.
The addition of bread, aji, nuts and cheese to the somewhat spicy chicken gives an added dimension to this very traditional dish. This is even better the next day for leftovers.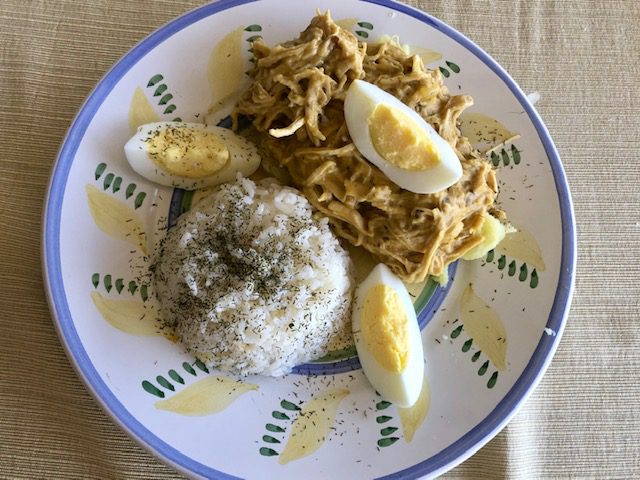 Tips
This can be a time-consuming dish to prepare, so to save time you can boil the chicken the day before and shred it.
Always use chicken broth or stock (homemade or store-bought) to parboil the chicken instead of plain water. It makes a big difference in the flavor of the chicken.
You can make the aji mirasol or aji amarillo paste yourself, but it's time consuming. I usually buy it homemade from the lady in my local mercado or at the store in a jar or package.
Store-bought versions of aji amarillo

White bread, crusts cut off
I always use half evaporated milk (¾ cup) and half cream (¾ cup) for my recipe. But if you only have evaporated milk available, use 1 ½ cups of that. If you want the sauce to be extra creamy, add ½ cup more of the cream.
I use the soft, white bread for this recipe. The cheaper, the better. For some reason the Bimbo's brand here in Peru is perfect for this recipe. In the U.S., you would use the white Wonder Bread.
Aji de Gallina
Serves 4-6 people
Ingredients:
1 chicken (about 2 kg.) or the equivalent of 3 complete chicken breasts
1 medium to large chopped white onion
1-2 garlic cloves, crushed
7-9 tablespoons aji mirasol paste or aji amarillo paste (you can use either)
½ cup vegetable oil
10-12 slices white bread without the crust
2 cups chicken stock
¾ cup evaporated milk
¾ cup whole milk or cream (leche entera or crema de leche)
¼ cup olive oil
100 grams chopped pecans or walnuts (I prefer pecans, but walnuts are traditional)
125 grams grated Parmesan cheese
6-8 yellow potatoes
12 black olives, sliced in half
6 hard-boiled eggs, sliced
Salt & pepper to taste
Preparation:
Parboil the chicken breasts or chicken in a pot of chicken broth for approximately 20 minutes and then leave them in there to cool. Once cool, remove and shred the chicken into bite-size pieces.
Crumble the bread, soak it in the milk/cream and put all of this mixture into a blender and blend until smooth (20 seconds).
In a large heavy pan, heat vegetable oil and sauté onion until golden. Add garlic and either the aji mirasol or aji amarillo paste and fry everything together well.
Add the soaked bread mixture to the pan and incorporate all. Cook on medium low for 10 minutes and then begin to add ladles of hot chicken broth, stirring frequently. Add broth each time the sauce thickens. While stirring constantly, add the olive oil.
Finally, you will add the shredded chicken, Parmesan cheese and nuts. If you find the mixture too thick, add a little more broth while gently stirring. Do not mash the chicken. Simmer the mixture until the oil begins to come to the surface.
Serve hot accompanied by rice and the yellow potatoes. You will use the black olives and hard-boiled egg slices as the garnish to decorate.
Onion and aji amarillo

Bread soaked in mild added in

Next, the Parmesan, nuts and chicken
Simmer chicken, adding in more broth or aji if desired

Thick and creamy Aji de Gallina ready for plating
Cover photo: Erick Andia. All other photos courtesy of Sheila Christensen Jeanneau
Now that you're here:
We're asking you, our reader, to make a contribution in support of our digital guide in order to keep informing, updating and inspiring people to visit Peru. Why now? In our near 20-year journey as the leading English-language source on travel in Peru, we've had our fair share of ups and downs-but nothing quite like the challenges brought forth in the first quarter of 2020.
By adapting to the changing face of the tourism and travel industry (on both local and international levels), we have no doubt we will come out stronger-especially with the support of our community. Because you will travel again, and we will be ready to show you the best of Peru.
Your financial support means we can keep sharing the best of Peru through high-quality stories, videos and insights provided by our dedicated team of contributors and editors based in Peru. And of course, We are here to answer your questions and help whenever you need us.
As well, it makes possible our commitment to support local and small businesses that make your visit an unforgettable one. Your support will help the people working in these industries get back on their feet once the world allows us to make our dream of enjoying everything Peru has to offer a reality again-from its mouthwatering gastronomy, thriving Amazon and archaeological wonders such as Machu Picchu.
Together, we will find a way through this. As a member of our community, your contribution, however big or small, is valuable.
Support Traveling & Living in Peru from as little as $1 - and it only takes a minute. Thank you!