Created in the 1990s, Alfresco has perfected classic Peruvian and seafood recipes. But it has not stopped there: the new Miraflores location also has a menu with traditional dishes and innovations that arouse the curiosity of Peruvians and foreigners.
Interior

Alfresco tasting

Alfresco spritz

Seating area

Details

Amazon scallops

Poke

Details

Causa Alfresco

Tiradito

Sushi

Bread and sauces

Chocolate ingot/Maria Alejandra Baraybar
At this location, you will encounter some of the chefs who have been around since the Aramburú corporation started, which owns this and other prestigious restaurants. In Alfresco, the menu is divided into two colors to differentiate new dishes from the traditional ones, and there is also a market that offers the catch of the day. The market operates with attention to availability and sustainability.
Appetizers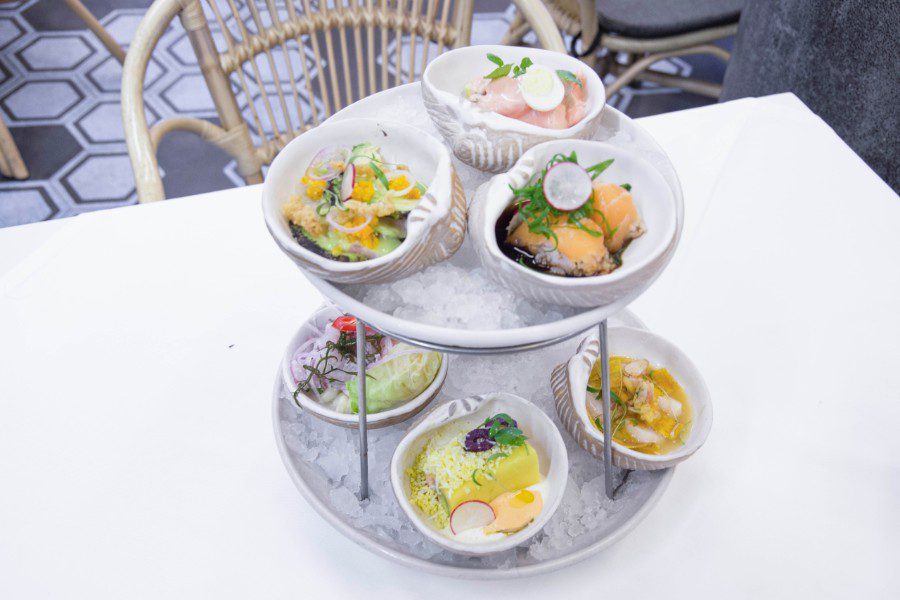 A good idea would be to choose the Alfresco tastings to share (S/ 97 each). This cold platter comes with Amazon scallops, ceviche, prawns with golf sauce, poke, sushi, tiradito, and causa Alfresco. You may also be interested in trying the grilled & roasted platter with parmesan scallops, black butter razor clams, clams, Chinese Nikkei jalea, shrimp Milanese and anticucho. Our decision to try the Alfresco tasting to share couldn't have been a better one.
After sampling their ceviche, it was clear to us why this is a dish that the restaurant is so well-known for. The prawns with golf sauce includes avocado and the sauce has a very unique flavor that opens the appetite; the poke (S/ 57), one of the new plates, has an excellent salmon lacquered in miso, and comes with warm sushi rice, vegetables, nori, and sesame seeds. As far as the main dishes go, it is one of the best options.
The tiradito comes in different presentations: chili cream, trio (chili cream, rocoto, and cilantro), Nikkei, Amazonian, and octopus "Spanish–Peruvian" style. If you want something new, this last one is the best choice. Also, if you ask for ceviches, you will find a great variety, including hot ceviche (S/ 44), with yellow chili cream, North shore tuna ceviche (S/ 49), with coconut milk, tiger milk, roasted pineapple, and pecans, or the veggie ceviche (S/ 27).
Soups and main dishes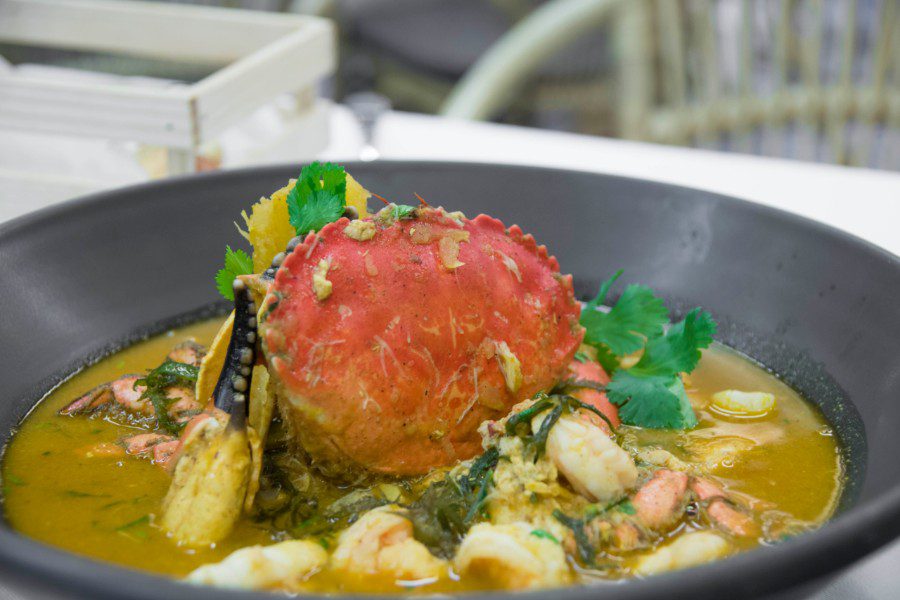 In Alfresco, soups can also be considered main dishes, and because of their size, you can order one to share. We tried the parihuela (S/ 68), which includes a whole crab, seafood of the day and yucca. The broth was very tasty and smooth. Our favorite main dish was the ceviche brasa (S/ 55). It included the catch of the day, squids, prawns & razor clams a la brasa, roasted with leche de tigre.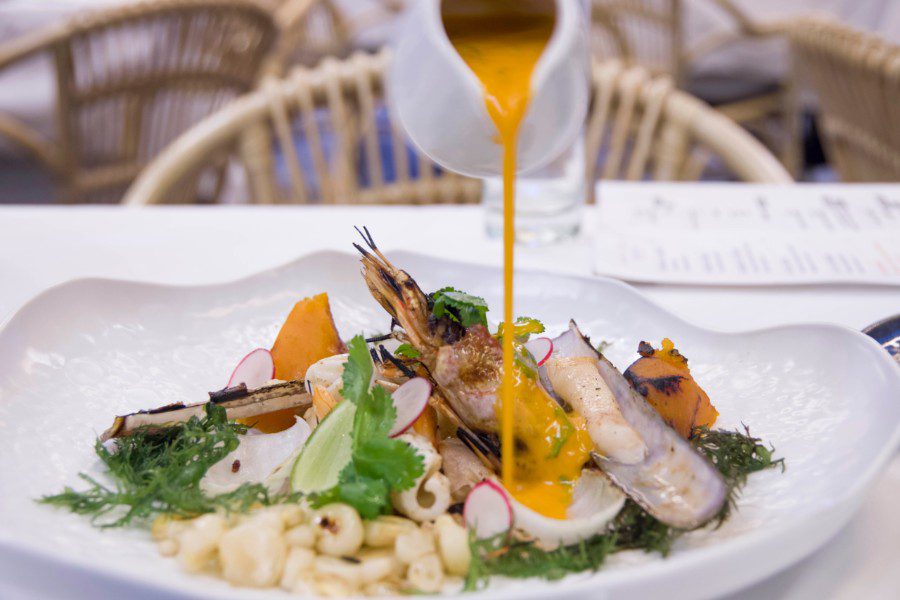 Alfresco's menu also has grilled, pastas, and rice section. In the last section (rice) you can find the paella Valenciana (S/ 88). This paella has participated in an international paella contest in Spain and received the sixth place. We tried this particular paella with roasted baby chicken and rabbit. And if you prefer something Peruvian, you can ask for the Arroz con pato (S/ 54), a duck confit (leg) that is prepared with zapallo loche (a Peruvian pumpkin), or the arroz with a crispy guinea pig confit (S/ 58), dressed in a peanut sauce and native potatoes.
Desserts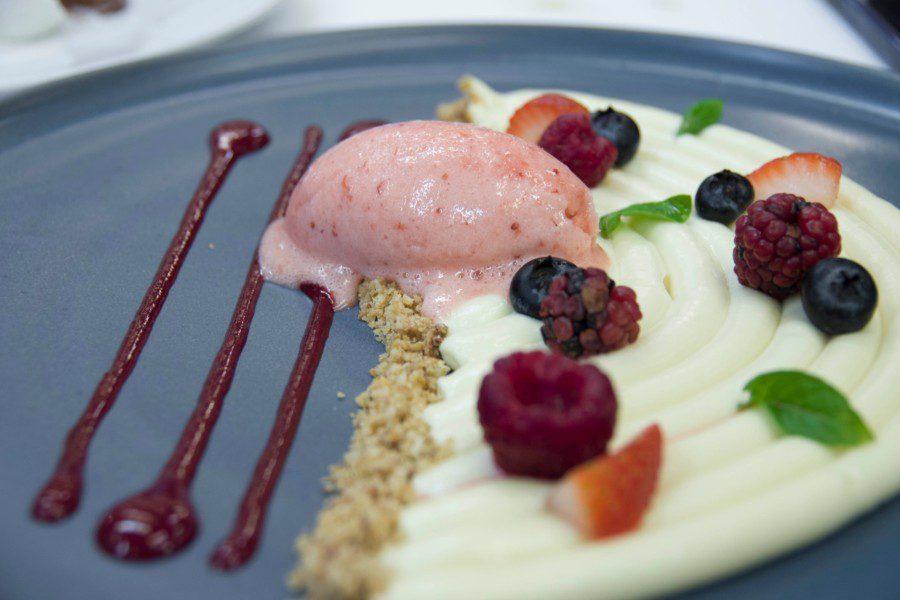 Desserts at Alfresco are a pleasure for the eyes and the mouth. There are ten options available, among which we tried the vanilla cheesecake (S/ 29), with soft almond crumble, a great cheese flavor, berries, and ice cream. We also tried the chocolate ingot (S/ 29), which a very intense mousse with different cacao textures and vanilla ice cream.
Drinks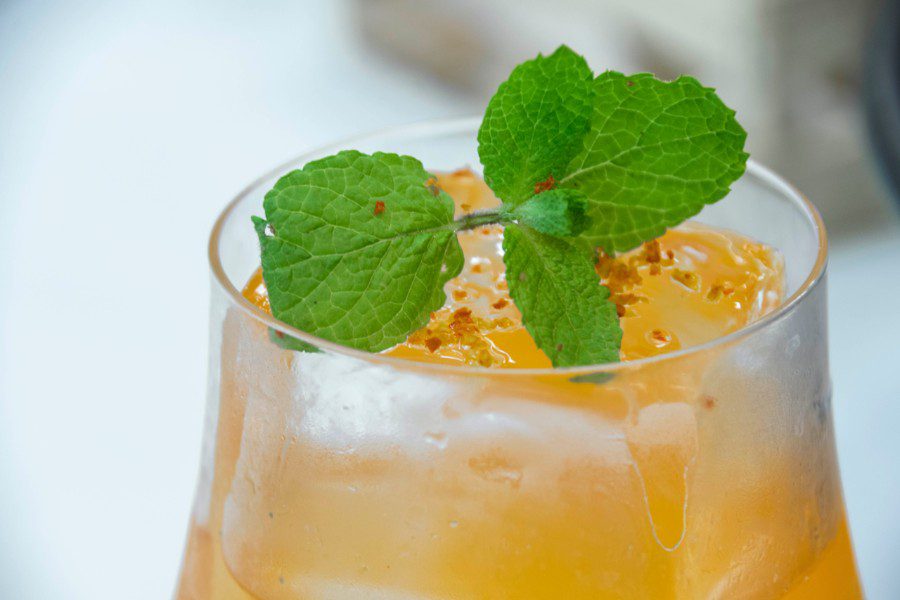 The bar is divided into traditional, inspirational, vintage drinks (Capitán, Pisco Punch, Algarrobina), sours & chilcanos (five options for each one) and beers (craft beer, local and international ones). For other options, you can ask for the Alfresco Spritz (S/ 24). It has Aperol, Beefeater, chili blend (to make it spicy), tomato confit (to make it sweet), sparkling wine and muña. And it also comes with a carved ice sculpture that shows the spirit of Alfresco: is classic with a touch of modern style, and a lot of dedication.

Av. 28 de julio 331, Miraflores
Monday to Sunday, 12.00 – 23.00

Ceviches: S/ 48 – S/ 59
Appetizers: S/ 33 – S/ 57
Soups: S/ 37 – S/ 68
Grilled: S/ 55 – S/ 69
Rices and pastas: S/ 36 – S/ 88
Desserts: S/ 18 – S/ 39
Cocktails: S/ 22 – S/ 36
Beers: S/ 13 – S/ 24
Bonus:
You can ask for the catch of the day and choose three ways to prepare it. With any order you will receive the house bread with different sauces.
Don't miss:
Restaurant Review: Nami Sushi Bar
Cover photo: Parihuela/Maria Alejandra Baraybar