Nami Sushi Bar is a Japanese restaurant located in Miraflores that offers Japanese and Nikkei fusion food, and there are many reasons why it stands out from other Japanese restaurants in the city.
Exterior

Green tea aguamanto

exterior

Green tea strawberry

Interior

Katsudon domburi

Maki Nami

Udon misoyaki
Ownership
The owner, Augusto Ivan Kishimoto, a second generation Japanese immigrant to Peru, has been raised around real Japanese and nikkei flavors and dishes. After living for over a decade in the southern city port of Yokohama in Japan, he returned to Peru to work in the supply and logistics chain for a group of restaurants. With this experience under his belt, he decided to open Nami (in Japanese it means ocean wave), and during the past nine months, things have gone well, he tells us.
The Decor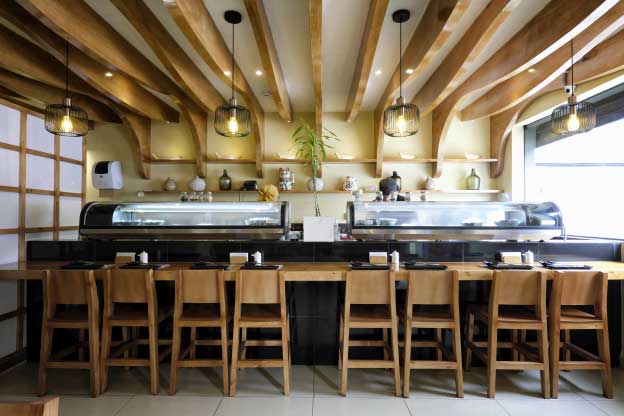 The restaurant lies in a busy street in Miraflores. It has three salons and the decor is fairly simple. There is a Japanese bar located at the entrance where you can watch chefs prepare cold dishes, nigiris, and makis. Otherwise, you can choose to sit in one of the salons, all of which have plenty of natural light.
The Food
We started our experience at the restaurant by trying some Gyozas (s/.21). These four steamed gyozas (Japanese dumplings) are filled with a mixture of pork, chicken, and vegetables. Ponzu sauce and a carrot, purple cabbage, and black sesame salad were served alongside the dish. The gyozas were enjoyable and so was this fresh salad.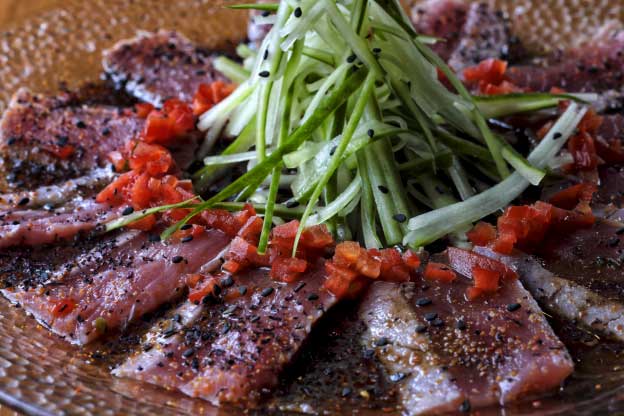 Then came the Tiradito Nami (s./38), a generous portion of fresh tuna slices topped with finely chopped red chili pepper, and kiuri salad (Japanese cucumber). A wonderful sauce gave the tiradito the perfect degree of acidity; it was yummy.

It was then maki time. According to Augusto, makis remain quite popular among customers. We started with the house maki, Maki Nami, breaded shrimps, avocado, chifle (fried plantain), tiger's milk, and topped with cocona and charapita chili. The makis were fine, but additional tiger's milk and cocona would have made a big difference. We also had the well-known California Maki with fish, avocado, cream cheese, and sesame seeds that was so nice that it needed no sauce.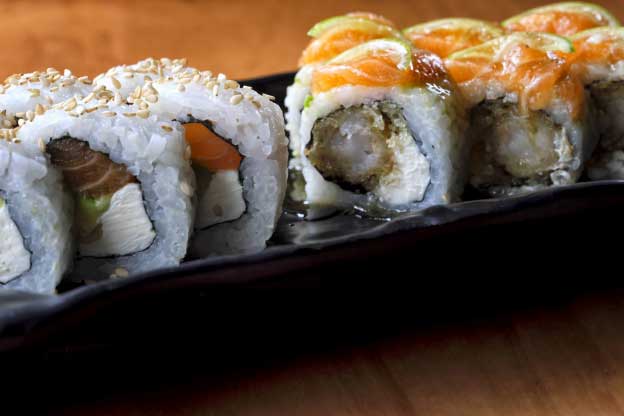 Our last maki was the Maki Passion with breaded shrimps, cream cheese, passion fruit coulis, and topped with salmon. This was my favorite maki as I truly enjoyed the wonderful level of acidity it had. A not to be missed maki. And, if you are a maki lover, they have a Free Bar of makis, wings, and yakimeshi from Tuesday to Thursday for s./49.90, and on Friday to Sunday for s./59.90.

It was time for some warm dishes. We started out with the warm dishes by trying the Katsudon Domburi (s./35), a popular dish amongst customers. This dish is presented in a bowl filled with gohan rice, mixed with breaded pork slices, a tortilla with white onions, and topped with negi (Japanese onions). I loved this dish: the flavors were delicate and quite yummy.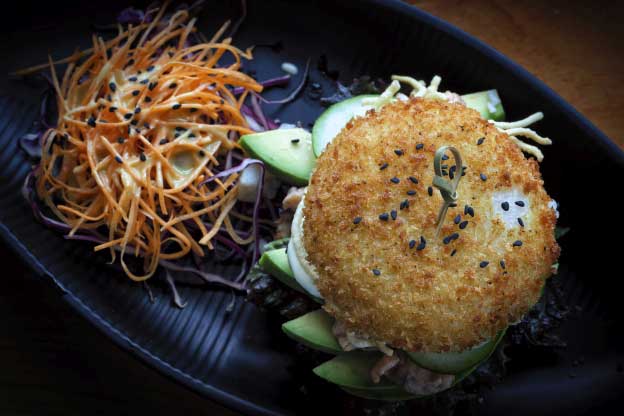 Another dish that not only caught our attention due to its originality was the Sushi Burger (s./ 24.90), and we all loved it and devoured it. This was a fried sushi made bun with salmon, kiuri (japanese cucumber), avocado slices, lettuce, fried wantons, and a fresh carrot and purple cabbage salad with honey mustard. Having visited many Japanese restaurants, this is the first time we've seen such a burger and boy, did we enjoy it. I highly recommend you try this burger on your visit to Nami. Be aware this dish does not appear on the menu, but you can still order it.

We also enjoyed the Udon Misoyaki (s./ 37), Japanese traditional noodles mixed with chicken, tasty shrimps, red peppers, and white onions. The udon was perfectly cooked al dente, and the wok flavors of the mixed ingredients were a delight.

You may be interested in knowing that Nami offers Lunch boxes consisting of a main dish (you can choose one of these four: the Chicken Katsu, the Udon Misoyaki, the Nami Salmon Bowl or the Tori Yasaitame with chicken and vegetables), dessert and a refreshment.
The Drinks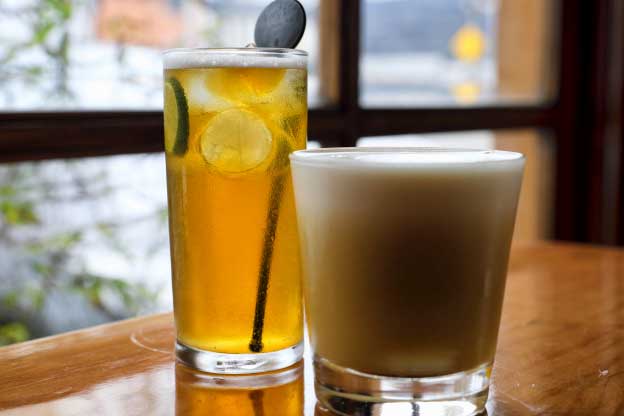 At Nami you find refreshments, beer (including Japanese beer), sake, and other interesting beverages. This time we tried a few Green tea refreshments, one with strawberry, another one with aguaymanto, and a third one with passion fruit; my favorite one remained the Green Tea with strawberry. We also tried the Green Tea Chilcano (s./19), an interesting mix that tasted somehow like a beer. I much rather preferred the Green Tea Pisco Sour (s./ 22) that was full of flavor, sour as you would expect and a beautiful foam that stayed all along. Another interesting cocktail that remains to be sampled was the Olive Cocktail made with olive juice, blueberries, basil, kiuri and gin.

Nami Sushi Bar
Av El Ejército 182 Miraflores
Tel. 409 35 611 / 943 152 529
Parking – yes
Opening hours – Tuesday to Thursday 12 – 3.30, 7-10.30, Friday and Saturday 12 -3.30, and 7 -11pm, Sunday 1.00 – 5 pm

Menu
Fingerfood – s./ 17 – 37
Salads – s./ 15- 33
Poke Bowls – s./ 33 -35
Ceviches and Tiraditos – s./ 38 – 43
Sashimi – s./ 9 -18
Makis – s./19 (6 pcs) – 33 (10pcs)
Warm dishes – s./ 31 -39
Side dishes – s./ 7 -15
Desserts – s./ 9 – 18
Refreshments – s./ 6 – 12
Beer – s./12 – 15
Wine by the glass – s./15
Cocktails – s./ 19 – 25

Cover photo: Gyozas/Marco Simola