Visitors to Avanti, a new restaurant in Miraflores, may feel as if they've been transported to the shores of the Adriatic Sea, to a small town in southern Italy to enjoy its traditional food.
The name Avanti comes from an Italian word which means moving ahead. And yes, this is a fitting name for this family-owned restaurant that traces its origins back to a small town in Bari, southern Italy from where the owners' grandmother comes from. After making the move from Italy to Venezuela, and then to Peru, the owners are now moving their restaurant ahead with enthusiasm, optimism, and dedication. The memories and flavors of southern Italy remain and are now put forward to the delight of Italian food lovers like me.

The décor
Tucked in a busy street in Miraflores, you may only notice the restaurant if you are on foot. Its interiors are fairly spacious with its two salons, a lounge area, and a bar. There's a stage in one corner, where live music will be playing once the municipality gives them the ´go ahead'. The decoration is mainly casual with some vintage and modern elements. The dim lights give the restaurant warmness and a pleasant atmosphere.

The food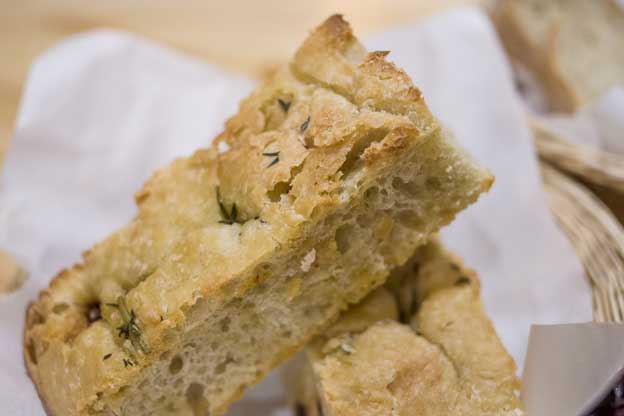 We started with a Focaccia (s./10), a flat wheat flour baked Italian bread with thyme and rosemary that is growing in popularity around Lima. The focaccia was tall, with some black olives, crunchy and tender at the same time, and it was delicious. I dipped it in some Italian olive oil, sprinkled it with black pepper, and I was off to heaven. Surely, one of the best I've had in Lima.

We then tried the Carpaccio di Manzo (s./29), a traditional Italian starter. It was a generously portioned serving with plenty of tenderloin slices, parmeggiano cheese, arugula, and some nice artisanal bread. I found the sirloin slices way too cold, and somehow shabby, but I enjoyed the parmiggiano cheese and the arugula with some good Italian olive oil.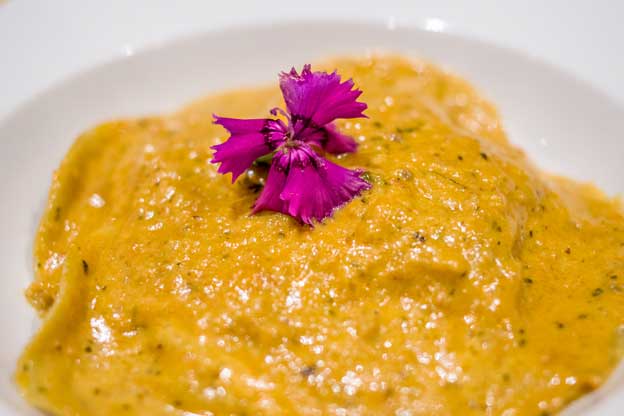 We then moved on to some pasta dishes. All of the pastas are artisanally prepared and they offer quite a few sauce options. We tried the Sorrentini di carne in salsa rossa (s./28), round-stuffed pasta bathed in a red creamy sauce. The pasta was al dente, as it should be, and the light tomato and cream sauce was delicious. I enjoyed this dish very much. Our second pasta was the Ravioli al burro e salvia (s./26), large-sized ravioli bathed in a butter and sage sauce. The spinach and ricotta ravioli were extremely tasty, delicate in flavors, while the sauce played its part wonderfully. We certainly enjoyed this dish as well.

Pizzas can never be absent in any Italian restaurant, and this is no exception at Avanti. They offer a variety of pizzas, all standard-sized. We tried the Pizza Prosciutto and Pear (s./56) with good Italian prosciutto, three types of cheese: goat cheese, mozzarella, and parmegianno; confit pears, arugula, and the house dressing. The pizza was enjoyable and it's large enough to be shared amongst two people.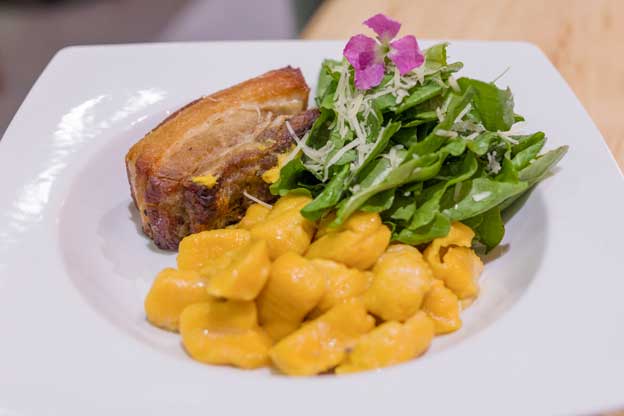 Our last dish was the Confined pork (s./44), several slices of pork with sweet potato gnocchi bathed in a butter and sage sauce. The pork was awesome, crispy and full of flavor; perhaps one of the best pork dishes I ever had. However, we did find some problems with the gnocchi as we thought there were somehow flabby and lacked flavor. The administration took note and I am sure this can be improved.

Desserts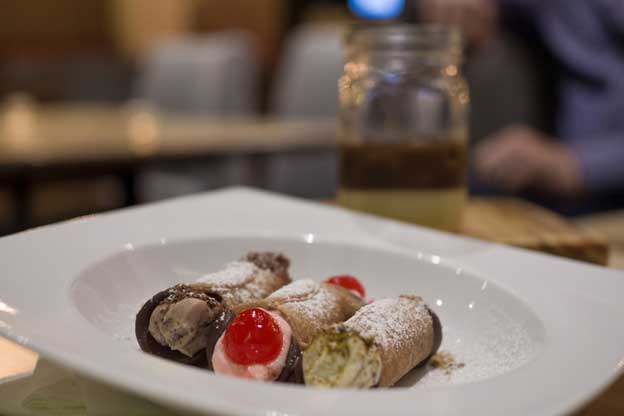 Who doesn't love Italian desserts? We tried the Panna Cotta (s./25), a typical dessert from the Piemonte region, prepared with milk cream, sugar, and rum. The panna cotta is served in a jar with a red fruit sweet coulis. I liked its texture, temperature, and it was certainly yummy. We also tried the Cannoli (s./35), a typical dessert from Sicily, that consists of three rolled fried dough stuffed with ricotta cheese, pistachio, chocolate, and cherries. The cannoli were crunchy and I enjoyed each of the fillings, in particular, the chocolate one. Along comes a jar with a cold mix of eggfruit liqueur and expresso, similar to a Bailey's, that was quite enjoyable to drink along with the cannoli.

Drinks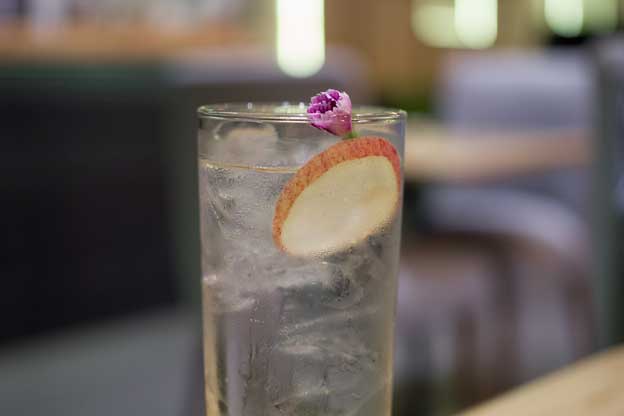 At Avanti you can find a variety of wines from Italy, Spain, Argentina, Chile, and Peru as well as signature drinks and classic cocktails. We tried a few of their signature drinks and we did not go wrong. We started with the Mar Adriático (s./29), a slightly sweet and strong, and intensely red-colored drink made with pisco quebranta, Jamaica syrup, pineapple, and orange juice. We then had the Amazonian (s./31), with vodka, lemon, melon juice, ginger ale, and yellow chili pepper. We loved the spicy touch this drink left behind after a sip. We also tried the Kioncano (s./25), a pleasant mix of ginger and chilcano, made with pisco Italia, lemon juice, sugar syrup, ginger ale, and peppermint. The last cocktail that day was the Summer Kiss (s./24), made with Triple sec, coconut rum, apple juice, and Seven Up. This incredibly delicate drink, almost transparent in color was so full of taste, and it quickly became the table's favorite. We also enjoyed the Ginger and Mint Lemonade (s./12) that was super green in color, with nice strong ginger notes, and very refreshing.

Promotions
At Avanti you may find the Daily Special (s./27) that can consist of a lasagna, the Ravioli Burro e Salvia, the Sorrentini with bolognaise sauce, or the Fettucini a la Carbonara. The dish comes with a beverage. These specials are available only from Monday to Friday from 12.30 to 4 pm.

Final remarks
Avanti was a pleasant surprise and I will definitely go back to try more of their pasta dishes as well as other typical Italian dishes, desserts and liqueurs we did not try during our visit. Avanti succeeded in taking me back to my student days in Italy, but as someone said, avanti always avanti.

Avanti
Calle San Martín 443 Miraflores
Tel. 693 7808
Opening hours: Monday – Wednesday – 12.30 to 11 pm, Thursday, Friday and Saturday 12.30 to 1 am, Sunday 12.30 – 6 pm

Parking – no


Menu
Starters – s./7 – 55
Salads – s./ 29 -41
Soups – s./18 -23
Main dishes – s./43 – 69
Pastas – s./26 – 51
Pizzas – s./32 – 56
Desserts – s./25
Refreshments – s./ 6 -12
Beers – s./12 -23
Cocktails – s./24 – 65
Wine by the glass – s./23 – 28