Nothing is more pleasing than visiting a successful restaurant with tried and true dishes. And as a burger franchise with 26 locations, it says a lot that Carnívoro has been successful in Peru. This is a country where everyone thinks they know a lot about food, everyone wants dishes in large quantities, and there are many entrepreneurs dedicated to developing culinary novelties that abound in the city (although many of them fail in a short time and others try to stay at all costs).

Nine years ago Roberto Mamani, the restaurant's chef and owner, started with a small project in the district of Chorrillos, after having worked in restaurants and having visited many places where they offered hamburgers, but not how he liked them. "Most had the same style where the taste of the meat was lost with creams and sauces," he explained. He realized that people go for meat but stay for the french fries, especially if they are plentiful.

Roberto then decided to develop a homemade hamburger recipe, with a mix of different meats and dressings, which he could offer at a reasonable price, in that of large portions that Lima nighttime diners like so much.

Though he started with just a few options, the menu now has 40 items. You can also find dishes such as chicken wings and salchipapas. Carnívoro now has 26 locations spread across Lima and Peru's provinces, including malls, kiosks, and in supermarkets.

The secret? The meat (between 20% and 30% fat) and, of course, the fries, which here are made from yellow potatoes with a bit of skin and traditional sauces. After developing an efficient meat recipe, establishing short customer waiting periods, and creating a balance of flavors, there should be no confusion into why this franchise is expanding so quickly.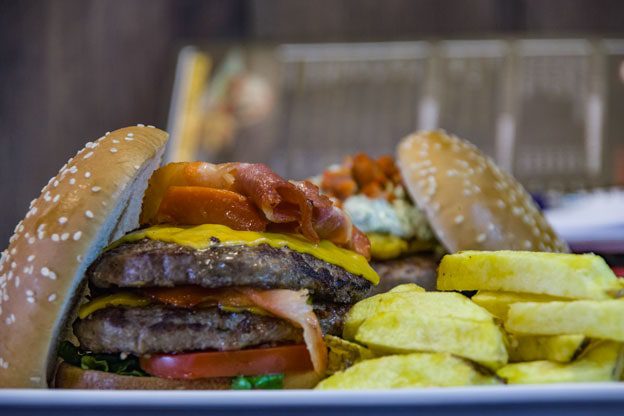 The Food
From a choice of eight specials, we tried La Charapa (S/ 18), which includes meat, patacones (Amazonian fried plantain), dry meat and tartar sauce (jungle style). The combination was interesting, juicy and intense. They also have one burger with frankfurter sausage, cheddar, and pickles, and another called The Mexican with Edam cheese, nachos, guacamole and Tabasco sauce. Tejana Doble (S/20) is the biggest burger you can find here, two hearty pieces of meat (300 grams) and bacon.

Over the years the restaurant has also catered to big eaters. For example, they organize an eating competition to see who can eat the Metrocarnipolitano burger (S/ 28) in the shortest amount of time. This is no easy feat since this plate consists of 300 grams of meat, two chicken breast fillets, Edam cheese, and two eggs, plus French fries. The record is 7 minutes and 40 seconds. The winner is awarded a thousand soles.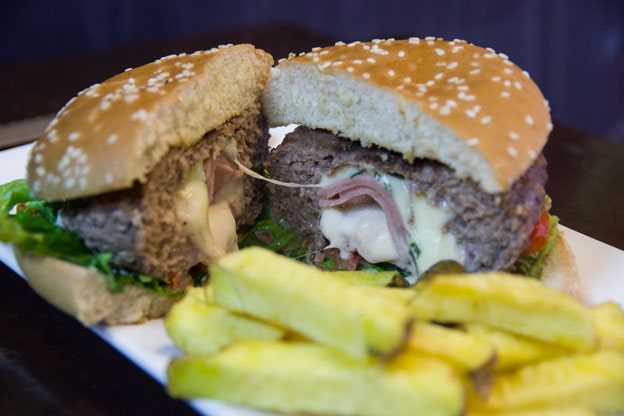 The newest addition to the menu is the Rellena burger (S/ 20), which contains cheese and ham inside the meat, as well as butter with fine herbs.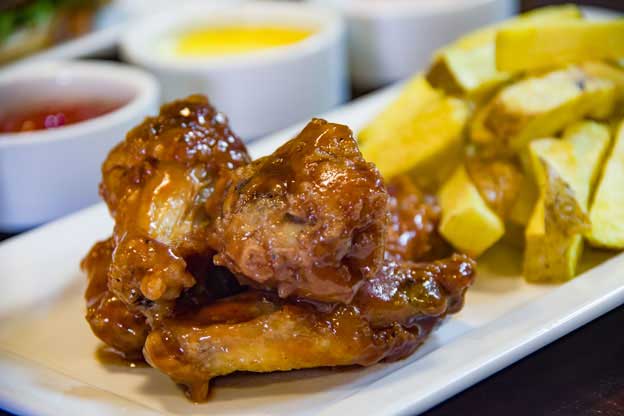 In addition, The chicken wings, four options available include the classic, spicy honey, BBQ and oriental style they are perfect to eat with a beer, like the salchipapas with 7 styles that are well served and have quality ingredients.
There is not much to analyze in Carnívoro, just come with a big appetite.
Carnívoro
Monday to Sunday, 17.00 – 23.00

Menu
Classic burgers: S/ 11
Specials: S/ 15 – S/ 20
Submarine sandwiches: S/ 24 – S/ 28
Salchipapas: S/ 12 – S/ 19
Chicken wings: S/ 12.90 – S/ 14.90
Juices and smoothies: S/ 7 – S/ 9

Cover photo: Charapa/Maria Alejandra Baraybar