Lots of cafés in Lima have the spirit of their owners, who take care of the business like it's their child. Cosita Buena Café is one of those places.
At Cosita Buena Café, you feel comfortable as soon as you walk in. Much of this is due to the dedication of Roxana Cavero, the owner. She opened the cafe eight months ago and her prior experience working in different restaurants has given her many tips for this adventure into coffee and delicious things.
The Drinks
As far as the hot drinks on the menu, you can ask for coffee, hot chocolate or infusions, including a chai latte or a more creative coffee chai latte. If you prefer cold beverages, they work with BeVida, a line of healthy juices with original combinations, like pineapple, spinach, celery, cucumber and ginger; or beet, carrot, green apple and lemon, extracted in cold press to conserve the nutritional components. Craft beer and wine by the glass make Cosita Buena Café a good place for the evening hours as well.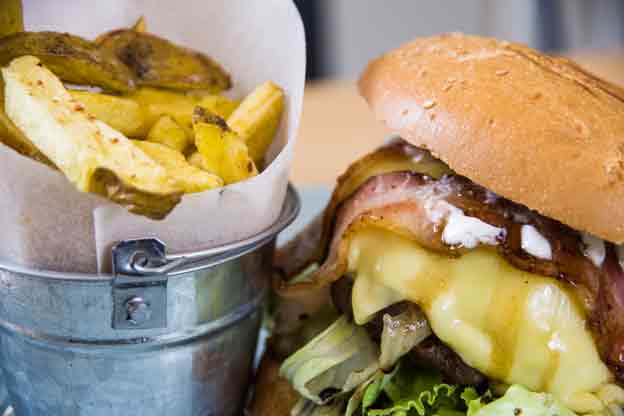 The Food
The bakery products, like their croissants and corn cakes (with meat or cheese), are usually a hit with all who try them. For breakfast, the waffles are a great option. They're soft, sweet enough and addicting. They can come served with your choice of fruit or, if you want to sweeten them up and turn them into a dessert item, you can add ice cream, pecans and fudge. The sandwiches are the most elaborate option on the menu and Cosita Buena Café's recipe has a good balance of flavor.
We tried the burger (S/ 24) that comes with native potato fries, bacon, sweet onions and cheese. Very tasty. There is also a veggie burger (S/ 21) made with quinoa and lentils. The bread makes the sandwich incredible.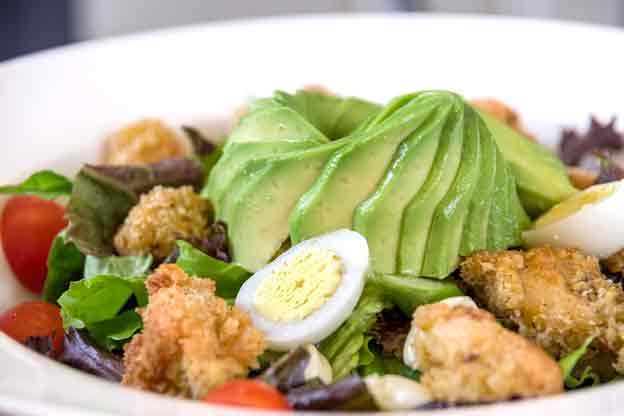 Another creative menu item is the oriental sandwich with pork, Japanese pickle and roasted peanuts. The salads, too, are surprisingly creative with a combination of vegetables and the perfect dressing. For example, the Sol Salad has a mix of lettuce, arugula, avocado, mango, white onion, feta cheese, pecans, sesame chicken and orange vinaigrette. The Abril Salad comes with lettuce, avocado, corn, asparagus, cherry tomato and panko chicken. There is also a salad with falafel that comes with guacamole, radish and a mayonnaise of yogurt and tahini.
For lunch, Cosita Buena Café offers different kinds of pasta and four sauces that you can combine however you wish.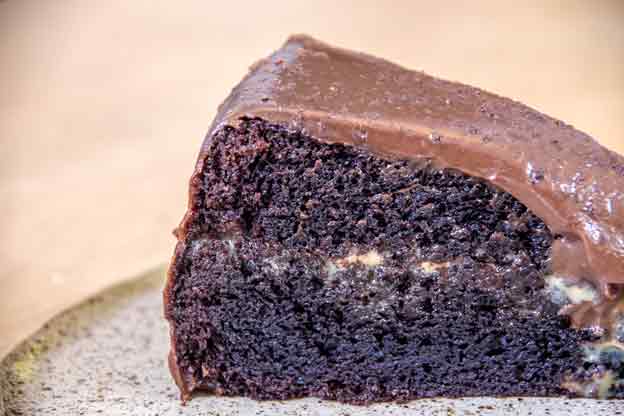 The Dessert
If you are waiting for us to talk about the desserts, they are the best items on the menu. Simple as Cosita Buena Café's dessert menu may look, it proves that even no-frills items like chocolate cake (S/ 9), brownies and carrot cake can still be the best part of the entire meal. Vegans can find some good options as well, like the vegan chocolate cheesecake, made with almond cookies, coconut, maple syrup and cashews. They are currently working on several gluten-free options as well.
"Everything here was made with friends, from the decoration to the products that we show on our counter, or with people that have become our friends," says Roxana with a big smile.
A chat with Roxana will very quickly make you understand the philosophy of cooking that she applies in every product on the menu (desserts are always changing), from her homemade plates to all of the care that goes into her new adventure. The beautiful space is always open for events, artistic shows and cultural initiatives.
Cosita Buena Café
Recavarren 312, Miraflores
Tuesday to Sunday, 8:30 a.m. – 9:30 p.m.
Prices:
Breakfast (all day): S/ 11 – S/ 18
Hot Coffees: S/ 6 – S/ 11
Juices and Smoothies: S/ 12 – S/ 16
Pastries: S/ 6 – S/ 16
Sandwiches: S/ 12 – S/ 24
Salads: S/ 23
Comments
comments