Dhaasu just opened on October 3rd and has almost immediately begun enjoying great success. And the responses from visitors is unanimous: all across social media, all that you'll find is an abundance of positive buzz about this newly opened restaurant. 
[Best_Wordpress_Gallery id="484" gal_title="Dhaasu"]
Most of us that have lived in Lima for any length of time know that there are slim pickings in regards to the availability of good Indian food. I personally have not been overwhelmed by the very few Indian restaurants here. My fellow Traveling and Living in Peru teammates, Roxana and Cissy, have probably eaten much more authentic Indian cuisine than myself. They've both have lived in various places over the years where Indian food is prevalent, such as East Africa, Afghanistan, Nepal, Qatar, and Saudi Arabia.
The significance of the restaurant's name, Dhaasu, is similar to "asu" in Spanish, which means "awesome". We indeed had an awesome dining experience at Dhaasu.
The owners
Rishabh Chadha and Camila Abufom are the owners of Dhaasu and are also a couple. Prior to opening this restaurant, they spoke to many young restaurant owners in Lima to get feedback about bringing the Indian street food to Peru. They realized that affordable and budget-friendly Indian cuisine was not open to the masses here. They also realized that there was a great need for a great Indian restaurant in Lima. Both Rishabh and Camila are down to earth, friendly, and enthusiastic about their new venture. Rishabh is an industrial engineer and is originally from Delhi, but was raised in Dubai. His family has always been involved in the restaurant business. Camila is Peruvian and has been involved in acting and commercials here in Peru.
The head chef
Head chef, Amit Rawat, hails from Dehradun in India. He is young, energetic, has a killer smile and a great attitude to match. It was fun to watch Amit prepare all of our food on the day of our visit. It's obvious he takes great pride in preparing his cuisine.
The location
The location of Dhaasu is located right next to the Metropolitana train tracks in Barranco and nestled between auto mechanic shops and other businesses. The restaurant may be humble and tiny, but there's lots of action, passion and good food produced here.
[caption id="attachment_157879" align="aligncenter" width="624"]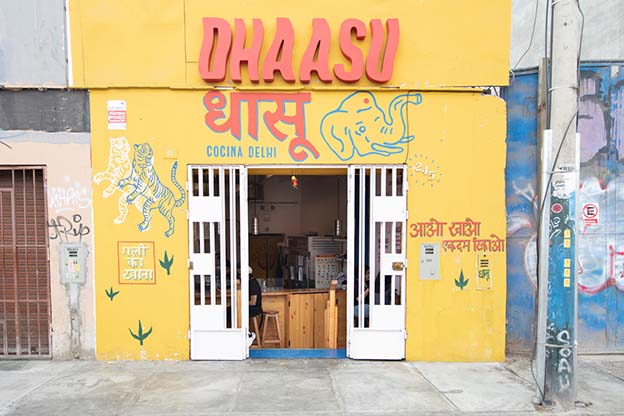 Exterior (Photo: AmaraPhotos/Traveling & Living in Peru)
[/caption]
The restaurant decor
The exterior of the restaurant is yellow, so it's easy to spot. The interior decor is rustic, very modest, ultra-casual and has many Indian touches and memorabilia as well. The interior is very small, which means only room for about 8 customers (there are no tables, you sit on stools at the counters) plus about room for approximately 7 more (standing room). Dhaasu also has a busy carry out business.
Menu options
The day of our visit the three of us shared practically everything on the menu. The menu is hand-painted on the wall. Most of the menu items have two prices, the solo option and for a few soles more, the combo option.
One of the great parts of the dining experience at Dhaasu is watching them prepare all the dishes right in front of you in their productive and bustling open kitchen. Another plus, every menu section offers a vegetarian option besides the beef and chicken options.
We began our traditional Indian "street food" adventure at Dhaasu with their
Naan
. This popular leavened, oven-baked flatbread is prepared in the deep tandoor oven for 4 to 5 minutes. The
naan
is available in either the butter naan or the garlic naan versions. We devoured the
Garlic Naan
. I was ecstatic to bite into it. Sooo delicious!
[caption id="attachment_157886" align="aligncenter" width="624"]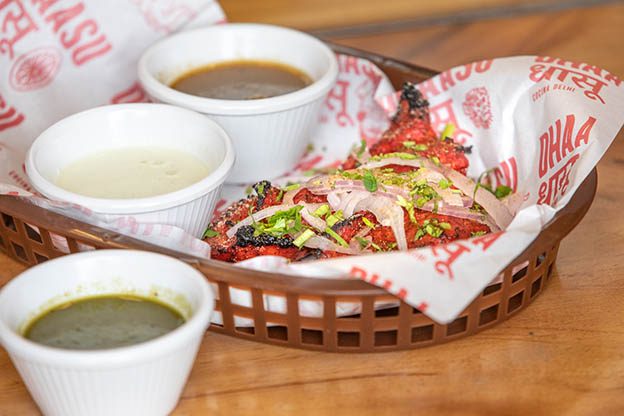 Tandoori Chicken Tikka (Photo: AmaraPhotos/Traveling & Living in Peru)
[/caption]
We then shared the three "grilled" items on their menu….the Tandoori Chicken Tikka, the Carne Seekh Kebab and the Veg Seekh Kebab. We enjoyed both the grilled chicken and beef options. For the vegetable kebab, we watched Amit shape the mixture of cooked vegetables and aromatic spices around the skewer and then put into the oven as well. Once the chicken, beef and vegetable kebabs are completely cooked they are removed from their skewers, sliced and served with slices of red onion, chopped cilantro, and lime. If you order any of these with the combo option they are accompanied by butter naan. Don't skip the naan!
We then moved onto the
Kulcha
section of their menu.
Kulchas
look like flatbreads and are prepared in a tandoor oven. The Kulchas come filled with your choice of either meat, chicken or vegetables. We opted for the vegetarian version which was flavor packed and generously filled with white potato, sweet potato, peas, cauliflower, onions, cilantro, and secret Indian aromatic spices cooked at 350 Celsius (662 Fahrenheit) in their tandoori oven. The
kulcha
was accompanied by two kinds of
raita
(Indian condiments), the
vegetable raita
(cucumber, tomato, onion, cilantro, natural yogurt, paprika, and other spices) and the
sweet raita
(sweet yogurt and pineapple). You have the option of ordering the
kulcha
solo or the combo option, served with their
Chana Masala
(chickpea curry) for an extra 3 soles. It is the traditional way to eat the
kulchas
with this curry. We thoroughly enjoyed this dish and found it to be both filling and nourishing.
[caption id="attachment_157887" align="aligncenter" width="624"]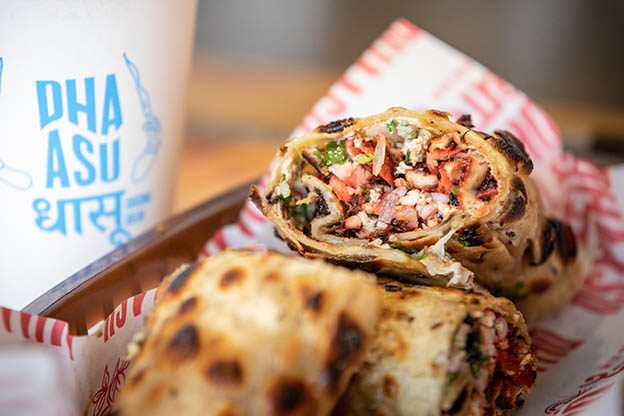 Kathi Roll (Photo: AmaraPhotos/Traveling & Living in Peru)
[/caption]
Next up to sample were the
Kathi Rolls.
This dish originated in the streets of Calcutta in Delhi. They look like wraps. The bread is called
parantha
and resembles a slightly crispy flatbread. The chicken was removed from the skewer and then placed on the
tawa
griddle and then grilled along with the chopped tomatoes, onion, and chilies. The parantha bread is first cooked for a few minutes with oil on the tawa, and then an egg is cracked on top of the parantha, flipped and then they cook together.
Finally, the grilled chicken, onions, tomatoes and chilies are placed onto the egg-coated side of the
parantha
. They recommended we try the yogurt and tamarind sauces inside the wrap since it compliments the chicken so well. The entire mixture was then rolled into the wrap and was both full of flavor and juicy. Besides the chicken, the
Kathi rolls
are also available with beef or mixed vegetable options.
There are four sauces offered at Dhaasu with varying spice levels ranging from no spice (very mild) to extremely hot and spicy. The mildest sauce consists of a garlic and natural yogurt base. The second sauce on the spectrum is mango-based with cumin and is full of flavor and sweetness. The third sauce is their tamarind, which is both sour and sweet and has just a bit of spice. The most powerful sauce is the cilantro-based with hot chili peppers. I enjoy spicy heat and this sauce brought it. It definitely has a kick. My two personal favorites were definitely the sweet mango and the tamarind options.
[caption id="attachment_157888" align="aligncenter" width="624"]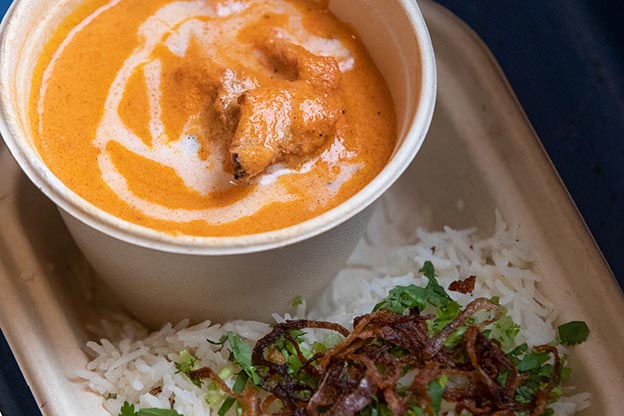 Chicken butter curry (Photo: AmaraPhotos/Traveling & Living in Peru)
[/caption]
Dhaasu has three curries available on their menu: meat, chicken or vegetarian. The combo comes with basmati rice which has been topped off with fried onions and cilantro. We sampled all three of these distinctly different and delicious curries. The
Meat Masala
(spicy beef, coriander, ginger, spicy oil, Indian spices) had the most intense flavor of the three. The
Chana Masala
is their vegan curry mixture made with chickpeas, onions, tomato, coriander seed, garlic, chilies, and various other Indian spices. It was excellent. I really enjoyed their chicken curry version,
Butter Chicken.
The ingredients of cream clarified butter, tomatoes and a variety of Indian spices gave this curry a creamier texture than the other two curries, which I personally preferred.
[caption id="attachment_157889" align="aligncenter" width="624"]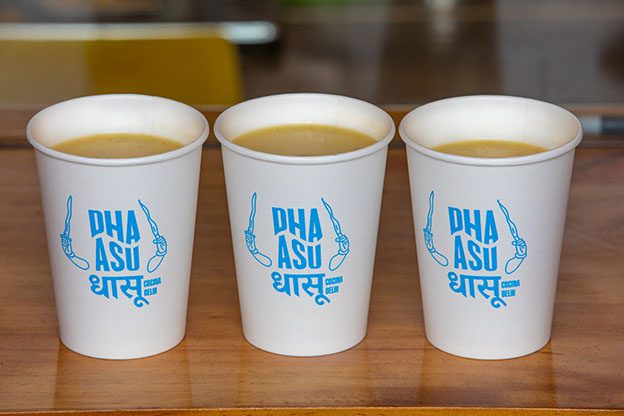 Mango Lassi (Photo: AmaraPhotos/Traveling & Living in Peru)
[/caption]
For beverages, Dhaasu offers a traditional
Mango Lassi
, a somewhat creamy concoction of mango, yogurt, cardamom, and a touch of sugar served cold. It's a perfect compliment to the food served here. We also sampled their highly aromatic
Masala Chai
at the end of our visit. It has a base of black tea mixed with milk, sugar, cardamom, ginger, and many other Indian spices. The aroma, for me, was like "Christmas in a cup". Besides the beverages mentioned here, Dhaasu also offers bottled water. In the near future, they are planning on offering more beverage options.
All of the food is served on recycled, biodegradable (60-90 days) plates, utensils, cups, and napkins, as are the carryout containers. I like that Dhaasu has made it a priority to be responsible and environmentally-conscious.
Dhaasu is enjoying a steady lunch business during the weekdays and the evenings are packed. Weekends are busy as well.
We loved our experience at Dhaasu….from the magical flavors, spices, and aromas to the great energy and vibe. The quality is consistent and the excellent budget-friendly prices are definitely bringing in regular customers.
Dhaasu- Cocina Delhi
www.dhaasucocina.com
Instagram
Av. Republica de Panamá 245, 
Barranco
Hours:  Tuesday - Saturday: 7:00 p.m.-10:30p.m.
Sunday: 7:00 p.m.-10:00 p.m.
CLOSED MONDAY
Phone:  768-4847
Capacity: Approximately 15
Limited parking in front and street parking
No bathroom facilities open to the public
Kulchas:
S/. 15-19 (solo)
S/. 18-22 (combo)
Grilled dishes:
S/. 14-18 (solo)
S/. 16-20 (combo)
Curries:
S/. 17-25 (solo)
S/. 19-27 (combo)
Kathi Rolls:  S/. 16-21
Sides:  S/. 6-9
Beverages:  S/. 4-11