Hotel B, an art-filled boutique hotel in the Barranco district, offers a contemporary menu of dishes and drinks that appeal to both locals and tourists.
Situated in a corner of a prime location on a busy street of Barranco, stands Hotel B with its imposing and beautiful early-century architectural style. Inside this luxury hotel, plenty of art work, elegance and good taste. The twenty-room boutique hotel was recently included on Travel & Leisure's Top 10 City Hotels in Central and South America of 2019. The Traveling & Living in Peru team was recently invited to the hotel's restaurant for a taste of the renovated menu.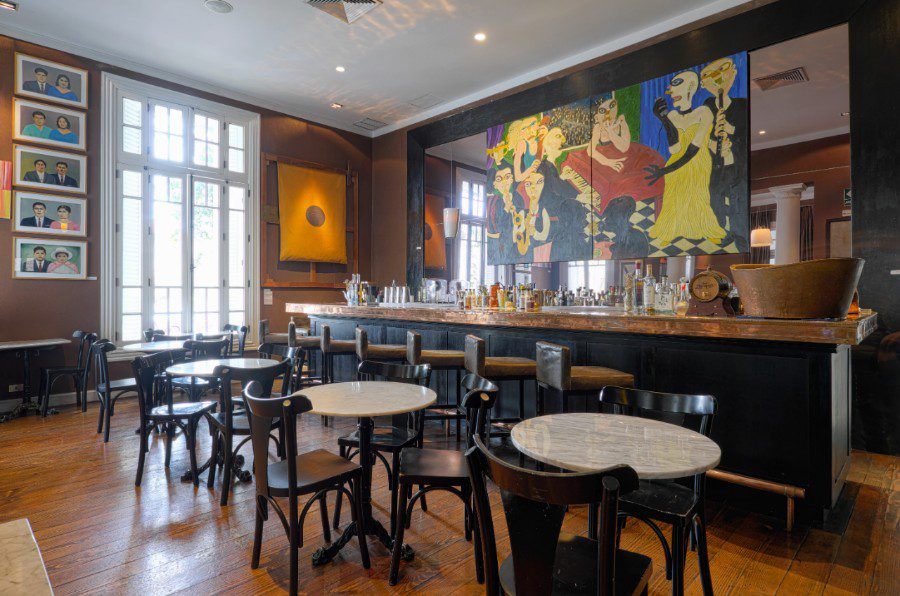 Decor
Before taking a table in their lovely terrace, we took a small tour of this three-story building. The hotel was recently enlarged with the acquisition of what used to be the Lucía de la Puente Gallery, a space now well-integrated into the original Hotel B premises. Lots of steps and intricate passageways will lead you through elegant rooms and tranquil common spaces filled with exclusive artworks of renowned Peruvian artists, hotel memorabilia, and even an ancient textile piece of the Wari pre-Inca culture. Designers Jordi Puig and Sandra Masías have certainly left their skilled and experienced touch as decorators to this classy Barranco hotel.
Food
After admiring the artwork and refined decoration, we finally sat down. We were ready to indulge ourselves into other pleasures, that of good food and drinks. Led by Chef Franco Hurtado, the kitchen at Hotel B could not disappoint. The food is mainly contemporary Peruvian but you can also find some Mediterranean dishes.
The first starter we had was the Razor Clams & Sea Urchins (S/ 38). The dish was beautifully presented with the razor clams laid out in a layer of salt, finely chopped apple, yacón (a refreshing Andean tuber), sea urchins, a superb citric sauce and a wonderful chalaquita (a traditional Peruvian chunky salsa) made of fresh onion, lime and pepper. It was refreshing and nice.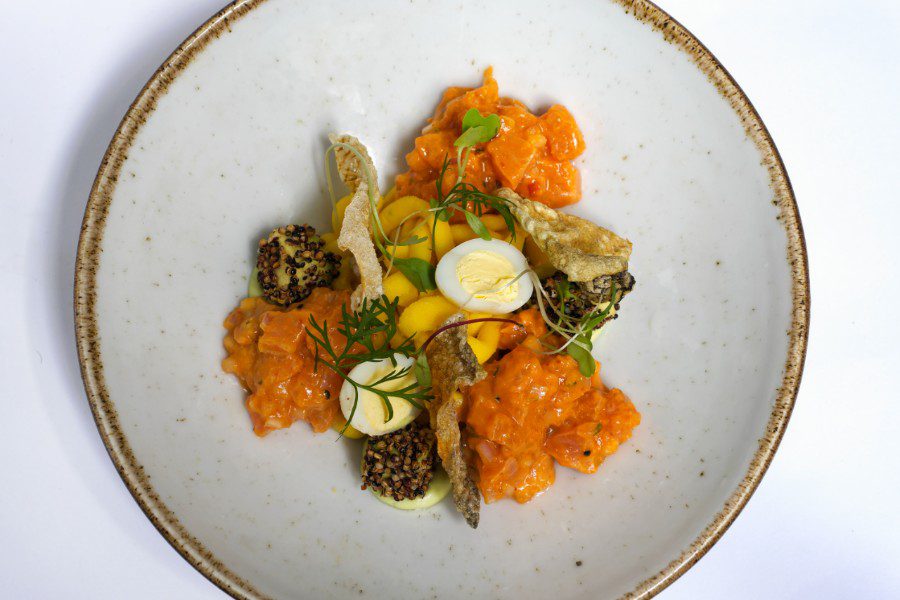 Then came the Trout Causa (S/ 40), the very Peruvian mashed potato dish served with trout, quinoa pop, avocado, sprouts, and a cebiche sauce. The texture of the causa was perfect, the trout was very fresh, and I enjoyed the crunchiness brought in by the quinoa pop. The spicy cebiche sauce played its part very well in this symphony of flavors and colors. No wonder it is one of the most popular dishes at Hotel B, as we were told.
Another pleasant surprise was the Sweetbread and Oca (S/ 38). Not being a huge fan of any inner parts, I was ready to try this dish for the sake of my loyal readers. Turns out that the sweetbread was quite savory while the oca (an Andean tuber) was creamy and flavorful. A nice delicate cocona (Amazonian citric fruit) sauce completed this well-accomplished dish.
It was time for the main courses and we started with a highly popular one amongst regular customers: the Grilled Paiche (S/ 68). This dish consists of several cuts of the Amazonian fish, both the fillet itself as well as the meat that surrounds the organs which tends to be greasy and full of flavor. Some mashed Ucayali red beans and a chonta (Amazonian palm heart) salad with a sacha-tomato drizzling complete the dish. The paiche was rich and savoury, both cuts I must say, and I also enjoyed the creamy mashed red beans and the refreshing chonta salad.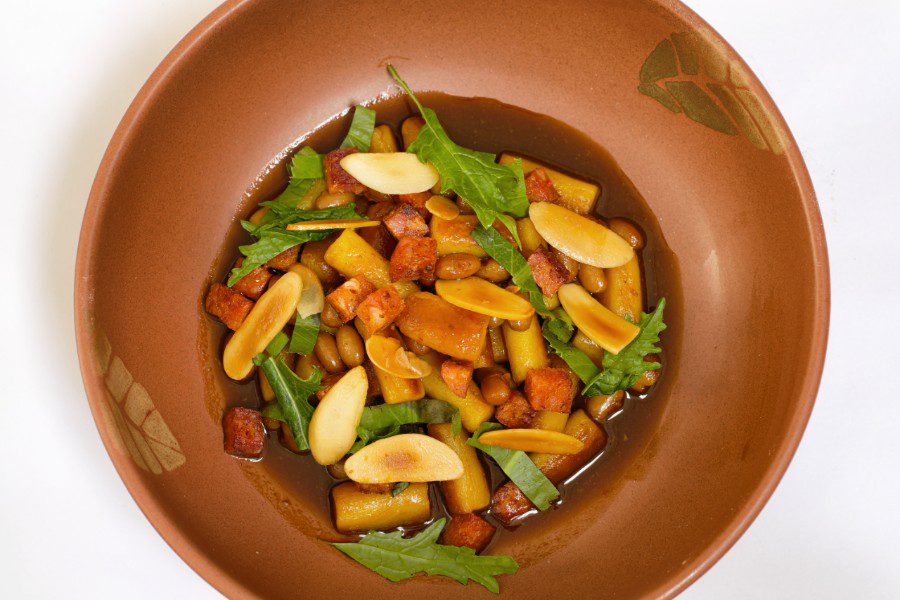 The Arracacha Gnocchi (S/ 54) was the next main dish to arrive. The gnocchi are made from the Andean tuber and were nicely al dente, slightly sweet and full of flavor. Some pork stew with Amazonian sausage, crunchy chestnuts and sacha-cilantro completed the dish. Another enjoyable option to consider during your visit.
We had a second pasta and that was the Pear Ravioli (S/ 54), a highly popular dish, we were told. The ravioli come with a sauce that is made out of four cheeses: gorgonzola, paria, Grana Padano and a cheese from Huaraz. A hazelnut praliné and fresh arugula completed this dish that was nice without being spectacular.
Our last main dish was a take on a classic Peruvian dish, Seco de Cabrito (S/ 74). Made with goat meat and served with creamy pumpkin, arugula and cilantro. The meat was very tender and the creamy pumpkin was nice.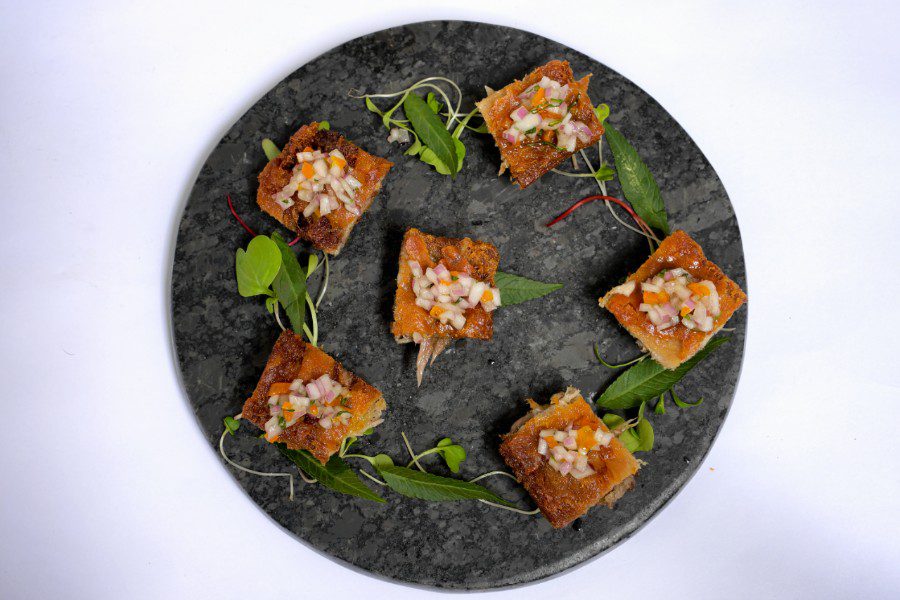 While I enjoyed all the dishes mentioned above, I have to say my favorite ones happened to be in the 'Para Compartir' (To Share) menu. These dishes are normally offered at the bar or on the rooftop. We tried the Crunchy Guinea Pig (S/ 52), consisting of several pieces of fried guinea pig served on top of incredibly soft and mushy native potatoes, a delicious black mint pesto sauce, and topped with a spicy chalaquita. Though I am not a fan of guinea pig, I found this dish incredibly tasty and one of the best dishes we had that day. I loved the mixture of textures, the perfect balance obtained amongst all the ingredients, and the presentation itself. It was an explosion of flavors that could satisfy any palate.
We also tried the Octopus Tacos (S/ 34), three open tacos filled with grilled octopus, a fantastic corn puree and shallots. A spicy element was added with a creamy guasacaca Venezuelan sauce made with avocado, lime and jalapeño. The tacos were super tasty, and along with the Guinea Pig, amongst my favorite dishes that day.
Desserts
We tried two desserts this time. The first one was the Chirimuña (S/ 32), a meringue-based dessert served with toasted custard apple, crunchy pecans, a muña-based English sauce, pisco caramel foam, and a custard apple sorbet on the side. I enjoyed the mix of textures, its freshness and flavors.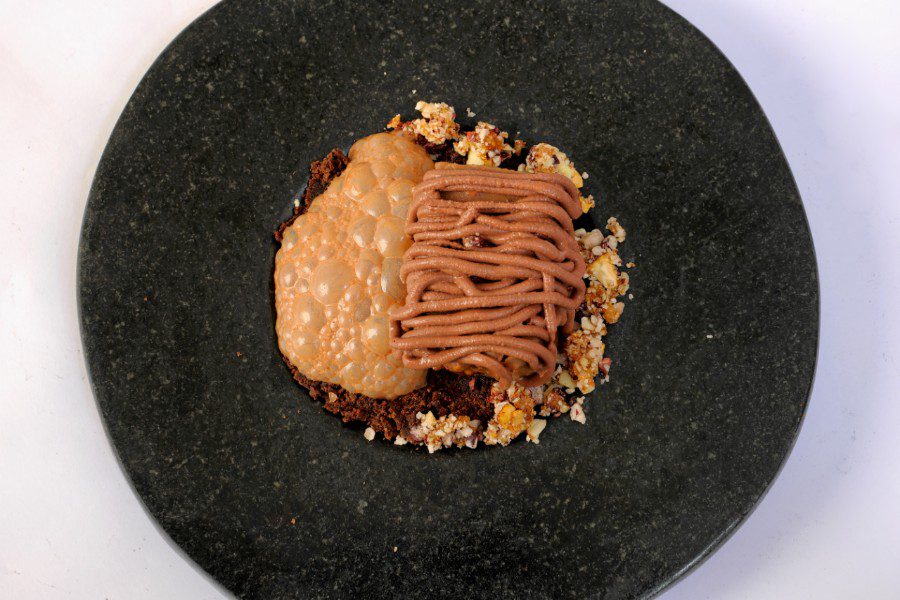 We also had the Hardcore Chocolate (S/ 32), a dessert meant for hardcore chocolate lovers as its name clearly reveals. This is a creamy bar of seven textures that uses two Peruvian chocolates and a Belgian one. There is ganache, brownie, mousse, chocolate nibs, chocolate foam and an almond praline. It just may be impossible to find a dessert in Lima with more chocolate than that.
Drinks
Hotel B is a fantastic place to go out for drinks and have some light food. There is a very chic French bistro bar on the level floor and a nice small rooftop overlooking the ocean that makes it a fantastic place to watch the sunset while sipping a glass of your favorite wine. Hotel B has an excellent choice of wines, and if you are into whites, try the Amaral Sauvignon Blanc 2018 from Chile which is fantastic.
If you are a cocktail person, you will also find a good variety, including nice warm winter cocktails and plenty of gin-based ones as well. Behind the bar, stands Axel Romero, recipient of the prestigious 2018 Summum Award for best bartender. So do expect the best.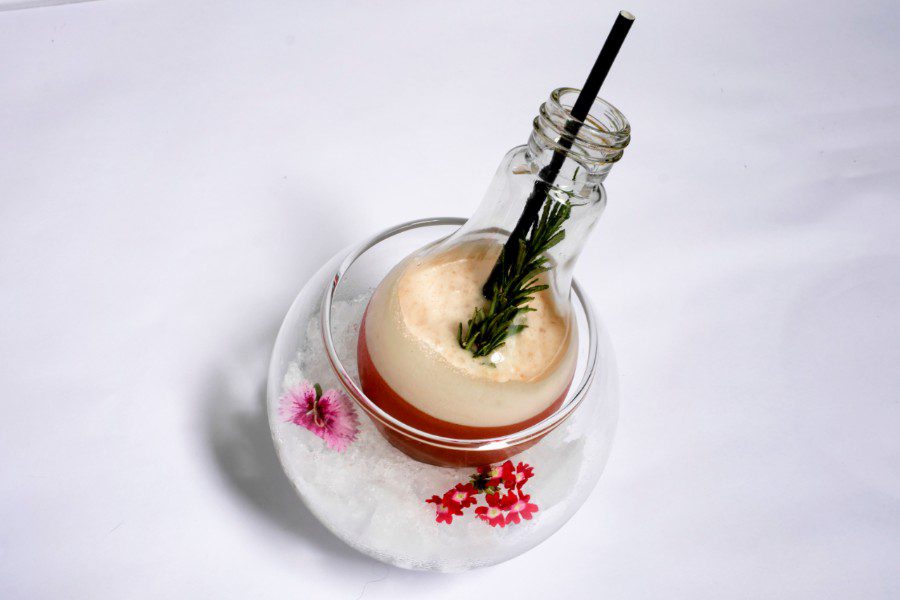 To put ourselves in the mood we started with a Bourbon Tonic (S/ 50), refreshing and enjoyable as you can imagine. Then came Inspiración No.7 (S/ 42), a cocktail served in a light bulb that stands firm inside a big transparent bowl. Alluring as it was, the cocktail was very pleasant and slightly sweet. The next cocktail was the Clover Club (S/ 38), a beautifully intense pink cocktail served with a layer of foam, and made with gin, Campari, lemon and red fruit syrup. It was refreshing, savory, slightly sweet, and highly enjoyable; perhaps my favorite one.
We also tried one of the warm cocktails: the Mate Milenario (S/ 38). This drink is made with Gin Citadelle, vermouth, coca tea, lulo juice and cardamom syrup. Served warm, it was slightly sweet, despite the addition of coca tea, which is usually bitter. This mate would be ideal for ending your meal on a cool spring night.
Final remarks
Our experience at Hotel B was surely enjoyable. No matter whether you go for drinks, lunch or dinner, you will be able to enjoy the ambiance and artwork. It should be noted that evenings can get quite busy. Delight yourself with the savory food options that Franco Hurtado has for you, the top-notch drinks by barman champion Axel, and the first-class service of Hotel B staff.
Hotel B
Jr. Saenz Peña 204 Barranco
Tel. (01) 2060800
Menu
Starters – S/ 32 – 52
Main dishes – S/ 54 – 84
Desserts – S/ 30 -32
Wine by the glass – S/ 22 – 40

Cover Photo: Marco Simola