There is a famous saying that two heads are better than one; I would say, on this occasion, that three are even better. Late last year, three entrepreneurs involved in the restaurant business decided to come together and create a restaurant where each one would bring their know-how for grilled food, ramen, and sushi bar. They started offering customers wider food choices, and providing visitors deeper insights of what Japanese cuisine is all about.
Kaikan, which means a gathering place, opened up its doors in December. Since then, it has not stopped receiving customers all day round, including Japanese immigrants and members of the Nikkei community themselves. It seems that word of mouth is to be blamed for their popularity, and after our visit, I can see why.
Ambiance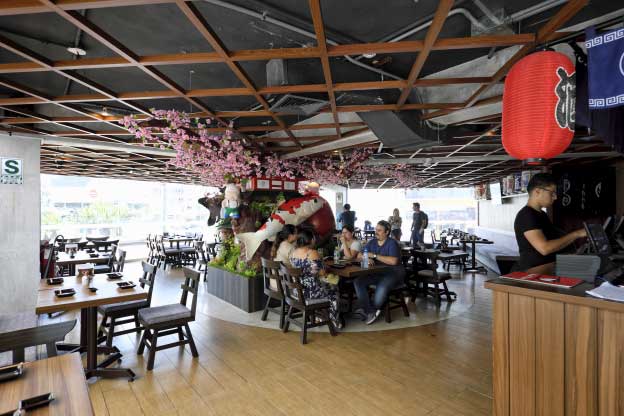 Located in a prime location overlooking the Ovalo Gutierrez, this Japanese restaurant offers the choice to delight yourself with the best of Japanese cuisine in their main salon or on one of their terraces. Elements of the Japanese culture such as the Torii temple, the sake barrels, the Daruma doll, the koi fish, and the famous cherry blossom Sakura tree, are all part of the decoration. To the left of the stairways and elevator, there is another room, perhaps for a younger crowd, with huge comic characters all lined up ready for a selfie.

Upon sitting down to our table to start our dining experience, we noticed that the menu was quite large and that conveniently, it had pictures of all the dishes. In addition, we were also impressed by the kind waiter who gave a full explanation of every dish we wanted to get.

Appetizers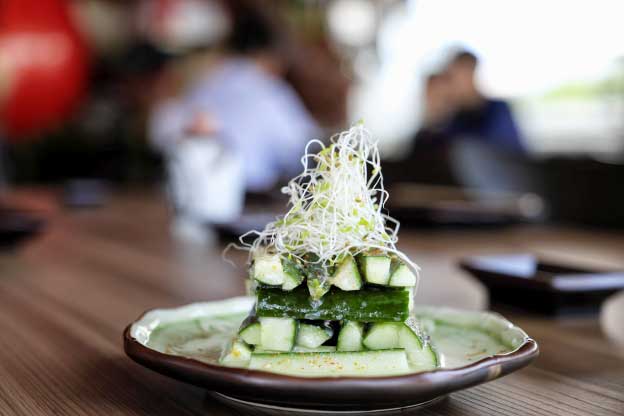 We started with one of their salads. We ordered a Kiuri Salad (s./9) that consisted of a pile of fresh cucumber sticks bathed in a very light and yummy sauce. It was freshness at its best, and super tasty. This dish is the perfect starter and is easy to share in a fun way. We then tried the Nama Harumaki (s./23), several pieces of rice-paper rolls filled with Philadelphia cheese, fresh carrots, chicken teriyaki and avocado, with a sweet and sour sauce. They were pretty nice and tasty.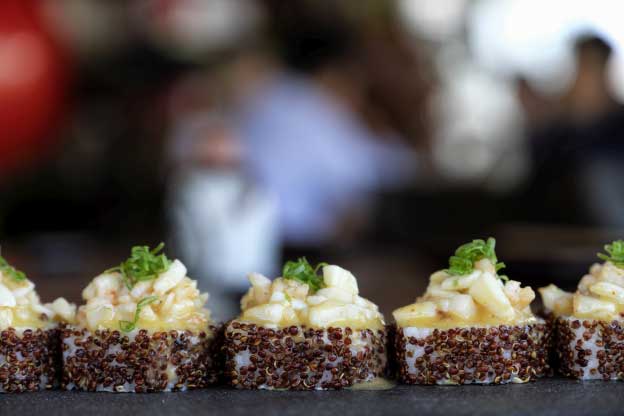 Then came some makis. You can order five (s./20) or ten units (s./35), depending on how hungry you are. If you come in a group, you can try one of their set-up packages that have a mix of makis, sashimi, nigiri, and gunkan –the round rice balls covered in nori (s./130- 135). On this occasion, we tried the Maki Godzilla that consisted of crumb- fried fish, avocado, and an anticucho sauce topped with yellow potato threads. They were nice, but nothing special; however, the next makis we got, the Batayaki Rolls, were simply fantastic. These makis had crumb-fried shrimps, avocado, and cream cheese, covered in red quinoa pops and topped with a wonderful seafood batayaki mix. We enjoyed them tremendously and are highly recommended.
Main dishes
We also tried their selection of nigiris. You can have the classic ones: sirloin, tuna, scallops and salmon (s./12 for two pieces) or the house nigiris (s./ 15 for two pieces); we opted for the latter. We sampled the Hotate Batayaki, with scallop and parmesan cheese; the Samurai, flambé tuna fish, leek and spicy garlic; the Sake Quinoa, salmon in oyster sauce and red quinoa, and the Grilled Sirloin with chimichurri sauce. I tried one while my colleagues the others, and I believe we all enjoyed them.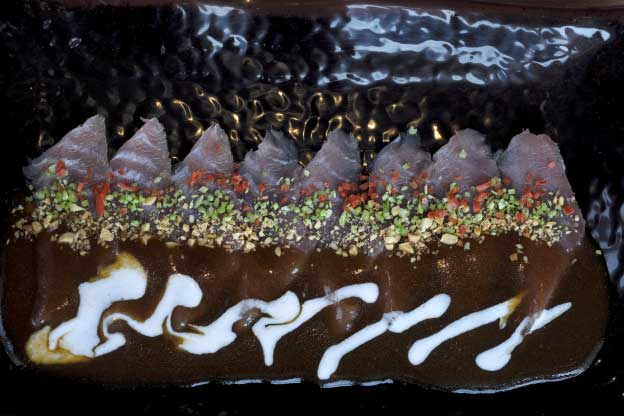 One of our favorites dishes that day was the Tiradito Kaikan (s./43), fresh tuna slices bathed in a superb oyster sauce with a little bit of coconut milk and topped with chopped nuts. This dish alone certainly deserves a come-back; not to be missed.

Poke bowls, now so much in fashion in Lima, do have some Japanese influence and could not be absent at Kaikan. We tried their Salmon Poke (s./28) that consisted of a bed of rice with pieces of salmon, fresh mango cuts, cucumber, avocado, purple cabbage and lots of seaweed. It was highly enjoyable, no doubt.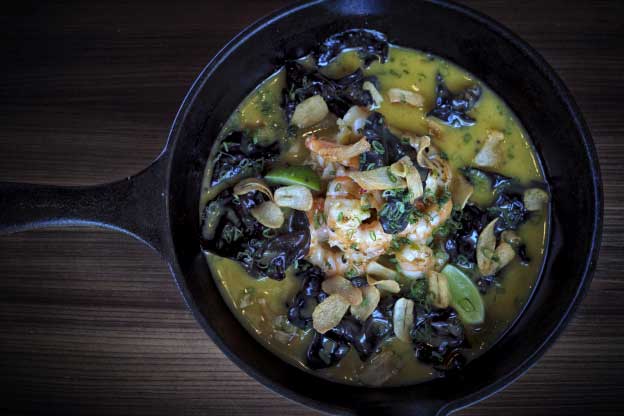 No dish could beat the Ebi Batayaki (s./40), a hot pan with shrimp, mushrooms, vegetables, fried garlic flakes, bathed in an incredible butter and slightly spicy sauce that was to die for. This dish comes with a pot of white rice that truly excels the incredible flavors on the pan. Definitely, our favorite amongst the warm dishes.

At Kaikan, you will also find meat dishes: there is sirloin steak, pancetta, chicken, and a variety of wings with different sauces. This time, we tried the Sake Ribs (s./45), a platter full of meaty ribs bathed in a sweet and sour sauce that looked quite appealing; along also comes a basket with yellow potato chips topped with black sesame seeds. The ribs were juicy and very tasty, and once you sucked one, you were so ready for the next one. I also enjoyed the chips very much although they were not of the liking of Carsten. You'll have to judge yourself though.

We also tried the Naruto Chicken (s./28), several pieces of crumb-fried chicken bathed in a leek sauce. This dish comes along with white rice and a salad mix with miso sauce. The chicken was fine but I enjoyed the salad better.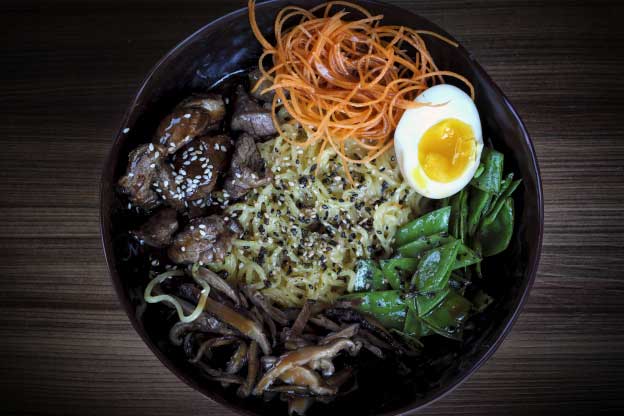 In a Japanese restaurant, ramen is a must. We tried the Batayaki Beef Ramen (s./36) that consisted of a large bowl of fresh noodles, a generous quantity of sirloin meat loafs, holantao (chinese pea), shitake (Asian mushrooms), egg, carrots, and a Katsu sauce. Once you mix all the ingredients, you will surely get out the best flavors, and so we did. It was yummy.

Desserts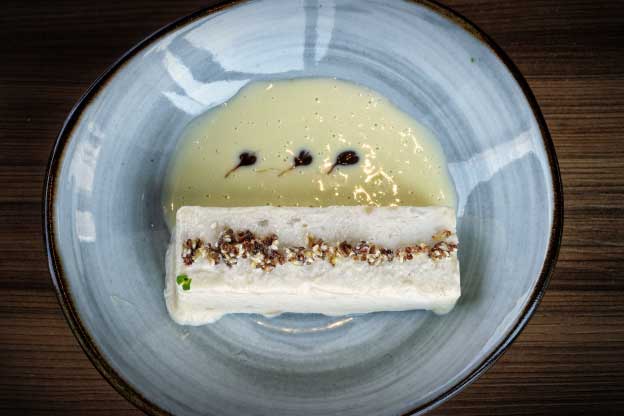 At Kaikan, you can find a few desserts, all homemade. We tried the Shoga Cheesecake (s./21), a cheesecake covered in a red berry sauce. The texture was rock solid, but we still enjoyed it mainly due to the strong ginger flavors. We definitely preferred the Praliné Semifreddo with Seaweed (s./21) that was cold, crunchy and delicate at the same time, and quite enjoyable.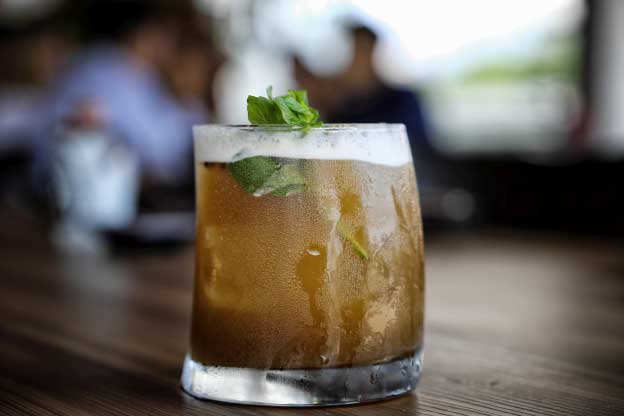 We were deeply surprised by the drinks they offered us at Kaikan. We tried the Harakiuri Mule (s./26), a vodka-based drink with cucumber, ginger beer and coconut cream that was deliciously refreshing and flavorful; an Apple Spritz (s./ 26), white wine, apple liqueur, kiuri syrup and tonic water, simple and yet so tasty, and finally, the Aloha Kai (s./ 25) with rum Santa Teresa, Jack Daniels, pineapple, anise, mint and some coffee notes making this drink quite unique and fantastic. Our visit could not end better than this.

Overall impressions

Kaikan was a big surprise to us three. The food was remarkable, the portions were good sized, the service was very good, and the prices are reasonable. Kaikan certainly deserves more than a visit and that is exactly what I intend to do.

Kaikan
Av. Santa Cruz 825, 2º piso, Ovalo Gutierrez, Miraflores
Telf. 768 4141
Opening hours – Monday to Sunday 12.30 – 12
Valet parking
Delivery – yes
Starters – s./ 18- 45
Salads – s./18 -30
Bowls – s./ 28 – 45
Makis – s./ 20 (5 pc) – s./ 35 (10 pc)
Nigiris (2 pcs) – s./12 -15
Ramen – s./ 28 – 36
Main dishes – s./25 -45
Desserts – s./ 14- 21
Cocktails – s./ 20 – 26
Refreshments – s./ 6 – 14
Beers – s./ 8 – 16