Just 7 weeks new, La Arepapa in Miraflores is the "baby" and first culinary adventure of owners Jaime Noriega and Fernando Cortez. And trust us, it's one you will want to try out for yourself.
La Arepapa was originally Jaime's idea. The concept of the restaurant is catchy and their menu caters to all taste buds, including vegetarians and those with a gluten intolerance. It is a place that welcomes children and fur babies, alike.
The Restaurant, Its Backstory, and the Star of the Menu
The decor has vibrant colors and the ambiance reminds you of a little piece of the Caribbean in the middle of Miraflores, and there is a reason for that…
The restaurant La Arepapa comes with a very good love story: La Arepa (a very popular Venezuelan dish) traveled all the way from Caracas to Lima and met La Papa (potato in English). They fell in love in Miraflores at the Parque del Amor (Love Park). After professing their love to each other, they traveled around South America, eventually bearing the fruit of their love, La Arepapa.
La Arepapa is a mixture of maize flour and potato, and it's the restaurant's star. Along with the arepapa, the restaurant has a menu filled with a beautiful fusion of Caribbean and Peruvian cuisine. Now, the word fusion has been used a lot in Peruvian cuisine and there are many Peruvian fusion cuisines out there but, in this case, I was not disappointed with the food we enjoyed at La Arepapa. I encourage you to try it and am certain that you won't regret it.
The Food
We started off lunch with an entree, Hamburguesas de Patacon (18 soles). Patacon is green banana that's been fried and, in this case, served like bread. In the middle is a meat patty, lettuce, tomato, and cheese. These very yummy burgers come with triple-cooked potato wedges, roasted and fried twice—they're delicious.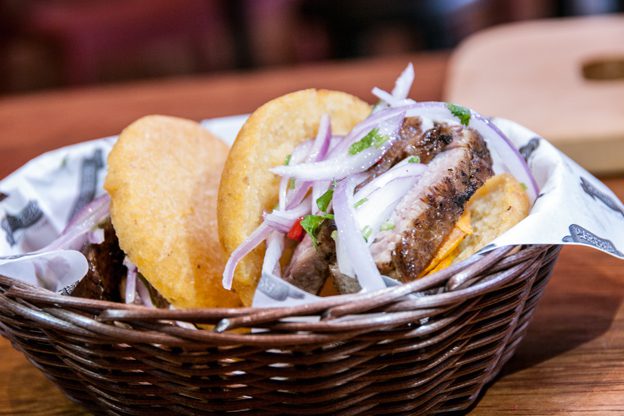 After the burgers, we tried the famous La Arepapa, the Capon (16 soles) which consists of two arepapas and, in the middle (kind of like a sandwich), you have a stuffing. La Arepapa Capon has a pork that is marinated in orange and star anise, and is served with a mango chalaquita (mango salsa). It was delicious. The pork was soft and the combination of the Asian flavors and the chalaquita worked really well.
The second Arepapa was the Dominguera (16 soles). This Sunday arepapa is a classic chicharron de chancho (fried pork) with fried sweet potatoes and an onion salsa. It was my favorite. I really liked it. And for those with a gluten intolerance, you have a very good alternative if you would like to enjoy some chicharron. You have 10 different arepapas to chose from.
We followed with a very tasty Chaufa Tropical de Champiñones (20 soles). This is a tropical fried rice of mushrooms. You can order it with animal protein if you are not vegetarian, but I encourage you to try the vegetarian version as it was amazing. The rice had mushrooms, snow peas, sesame seeds, mandarines and, on top, some chopped mango. It sounds like it has many tropical flavors, but combined with the Asian flavors, it was an explosion on my taste buds. I really love this dish, and even though I am not a vegetarian, I would have this version again.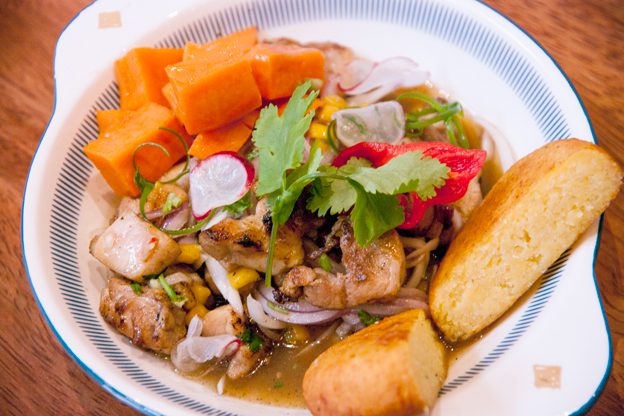 The second main we tried was the Pollo Acevichado (24 soles). This chicken ceviche is chicken sautéed with lemon, coriander, onion and passion fruit. It is served with glazed sweet potatoes and some mango on top—another of my favorite dishes from La Arepapa. The flavors were amazing. I love ceviche and, even though this one had a Caribbean twist, for me it was a winner.
We finished the lunch with a Lasagna Caribeña (22 soles), a Caribbean lasagna. It's a meat-based sauce with layers of banana served with a green salad. Personally, I think it would've worked better with patacones instead of bananas, as the sweetness of the banana and the bolognese sauce mixed with the mozzarella didn't work as well in my opinion.
The Drinks
La Arepapa has a bar with many cocktails on its menu. They are also a fusion of worldwide cocktails, including some Caribbean and Peruvian drinks. While waiting for lunch, I tried Corazon Llanero (20 soles). It's their signature and most popular cocktail made with rum, strawberries, pineapple juice, coconut, and lime. It was beautiful. you can order any cocktail in a virgin version if you like.
They do have a menu in English which will be handy if your Spanish is a bit rusty.
What Else?
At the moment, they don't offer any dessert options. They do, however, offer something like a menu, which is a dish of the day that changes according to the day of the week and consists of a small entree, a main, and a drink. It's 18 soles and, if you happen to not like what's displayed for the day, you have the option of choosing the dish of a different day.
Overall, I was very glad to have lunch at La Arepapa. I believe they will have lots of success as their concept is good and their yummy food backs them up. The fact that they replace wheat products with banana, maize flour and potato makes them the perfect restaurant for those with a gluten intolerance. Their wide variety of vegetarian dishes makes them the perfect restaurant for vegetarians and their delicious animal protein dishes makes them the perfect restaurant for everyone.
I wish them all the luck and will be returning there to try their Aji de Gallina made with coconut milk instead of cow's milk; I am very curious about how that will taste.
La Arepapa
Calle Manuel Bonilla 178, Miraflores, Lima
Hours
Opens Monday to Thursday 12 p.m. to 11 p.m.
Fridays and Saturdays 12 p.m. to 1 a.m.
Closed Sundays
Prices
Entrees and Piqueos: from 12 soles to 18 soles
Arepapas: from 15 and 16 soles
Main Dishes: from 20 soles to 26 soles
Side Dishes: from 6 soles to 8 soles
Vegetarian Menu
Entrees: from 12 soles to 18 soles
Arepapas: 15 and 16 soles
Main Dishes: from 20 soles to 26 soles
Cocktails: from 18 soles to 22 soles
Comments
comments