This story starts with a schoolgirl back in the 80's rushing back home every day in order to not miss out on her favorite TV show with Teresa Ocampo, the pioneering lady who shared her best cooking recipes on TV with thousands of Peruvian followers.
Classic tiramisu

Exterior

Interior

Interior

Interior

Italian coffee

Panforte

Green tortellini

L'impasto
Carolina, like many Peruvians back then, would stare at the black and white screen with a notepad and pencil in hand, and try not to miss any single detail of what this TV celebrity would say. Carolina would then try making all the recipes, and it was clear in her mind that one day she would become a chef. Once she finished school, she signed up for the Cordon Bleu and would bake and cook at home, which inspired her neighbors to encourage her to open up a place where people could delight themselves with her food.
Since these early days of her career, Carolina Ruiz Pignano has not stopped cooking, baking, and creating. With the support of her family, in 2009 Carolina opened up L'Impasto in what used to be, and it still is, the first floor of her house. At her restaurant, she serves authentic Italian food, and there is no space for fusion here, as Carolina clearly remarks.

The decor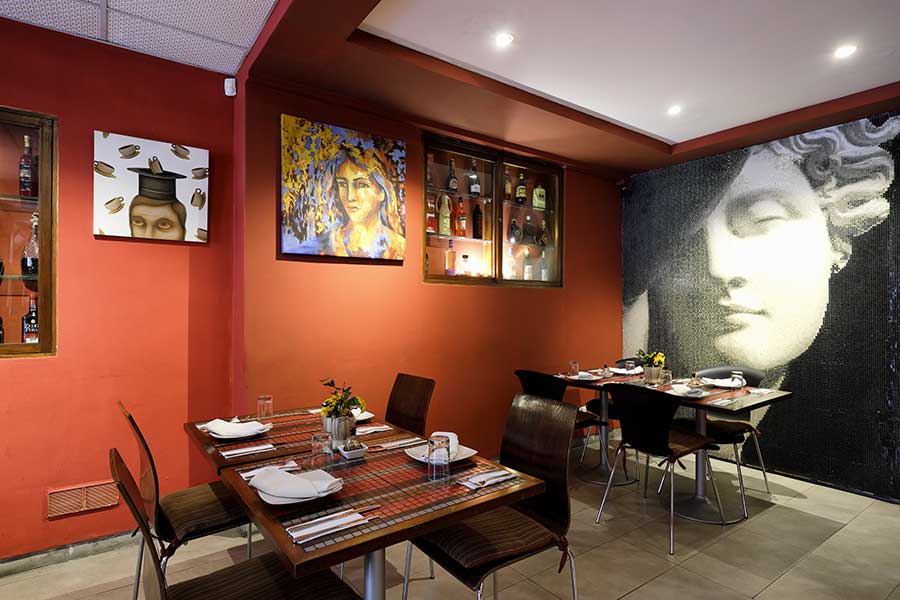 L´Impasto is a small and charming restaurant that has a welcoming look. The intensely red painted walls of the salons, unique paintings, and the lovely collection of cups and other utensils, Limoges porcelain and Murano objects displayed in the 19th-century walnut cupboard that stands at the entrance give this restaurant a warm and homely appearance.

The Food
We began with two starters, both very popular amongst clients, we were told. Our first starter was the Piadina Romagnola (s./28), a flat Italian bread, originally from the northern province of Emilia Romagna, from where it takes its name. This perfectly baked bread was thin and crunchy, generously filled with plenty of spinach, dried tomatoes, mozzarella cheese, prosciutto, and arugula. The piadina was served with some fresh cherry tomatoes, fig, and a fantastic homemade balsamic sauce. We found the piadina extremely delicious and why not one of the best I have ever had.
Our next starter was the Stuffed Yellow Chili Pepper (s./20). This dish consisted of a baked yellow chili stuffed with ossobucco meat, sautéed white onions, champignons, and blue cheese, and plenty of white sauce flavored with mushrooms, fine herbs, and blue cheese. It was not spicy at all as one can think, and the gravy was slightly bordering on the heavy side. I think I would have enjoyed it more along with some pasta that I learned one can order too.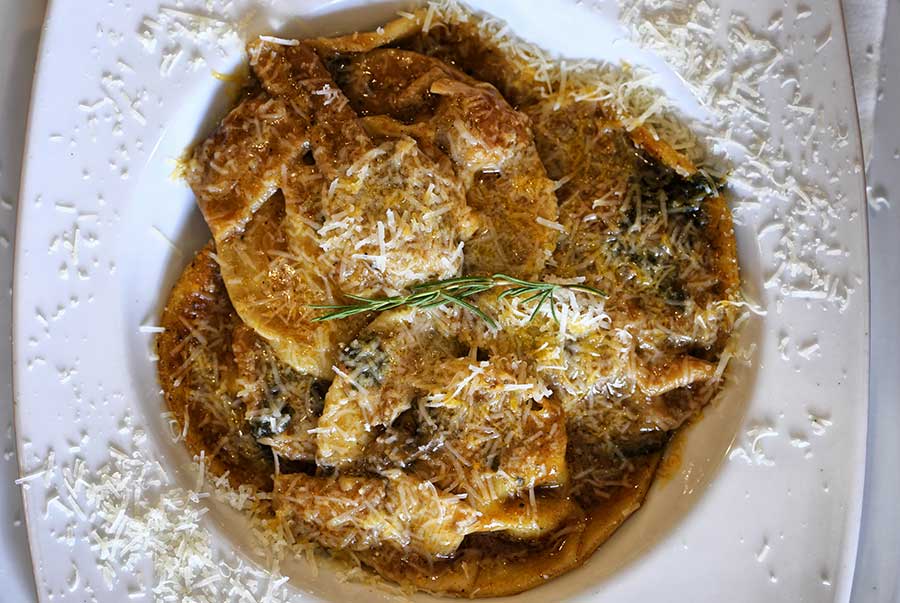 At L´Impasto, there is plenty of choices of pasta. They have ravioli, spaghetti, caneloni, fagottini, among several others, and it is all handmade (except for the spaghetti Barilla). On this opportunity, we tried two pasta dishes. The first one was the Green Tortellini (s./39) filled with abundant ricotta cheese, served with a white creamy cheese sauce, and prosciutto slices. The pasta was cooked al dente, as it should be, the filling was delicious, and the sauce was smooth, delicate and savory. We enjoyed this pasta for sure. We also enjoyed the second pasta, the Duck Agnolotti (s./43), large in size as I like them, al dente, filled with braised duck, and bathed in a delicate and savory fresh porcini mushroom, parsley and garlic sauce. Duck tends to make things heavy, but this was not the case as the sauce and the entire dish remained beautifully delicate and flavorful. I will still have to go back to try their polenta, risotto with grilled beef tenderloin and moussaka.
Dessert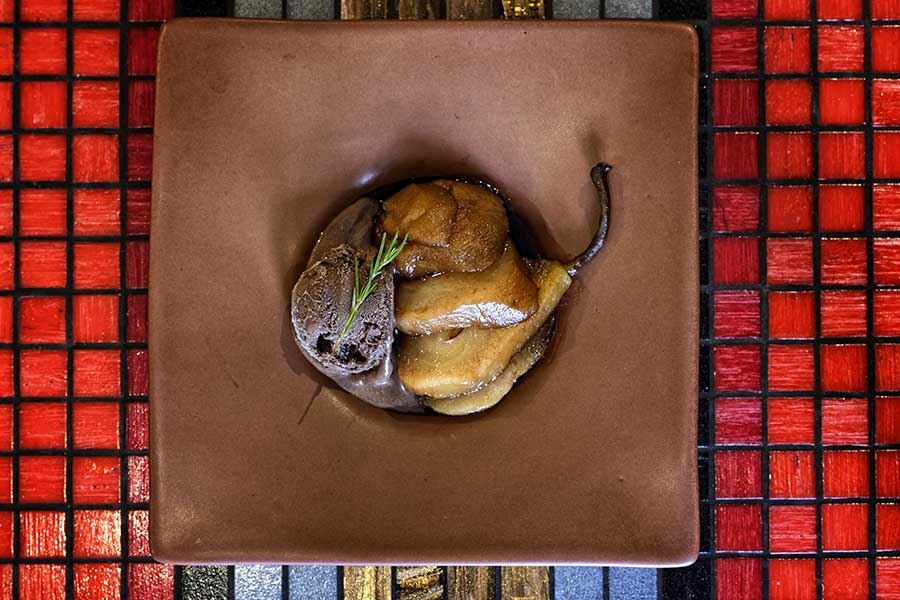 The first dessert we tried was a Classic Tiramisu (s./28), this is a coffee and bitter chocolate-based dessert that is an Italian classic and loved by many. It was soft, creamy, and delicious, and well-portioned. There is a Raspberry Tiramisu version that I will definitely come back for. We also tried the Pera Cotta (s./18), several sliced pears cooked in wine and bathed in their own honey, and served with a scoop of ice cream. I loved the honey sauce that mixed well with the pears and enjoyed the chocolate ice cream from Majísimo. I could not stop digging my spoon into this well-accomplished dessert.

Although fully satisfied with all the food we had that day, we could not miss the opportunity to try the PanForte (s./25), the traditional dry fruit baked Italian dessert, made by Carolina herself. We were impressed by the beauty of the box that it comes in, and the panforte itself. The texture was perfect, not too hard or too soft, but just right, and the flavors were impeccable, not too sweet or blunt. One could crunch the almonds and feel the orange and delicate flavors of the other spices. On your visit, you may want to place an order to take one or more back home. Don't tell me I did not warn you.

The Drinks
At L'Impasto, there are several options for wine, beer, or cocktails. We tried the latter and chose a Monte Negroni (s./34), a typical Italian drink made with Amaro Montenegro, gin, aperol and ice. It was harsh and smooth at the same time, but fully enjoyable. We also tried the Punt-e-mes (s./36), made with Italian vermouth, gin and cinzano, strong in flavor and character, but quite nice too.
Don't miss out on taking a look at the wonderful collection of spirits and liqueurs L'Impasto has on display. You can find anything from limoncello to amaro, Frangelico, Cynar, Sambuca, or even your favorite grappa. A perfect way to end a meal, vero? Another one is to have some good Italian coffee that they happen to have.
Final thoughts
Our visit to L´Impasto was a highly pleasant one, and ended up with an exchange of information regarding good classic Italian cooking books. At every careful turn of the page of the old books Carolina showed us, her eyes glowed and her passion for her profession transpired. Without it, nothing would be the same.
L´impasto
Av. Reducto 1008 Miraflores
Telf. 241 5044
Opening hours – Tuesday to Saturday 12.30 – 16.00 and 18.30 – 22.30, Sunday 12.30 to 16.00
Starters – s./ 29 -39
Pasta and rice – s./29 – 45
Pizzas – s./45
Desserts – s./ 18 – 28
Wine by the glass – s./25
Cover photo: Piadina Romagnola/Marco Simola
Now that you're here:
We're asking you, our reader, to make a contribution in support of our digital guide in order to keep informing, updating and inspiring people to visit Peru. Why now? In our near 20-year journey as the leading English-language source on travel in Peru, we've had our fair share of ups and downs-but nothing quite like the challenges brought forth in the first quarter of 2020.
By adapting to the changing face of the tourism and travel industry (on both local and international levels), we have no doubt we will come out stronger-especially with the support of our community. Because you will travel again, and we will be ready to show you the best of Peru.
Your financial support means we can keep sharing the best of Peru through high-quality stories, videos and insights provided by our dedicated team of contributors and editors based in Peru. And of course, We are here to answer your questions and help whenever you need us.
As well, it makes possible our commitment to support local and small businesses that make your visit an unforgettable one. Your support will help the people working in these industries get back on their feet once the world allows us to make our dream of enjoying everything Peru has to offer a reality again-from its mouthwatering gastronomy, thriving Amazon and archaeological wonders such as Machu Picchu.
Together, we will find a way through this. As a member of our community, your contribution, however big or small, is valuable.
Support Traveling & Living in Peru from as little as $1 - and it only takes a minute. Thank you!