Recently the team of Traveling and Living in Peru had the opportunity to visit Ma Osteria, a relative newcomer to the Barranco food scene since November of 2018. We met with the charming Turkish owners, Aisha and Hakan the day of our visit. This elegant bohemian restaurant offers a unique Mediterranean dining experience.
Alcachofa rellana de verduras

Details

Croquette

Interior

Details

French rosé

Ragú de pierna cordero

Hakan preparing asado en vinagreta

Waters

Interior

Tangy okra

Brownie

Exterior
The restaurant atmosphere
When you enter the premises of Ma Osteria you first enter their airy patio area which has an abundance of wood, plants, fresh flowers, and other eclectic details as well as several tables for your seating pleasure. Inside you will find both wood floors as well as wonderful floor tiles with a geometric design with cream, gray and copper hues. The rich color of copper appears in several areas of the restaurant as well. Your eyes are immediately drawn to the expansive long marble countertop where many of the Mediterranean tapas are displayed on large platters.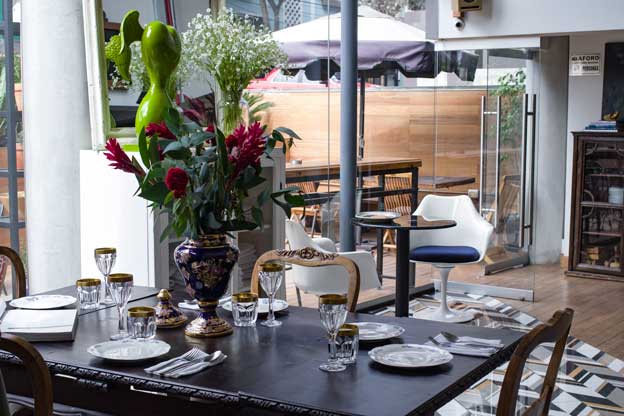 I was surprised to learn that the majority of the decor, furniture, plate, and glassware you see at Ma Osteria all were shipped to Lima in two containers from Turkey. Most of these items once existed in Hakan's restaurant in Turkey. There is a vast array of different furniture (some modern, some classic, some eclectic). An abundance of rustic wood tables and chairs, black marble tables, banquette seating as well as botanical high-backed chairs and animal print chairs. Many of the plates, platters and colorful glassware have a vintage, bohemian style. There is an abundance of natural light due to the open areas as well as the large floor-to-ceiling windows in some areas. Eclectic artwork was displayed tastefully throughout the restaurant. Plenty of fresh flower arrangements were at the majority of the tables as well. I really loved all the details and it all was cohesive. The chic, elegant and bohemian decor lends itself to a comfortable and intimate dining experience.

To go along with the relaxed bohemian vibe at Ma Osteria, you will immediately notice the waiters who are donning marigold/white/black striped pajamas as their "uniform".

The wine list at Ma Osteria is full of French, Italian and Spanish wines. The day of our visit we enjoyed a wonderful bottle of French Rose that accompanied our dishes.

We sampled at least 15 different dishes, the majority of them being tapas, small appetizer plates. As is typical with many Mediterranean dishes, there are a large number of vegetarian options available at Ma Osteria.

The food
We began with a basket of fresh warm breads served alongside a bowl with a combination of olive oil, cherry tomatoes, and herbs for dipping the bread.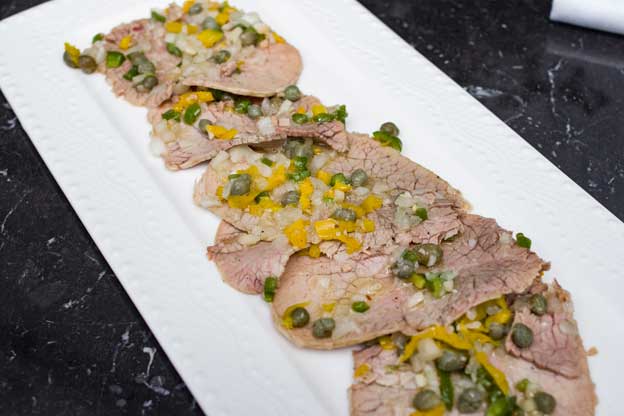 The tapas section of the menu has more than 15 dishes, plus several not listed on the menu. From these choices, we sampled 11 tapas dishes, and all of them quite good. I had several personal favorites from the tapas. The Asado en vinagreta de cebolla, perejil, y alcaparras (S/. 20) was delicious. Tender slices of beef tenderloin were served with a generous amount of onion, parsley, and capers.

We all enjoyed the ultra-smoky Dip de berenjenas ahumadas con ajo (S/. 10). The simplicity of the smoked eggplant with garlic elevated this dish.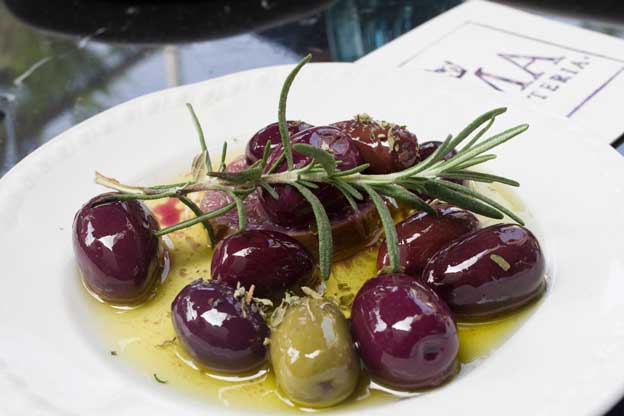 If you are an olive enthusiast, don't miss the olives that have been marinated in lime juice for 3 months and served with olive oil, rosemary sprigs and other spices. Really amazing flavor! These olives were simply exquisite.

One of the surprise dishes was the Estafado de raíz de apio con limón y aceite de oliva (S/. 15). Who knew that pickled celery root could be so delicious. It was simply dressed with a bit of lime juice and olive oil with a few slices of carrot. Really wonderful.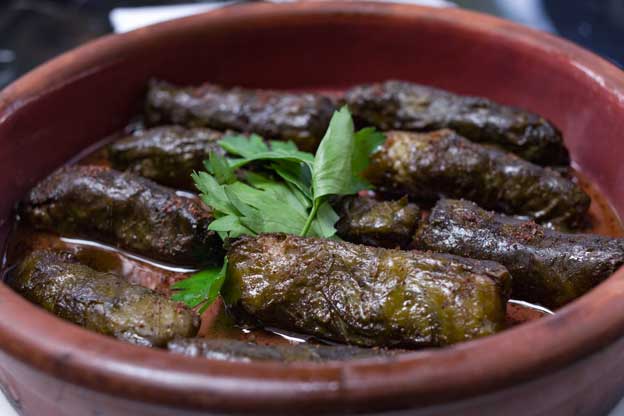 No Mediterranean dining experience would be complete without stuffed grape leaves. When a platter of them arrived at our table an automatic smile appeared on our faces. These were excellent. They are not listed on Ma Osteria's printed menu, but are typically available.

Another wonderful dish not listed on the menu was Mondongo con garbanzos. Typically I am not a fan of mondongo (tripe) because of its slightly rubbery texture, This dish arrived in a small clay pot and the tripe was tender, cooked perfectly along with chickpeas and a liberal amount of sliced green onions. We really enjoyed this excellent combination.

One of the last dishes we were served from the tapas section was a room temperature tangy okra dish consisting of pickled okra along with diced onions, garlic, tomato, and olive oil.

There are only 5 selections on the main dish section of the menu. We sampled the Ragú de pierna cordero, pasta garganelli, base de tomate fresco, perejil, vino malbec (S/. 55). The sauce comprised of a tender leg of lamb meat, fresh tomato, parsley, and Malbec wine was delicious, but we would have enjoyed it more if there was more lamb meat and the portion was a bit larger overall.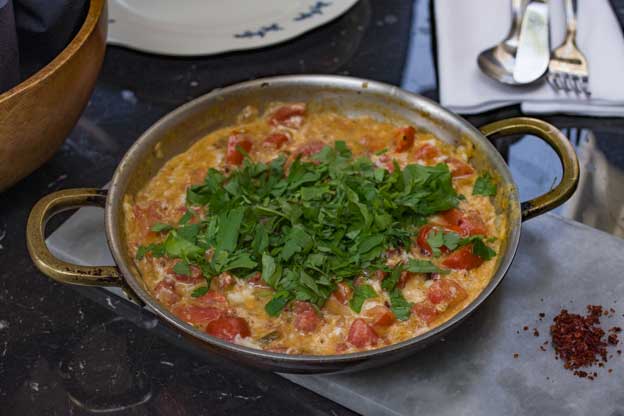 We were very curious to sample the dish, Menemen (S/. 25). This Turkish egg dish incorporates gently and softly cooked scrambled eggs with tomatoes, garlic, onions, green bell pepper, sumac, and a liberal amount of parsley. This dish was robust and full of flavor. The sumac spice is used in Middle Eastern and Mediterranean cooking quite often. Sumac is a versatile spice with a tangy lemon flavor, although it's more balanced and less tart than lemon juice. This deep red coarse powder gave this Menemen dish a wonderful pop of color. This dish reminded me greatly of Shakshuka as well.

Desserts
To end our dining experience at Ma Osteria, we sampled their delicious brownie which was slightly gooey and fudgy inside and crunchy on the outside. It was presented on an elegant marble board accented with strawberries and walnuts.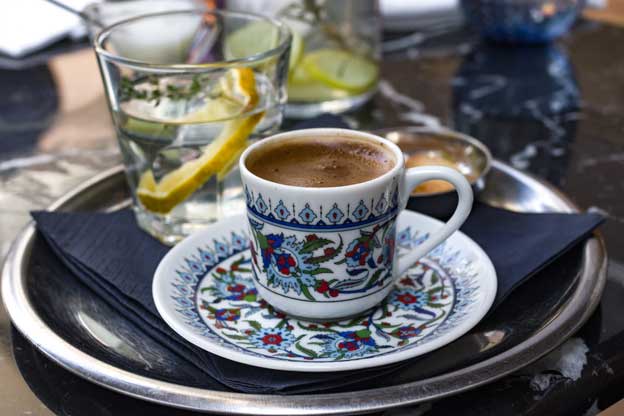 Last, but not least we thoroughly enjoyed the Servicio de café Turco (S/. 15). This elegant Turkish coffee service was a unique experience. Turkish coffee is typically quite strong, a bit on the thick-consistency side, with aggressive and robust flavors. The presentation elevated this coffee experience for us when 3 individual silver trays arrived with our cups of Turkish coffee, a couple of cookies and a glass of water with orange slices. When we finished our coffee, Hakan had us turn our coffee cups upside down and wait 10 minutes and then proceeded to interpret the patterns (Turkish coffee fortune telling) on the surface of our cups that the coffee grounds left. Turkish coffee reading is very popular in Turkey and Greece.

Ma Osteria has ample space for larger groups as well as intimate tables for two. I've heard that in the evening this is an idyllic spot for a romantic date as well.

We were impressed by the variety of dishes and presentation along with the elegant bohemian ambiance of Ma Osteria. I look forward to returning soon.

Ma Osteria
Av. San Martin 689, Barranco
Phone: 304-9034
Capacity: 100 people
Hours: Open every day
Monday-Sunday: 8:00 a.m.-11:00 p.m.
Dog-friendly
Instagram: maosteria
www.maosteria.com
[email protected]

Turkish Breakfasts: S/. 25-55
For 2: S/. 70
Classic Breakfasts: S/. 20-30
Sandwiches/Bruschettas: S/. 25-35
Tapas/Meze/Starters: S/. 10-25
Salads: S/. 45-50
Main dishes: S/. 25-65
Non-alcoholic beverages: S/. 9-18
Coffees: S/. 8-15
Wine list available

Now that you're here:
We're asking you, our reader, to make a contribution in support of our digital guide in order to keep informing, updating and inspiring people to visit Peru. Why now? In our near 20-year journey as the leading English-language source on travel in Peru, we've had our fair share of ups and downs-but nothing quite like the challenges brought forth in the first quarter of 2020.
By adapting to the changing face of the tourism and travel industry (on both local and international levels), we have no doubt we will come out stronger-especially with the support of our community. Because you will travel again, and we will be ready to show you the best of Peru.
Your financial support means we can keep sharing the best of Peru through high-quality stories, videos and insights provided by our dedicated team of contributors and editors based in Peru. And of course, We are here to answer your questions and help whenever you need us.
As well, it makes possible our commitment to support local and small businesses that make your visit an unforgettable one. Your support will help the people working in these industries get back on their feet once the world allows us to make our dream of enjoying everything Peru has to offer a reality again-from its mouthwatering gastronomy, thriving Amazon and archaeological wonders such as Machu Picchu.
Together, we will find a way through this. As a member of our community, your contribution, however big or small, is valuable.
Support Traveling & Living in Peru from as little as $1 - and it only takes a minute. Thank you!