Through the narrow, cobblestone streets of the San Lazaro District in Arequipa, Masamama is baking its way into your heart.
Kitchen

Bread loaves

Desserts

Details

Buddin de zanahoria
The conception of Masamama began in California, USA as a therapeutic diversion for co-founder and head baker Martin Silva, who was, at the time, providing mental health services to children refugees from Central America. Martin explained how learning to make sourdough gave him a path to reconnect with himself and the Earth. This connection provided not just a release from the challenges of working with refugees but also the concepts that would give Masamama its name. "Sourdough" in Spanish is masamadre, combined with the all too familiar Pachamama, both Quechua and Aymara for "Mother Earth", signifies the simplicity of sourdough and a grateful nod to the Earth from which life springs.

Beginning as a weekend hobby, Martin's sourdough exploits soon transformed into a delivery service after making the move back to Arequipa with his wife, Carina. Soon, it was clear that Masamama required a physical presence amongst those in the culinary league of Arequipa and was joined by head chef, Ana Paula, to create a diverse and ever-changing menu of delicious, local plates and desserts.

Masamama's signature sourdough can now be found in local supermarkets, and Martin is excited about the prospect of starting a therapeutic sourdough bread workshop to help others in the community reconnect with themselves and what's most important. The restaurant has also recently added operating hours to include breakfast offerings to fit demand for their unique brand.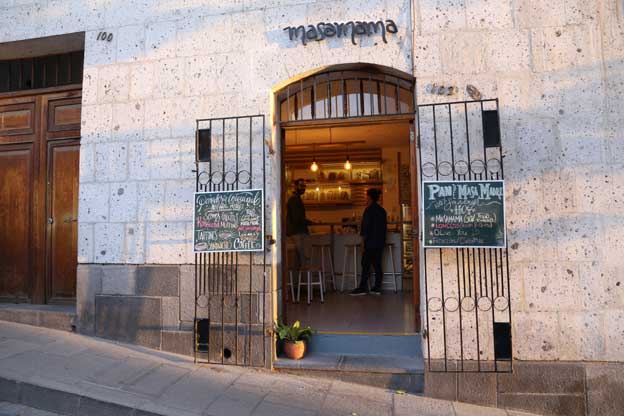 The Atmosphere
Masamama is located in the gorgeous San Lazaro neighborhood right on the Plaza Campo Redondo in central Arequipa. This old, historic area is known for their beautiful buildings and for being a trendy, up and coming place. The café, itself, is cozy and tastefully decorated. The light-colored wood accents and the artfully-set lighting makes this space feel open and inviting.

The Food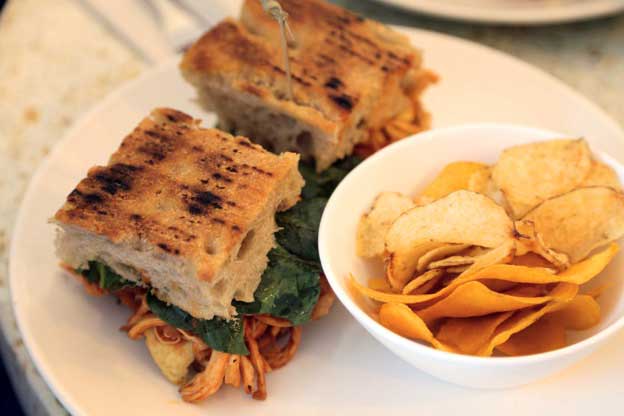 The Pollo BBQ Sandwich (S/16) features tender, shredded chicken marinated in a homemade BBQ sauce and topped with avocado and lettuce nestled between slices of either sourdough ciabatta or sourdough focaccia, which was served with a side of chips. The aroma alone will bring you back for more.

The Pavo Anticuchero Sandwich (S/18) was made with smoked turkey and topped with avocado, cheese, quinoa sprouts, and house-made anticucho sauce with your choice of sourdough ciabatta or sourdough focaccia bread. Everything about this sandwich demonstrated a great deal of thought to find the ideal combination of tastes and textures.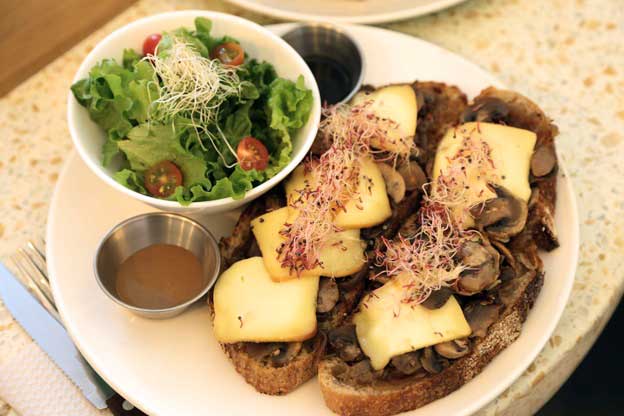 We also tried the Champiñones y Queso Tilsit Tartine (S/18). This savory dish was a lovely combination of mushrooms and a house-made onion preserve topped with smoked cheese and sprouts. The side salad that accompanied it was served with the perfect Asian-style vinaigrette dressing that complimented the smoky cheese and earthy mushrooms.

Of course, we can't not talk about Masamama's sourdough bread as a separate entity. The team at Masamama really has gone the extra mile with everything they've done, and their bread is the star of the show! We went home with a loaf of Sourdough Focaccia Bread (S/10), and the rosemary topped bread went well with everything we paired it with. We loved not only knowing the ingredients of our bread, but also that they were found locally.

The Desserts
One of the cool things about Masamama is that they don't have a set dessert menu. They bake desserts with local ingredients that are in season and fresh, so their menu is ever changing!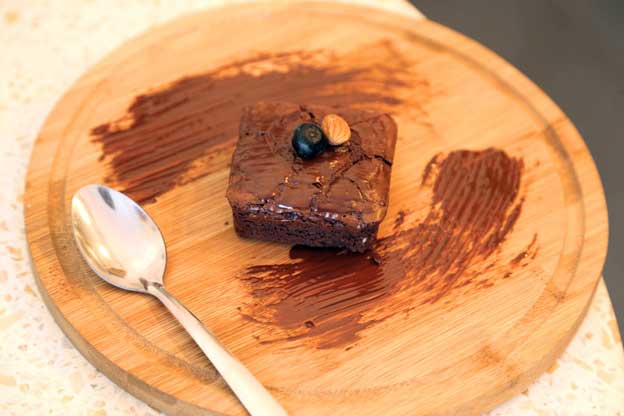 Masamama's Brownie (S/6) is a gluten-free dream in which they have teamed up with the local artesian chocolate shop, Chaqchao, to use their chocolate. This brownie had bits of almonds and was made with coconut butter for a truly creamy and delightful taste.

The Buddin de Zanahoria (S/7) is Masamama's take on a velvety carrot cake. This succulent, sweet treat with rich cream cheese frosting is a flawless dessert for anyone.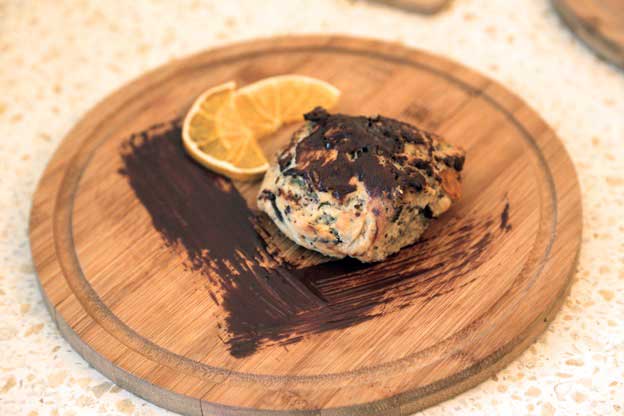 I was most excited for the last dessert we tried, and the Scone de Aguaymanto y Chocolate (S/7) did not disappoint! The sourdough was a lovely addition to a classic scone, and the tart aguaymantos paired perfectly with the sweet chocolate. What a treat!

The Drinks
Drinks at Masamama are also changing depending on seasonal availability and freshness of fruit in the area.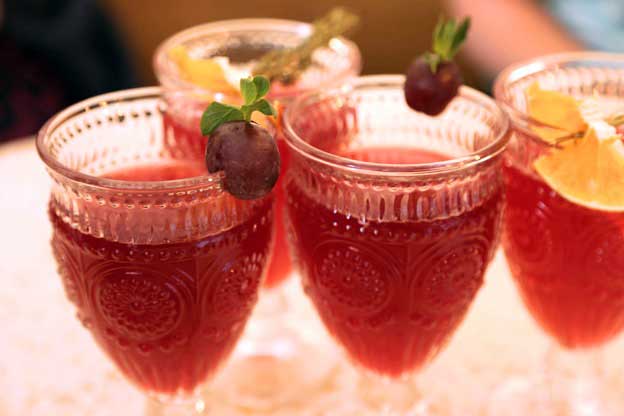 We were able to try two different types of the Kombucha Masamama (S/7), which they make in-house, and both were zingy and flavorsome. It's also worth mentioning that you can take your reusable jars or pitchers to the café and buy a whole pitcher to take home with you!

The Jugos de la Estación (S/10), in which we tried two different combinations, were super refreshing.

We ended our filling meal with a cup of Coffee (S/7), which is a limited edition. That's not to say that you'll never be able to buy coffee at Masamama again, but they've teamed up with another local restaurant, Pork'N'Bean, that works with different families in the VREAM (Valle de los Ríos Apurímac, Ene y Mantaro) region to help local farmers find new ways to make a living. My cup of coffee will help Farmer Rubén Martínez and his family.

We had a lovely time at Masamama learning about the benefits of sourdough and eating some amazing food. If you're coming to Arequipa, this is a must stop restaurant! To see more, check out The Fandrich Expedition's A Taste of Arequipa – Masamama video.

Masamama
Pasaje los Cristales 102, Barrio de San Lazaro, Arequipa
Phone: 51 932 419 149
Email: [email protected]
Facebook
Instagram

Hours
Monday: 3:00 p.m. – 10:00 p.m.
Tuesday – Saturday: 8:00 a.m. – 10:00 p.m.
Sunday: 8:00 a.m. – 3:00 p.m.

Menu
Classics: S/12 – S/13
Sandwiches: S/8 – S/22
Tartines: S/14 – S/20
Sweet Tartines: S/13
Kombucha: S/7 – S/8
Drinks: S/5 – S/10
Desserts: S/5 – S/7
Ciabattas: S/6

Cover photo: Pavo Anticuchero/ Lili & Clinton Fandrich
Now that you're here:
We're asking you, our reader, to make a contribution in support of our digital guide in order to keep informing, updating and inspiring people to visit Peru. Why now? In our near 20-year journey as the leading English-language source on travel in Peru, we've had our fair share of ups and downs-but nothing quite like the challenges brought forth in the first quarter of 2020.
By adapting to the changing face of the tourism and travel industry (on both local and international levels), we have no doubt we will come out stronger-especially with the support of our community. Because you will travel again, and we will be ready to show you the best of Peru.
Your financial support means we can keep sharing the best of Peru through high-quality stories, videos and insights provided by our dedicated team of contributors and editors based in Peru. And of course, We are here to answer your questions and help whenever you need us.
As well, it makes possible our commitment to support local and small businesses that make your visit an unforgettable one. Your support will help the people working in these industries get back on their feet once the world allows us to make our dream of enjoying everything Peru has to offer a reality again-from its mouthwatering gastronomy, thriving Amazon and archaeological wonders such as Machu Picchu.
Together, we will find a way through this. As a member of our community, your contribution, however big or small, is valuable.
Support Traveling & Living in Peru from as little as $1 - and it only takes a minute. Thank you!