Times change and sometimes for the better; I have the impression that traditional Peruvian cuisine is back.
Yes, the old-fashioned one, the one with the old-time recipes cooked by our mothers, grandmothers, or the house help. More and more, we see such restaurants popping up and having great success in this increasingly demanding public. The most recent addition is Matilde, a fresh and very promising new-comer situated in the middle of downtown Miraflores.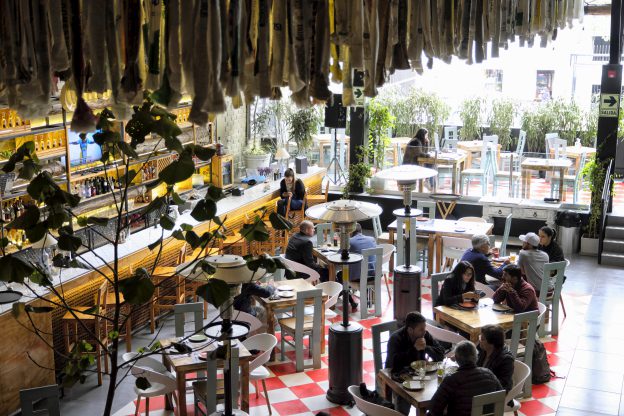 The two-floor open and spacious establishment is full of color, art, and creativity. The first thing that visitors will see on entrance, is a colorful wall-drawing of Matilde, which serves as a tribute to all the women who spend their days in the kitchen, preparing delicious concoctions for hungry guests. The restaurant has a casual and attractive atmosphere, created in part by the three-hundred rice and flour sacs that hang from the ceiling, illuminating the open room at night. Visitors will also find an iconic set of cuchimilcos, created by Marcelo Wong, on the second floor.
The long bar extending across the main room invites clients to sit and enjoy a cocktail, or two, from the interesting selection that Matilde offers. The bar menu is divided into five sections: the house-creations, the Peruvian tonics – made with pisco or Peruvian-made vodka, the Gin tonics, the classic cocktails, and the non-alcoholic drinks for the chosen friend. Our host, Iván Echegaray, a former bar-owner who has been in the business for some time, was adamant about how much attention is placed on selecting the highest-quality brands. He also told us that their cocktails are prepared by the best bartenders in town. With this in mind, we were more than ready to give it a try.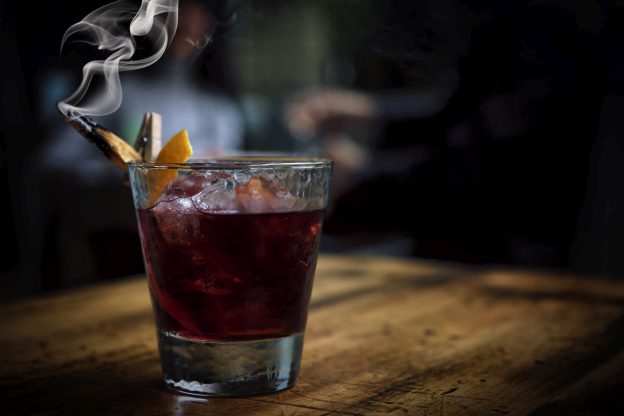 On this occasion, we sampled only two cocktails. We had the Singular Vodka (s./25), a refreshing and mild cocktail made with Peruvian vodka, tonic water, cider and camu camu. We enjoyed this pleasant and delicate mix, but the cocktail that came after, the Cristo Morado (s./28) took us by surprise. The beautifully intense burgundy colored cocktail came with a tail of fumes, which took us straight into the Purple Christ festivity (Señor de los Milagros) held every year in downtown Lima. This campari-based drink mixed with Vermouth Rosso, Pisco Quebranta, cinnamon syrup, and Tahiti lime flavors was neither harsh, nor mild, nor bitter or sweet, but it was somewhere in between. It certainly had its personality, and we enjoyed it all the way through.
Our next surprise was the food. The menu, under the responsibility of Chef Alan Trujillo, has an excellent selection of traditional Peruvian dishes such as causas, ceviches, papa a la huancaína, Sopa Criolla, Chupe de Camarones, Lomo Saltado, Arroz con Pato, Ají de Gallina, Cabrito a la Nortena, and many more. It also has a very appealing trio of cau cau, patita con maní, and olluquito, all in one dish, which we left to try for our next visit. All the plates that the waiters brought passed us looked extremely appealing and quite generously served.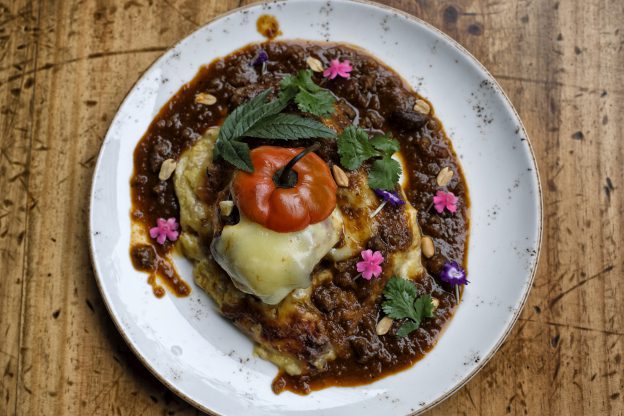 Our host recommended that we start with the Rocoto Relleno (s./33), a traditional dish from the Arequipa region. The rocoto was generously stuffed with very tasty pieces of meat, and it came along with a superb oca – an Andean tuber, and Andean cheese pie. The sauce, which was spread across the plate, really made this dish amazing. Its hints of spiciness really hit the spot, and it was without any doubt one of the best rocotos I have ever tried.
We then tried the Pulpo al Olivo (s./35), which was nicely presented in a marble tray. The octopus was quite tasty and it was totally covered with a creamy olive sauce. As a side, this classic starter comes served with avocado slices and crunchy baguette toast.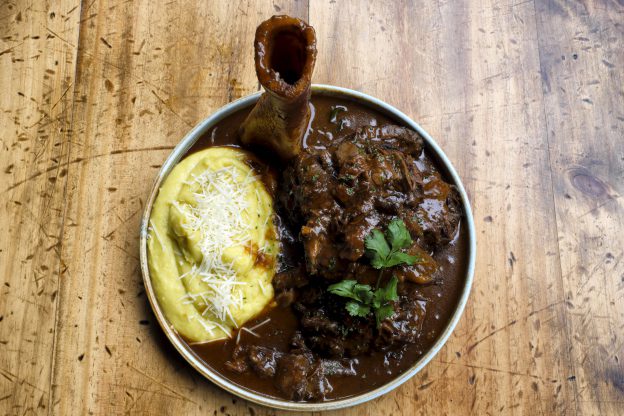 The exuberant Ossobucco de la Casa (s./85) was next. This very large dish certainly looks amazing and makes heads spin around. It's served with a large stack of slowly-cooked tender meat, which is bathed with an exquisite sauce. This wonderful creation is served with an amazing creamy yellow potato puree. The dish was large enough to feed four of us, so consider yourself to be duly warned about its size. Also, Ossobucco a la Norteña is a slightly different version that is served with beans and rice. It's a dish that I look forward to trying the next time I visit.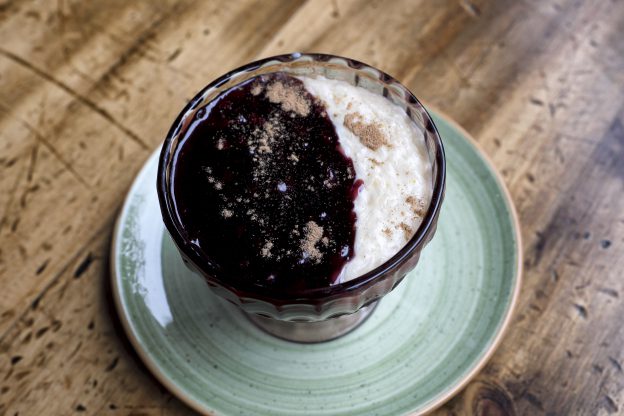 Matilde also offers the typical Limeño desserts we all enjoy: the Suspiro a la Limeña, Arroz con Leche, Mazamorra Morada and Combinado (s/12). We tried the latter – a combination of the mazamorra morada and Arroz con Leche. Both were quite good indeed, but the mazamorra reached the level of perfection in terms of sweetness, texture, and flavor. You might consider sharing the Combinado with your better half, or with friends, because this dish also comes in a big cup.
Our experience in Matilde was optimal from start to end. We liked the décor, the cocktails, the variety of dishes, and most certainly, the flavors. I particularly like the idea that in Miraflores, down to earth Peruvian food with its old recipes and flavors is coming back. On Thursdays evenings, the restaurant holds a Patria event, whereby an invited and acclaimed chef comes to cook a special menu, out in the open for everybody to see. The bar serves special drinks for the occasion, and there's even a DJ (or a performer). Matilde is a happening place, and you do not want to miss it.
Matilde
Bellavista 231, Miraflores
Telf. 277 -2557
Parking – yes
Opening hours: Mondays and Sundays 12 – 5, Tuesdays –Saturdays 12 to 1
Cocktails – s./18-36, wine by the glass – s./15, bottle s./70-110, beers – s./ 12-14
Tapas – s./28 -42
Soups – s./ 27-52
Starters – s./14-56
Salads – s./28 -33
Main dishes – s./ 34-85
Kids menu – s./25
Desserts – s./ 10-16
Comments
comments