Mo Bistro is still one of the best places to find a great brunch menu, but this new venture is much more than that. Mo Bistro is perhaps a bit more mature. The cuisine here leans towards elegant and healthy comfort food. 
As expected, the presentation of all the dishes was beautiful. Mo Bistro offers simple yet diverse dishes, but the menu is not too overwhelming or large.
Renowned restaurant owner Matias Cilloniz closes a Limeñian go-to brunch spot and opens up a new restaurant
I was looking forward to visiting Matias Cilloniz's newly opened restaurant, Mo Bistro, in Miraflores. The last time I spoke with Matias was in September of 2016 at his restaurant Molle Bistro & Cafe in Barranco.  At that time Molle was the "go to" place for brunch. For me, Matias was the brunch pioneer here in Lima. There were very few restaurants that offered decent breakfast/brunch options at that time, with the exception of a few hotels. He also offered many original creations on his regular menu. Fast forward a bit…..Molle eventually closed its doors in 2017 and Matias took the time to regroup, tested recipes in his home and eventually opened up Mo Bistro about four months ago.
A lovely space that works with nature
Mo Bistro has a prime corner location. The exterior is unassuming. Matias was raised in the Chincha desert and he wanted the people to experience the serene feeling of being transported into the desert when entering the premises. The architects did a wonderful job of conveying this idea. The interior seems very spacious, airy and serene and with a deep respect for nature. I enjoyed the abundance of natural light (due to the large number of windows, especially the floor-to-ceiling window area and other "open" areas within the restaurant). The large floor-to-ceiling stone wall showcases typical succulent plants you would find in the desert. Many natural elements (stone, wood, metals, etc.) as well throughout the premises. The colors were soft, muted and natural as well. Mo Bistro truly has a natural and elegant simplicity and vibe.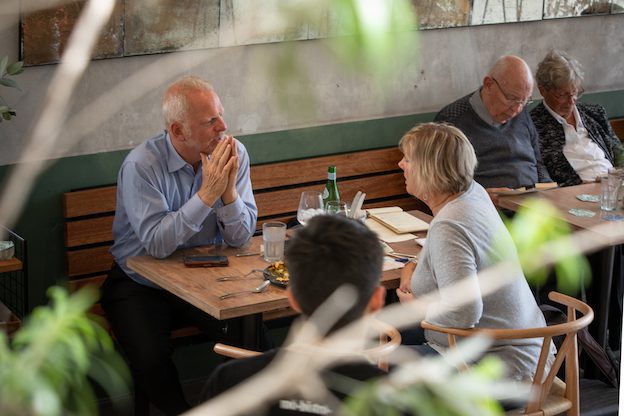 The restaurant has two floors. The first floor had more of a neighborhood cafe vibe. It has an open kitchen with a large counter to seat at least 8 people, or you can opt for one of the tables. The second floor has more table selections as well as a private salon available to reserve. There is an abundance of wall space which displays some incredible artwork with serene desert landscapes.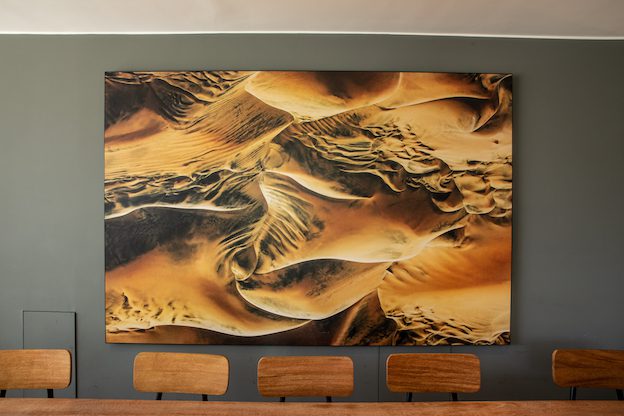 As expected, Matias has continued his commitment to the earth and pays homage to it as well, its products and preservation by selecting the best quality local and seasonal ingredients available. It's obvious he feels a responsibility to the environment. I observed and appreciated the discreet and aesthetic touches here and there that elevated many of the dishes. Two or three ingredients define the recipes and he lets the ingredients shine!
In order to stay true to seasonality and freshness of ingredients, Matias likes to change the menu consistently as well as seasonally. This allows for constant learning and improvement, as well as keeping the creative juices flowing. Something you may have eaten the prior month may quite possibly no longer be available on the menu when you return. The menu offers different options at Mo Bistro…you have the simpler salads and sandwich options and the more gastronomic "Mo" options.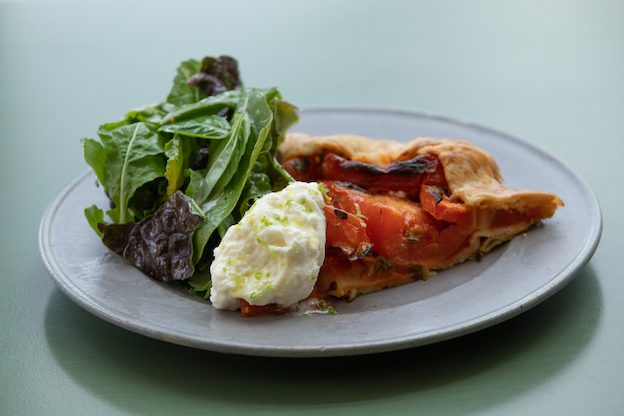 First up to sample was the Tomates & Straciatella tart (S/.19), which is available in the "market" area. This artisanal quiche was full of delicious tomatoes and served with a generous portion of deliciously soft, pillowy and fresh straciatella (the creamier cousin of mozzarella cheese).
The Rosti de Yuca (S/. 22) is reminiscent of a Swiss-style large hash brown or fritter and was comprised of coarsely grated yuca and brown butter, homemade kimchi, organic oyster mushrooms, pickled onions and chives and all accented with dollops of homemade sour cream. A couple people at the table thought this dish was a bit on the bland side.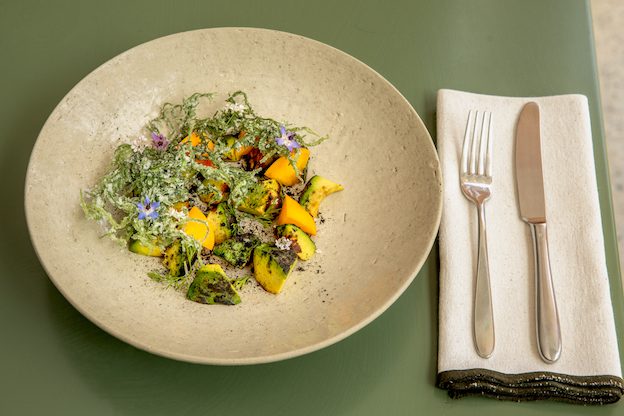 From the "Mo" section of the menu, we sampled the Ceviche Caliente (S/. 26), which was a surprising revelation. Pieces of grilled and smoked avocado along with pickled peaches, coriander flowers, borraja flowers (tastes similar to oysters), and topped off with fried yuyo (seaweed). The "leche de tigre" sauce in this ceviche was prepared with homemade tucupi, an Amazonian product made with fermented yuca root. The flavors were amazing as was the presentation of this creative dish.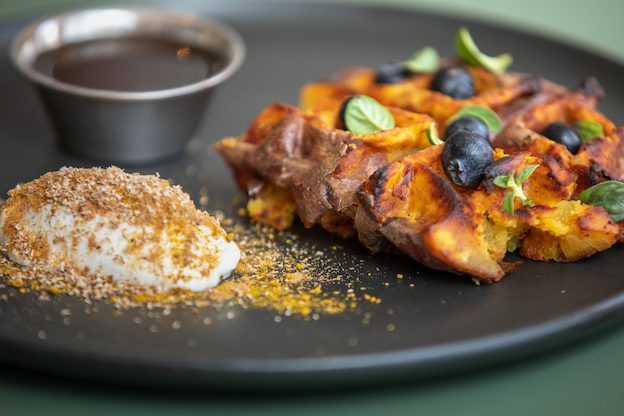 From the brunch section of the menu, we first sampled the Camote Waffleado (S/.20). The sweet potato was first roasted with salt and processed into a waffle and was served with blueberries and Mo's house guayaba (guava fruit) syrup. The waffle was accompanied by a homemade Greek yogurt which was sprinkled with a variety of spices, including curry and nutmeg. This is a unique waffle version and if you love sweet potato, possibly a "must try".
Our second dish from the brunch menu was named the Completo (S/. 34). This is the ideal dish for the person that enjoys a hearty breakfast. Two free-range fried eggs are served along with a whole roasted tomato, a plump artisanal morcilla sausage, and homemade English muffins which arrived in a black cast iron skillet. Mo Bistro also offers their other amazing brunch versions of French toast, eggs Benedict, pancakes, homemade yogurts, fruits, etc.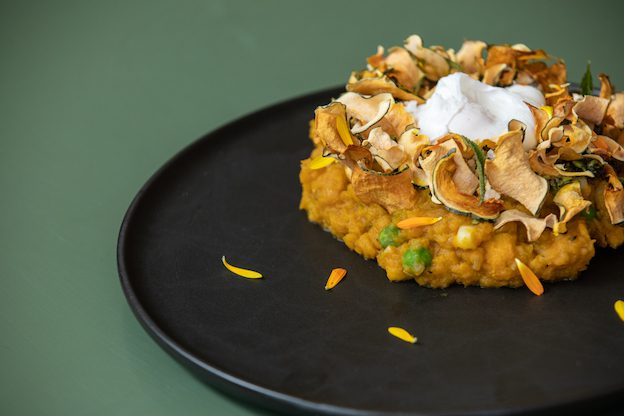 One of my favorite dishes was the Locro de zapallo, huevo de corral (S/. 32) from the "Mo" menu section. This dish combines the loche pumpkin squash along with white and sweet potato and with muña and huacatay (from the Peruvian mint family). Dehydrated, wafer thin slices of the loche squash generously cover the dish and a perfectly poached egg is found in the center. The presentation was gorgeous and was packed full of Peruvian flavors and definitely a comfort food type of dish.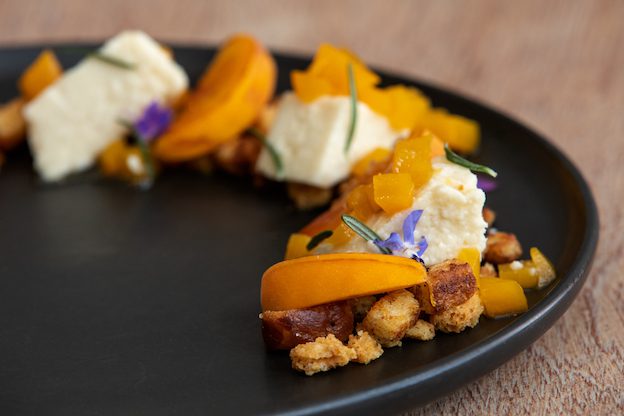 We sampled two desserts during our visit. The brand new dessert, Cheesecake Mo, is Mo Bistro's version of deconstructed cheesecake. This "cheesecake" was prepared with organic goat cheese, roasted peaches and peaches chutney-style along with crispy brioche bread crumbs and rosemary. This dessert was both captivating to the eyes (gorgeous presentation) and the palate.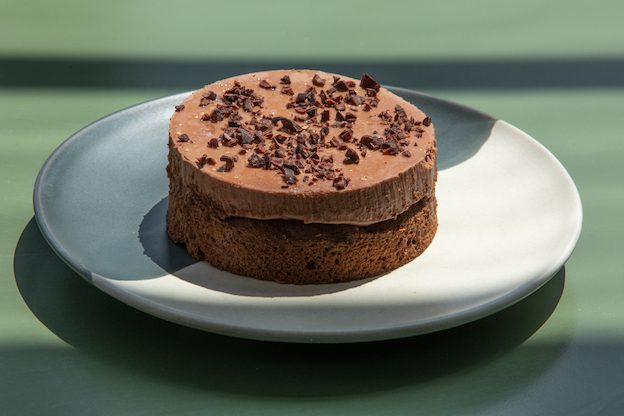 Don't skip the exquisite Tarta de Chocolate Amazona (S/ .12) if you enjoy chocolate. This mousse-like tart used 70% Amazona chocolate. It was both dense and creamy in texture, amazing chocolate flavor and the cacao nibs on top added more interest and crunchy texture.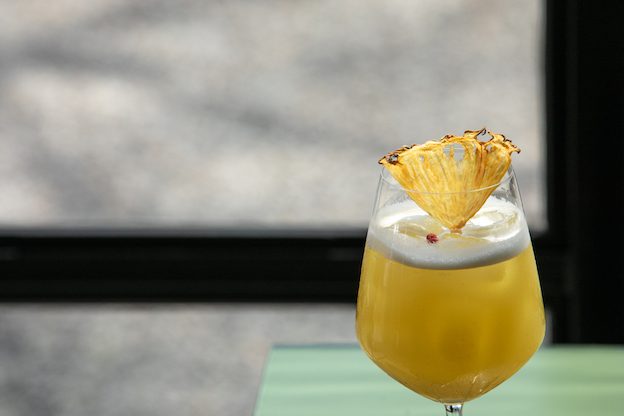 Besides the food, we also enjoyed several beverages at Mo Bistro. The ultra-refreshing Pisco Punch (S/. 23), a combination of artisanal Pisco Huamani along with fresh pineapple juice, and some pink peppercorn berries (from the Peruvian Molle tree) was a table favorite and highly recommended.
We also enjoyed a wonderful glass of the crispy Columbia Crest Chardonnay from Washington State (S/. 25). Currently, Mo Bistro offers 13 wines, sold by the glass or bottle. They change their wines every three months at Mo.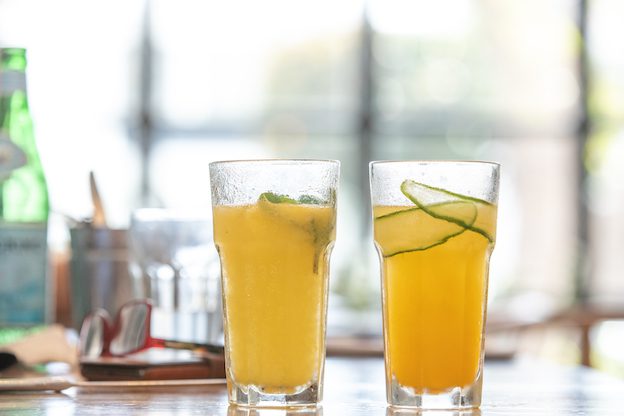 I rarely drink soda anymore, but I did enjoy the house-made carbonated beverages at Mo Bistro. We enjoyed the strawberry and rosemary shrub, the mango Thai and passionfruit/cucumber/basil versions (S/. 12). They are a nice and healthier alternative to soda.
The coffee sold and prepared at Mo Bistro is a concocted blend created exclusively for Mo Bistro by Harry Neira. The cappuccino was actually quite excellent and smooth.
Last, but not least……Mo Bistro has a small, charming market tucked into the corner on its first floor. It offers a decent selection of homemade cookies, tarts, cakes, pies, quiches, cheeses, olives, wines, water, artisanal beer, snacks, as well as daily fresh cut floral arrangements. The gourmand in me could not resist purchasing a few items. I enjoyed their homemade creamy ricotta (way better than other ricotta I have bought). Their granola (integral oats, panela sugar, sal de maras, and special interesting spices) is addictive! My husband is using their Guayaba syrup on everything as well.
It's refreshing to see that Mo Bistro's approach to cuisine is staying grounded in the soil and soul.
Av. Angamos Oeste 1146, Miraflores
Phone:  986 006 575
Hours:  
Monday-Friday:  7:30 a.m.-11:00 p.m. (Breakfast/Brunch:  7:30 a.m.-12:00 p.m.)
Saturday:  8:30 a.m.-11:00 p.m. (
(Breakfast/Brunch:  Saturday & Sunday 8:30 a.m.-3:00 p.m.)
Sunday:  8:30 a.m.-10:00 p.m.
4 parking spaces available in front and 4 on the side
Valet parking available in the future after the outdoor terrace is completed
Capacity: approximately 45 people
Future outdoor patio:  capacity for approximately 45
Reservations accepted Monday-Friday.
Weekend brunch:  Reservations NOT accepted
Private salon available
Breakfast/Brunch items:  S/. 12-34
Starters/Snacks:  S/. 5-34
Tarts/Quiches:  S/. 18-19
Salads:  S/. 20-25
Sandwiches:  S/. 22-25
Pasta special: S/. 26
Soup special: S/. 32
Mo menu items:  S/. 8-57
Desserts:  S. 16-20
Non-alcoholic beverages:  
    Water:  S/. 5-10
    Coffee:  S/. 8-14
    Infusions/Teas: S/. 8-12
    Juices:  S/. 12
    Homemade Sodas:  S/. 12
    Extracts:  S/. 14
Cocktails:  S/. 23-27
Brunch cocktails:  S/. 20
Beer:  S/. 10-20
Wine:  White: S/. 15-25 per glass and S/. 78-137 per bottle
             Red: S/. 16-24 per glass and S/. 84-126 per bottle
     Sparkling:  S/. 29 per glass and S/. 161 per bottle
Comments
comments