At Qincha, not only can you eat fabulously while enjoying an ocean-side ambiance, but you might also find yourself dancing till you drop. This big two-floor locale may be better known as a fun gathering place, but it's also an incredible place to eat.
Qincha serves contemporary Peruvian cuisine with dishes from all three of the country's main regions: the coast, the Andes and the jungle. The diversity of Peru is also reflected in the restaurant's decor. You'll find vibrantly colored bulls of Pucará (also serving as telephone chargers), beautiful tapestries from Ayacucho, qincha mud walls, colorful inter-twinned yunza strips hanging from the roof, paiche (an Amazonian fish) scales framing a large mirror, and my favorite: the stunning colorful quipus just above the bar, created by artist Pancho Basurco, that are so beautiful to watch.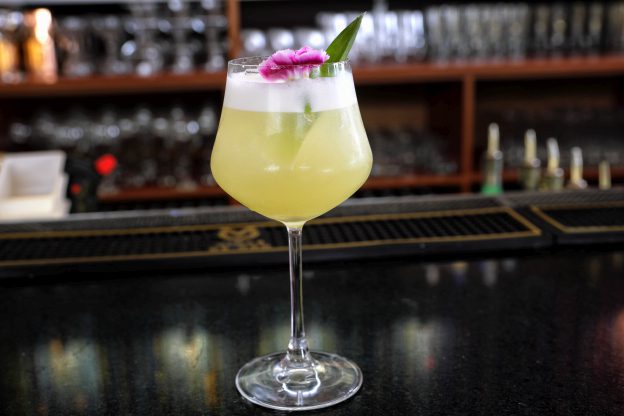 Allured by this beautiful artwork, we approached the bar and ordered a San Pancho (s./28), a pisco-based cocktail. It was a joy to watch the bartender grab a glass, turn it upside down, drop in some palo santo wood pieces, and set them on fire. In another flask, he prepared the cocktail with pisco, pineapple, sugar syrup, before finally pouring it into the smoky glass. The result: a smooth, sweet, pleasantly tasting punch.
We also tried the El Hada y el Conde (s./28), a rather bitter cocktail with Negroni, Bombay Gin, Campari, Cinzano Rosso, and apple Absynthia. The absynthia flavors came out quite strongly, giving the cocktail a unique taste. The team's favorite was the Charapita Mule (s./18 ), a non-alcoholic beverage with passion fruit, golden berry, ginger beer, charapita hot pepper, and fresh mint leaves. This drink was refreshing to the fullest and packed with flavor. Delicious, indeed! While we enjoyed the mule with one hand, with the other, we dished crunchy toasted paprika chickpeas to our mouths; a delicious table snack indeed. They were so addictive, that we forgot to leave space for our main courses.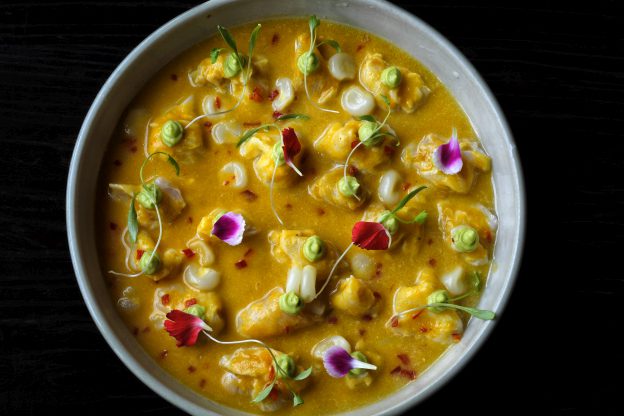 Our first dish was the Tiradito Barranquino (s./35), several pieces of rolled fish, bathed in tumbo (a fruit from the Amazon), ginger, and yellow chili pepper that was simply mouthwatering. It was slightly spicy but still fantastic. We then tried the Causa Regional (s./36), a dish consisting of three types of causas, each representing a region of Peru. For the coast, it was crab and avocado; for the Andes, a spicy shrimp bathed in an Andean sauce; and for the jungle, it was paiche, cocona and charapita hot chilli pepper. The texture and flavors of each of the causas were impeccable; however, my favorite was the jungle variety. It had an amazing touch of sweetness, acidity, and spiciness.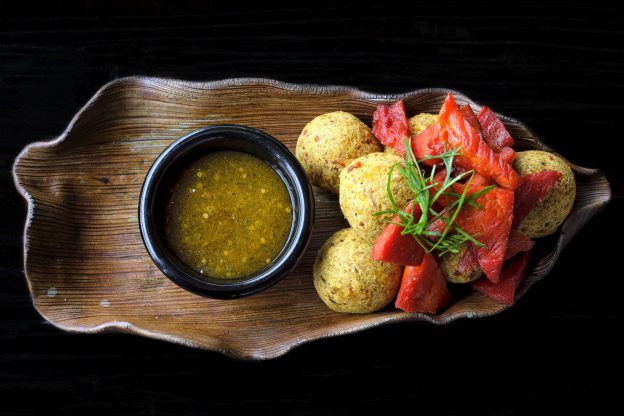 In the Tapas Peruanas section of the menu, we found a few interesting dishes. We had the Tartar Limeño (s./28), which was basically warm sangresita (cooked cow's blood) with Andean spices and potato-based toasts on the side. It was a warm dish – far from what you would normally expect from a tartar, but it still had a nice flavor. The popular Conchitas del Sur (s./30) were six scallops bathed in a tasty spicy red chili sauce with unique purple-colored cassavas. The Charcoaled octopus and cassava (s./35) was another well-accomplished dish in this section. It consisted of a good sized and nicely cooked octopus with purple cassava, bathed in an Andean huacatay sauce, topped with a juicy chalaquita (finely chopped onions, peppers, and spices), and arugula. To finish off the tapas section of the menu, we tried La Cecina y la Cocona (s./25) consisting of fried pieces of cecina (Amazonian bacon), small tacacho (plantain-based round balls), and a sweet and spicy sauce on the side. The sauce was so remarkable that wanted to take a liter back home with me.
The Cebiche Caliente (s./45) appears on the main dish section of the menu. It consists of fine pieces of fish and shrimps bathed in a beautiful and full of flavor citric sauce and purple fried cassava. The dish was beautifully presented with colorful edible flowers on top, and the flavors were impeccable.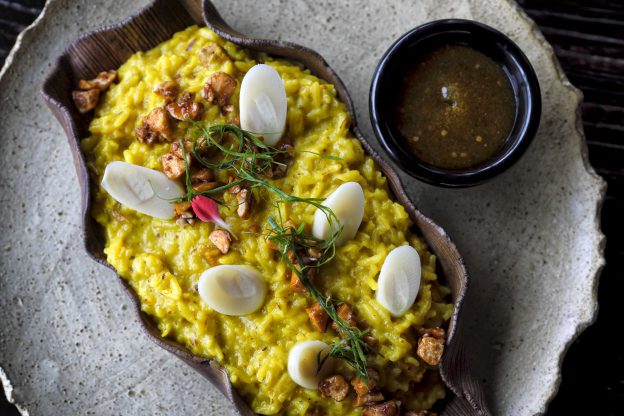 The Arroz Amazónico (s./45) was next. A bijao leave shaped plate contained the turmeric rice with scattered crunchy sweet nuts, heart palms, Amazonian bacon. A powerful spicy sauce was served on the side. From the first spoonful, this dish was one of the table's favorite.
The Asado Oxampapino (s./45) consists of tasty charcoaled meat served with an arracacha (an Andean tuber similar to a white carrot) puree. The meat was tender and tasty. We took notice of the dish's charcoal flavors, and the puree was nice as well.
Our last plate was the Ossobuco Apachamancado (s./45). This is a dish that is big enough to share between two people. The meat comes bathed in abundant huacatay sauce, and a lima beans puree is served on the side. The meat was red on the inside –perfect for my taste, tender, and very tasty while the puree was enjoyable too.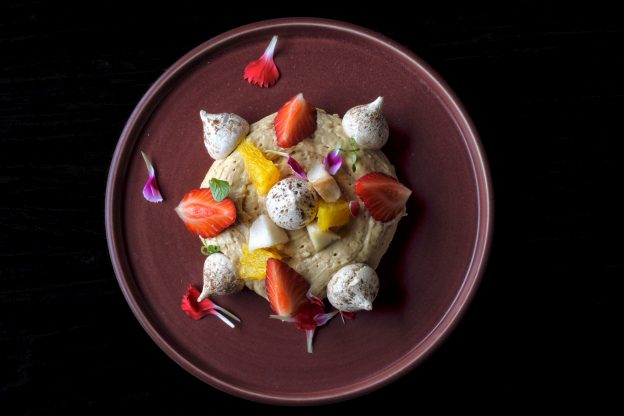 We finished our visit with a Suspiro Cumbe (s./20), a typical Peruvian dessert tending to be overly sweet, but this one wasn't; we enjoyed it all the way. Bits of fresh strawberries and oranges gave this chirimoya (custard apple) merengue dessert a welcoming twist.
Qincha was a huge surprise. Portions are good-sized, nicely presented, and whatever you choose to try, you will enjoy it all the way.
No matter what day you come, Qincha has something for you. On Wednesday evenings starting at 6 pm, they have an 'all you can eat wings' with live rock bands; on Thursdays, live salsa bands play tunes into the wee hours of the hight. If you are not a salsa-lover, you can always come for the Pachangas on Fridays and Saturdays to dance to the beat of the DJ. On Sundays, they have marinera (a traditional dance in the coast of Peru) classes starting at 12.30, and Salsunset at 17.00. For 15 soles you get a Korona beer, and can dance salsa until the sun goes down or your feet can't take it anymore. With so much to do, see and try, you simply cannot miss Qincha.
Qincha Bar, Resto, Art
Boulevard Bordemar, Costa Verde, Barranco
reservas@qincha.pe,
Tel. 963 805 736
Opening hours–Tuesday-Wednesday 12.30 – 1.00, Thursday -Saturday 12.30 -3.00, Sundays 12.30 -11.00
Menu
Beers – s./ 13 -20
Cocktails – s./ 28 -32
Refreshments – s./ 10
Tapas and starters – s./25 – 37
Main dishes – s./ 35 – 48
Desserts – s./ 15-23
Comments
comments