Located on the quaint street of Domeyer in Barranco, you'll find a gem of a restaurant, named Siete. If you make a visit inside of this unassuming pink-hued building, you'll encounter simple, yet sophisticated food treasures
. The menu features contemporary cuisine with Peruvian flavors and Mediterranean touches, and much more. 
Newly opened, and run by the best
Having just recently opened, Siete is already enjoying a steady stream of customers and growing popularity. The restaurant is run by the very respected and capable Ricardo Martíns, protege and long-time associate of Rafael Osterling (most recently head chef at Felix Brasserie and chef at Rafael). This is Ricardo's intensely personal restaurant venture, but there are also other partners involved.
The restaurant decor
The vibe inside is cool without being pretentious. The decor has a rustic and chic sophistication, with lots of elements of nature (wood and stone just to mention a couple). Decorations are kept to a minimum, and there are plants throughout. Natural light pours into the front windows. The high ceilings are amazing, and the bar area is quite dramatic. I've also heard that during the evening hours the vibe is sexy and romantic with the lighting and candles.
Cocktails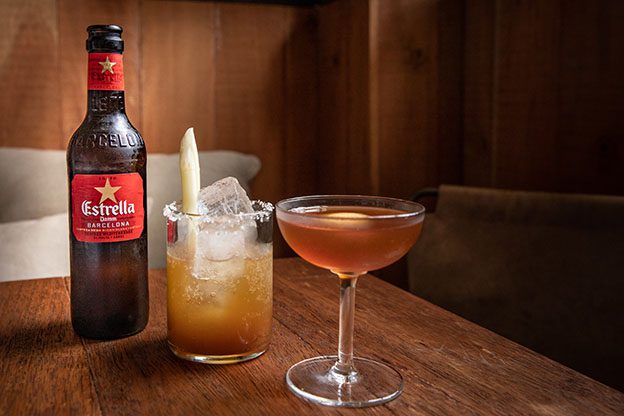 We commenced with a couple of Siete's house cocktails, the "Billy the Kid" and "Michelle". The three of us were surprised that we enjoyed "Billy the Kid" (S/. 25), which arrived in a vintage short champagne-style glass with a concoction of Wild Turkey (bourbon), Cinzano Rosso, Cynar (an artichoke liqueur), grapefruit juice, and bitters with a generous slice of orange peel resting on top. It was quite smooth and delicious.
The "Michelle" (S/. 22), was a take on the Michelada (typically a combination of beer, lime juice, assorted sauces, spices, and peppers). There are numerous variations of this cocktail and optional ingredients such as Worcestershire sauce and Clamato juice. It is also a folk remedy for hangovers. At times it can taste like a Bloody Mary mixed with beer. It sounds like a strange combination, but I enjoy them. I was the only one that truly enjoyed it. Siete's version arrived at our table in a salt-rimmed glass filled with ice and filled with leche de tigre and Worcestershire sauce. A bottle of Estrella Damm Beer (from Barcelona, Spain) is gradually poured into the glass. After a few sips, you continue to add more of the beer. This was an enjoyable concoction for me.
A varying menu and special set-dishes
The menu had 24 options on the day that we visited. At least a couple of the dishes change daily, depending on the availability of products and seasonality.
Main dishes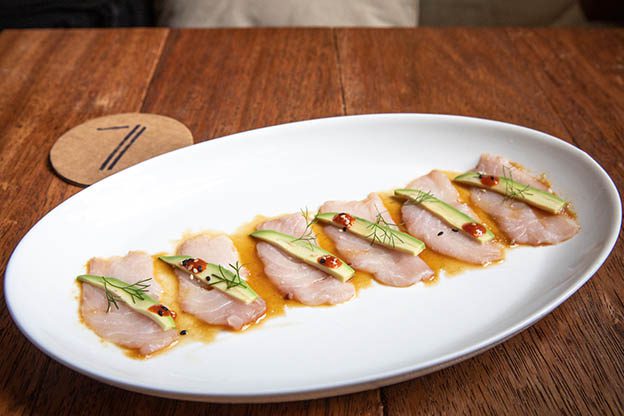 We began with the Tiradito de Pesca del Día, Palta "Hot Bean" Coreano, a surprisingly incredible well-balanced dish. The fish of the day used in this tiradito was fortuno (amber jack) along with whisper-thin slices of avocado placed on top of the fish. A concentrated dab of a wonderful fermented Korean chili bean sauce was placed on top of the avocado as well as a light touch of coriander leaves. This starter comes with 6 slices, and if you don't want to share, I would recommend ordering your own individual order.
Next up was the Boquerón de Pejerrey, Palta & Tomaca (S/. 24), a wonderfully simple, yet satisfying dish. The pejerrey (silvery silversides) were marinated in vinegar and olive oil and served in a tin. The wooden board held several slices of lightly grilled and toasted focaccia, thin slices of avocado, chopped tomatoes and a light homemade mayo. We assembled our open-faced sandwiches with a smear of mayo on top of a slice of focaccia, followed by the tomatoes and avocado and finally topped off with a couple pejerrey fillets. We all enjoyed the simplicity of this dish and all the components together had well-balanced and distinct flavors.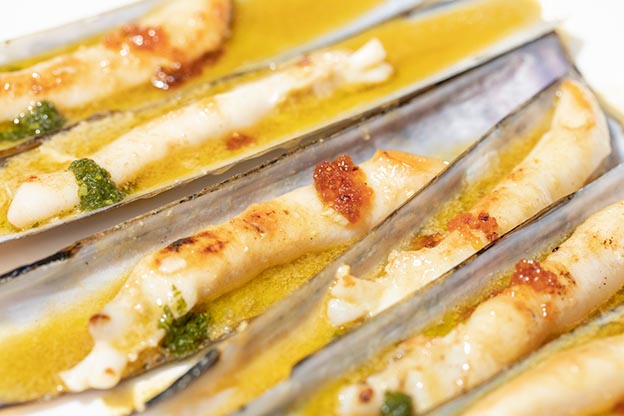 One of our table favorites was the Navajas a la Plancha con Vinagreta de Vongole (S/. 24). The razor clams (navajas) served at Siete were from the Huarmey coastal area, several hundred kilometers north of Lima. The six grilled razor clams arrived in their shells and were lightly drizzled with a vinaigrette with clams and a fantastic Italian olive oil, hot Korean bean paste and a dab of pesto. This dish was full of flavor, yet prepared with a delicate touch. This is a "must-try" dish. Practically every table had a platter of these.
We moved on to a lighter dish from the vegetable section on their menu, Ensalada de Kale, Pecorino, & Jalapeño (S/. 28). At first glance, it just looks like a normal kale salad, but with the addition of ultra-crispy homemade breadcrumbs and razor-thin slices of pickled jalapeño (which had a slight sweetness), the salad was elevated. The salad was topped off with a generous amount of pecorino cheese ribbons and dressed with a homemade lighter version of Caesar dressing. This salad is satisfying enough for one person or two people to share.
We sampled the Pesca del Día Entera Fileteada al Curry Atigrado, Cocona, Aji Amarillo y Platano. The cabrilla fish fillet was cooked to perfection and had a wonderful robust curry sauce, but we were less enamored with this dish because we felt there was too much salt for our liking. It was edible but would have been much more enjoyable to eat with less salt. A unique touch was the aji amarillo pepper which was filled with a banana mixture and then roasted. The fish and pepper were accompanied by rice.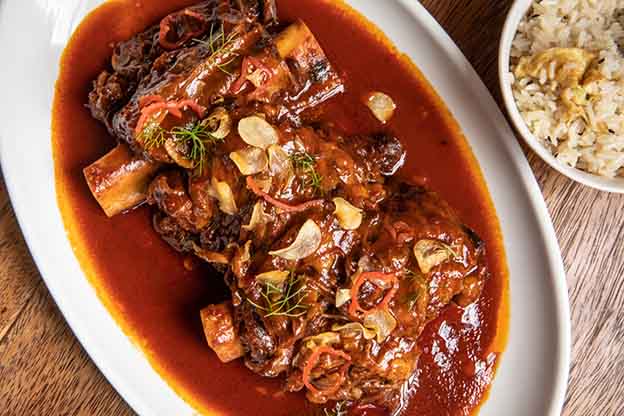 One of the most decadent main dishes at Siete is their Asado de Tira Angus "Faxiao". The platter arrived with just shy of one kilo of meat. The sauce was very rich and incorporated lots of Chinese spices with thin slivers of garlic on top. The menu card states that the dish takes 25 minutes. So worth the wait! The beef was so tender that it was literally falling off the bone. The beef was accompanied by a delicious chaufa-style rice with pieces of scrambled egg and toasted black sesame seeds. And be prepared, it is definitely a dish to share. The price of this dish ranges around 130 soles, but well worth it, especially since this is a dish meant to be shared by at least 2 or 3 people due to its richness.
Desserts
The two desserts we sampled at Siete were incredible. The Tarta de Quesos (S/. 20) is definitely the best cheese tart in Lima, hands down. When the tart arrived at our table it was simple and had no embellishments such as sauce, berries, etc. But after one bite of this tart, I knew the reason why. This tart is a star and stands alone! Our server asked me what cheeses I tasted and I guessed correctly when I mentioned a hint of blue cheese. The tart has Roquefort (very subtle) cheese as well as cream cheese. This was probably one of the creamiest cheese tarts I have had. The texture was great, airy. Not overly sweet. I heard a few moans at our table when we were eating this exquisite dessert.
The equally worthy dessert, Torrija de Brioche & Helado de Cafe (S/. 22), was also a winner at our table. It was similar in texture between French toast and bread pudding. The bread is dipped into a mixture of sugar, milk, and eggs and then quickly cooked in boiling oil. The texture was crunchy on the outside, but soft, yielding and creamy inside. I felt the coffee ice cream complimented the torrija.
Siete is definitely on our list for a return visit. All of our plates and cocktails were well-composed, consistently interesting, and delicious.
Jirón Domeyer 260, Barranco
Phone:  993 504 042
Capacity:  approx. 48-55
Hours:  Tuesday-Thursday: 1:00 pm-4:00 p.m. / 8:00 p.m.-11:00 p.m.
            Friday & Saturday:  1:00 p.m.-4:00 p.m. / 8:00 p.m.-12:00 a.m.
            Sunday: 1:00 p.m.-5:00 p.m.
            CLOSED MONDAY
Raw:  S/. 24-28
Starters/Tapas/Sandwiches:  S/. 24-32
Vegetable dishes:  S/. 26-28
Main plates:  S/. 34-65+
Desserts:  S/. 18-22
House cocktails:  S/. 22-25
Aperitivos:  S/. 16-28
Wines by glass:  S/. 20-24
Wines by bottle:  S/. 94-422
Beer: S/. 14-18
Bottled water:  S/. 7-8
Coffee:  S/. 7-12
Comments
comments