The vegan restaurant Veda opened their doors in April of 2017. The cuisine here is inspired by Ayurveda. 
Ayurvedic medicine is one of the world's oldest holistic ("whole-body") healing systems. It was developed more than 3,000 years ago in India. It's based on the belief that health and wellness depend on a delicate balance between the mind, body, and spirit. Its main goal is to promote good health, not fight disease. But treatments may be geared toward specific health problems.
The cuisine at Veda honors the Ayurveda practices as well and the dishes are also free of gluten, dairy, and sugar. There is no use of animal-based products. Sugar is not used, not even honey. They use stevia, natural fruit or cane juice. I was shocked to learn that Veda also does not incorporate garlic or onion in any of their food. The reason being, in the practice of Ayurveda they believe that garlic and onion lessen your vital strength. They believe that garlic and onion are pungent foods that increase heat and bile in the body among other beliefs.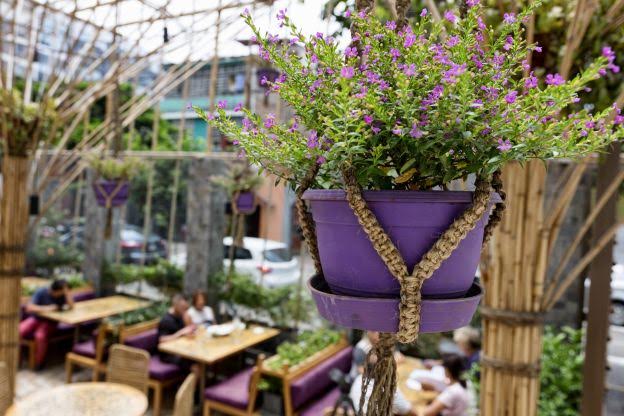 The Interior
The decor at Veda is simple and comfortable. Natural elements are evident everywhere as you enter the premises. The immense front door is comprised of bamboo. A theme of calming purple can be found in the airy outdoor patio seating area. Purple heather plants were suspended in purple pots from the open roof structure and purple cushions on the benches in the booths. The comfortable high-backed chairs were made of natural fibers similar to wicker. Stones, plants, and bamboo were incorporated into the decor. There is plenty of seating outside as well as inside. The premises inside have an excellent air conditioning system for the hotter days as well as two semi-private rooms available for private groups or meetings inside.
The Starters
The first thing I checked out at Veda was their salad bar which included a fresh assortment of approximately 13 items, typically one protein, one carbohydrate, various vegetables, fruits, and seeds. The ingredients change often. Veda offers two excellent salad dressings. The salad bar offers two sizes (small plate, S/. 10 and large plate, S/. 19).
Our first dish at Veda was a starter, Causa Noble (S/. 11). The presentation was beautiful. They used yellow potatoes which were mashed and filled with mushrooms and a variety of mixed vegetables. The top of the causa was decorated with cubes of avocado, black olives, and delicate pieces of potato "paper". A flavorful and vibrant rocoto sauce was served with the causa which elevated the dish.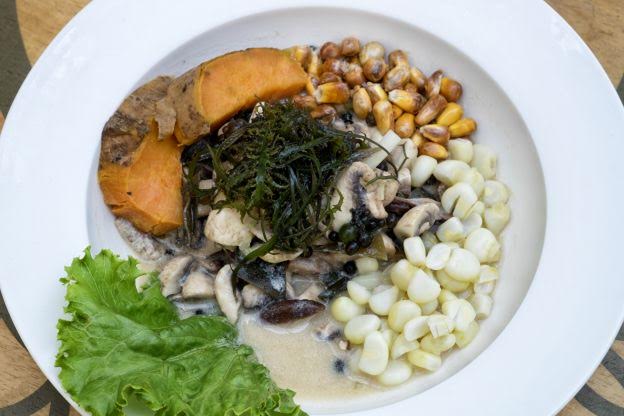 The Ceviche de Champignons y Algas (S/. 19) was a pleasant surprise. An assortment of button and shiitake mushrooms along with a variety of three algae (including cushuru, referred to as Andean caviar) accompanied by sweet potatoes, Peruvian corn (choclo), vegetable-based leche de tigre, and canchita (toasted corn). I will definitely return to Veda for this dish which was both satisfying and delicious.
The Drinks
Besides the food, we sampled several beverages. We shared a couple of Kombuchas. This fermented beverage has been around for centuries, especially in Asia. It has become popular and trendy all over the world due to their supposed health benefits including being rich in probiotics and antioxidants. Kombuchas are typically prepared by adding a culture of bacteria and yeast to a solution of tea, fruit juice, or other flavorings. The Kombuchas served at Veda are a special artisanal unpasteurized production and are served the same week they are prepared.
We shared two flavors at Veda….the passion fruit and the strawberry. These Kombuchas were acidic and slightly effervescent and had a sweet and tart flavor. If you enjoy fermented beverages you may like kombucha. It's definitely an acquired taste.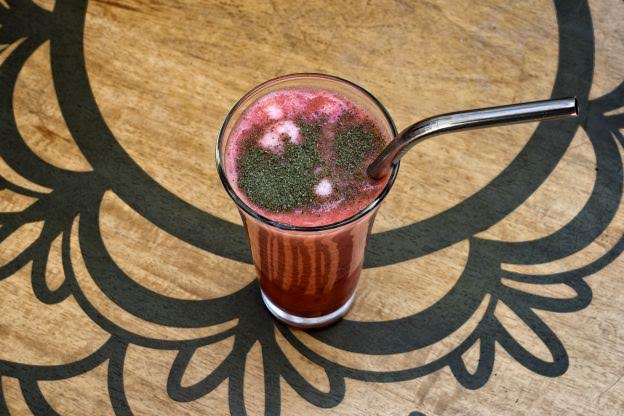 We also enjoyed one of Veda's non-alcoholic cocktails, Osadía (S/. 21), a blended combination of strawberries, camu-camu (from Pucallpa), pink grapefruit (from Tingo Maria), dehydrated blueberries, and lime with a liberal dusting of oregano on top which you stir into the mixture. This was my favorite beverage.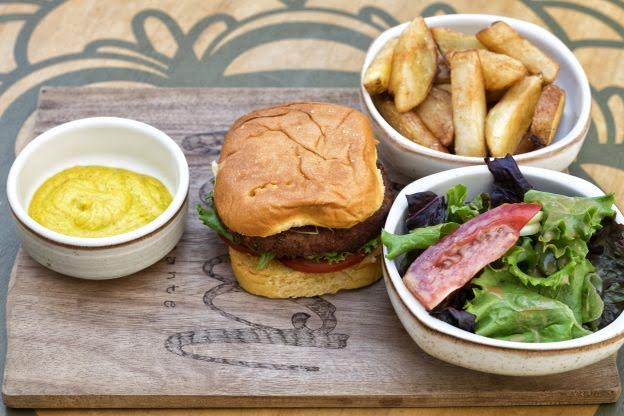 The Main Dishes
The Hamburguesa de Quinoa en Pan de Camote (S/. 19) was a generous patty composed of quinoa and a mixture of vegetables served on a sweet potato bun with lettuce and tomato. Ours was accompanied by fried potato wedges (we felt they could have been crispier), a small tossed salad and an excellent house aji sauce for dipping. This was quite delicious and a great value for 19 soles. The quinoa burger comes with your choice of two sides (zucchini rings, fried potatoes, dehydrated potatoes, or salad).
Many diners were ordering the pizzas so we were curious to try one. We opted for the Margarita (S/. 29)…a generous amount of sliced fresh tomatoes and basil along with a cashew "cheese" (vegan substitute for regular cheese) and the crust was prepared using yuca, almonds, and fermented yuca flour. This imparted a very crispy dough which I personally enjoyed.
Every Wednesday evening beginning at 7:00 p.m. is "All You Can Eat Pizza" for 39 soles.
Besides the dishes we sampled above, we also enjoyed Veda's version of Papa a la Huancaina (S/. 10). Yungay potatoes and white potatoes were used and an original sauce prepared using aji amarillo, almond milk and vegetable-based cheese did not disappoint. The cheese and dairy fanatic in me enjoyed this dish even though it did not use fresh cheese and evaporated milk (as in the traditional recipe). Finally, the Chaufa Oriental (S/. 20) was decent, but not my favorite of the dishes we sampled. We found it to be a bit lackluster and bland for us.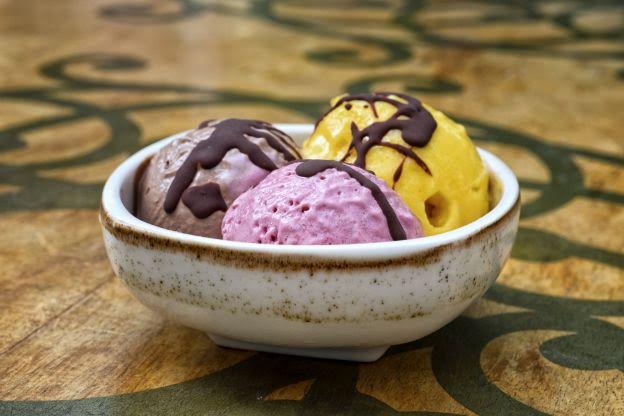 The Dessert
Our dining adventure at Veda ended with an assortment of three flavors of their homemade ice creams. All were prepared without sugar, preservatives or dairy. The chocolate flavor was our table favorite, prepared with 60% cacao, a cashew "cream" and sunflower seeds. It was intense and creamy (even though no real dairy products were used). I'm still dreaming about returning for this chocolate ice cream. The strawberry and mango flavors were refreshing and crisp, but the chocolate was the star. One scoop for 7 soles and two scoops for 12 soles.
What We Thought Overall
The day of our visit Veda was totally full with both tourists and Peruvians as well as obvious repeat customers. It's no wonder since the service here at Veda is courteous and friendly. I felt a good vibe from this place and departed feeling satisfied and full of energy. The dairy fanatic in me realized I can enjoy food without eating a bounty of butter, creams, and cheeses. There are plenty of alternatives out there.
Veda practices what they preach: "Honrar el alimento es honrar el cuerpo, y honrar el cuerpo es honrar el alma." When you honor the food you honor the body, and honoring the body honors the soul.
Bonus
Veda offers daily lunch specials (Monday through Friday) which includes soup or the small salad bar and the main dish of that particular day for 27 soles. They also offer combinations of the day for a special price. Veda has a small store inside which sells a small selection of organic, gluten-free, sugar-free products and other items.
Veda
Calle Schell 630, Miraflores
Phone: 719-4174
Hours: Monday-Saturday: 12:00 p.m.-4:00 p.m. and 7:00 p.m.-10:00 p.m.
Sunday: 12:00 p.m.-4:00 p.m.
[email protected]
Facebook
Reservations accepted for more than 8+ people
Air conditioning
Capacity: 70 people
Starters: S/. 10-19
Main dishes: S/. 19-21
Salad Bar (small & large plates): S/. 10-19
Pizzas: S/. 29-32
Side dishes: S/. 5
Desserts: S/. 5-15
Ice cream: S/. 7-12
Kombuchas Veda: S/. 10-20
Smoothies, etc: S/. 7-16
Non-alcoholic cocktails: S/. 13-21
Water: S/. 5
Refreshment of the day: S/. 3
Coffee/Tea/Infusion: S/. 6-10
Teapot infusions: S/. 9-11
Daily lunch (Almuerzo Veda) specials: S/. 27
Combinations of the day: small salad bar + 1 scoop ice cream S/. 15
Almuerzo Veda + 1 scoop ice cream: S/. 32
Now that you're here:
We're asking you, our reader, to make a contribution in support of our digital guide in order to keep informing, updating and inspiring people to visit Peru. Why now? In our near 20-year journey as the leading English-language source on travel in Peru, we've had our fair share of ups and downs-but nothing quite like the challenges brought forth in the first quarter of 2020.
By adapting to the changing face of the tourism and travel industry (on both local and international levels), we have no doubt we will come out stronger-especially with the support of our community. Because you will travel again, and we will be ready to show you the best of Peru.
Your financial support means we can keep sharing the best of Peru through high-quality stories, videos and insights provided by our dedicated team of contributors and editors based in Peru. And of course, We are here to answer your questions and help whenever you need us.
As well, it makes possible our commitment to support local and small businesses that make your visit an unforgettable one. Your support will help the people working in these industries get back on their feet once the world allows us to make our dream of enjoying everything Peru has to offer a reality again-from its mouthwatering gastronomy, thriving Amazon and archaeological wonders such as Machu Picchu.
Together, we will find a way through this. As a member of our community, your contribution, however big or small, is valuable.
Support Traveling & Living in Peru from as little as $1 - and it only takes a minute. Thank you!