Art, food, architecture, and ancient plazas. These are a writer's impressions and insights while visiting Cusco, Peru, the heart of the Inca empire.
Visiting Cusco makes one thing clear: it can get cold. Even in the summer months between November and March, the temperature does not reach more than 15 or 16 degrees Celsius.
Acclimating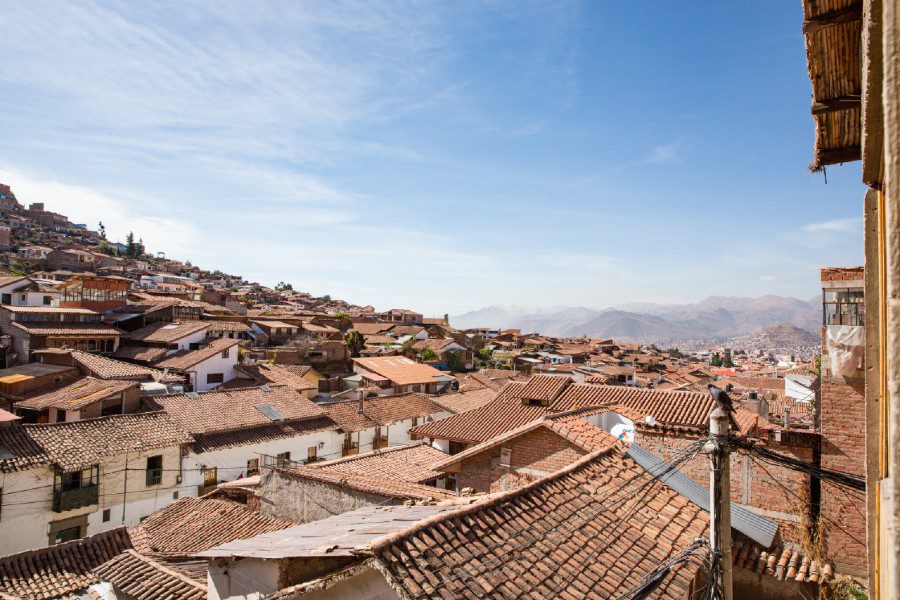 And yes, the ancient capital of the Incas lies high. So high that most Europeans have to get used to the thin air slowly. For this, coca leaf tea helps a little against the headache and fever at over 3,400 meters.
If you want to travel to Machu Picchu on an early train, it might be a good idea to bring something to combat altitude sickness.
This is why it is not uncommon to encounter ambulatory traders move up and down the rail cars with oxygen bottles to give the suffering palefaces an emergency ration of oxygen.
The old town of Cusco preserves its colonial charm
Thick cobblestones, narrow streets, and old buildings characterize this urban center.
You can take a stroll down Hatunrumiyoc street to admire the wall from an old Inca palace. Huge stones, some with ten or more corners, are seamlessly interlocked.
An architectural puzzle, like the whole hidden Inca city of Machu Picchu, which was built on this principle because the Inca knew neither mortar nor the wheel to transport these stones.
We stayed in a spacious hotel complex in the center, which must have been a monastery in the past. There are spacious rooms grouped around a rectangular patio with green plants and trees. From our monastery hotel, right in the heart of the city, Cusco was available to be wonderfully explored.
Eating in Cusco
If one enters one of the numerous Picanterías and Chicherías, simple restaurants and bars, you might feel as if the clock has suddenly been set 50, or even 100, years back in time.
You do not notice the achievements of modern civilization, and if you do, then the fridge hums, the heating system rattles, and the light shakes, as if all this had just been invented.
The dishes in Cusco are barren highland meals, hearty stews, or potato dishes with spicy sauces. Sensitive minds may want to avoid cuy, which is guinea pig, or alpaca (similar to a llama) meat.
Visit Cusco's Plaza de Armas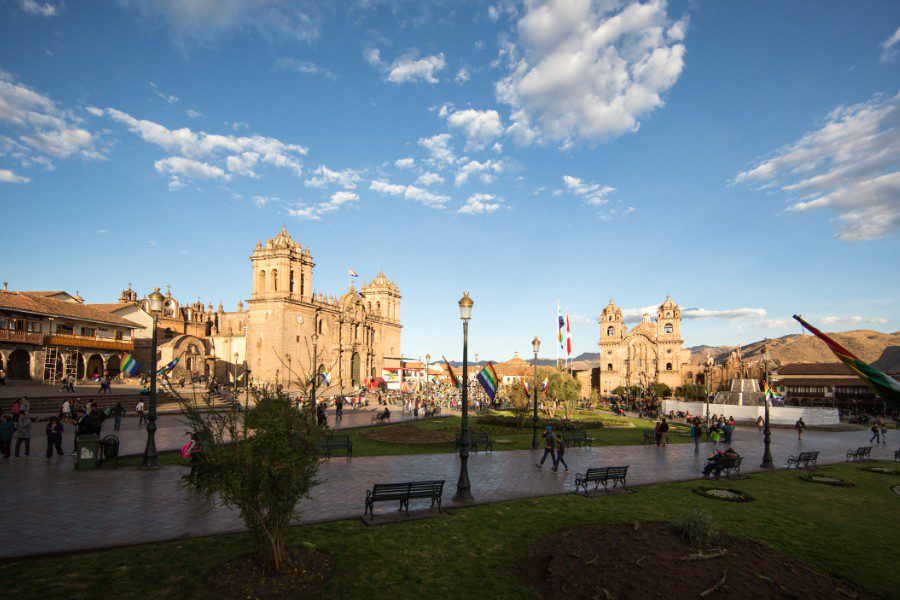 The most beautiful area of ​​Cusco is located around the main square: the Plaza de Armas. And on Cusco's military square stands the Jesuit Church of La Compañía de Jesús.
In the Plaza de Armas, you can sit on a bench and watch the normal city rhythms. A shoe shiner may approach and ask to clean your shoes, musicians make music, and the beggars go about their daily work.
The flying traders offer everything from alpaca blankets and cutlery to Chinese miracle water for back pain and impotence. It seems that time has stopped here in the heart of the Incan Peru.
When visiting Cusco, Peru, you'll also notice the vibrancy and liveness of traditional art. You'll see pictorial advertisements on clothes, tapestries with indigenous motifs, and rural peasant paintings.
We bought a colorful tapestry depicting the Plaza de Armas from the Peruvian painter Amaya. Somewhat too dark, but still retaining the joie de vivre and dignity of the inhabitants with their rich tradition and culture.
Do you want to explore more about the world's strangest and most fascinating destinations? Do you want to read more about my decades of experiences while traveling the world? Then maybe you're interested in checking out my blog Notes and Notes from the Road.
This article previously appeared on "Notes and Notes from the Road," and you can read it here.
This article has been revised and updated from its original publication on July 2, 2019.
Cover photo: AmaraPhotos.com