Chachapoyas and its surrounding natural and manmade wonders deserve an extended visit. This mother-daughter duo had a trip of a lifetime visiting Peru's high jungle.
Anouk is my 13-year-old daughter, who I can say is an expert traveler like her mother. We've traveled together since she was 8 months old, and we love every moment together.
In July of last year, we decided to make a weeklong trip to Chachapoyas, in the department of Amazonas, to visit the fortified citadel of Kuélap and Gocta waterfalls. Both are essential for anyone traveling to the region, but to our surprise, we found out there is much more than those two wonders. Had we known, we would've stayed more days, it really is worth it!
From Lima to Chachapoyas
We took a LATAM flight from Lima to the city of Jaén. From there, you can take a bus to Chachapoyas, the trip takes about 3 and a half hours. There are also combis, buses and private taxis that will take you. It all depends on your pockets.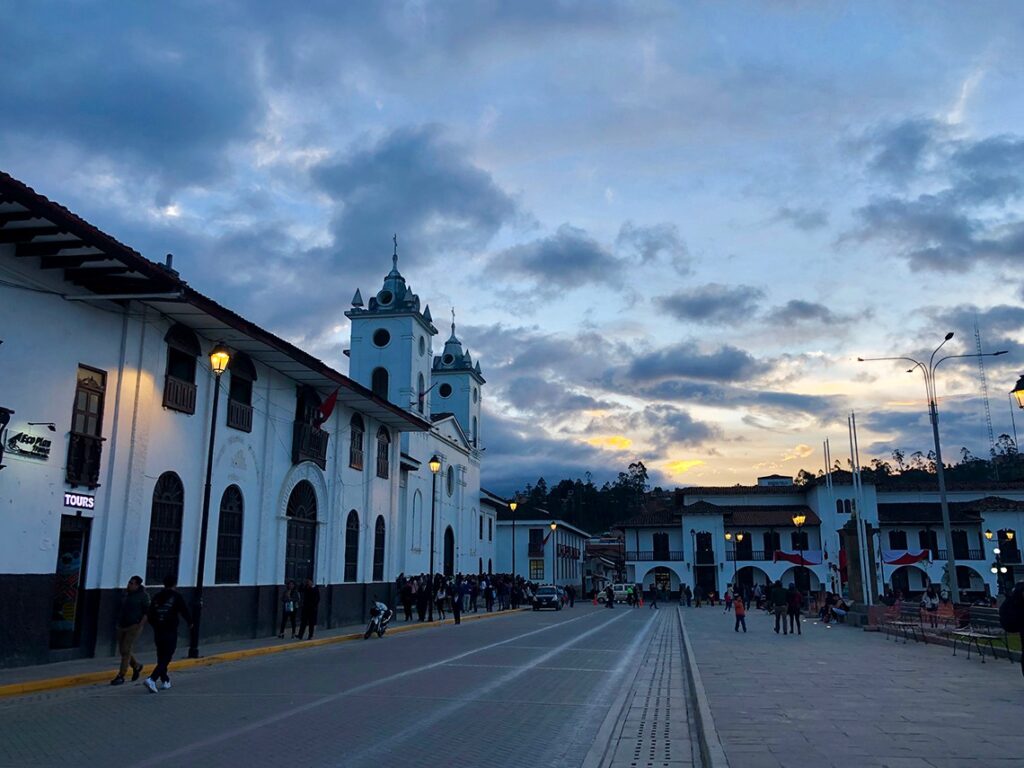 The city of Chachapoyas itself is gorgeous, we enjoyed it to the fullest on day 4 of our trip. Its streets, which felt like those of Cusco, dazzled us. The town is well cared for and has gone through recent renovations. And to top it off, you can eat really well in the city. El Batán del Tayta and La Real Cecina are two restaurants to write down on your list. You must try tacacho with cecina and the guinea pig. Juices here are also a delight. My favorite is with cocona, a citric fruit native of the Amazon.
Booking tours in Chachapoyas
We hired different tours for each day and destination at reasonable prices (between S/ 80 – S/120). We booked the trip to Kuélap for our first day, Gocta on our second, and Revash and Leymebamba Museum on our fourth (we took day 3 off).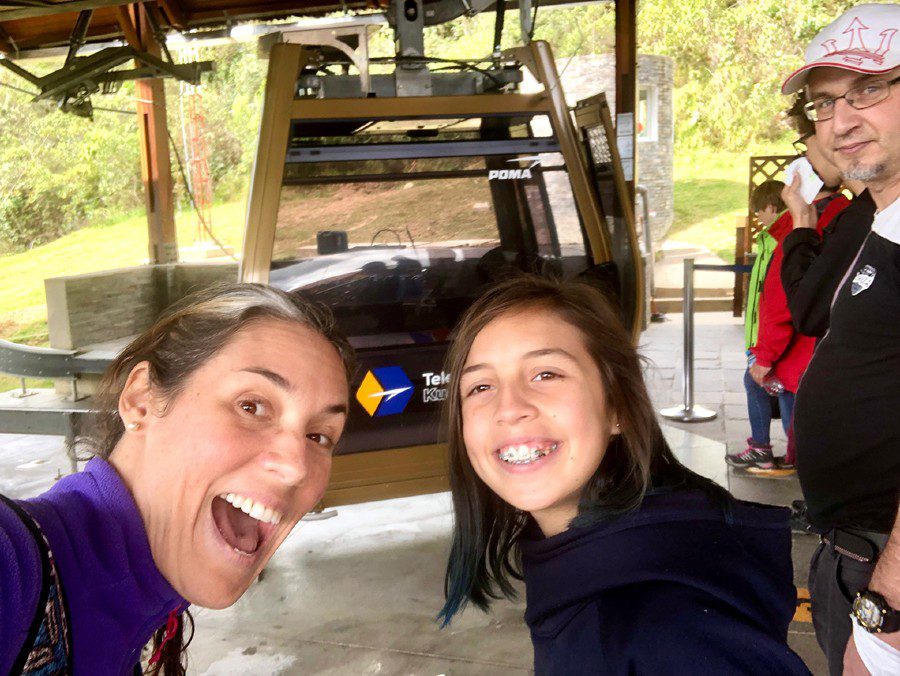 Something to consider once you decide to travel is the altitude, 2,483 masl. I expected the heat of the jungle, but in truth the climate corresponds to the high jungle, ceja de selva, so it is colder. It's almost like in the mountains: sun and heat during the day, chilly at night. We went in July which is a dry season, so no rain.
Another subject to contemplate are the many curves you'll encounter en route. Though a beautiful journey, to cross the mountains you go on twisted roads and the curves can be terrible for those who suffer from dizziness. I suggest you drink coca tea or chew on lemon candy. Avoiding cell phone use for car sickness is also recommended.
Visiting Kuelap
It's between 1 and 1.5 hours by car from Chachapoyas city to Nuevo Tingo, where you access the cable cars that take you to the Kuélap fortress. The cable car ride is 4 kilometers, you hop on and ride it for 20 minutes. It's an amazing experience that children will surely enjoy. If you suffer from vertigo, there are other ways to get to Kuelap.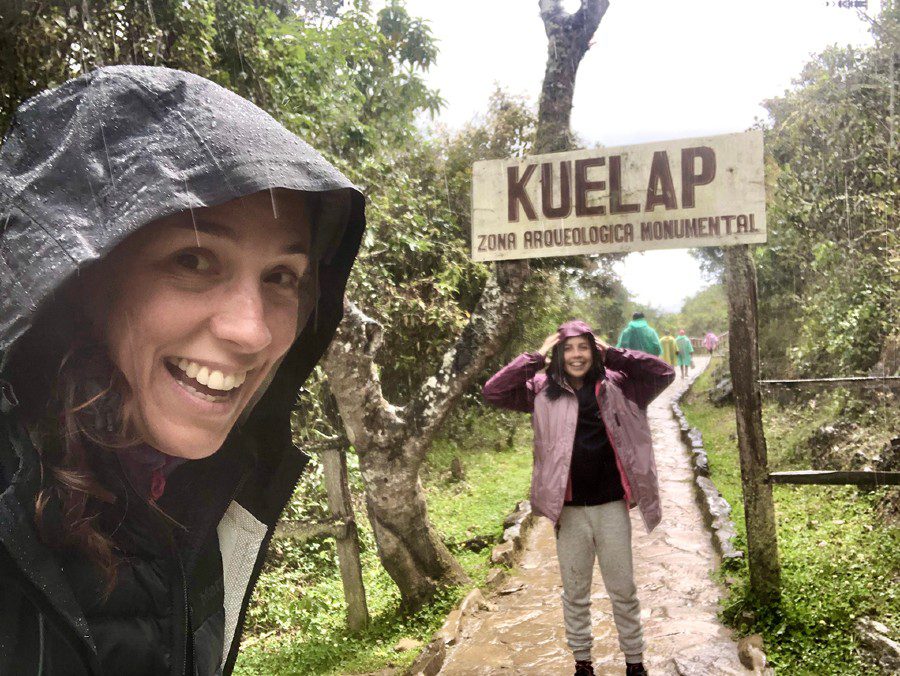 Once at the base of the citadel, the walk up is only 20 minutes. This is when an absolutely fascinating tour begins. The walls impress; the houses built with batanes (stones) and the water channeling systems, impress. And the ossuaries. It's fascinating to learn how the Chachapoyas culture led such an organized life in a remote place.
Visiting Gocta
On day two, our day started early to head to Gocta, the third highest waterfall in Peru, and number 15 in the world. Remember to take a raincoat because you will definitely get wet. First you will reach the town of Cocachimba, and from there, you must access the falls either by foot or horseback.
The walk to the falls takes about 2 hours. Heading there is relatively simple because it's downhill. But the return can be a little tiring. What we did was walk one way and do part of the journey back on horseback (took one hour and forty minutes). We absolutely loved the experience.
Visiting Revash and Leymebamba
Revash

Leymebamba Museum
I must admit that after two full days of tours, on day 3 we dedicated our time to resting. We don't usually do that. In fact, we always spend walking and walking without stopping. But the truth is that our visit to Chachapoyas exhausted us and we liked the idea of ​​recharging to return to the fray with what we had planned for day 4.
We then visited Revash and the Leymebamba Museum (which are done on the same day). What beautiful places; both are a must when visiting Chachapoyas. Revash is a funerary complex comprised of impressive cliff-side mausoleums. It's estimated that they are from the 14th century. The museum is just as impressive: it is well preserved, clean and very informative. It was built to house and preserve the mummies and other archaeological materials found in the Laguna de los Cóndores. Don't miss out on going to the cute cafe next to the museum which is full of hummingbirds.
All photos: Cristina Moragues
To discover more of Cristina and Anouk's travel adventures, visit Cristina's Facebook and Instagram pages.
Now that you're here:
We're asking you, our reader, to make a contribution in support of our digital guide in order to keep informing, updating and inspiring people to visit Peru. Why now? In our near 20-year journey as the leading English-language source on travel in Peru, we've had our fair share of ups and downs-but nothing quite like the challenges brought forth in the first quarter of 2020.
By adapting to the changing face of the tourism and travel industry (on both local and international levels), we have no doubt we will come out stronger-especially with the support of our community. Because you will travel again, and we will be ready to show you the best of Peru.
Your financial support means we can keep sharing the best of Peru through high-quality stories, videos and insights provided by our dedicated team of contributors and editors based in Peru. And of course, We are here to answer your questions and help whenever you need us.
As well, it makes possible our commitment to support local and small businesses that make your visit an unforgettable one. Your support will help the people working in these industries get back on their feet once the world allows us to make our dream of enjoying everything Peru has to offer a reality again-from its mouthwatering gastronomy, thriving Amazon and archaeological wonders such as Machu Picchu.
Together, we will find a way through this. As a member of our community, your contribution, however big or small, is valuable.
Support Traveling & Living in Peru from as little as $1 - and it only takes a minute. Thank you!