Tucked in the cloud forests of northern Peru, Chachapoyas is an otherworldly travel destination. Here's why you should visit Chachapoyas in 2020.
Chachapoyas is the capital of Amazonas, a region in northern Peru that is comparatively unknown to other regions of Peru. Full of magical nature spots and a rich history (dating back to pre-Inca times), Chachapoyas offers tourists plenty to see and do, while feeling completely disconnected from the chaos of modern life. Here are five reasons why you should visit Chachapoyas in 2020.
1. Machu Picchu of the North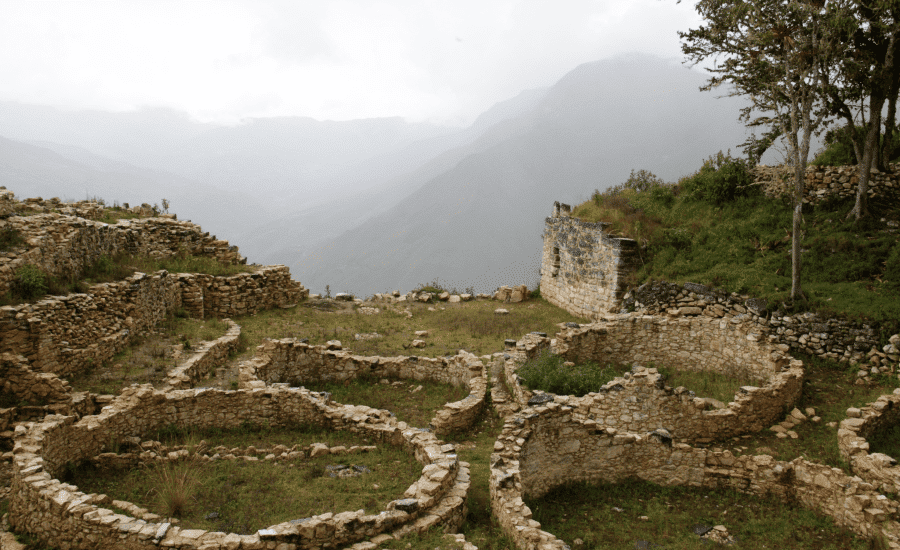 Termed "cloud warriors," the people of the Chachapoya culture were a pre-Inca civilization. In the 10th century they erected the fortress of Kuelap: some 420 cylindrical structures that served as shelter, administrative offices and ritualistic centers. As 3,000 m.a.s.l., this jewel of architecture (or what remains) swims in the cloud forest and has been deemed the Machu Picchu of the North. In 2017, a French-Peruvian consortium built Peru's first cable car leading up to Kuelap, allowing tourists to reach the citadel by way of the village Tingo Viejo in just 20 minutes.
2. Waterfalls Worth Chasing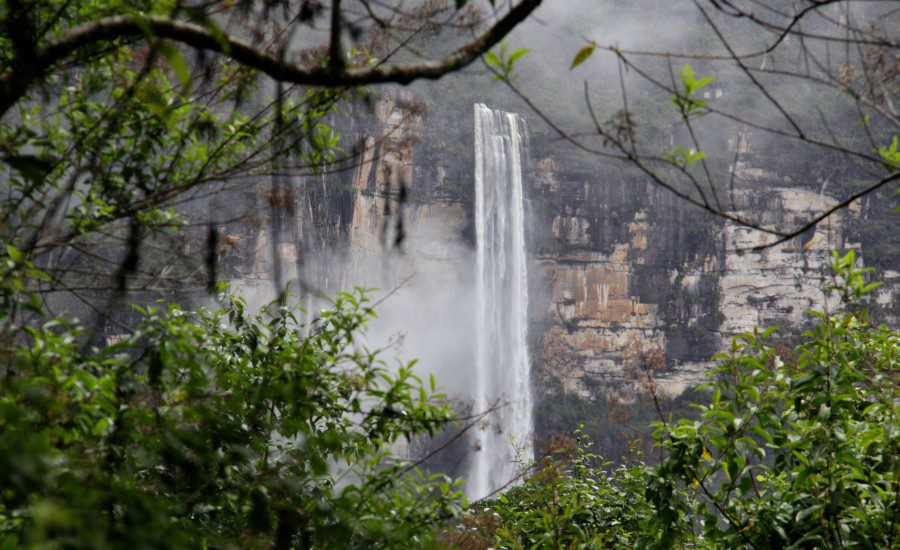 How high would two Eiffel Towers stacked upon one another reach? Just under 2,130 feet—in other words, not even the height of the towering Gocta waterfall (2,530 feet). Though it is regarded as one of the highest in the world, the Gocta falls were not a tourist attraction until 2005, when a German economist stumbled upon it. Located in the town of Cocachimba, the two-tier waterfall can be seen from miles away. But you'll want to do the 5 km hike (albeit slippery and steep) in order to fully appreciate its immensity.
If seeing Gocta has wet your appetite for waterfalls, check out Yumbilla. This lesser known waterfall is about 1.5 hours outside of Chachapoyas and can be reached by a two-hour (and well marked) hike.
3. Cliffside Funeral Tombs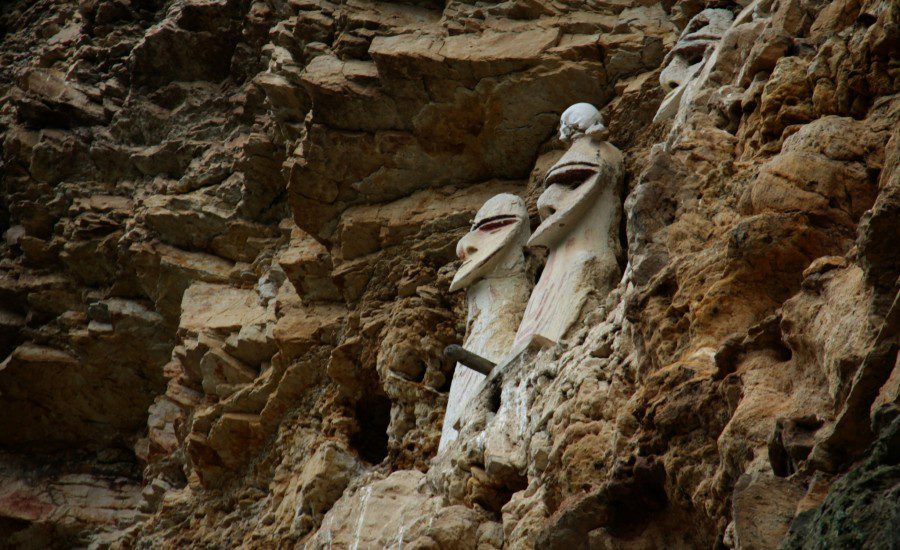 Tombs are typically located inside or beneath religious centers, but the Chachapoyas culture isn't remembered as typical. Located in the Luya Province (60 km southeast from Chachapoyas), the six stone coffins known as Sarcophagi of Karajia are perched high on a limestone cliff side. These figures are a sight to see, with their over-sized heads and jawlines and embellished features (miniature skulls, horns and antlers).
Discovered as recently as 1984, the "purunmachos" (as referred to by locals), a view of the anthropomorphous can be had via a downhill hike or horseback ride. From Gocta falls, the drive to the starting point of the hike down to figures is about 1.5 hours.
4. Charming Colonial Architecture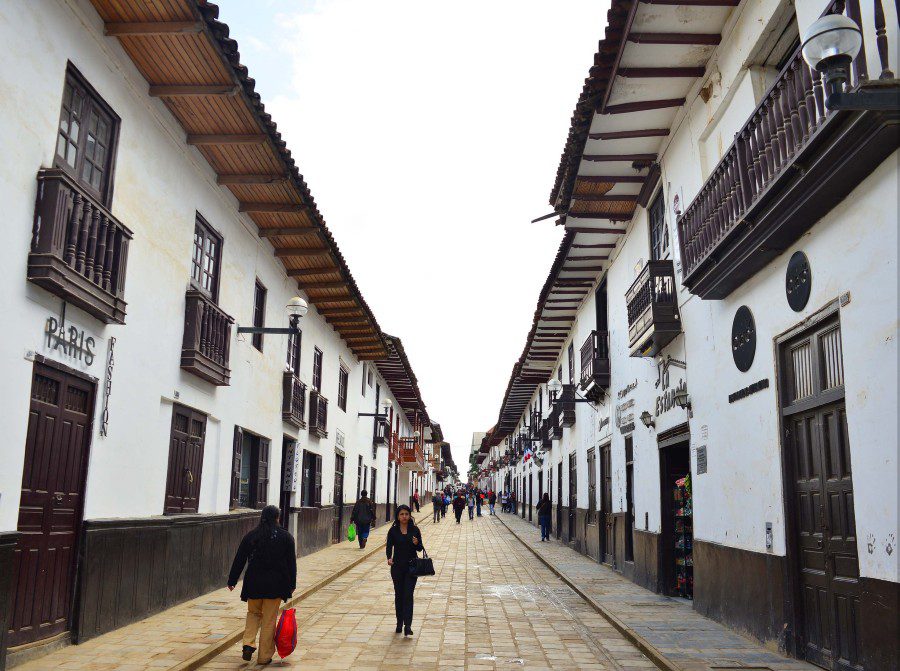 A large water fountain, trimmed gardens and plenty of benches—the Plaza de Armas of Chachapoyas is where everybody wants to rest in the afternoon sun. Local vendors sell ice cream or mazamorra (milk, rice and purple corn jelly) and life is good. Here you have the Cathedral of Chachapoyas, another testimony of the Spanish history of Chachapoyas.

Close to the Plaza de Armas you can walk up Jr. Amazonas, the pedestrian area of Chachapoyas. This is where you'll find souvenirs and coffee shops, and you can stroll around to admire the colonial house with wooden balconies that give the little town of Chachapoyas its charm.
5. Easier Done Than Said
Did you know that the full name of Chachapoyas is San Juan de la Frontera de los Chachapoyas? It's no wonder the full name didn't stick.
Spanish settlers considered it the frontier of the Chachapoyas region, an area that they had reached by way of Cajamarca. Luckily tourists today can visit Chachapoyas with ease. Direct flights from Lima to Jaen are offered by major airlines such as LATAM. After a 1.5 hour flight, travelers can then take a 3.5 hours drive to reach Chachapoyas.
If time is on your side, a breathtaking road trip from Chiclayo or Tarapoto awaits. From either city, a bus ride will take between 9-10 hours. Enjoy the beautiful and varied landscapes, including deserts, Andean mountains, rice fields, little adobe villages.
If you have not traveled to Chachapoyas yet, you should do so, and do it quickly. It might pass from an untrodden jewel of the north to a prominent travel destination within the next few years!
Sources: Michelin Travel Guide, Amusing Planet, Boundless Roads
Cover photo: Orientalizing/Flickr
This article is an updated version of the original version written by Martina Capel, published on May 10, 2016.