Providing sustainable healthcare to families, the nonprofit DB Peru courageously improves the quality of life for 30 communities in Peru's Amazon.
Diana Bowie, founder of DB Peru, first visited the Napo River area of Peru as a tourist just wanting a "jungle experience" like any other tourist. By her second visit she has developed a strong empathy with the people of the area and a compassionate drive to help the plight of the isolated communities.
Napo River is a tributary of the Amazon in far northern Peru. Living in dense jungle created unique problems like transporting produce to markets along the river without motorized boats. This also isolated the communities from adequate medical treatment. Being of a medical background (a registered nurse , Diana formulated a plan that, in 2002, was the beginning of DP Peru, a nonprofit foundation aiming to provide medical assistance to the isolated communities along the Napo River.
Early projects provided radios to improve communication. Medical assistance and education originally concentrated on women's health but is now family focused and supports 30 communities. 
Medicines and supplies are either donated by private persons or businesses or purchased from the Ministery of Health in Peru.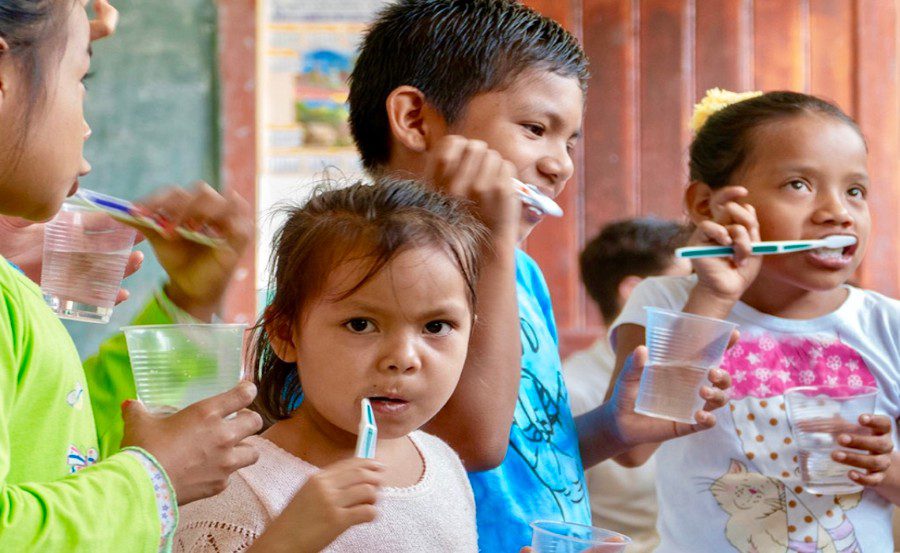 Main Projects
Women's health issues such as breast and cervical cancer checks.
Training local midwives and pre-natal health promotores. Selected local health workers are trained to assist in midwifery and supplied with basic medical requirements where medical staff is not available)
Medical Clinics (run by qualified professional medical volunteers with volunteer assistants)
Palliative care in remote areas is given by trained local assistants
Supplying reading glasses.
Bi-annual dental clinics. Canadian NGO Kindness in Action assists with the bi-annual dental health checks and treatments with children enjoying the dental care education sessions with school age children being given tooth-brushes and fluoride treatments.
Scholarships are awarded each year for education of professional nursing staff to local people who show aptitude.
Volunteers Always Needed
Groups of mature volunteers visit the villages 8-10 times per year. Volunteers needed include all qualified medical professionals: doctors, nurses, mid wives, dentists, etc. But there are also many opportunities for people to contribute in other ways such as helping with childcare for attendees of the medical services or educational activities.
Volunteers do not need to speak Spanish. However this in itself creates yet another vitally important volunteer need to help the smooth running of the clinics: volunteer translators are always needed.
Schedules for visits are published on the DB Peru website:  www.dbperu.org
Construction Project
Construction volunteers are currently needed for an exciting project to assist with building medicine storage huts. Renzo Peña, Vice President and co-founder, is currently supervising construction of the much needed storage huts in several villages. The huts will be built in the Minga way with the community working together for the common good. The timber is sourced from the local rainforest and the cladding is being donated by the sponsor of this project, Altro, a company in England that will test their cladding products in the jungle environment.
Volunteer Accommodation
There is accommodation for 10 volunteers at "The Lodge" near some of the communities and alternate accommodation is available at Explorama Tourist Lodge.
Fundraising
Projects are funded through donations. For example, a grant from World Bank, donations from the women's group Dining for Women and generous corporate donations. DB Peru also relies heavily on donations of medical and daily necessities.
For the last eight years, volunteers in Lima have worked tirelessly for the annual fund raising gala. This has traditionally been hosted at the Lima residences of different ambassadors. This year the gala's hosts were the German ambassador Stefan Herzberg and his wife Sofia.
The grounds of the residence were transformed into a fantasy setting inspired by the blue morpho jungle butterfly for a spectacular evening of wining, dining and dancing for two hundred guests.
Generous donations of raffle prizes and food by local businesses helped ensure added financial success of the evening.
Donations to help support sustainable healthcare in the villages of the Amazon are always gratefully accepted and can be made via the website. Registered with SUNAT, DB Peru is a donor receiving agent, so it can issue a donation certificate that can be presented to SUNAT for income tax discount.
Now that you're here:
We're asking you, our reader, to make a contribution in support of our digital guide in order to keep informing, updating and inspiring people to visit Peru. Why now? In our near 20-year journey as the leading English-language source on travel in Peru, we've had our fair share of ups and downs-but nothing quite like the challenges brought forth in the first quarter of 2020.
By adapting to the changing face of the tourism and travel industry (on both local and international levels), we have no doubt we will come out stronger-especially with the support of our community. Because you will travel again, and we will be ready to show you the best of Peru.
Your financial support means we can keep sharing the best of Peru through high-quality stories, videos and insights provided by our dedicated team of contributors and editors based in Peru. And of course, We are here to answer your questions and help whenever you need us.
As well, it makes possible our commitment to support local and small businesses that make your visit an unforgettable one. Your support will help the people working in these industries get back on their feet once the world allows us to make our dream of enjoying everything Peru has to offer a reality again-from its mouthwatering gastronomy, thriving Amazon and archaeological wonders such as Machu Picchu.
Together, we will find a way through this. As a member of our community, your contribution, however big or small, is valuable.
Support Traveling & Living in Peru from as little as $1 - and it only takes a minute. Thank you!