Seafood dishes and a memorable chirimoya dessert take center stage during this celiac-friendly visit to the contemporary restaurant, Lima 27.
A long established restaurant, Lima 27 has been in its San Isidro location for ten years. The adjoining tapas restaurant, 27 Tapas, opened in 2016. We thought there may be some significant or sentimental reason for the 27 in the name, but it's actually a reference to the district postcode.
Chef Carlos Testino describes his cuisine as "Peruvian with modern techniques to create unique textures and flavors…a cuisine for the senses: sight, smell, taste and texture."
One of the advantages of eating gluten free in Peru in restaurants that specialize in using indigenous Peruvian ingredients is that they do not have to change the dishes for those who need to eat gluten free. There are a total of 25 gluten free starters and mains on the menu at Lima 27, with several more that can easily be modified to become gluten free on request. The extensive menu, available in Spanish and English, goes above and beyond by presenting naïve illustrations to explain many of the dishes.
As Felix, the Captain of Waiters, handed me my rather generous pisco sour he said with a grin, "One pisco sour is good, two maybe, but three and you go to sleep!"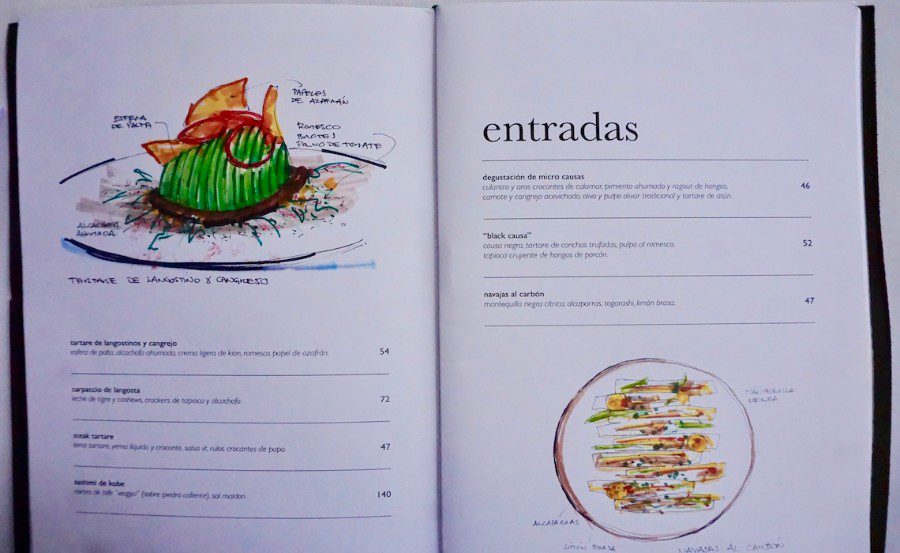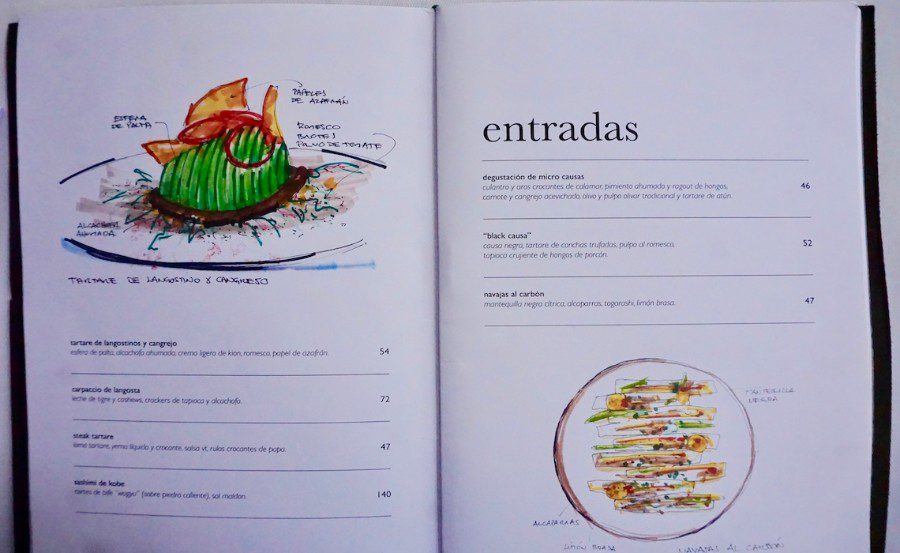 Something to start
Our first choice was Tiradito de Paiche (S/48). Served on a bed of cashew milk, fine slices of the huge Amazonian fish paiche were cured in airampo, a red cactus flower native to the Cusco area, once used for its medicinal properties. This gave the paiche its unusual red color. The paiche was topped with percebes (gooseneck barnacles), a rare crustacean from the north of Peru. This was a real treat for my husband as they are a particular favorite of his and we had not found them outside of Spain before. He devoured them with enthusiasm.
The dish was garnished with dehydrated sacha culantro-wild cilantro leaves, another medicinal herb, which added a crisp texture.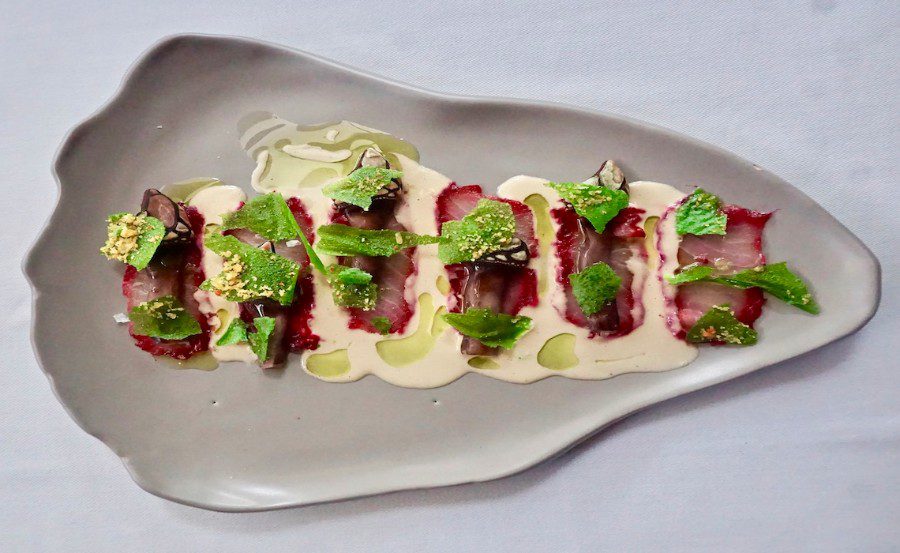 Mar & Rio
The fish of the day was Charela, accompanied by large shrimp from rivers near Arequipa and pistachio butter (Pesca del dia y camarones, S/69). The seafood was served with a side of cauliflower on top of cauliflower purée. Nut butters and vegetable purées are a flavorful, safe alternative to sauces based on a roux containing flour for gluten free meals.
Finely grated parmesan cheese was charred black giving it a smokey flavor. Chicken velouté, served in a natural shell, was poured over the dish with a flourish by Felix.
An impressive dish but probably best served for one rather than sharing, as we did.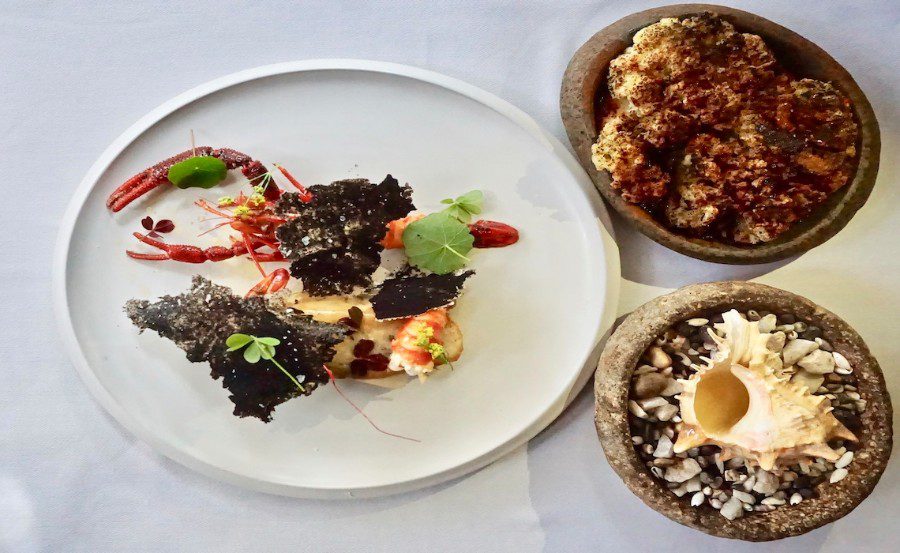 We then shared the Tartare de Langostinos y Cangrejo (S/54), a mound of prawn and crab filled avocado sitting on a romesco sauce. There was so much avocado it seemed to overshadow the prawn and crab tartare. However the tiny rings of shallots that had been steeped in beetroot and ginger vinegar added an acidity to the blandness of the avocado. Most vinegars, except for malt vinegar, are safe for celiacs. It was also served with smoked artichoke and a light ginger cream. A light dusting of dehydrated mushroom powder surrounded the tartare. The saffron paper added a whimsical flare.
Dessert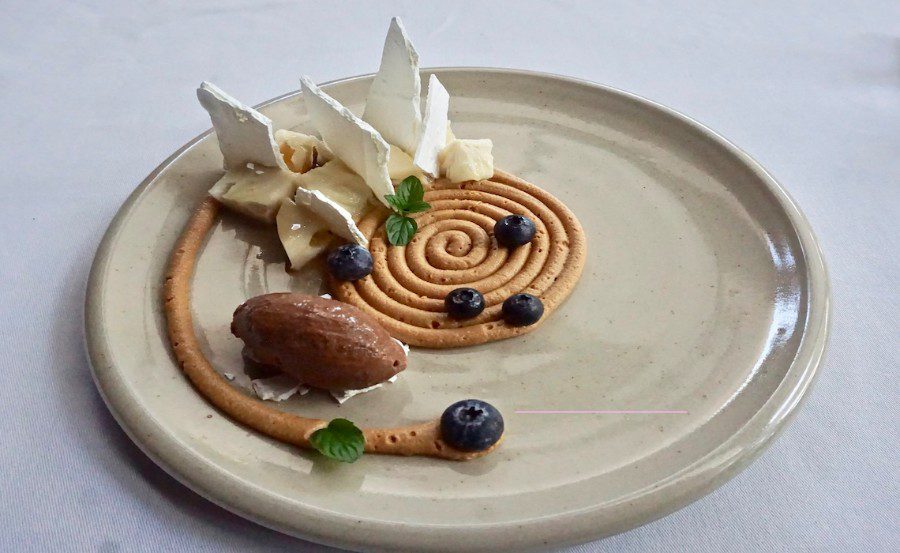 Desserts are often a neglected course for gluten free diners so we were disappointed, at first, that there was only one gluten free dessert option on the menu. But wow—I could have eaten three servings of the Marinated cherimoya (S/25) it was so good. Served with a spiral of manjar, the sweetness of this custard apple dessert was tempered by the inclusion of tart blueberries. Even the tiny mint leaves had an exceptionally strong flavor and freshened the potentially cloying sweetness of the manjar. It was served with a quenelle of chocolate ice cream. The flavor combination was well balanced, both sweet and tart with the shards of meringue adding a crispness to the otherwise soft dessert. It is definitely on my list of the best gluten free desserts in Lima.

Lima 27
Calle Santa Louisa 295, San Isidro
Appetizers: S/44-59
Salads: S/43-49
Mains: S/39-145 Note: Some dishes are for sharing
Desserts: S/25 (Gluten Free ) (Others: S/24-28)
Open: Monday to Saturday 12:30pm–4pm, 7:30pm-11pm