There are many Pisco tasting sessions, but having one in the house of a well-recognized pisco expert is a totally different experience. We had been invited to the house of Lucero Villagarcía, a well-known sommelier from Arequipa who has been sampling and researching pisco for the past ten years.

About Lucero Villagarcía, our amazing host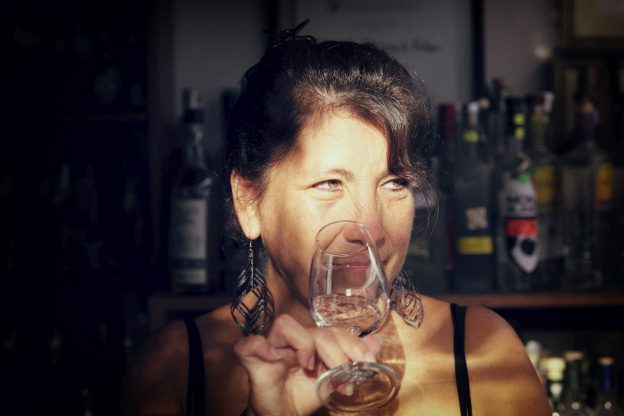 She is the author of "The Magic of Pisco" (2014) and "A Guide on Pisco"(2018). Her books have been presented in several cities across Peru as well as in Paris and Washington. In 2015, she received an award for "The Magic of Pisco" by the Gourmand World Cookbook Awards, an international event that congregates participants from all over the world and is considered to be the Oscar's of the food and drinks industry. In July this year, she will be traveling to Macao, China, to receive another award by the same prestigious organization for her book "A Guide on Pisco." Lucero is already working on her third book, the "Terruños del Pisco," which will be published this year by the San Martin University.

Visiting her home and entering into the world of Pisco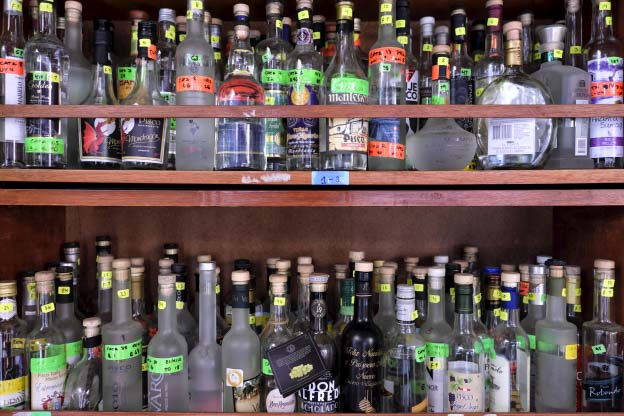 As we entered her house in Miraflores, we were mind-blown by her impressive collection of pisco bottles of all sizes, shapes, and origins spread out from wall to wall. There are 515 pisco producers in Peru and Lucero seems to know them all. She has been traveling for years throughout the country visiting pisco producers and sampling different types of pisco.
In her opinion, Ica produces the best Quebranta (good for pisco-sours), Torontel and Albilla piscos while the best Negra Criolla and Moscatel will come from Arequipa. The Mollar and Italia grapes grow better in Lima, while the Uvina grapes do so in Lima and Moquegua; a very useful info next time you buy some pisco.

Sampling the Piscos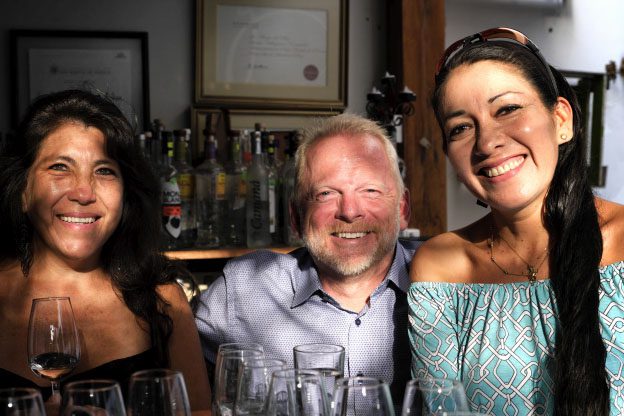 As we sat and while Lucero was setting the scene for our pisco sampling experience, she explained that on this occasion we would be sampling six different piscos: Quebranta, Italia, Negra Criolla, Torontel, Uvina, and Moscatel. Lucero being the expert that she is, identified chocolate, toffee, lychee, peach, apple, lime and lemongrass flavors in the piscos we sampled that day.
You really have to have a trained nose for this: for the rest of us common mortals, it was somehow tricky, although we could clearly distinguish the aromatic piscos from the non- aromatic ones. We also had some fabulous Perla Montalvo chocolates (99 % cacao) from Cusco that melted beautifully in our mouths and was the perfect mix for the pisco.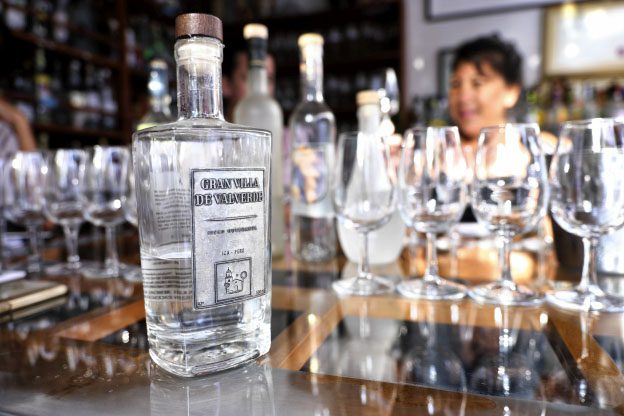 We ended our day with some extraordinary pisco sours made by blending (acholar) the piscos that were left from our sampling. The 3-1-1 formula was unbeatable and what better than coming from the hands of Lucero herself. A big congratulations to her and a big thank you for promoting our national drink in Peru and beyond.
YOU MIGHT ALSO LIKE
Cover photo: Marco Simola
Now that you're here:
We're asking you, our reader, to make a contribution in support of our digital guide in order to keep informing, updating and inspiring people to visit Peru. Why now? In our near 20-year journey as the leading English-language source on travel in Peru, we've had our fair share of ups and downs-but nothing quite like the challenges brought forth in the first quarter of 2020.
By adapting to the changing face of the tourism and travel industry (on both local and international levels), we have no doubt we will come out stronger-especially with the support of our community. Because you will travel again, and we will be ready to show you the best of Peru.
Your financial support means we can keep sharing the best of Peru through high-quality stories, videos and insights provided by our dedicated team of contributors and editors based in Peru. And of course, We are here to answer your questions and help whenever you need us.
As well, it makes possible our commitment to support local and small businesses that make your visit an unforgettable one. Your support will help the people working in these industries get back on their feet once the world allows us to make our dream of enjoying everything Peru has to offer a reality again-from its mouthwatering gastronomy, thriving Amazon and archaeological wonders such as Machu Picchu.
Together, we will find a way through this. As a member of our community, your contribution, however big or small, is valuable.
Support Traveling & Living in Peru from as little as $1 - and it only takes a minute. Thank you!