Italian archaeologist and architect Guiseppe Orefici shares insights about his work in Peru, including ongoing research at the Cahuachi temple in Nasca.
Orefici is the director of investigations at the Didactic Museum Antonini in Nasca. Learn more about his work below.
When did you first arrive in Peru?
I came to Peru in 1977 because there was a job as an archaeologist in the rural southern jungle area. And I stayed. Since then I have worked in Madre de Dios, Yurimanguas, Ausangate and, primarily, in Nasca where I began my research on Cahuachi in 1984.
What differences have you found on both a personal and professional level between other countries where you worked and Peru?
In Peru, I have found high-quality people, and of course a language that, because it is easy for me, has allowed me to work in the country. I continue to work in other countries but I have a special relationship with Peru where we have developed so many projects: The Antonioni Museum, The Investigation Centre, and my work in Cahuachi.
What is archaeological work like?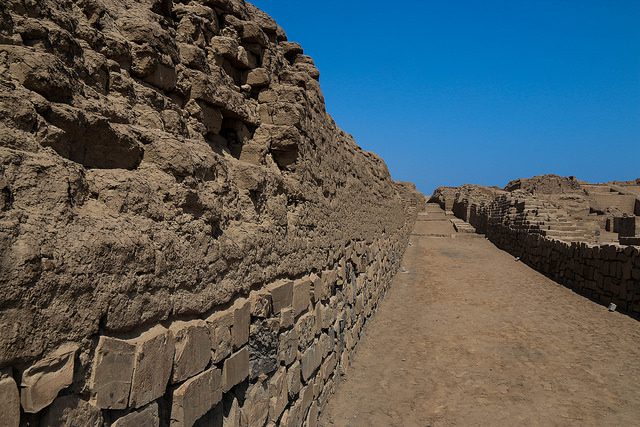 Like ants, we work slowly, steadily and within a distinct time frame and perspective. For example, cleaning a 10-meter-long wall takes three people 10 full days. What does a visit to Cahuachi add to the Nasca experience? A tourist visit to Nasca should most definitely include a visit to Cahuachi because it was the largest and most important cultural center for the Nasca people for over 1,000 years. A visit to Cahuachi helps one understand the people, and thus better understand the monumental significance of the geoglyphs the locals created, and the enormous artistic effort that it took to do so.
Recently there have been new archaeological discoveries in Huarmey. Is there a limit to what we can find in Peru and in the paradigm changes each of these discoveries implies?
Today, there is a deep understanding of the archaeological history of Peru for the past 2,000 years, but the key to the future, at least for me, moves into the jungle regions and continues in the Andean zones. The jungle is where we are going to make new discoveries and therefore more deeply understand all of our ancient histories.
What is the vision of Peru in Italy? What grabs people's attention the most?
Obviously, the Incas. There is very little knowledge about earlier Peruvian civilizations. Peru is a country that seems very far away for Italians, though it is well known for its important cultural history. Italians who visit Peru are impressed not only with the country's rich cultural traditions but also with her history, folklore traditions, and natural beauty. Still, from the Italian perspective, the archaeological monuments in Peru, and in Mexico, are the most important historical objects in Latin American and therefore attract the most interest.
Why did you decide to stay and work in Peru?
I stayed because of my relationship with the ancient Nasca people. I think their culture dominated others and reflects an extremely complex relationship with their deities that shows that the search for an aspiration towards a spiritual life was a central aspect of the Nasca vision. That fascinates me and is the core reason I stayed in Peru to study the Nasca people.
What would you like to see happen next?
I would like to see the work at Cahuachi finished, though I do not think it will happen in my lifetime because of the amount of work still to be done. Still, I would like to see at least that the path to that work is well defined for the future; that we have a site that is illuminated; that there are cultural activities that teach visitors about the culture; and that tourists can come and learn about the Nasca people.
This interview previously appeared in Ultimate Journeys Peru
Cover photo: Ultimate Journeys
YOU MIGHT ALSO LIKE
Now that you're here:
We're asking you, our reader, to make a contribution in support of our digital guide in order to keep informing, updating and inspiring people to visit Peru. Why now? In our near 20-year journey as the leading English-language source on travel in Peru, we've had our fair share of ups and downs-but nothing quite like the challenges brought forth in the first quarter of 2020.
By adapting to the changing face of the tourism and travel industry (on both local and international levels), we have no doubt we will come out stronger-especially with the support of our community. Because you will travel again, and we will be ready to show you the best of Peru.
Your financial support means we can keep sharing the best of Peru through high-quality stories, videos and insights provided by our dedicated team of contributors and editors based in Peru. And of course, We are here to answer your questions and help whenever you need us.
As well, it makes possible our commitment to support local and small businesses that make your visit an unforgettable one. Your support will help the people working in these industries get back on their feet once the world allows us to make our dream of enjoying everything Peru has to offer a reality again-from its mouthwatering gastronomy, thriving Amazon and archaeological wonders such as Machu Picchu.
Together, we will find a way through this. As a member of our community, your contribution, however big or small, is valuable.
Support Traveling & Living in Peru from as little as $1 - and it only takes a minute. Thank you!