Barra Chalaca is situated in the upscale area of San Isidro but aims to serve simple seafood dishes, with generous portions, lots of flavor and attitude and at a reasonable price.
The word "
Chalaca
" refers to the port city of Callao and the people that live there.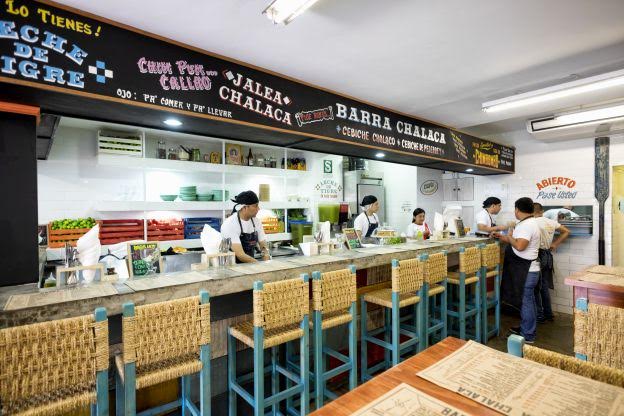 I first visited Barra Chalaca a month after it opened in August of 2016. At that time I was told to come early if I wanted to get a table since no reservations were taken and the small restaurant filled up quickly. We arrived at 11:30 a.m., were seated immediately and within the hour there was a long line of potential diners waiting to get in.
We found the food to be good and reasonable in price.
Fast forward more than a year later and this informal Gaston Acurio venture is still enjoying success. Due to the limited seating inside and outside and the great food, there still are long lines to get in. Waiters are attentive and alert, service is speedy and the turnaround can be quick.
During this second visit, I found the food even better than my first visit.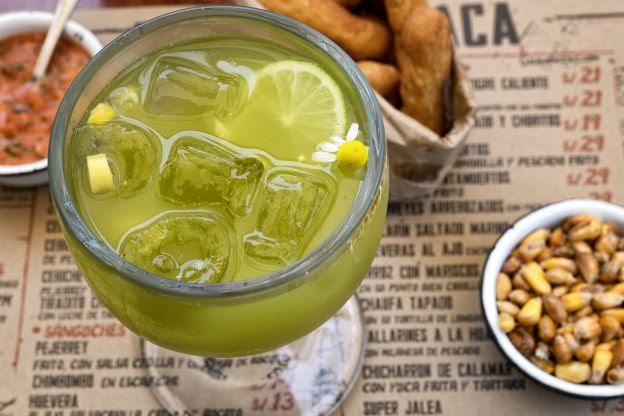 We began with one of the most popular beverages served at Barra Chalaca, the Cura Todo Helado (S/. 9), the house beverage concoction consisting of lemongrass, chamomile, golden pineapple, orange juice, passion fruit and lime which is served in a massive glass chalice. It is unique in flavor, refreshing, and slightly addictive.
We truly enjoyed the Copon de Leche de Tigre (S/. 19). This was served in a huge glass goblet with a mixture of very refreshing and flavor-packed bits of white lisa fish and shellfish, lime juice, onion, hot peppers and accompanied by yuquitas de carretilla (fried, crispy yuca fritters). Their version of Leche de Tigre is one of the better ones served in Lima. The portion was large enough to be shared between at least two or three people.
The Tiradito Chucuito (S/. 29) was unique, fresh and delicious. I personally loved it, but it may not be for everyone, especially for those with more traditional or classic tastes. The fresh, thin slices of lisa fish, cubes of avocado, Parmesan cheese, and milky leche de tigre and olive oil and served with choclo (corn) and cubed sweet potato combined for a winning combination.
Our Ceviche Combinado (S/. 29) was good, but not great. Once again the lisa fish was used along with fried calamari. The calamari which should have been crispy was actually quite soggy, perhaps because too much lime juice was used.
The Pejerrey Sanguche (S/. 12) arrived….a generous portion of lightly fried and crispy pejerrey (silversides) served on a plump bun and accompanied by salsa criollo (sliced onion and peppers) and a rocoto cream. This was an excellent version and perfect for me because it was not greasy. Pejerrey is one of my favorite fish and this did not disappoint.
Even though it was a balmy day we thoroughly enjoyed the Chupe Levantamuertos (S/.  28)…..this chowder was creamy and consisted of yellow potato, pieces of fried lisa fish, aji amarillo and served with an egg on top. This is a large portion and also easily shared.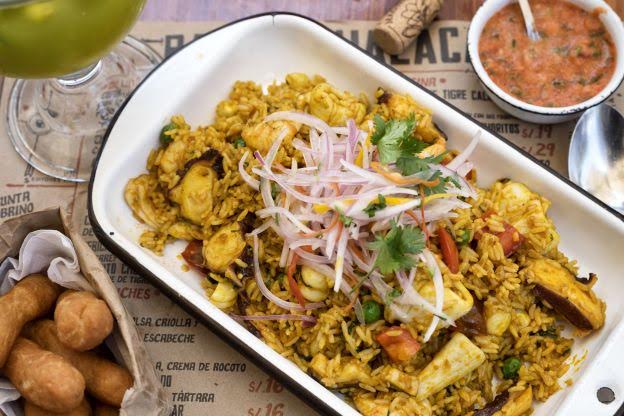 One of the most surprising dishes we shared was the Arroz con Mariscos (S/. 34). Absolutely fantastic! The combination of rice, vegetables, shrimp, and shellfish topped off with salsa criollo was one of our table favorites. I typically don't order this dish at restaurants because many times I find it overcooked and dry. This Arroz con Mariscos was an exception. The dish was moist, flavorful and Barra Chalaca did not skimp on the amount of seafood. The quality of the shellfish, especially the large-sized shrimp. It's easy to see why this is one of their popular dishes.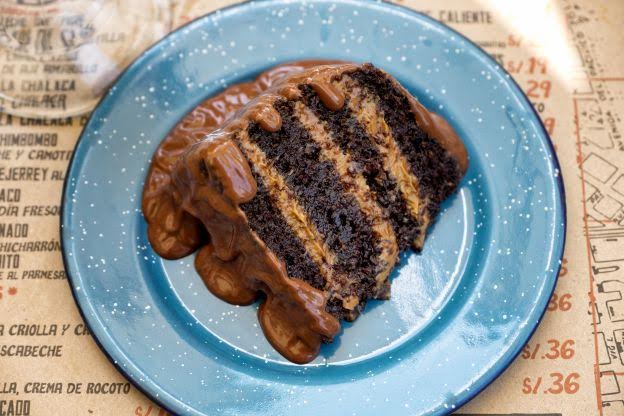 We ended our meal with Barra Chalaca's decadent Torta de Chocolate (S/. 9). This chocolate cake was moist and with generous amounts of fudge and manjar.
Barra Chalaca does not disappoint and consistently serves simple food, generous portions and with lots of "
Chalaca"
spirit.
Av. Camino Real 1239, San Isidro
Phone:  422-1465
Hours: open every day
          11:00 a.m.-5:00 p.m.
Starters:  S/. 19-29
Sandwiches:  S/. 12-16
Main Dishes:  S/. 19-36
Desserts:  S/. 9
Non-Alcoholic Beverages:  S/. 6-9
Beer:  S/. 9
Wine by the glass:  S/. 19-24
Ceviche Combinado (Main photo: Marco Simola/Living in Peru)
Comments
comments